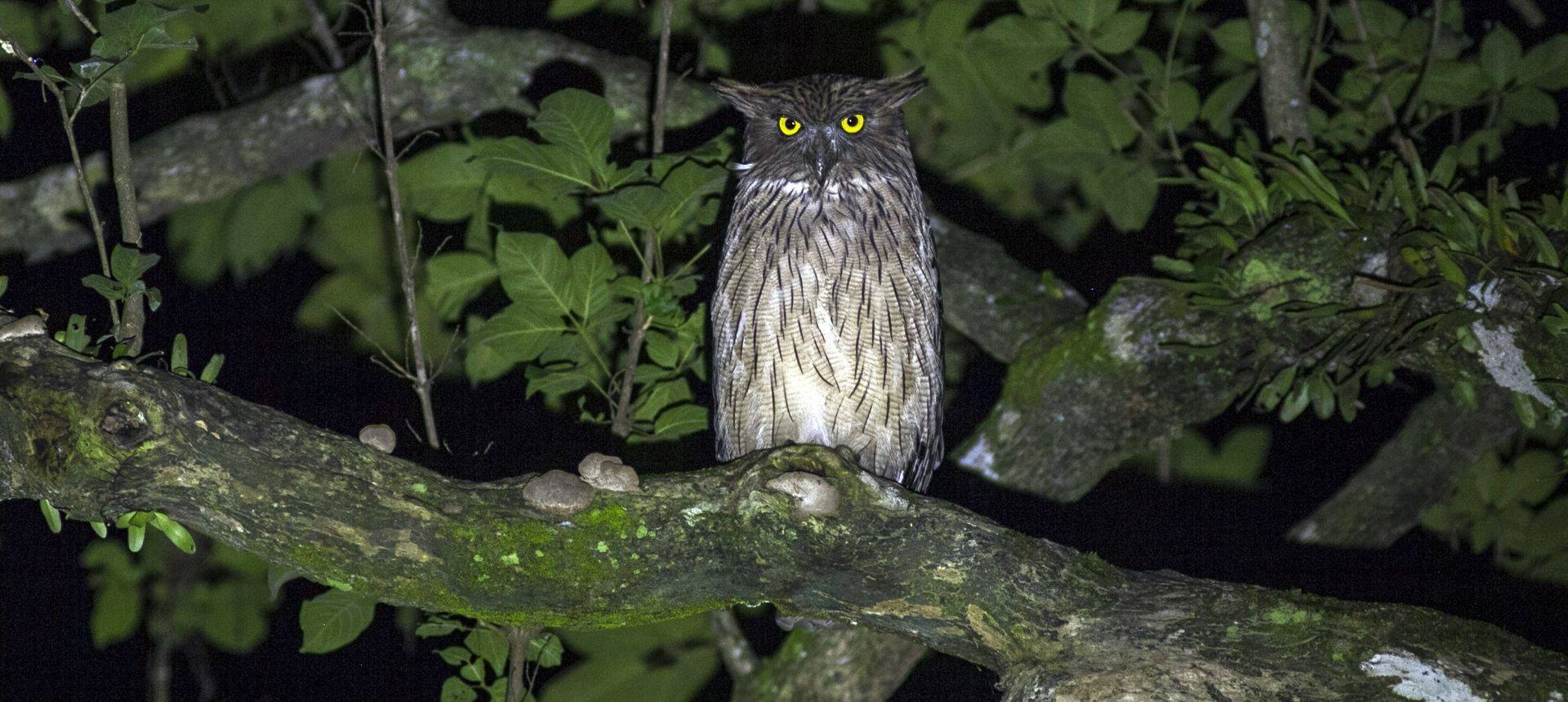 Sri Lanka ... by Night
Tour Code: LKA11
A pioneering 15-day tour in search of Sri Lanka's nocturnal and other wildlife, with an optional pre-tour extension in search of Blue Whales.
No tour summary is currently available. Please download the tour itinerary for more information on this tour.
A number of evening excursions, on foot and in vehicles, to the habitats frequented by some of the most elusive residents.
Visits to world-famous historical sites
Can I help you?

Outline Itinerary
Day 2
Chilaw - Anawilundawa
Day 9
Nuwara Eliya - Hakgala Botanical Gardens
Day 10
Horton Plains National Park, Kataragama
Day 11
Lunugamwehera National Park
Day 12
Lunugamwehera National Park - Udawalawe
Day 13
Udawalawe National Park - Udugama
Day 14
Kanneliya Rainforest - Colombo
Following the popularity and success of our 'Borneo by Night' tours, we are now pleased to offer you the chance to see the lesser-known, nocturnal species of Sri Lanka. Amongst these will be the island's four cat species — the elusive Rusty-spotted Cat and Fishing Cat, and the more regularly encountered Jungle Cat and Leopard. Whilst the latter two species may also be seen during daylight hours, we will need to venture out in the dead of night to search for such seldom-seen nocturnal mammals as the Grey Slender Loris and endemic Red Slender Loris. On these nocturnal forays we will also hope to see Small Indian Civet and Sri Lanka's two endemic mouse-deer species, the Yellow-striped and Sri Lanka Spotted Chevrotain. Perhaps the distinctive movements of the Indian Gerbil will attract our attention, or a rustling amongst overhead palm leaves betray the presence of a Common Palm Civet.
We will need to maintain the utmost silence if we are to locate the elusive and critically-endangered Indian Pangolin, which shares its home with the Asian Elephant, Wild Boar, Black-naped Hare, Eurasian Otter, Rusty-spotted Cat, Jungle Cat and Fishing Cat, all of which we hope to see. In this silence we will be searching for sounds ... a call, a rustle or the crack of a branch — tell-tale indicators of another exciting nocturnal treat. Sleeping birds will be encountered aplenty, but it will be the night-time hunters of the avian world that, with the mammals, most excite us. A Brown Fish Owl or Brown Wood Owl perhaps? Maybe a Collared Scops Owl or, if we are extremely lucky, the bizarre, even comical, Spot-bellied Eagle Owl.
As we move further into the highlands, our target species will include the Indian Giant Flying Squirrel, Golden Palm Civet, Dusky-striped Squirrel, Layard's Striped Squirrel and Sambar Deer. Many of Sri Lanka's mammals, such as Purple-faced Langur, Giant Grizzled Squirrel and Golden Palm Civet, are represented by a baffling variety of subspecies and different colour morphs on account of geographical segmentation — wet zone, dry zone and highland forms being most prominent. We shall hope to spot and differentiate most of these varieties as we cover a wide range of altitudes and travel from the dry zone to the wet zone.
We will not, though, spend all our time in the dark. The Leopard, for example, may be seen early in the day, and on daytime safaris in Udawalawe and Lunugamvehera National Parks we will look for Sloth Bear, Asian Elephant, Muntjac, Spotted Deer, Golden Jackal, Tufted Grey Langur, Toque Macaque, Purple-faced Langur, Grizzled Giant Squirrel and the three mongoose species — Indian Grey, Ruddy and Stripe-necked Mongoose. We will also enjoy many of Sri Lanka's colourful bird species, especially during the periods when the mammals of our quest are less obliging.
Please contact us on 01962 733051 for details on what extensions either pre or post tour are available for this Tour.
2019
Departures
Availability
Cost
Sat 30th Mar - Sat 13th Apr
ENQUIRE
£2,995
Flights:
Most Naturetrek tours include flight costs ex-UK. If flights are not included, we indicate that here.
Flights are included in the tour cost
Regional Departures:

On certain tours it is possible to depart from a regional airport (rather than London). If a regional departure is possible, we indicate that here.
Regional Departures are available. Call 01962733051
Land only cost:

The "Land Only" cost is the tour price you will pay if you choose to arrange your own flights/transport.
£2,495
Single Room Supplement:
£595