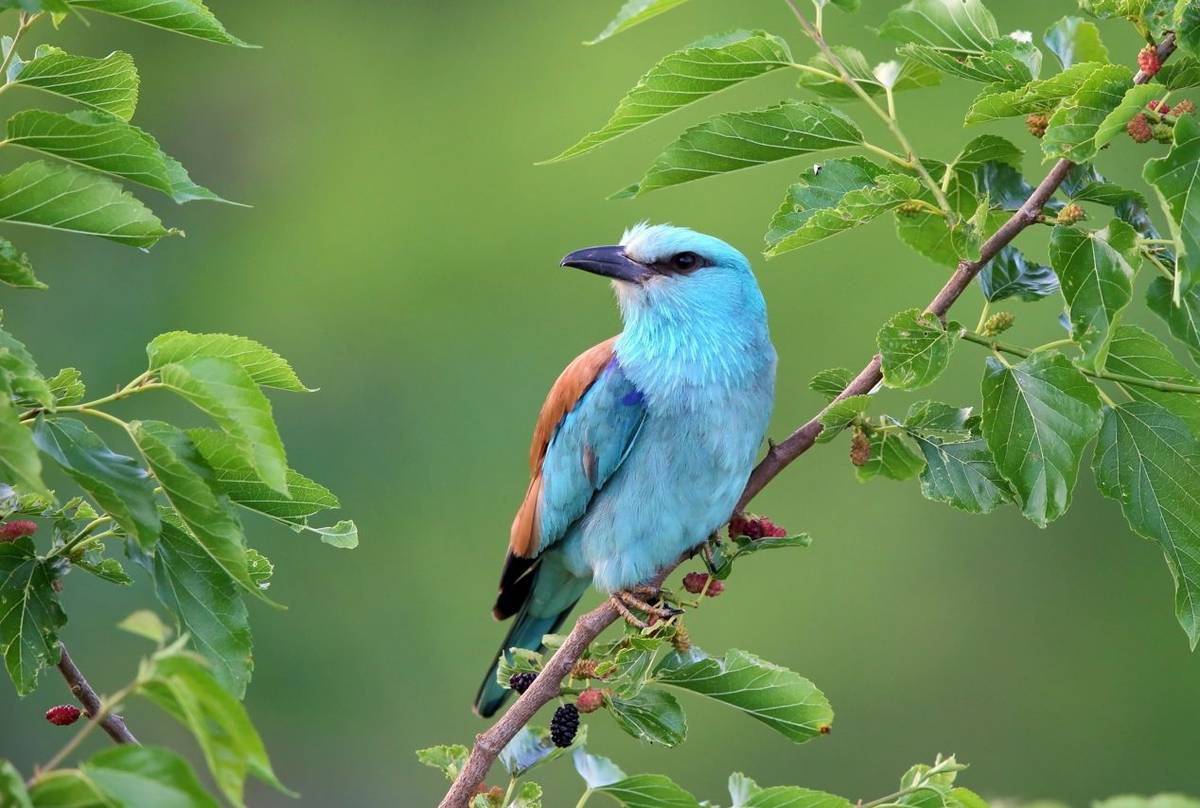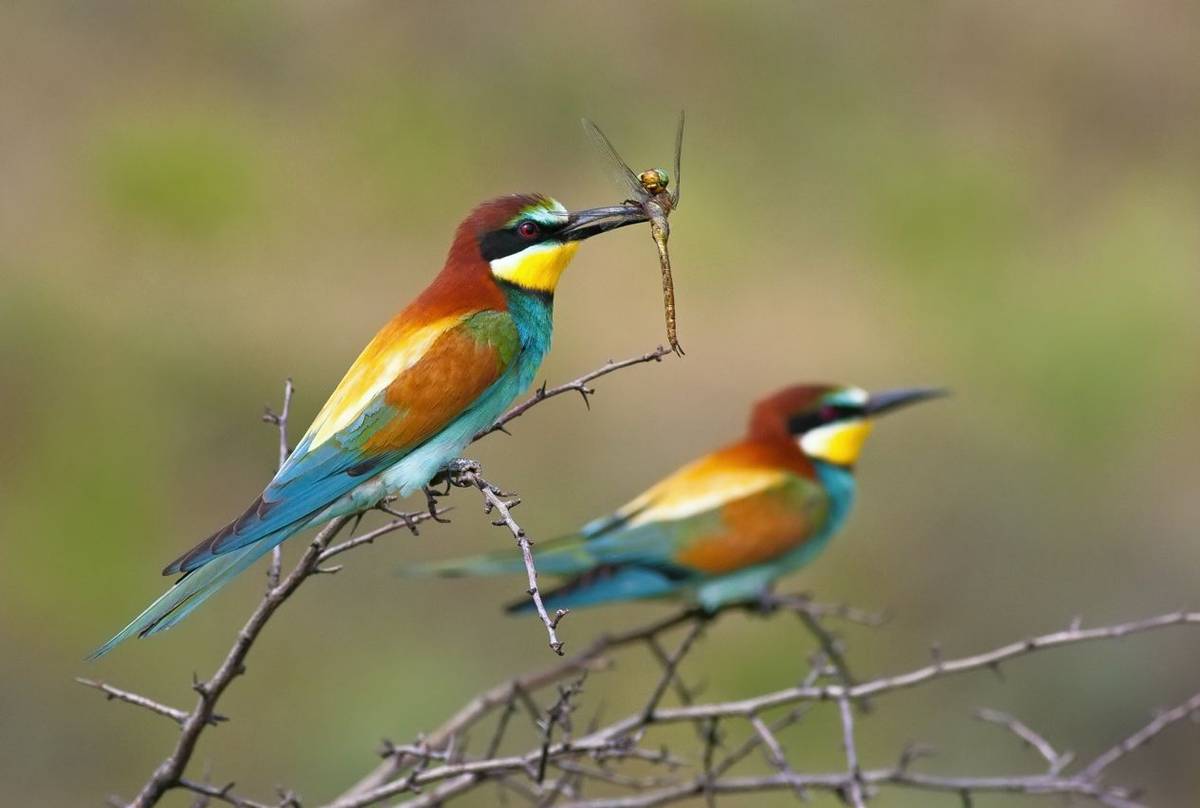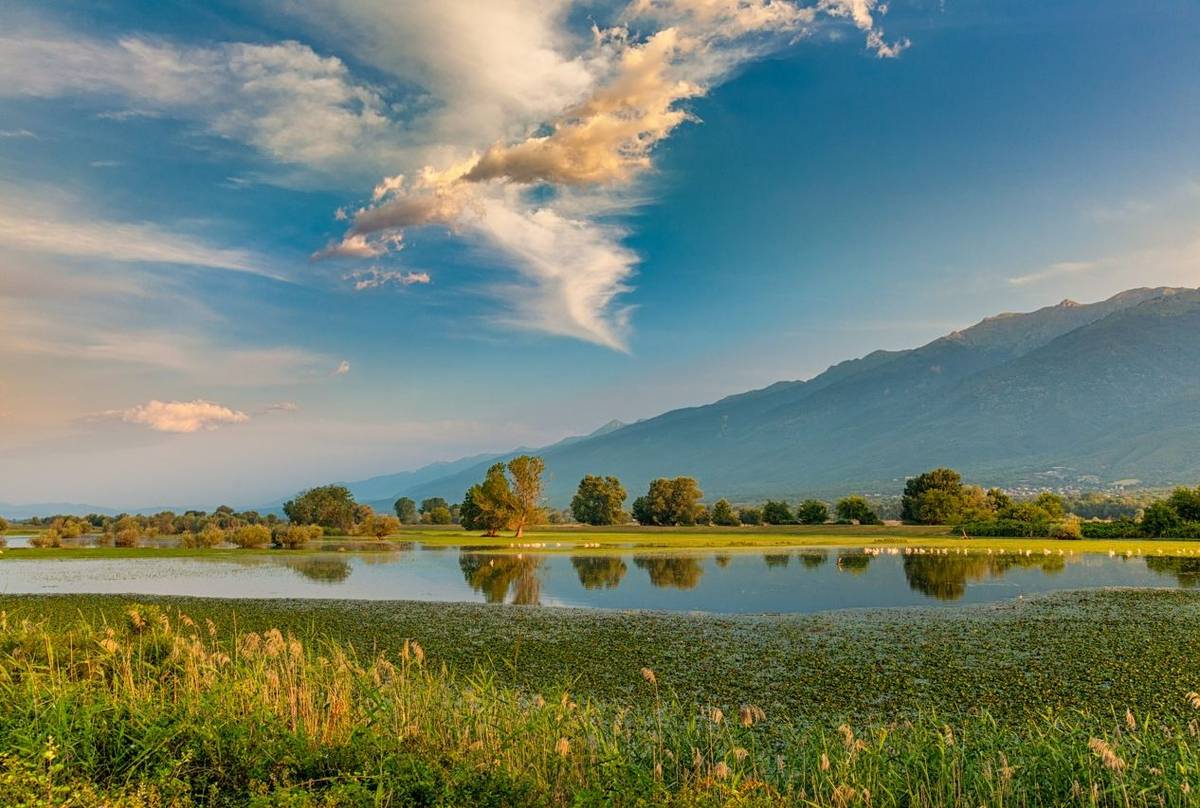 Tour Itinerary and Reports
Spring in Northern Greece
Tour Code: GRC15
An 8-day birdwatching holiday to northern Greece's Dadia Forest, Evros Delta and Lake Kerkini, timed to coincide with the northward migration of numerous warblers, waders and raptors, as well as the arrival of the region's breeding birds.
8 days from
£1,595 (Inc flights)
Land only price from
£1,295
Add this tour to your saved toursRemove from saved toursstar_border star

Add to Saved Tours
Highlights
Tour Itinerary and Reports
Summary
Northern Greece lies on an important migration 'flyway' between Africa and Europe. In early May the forests, scrubby hillsides and wetlands will be alive with returning summer migrants, as well as other birds passing through en route to their breeding grounds further north. This tour visits three contrasting areas: the forests and hills of Dadia, where we'll look for raptors such as Black, Griffon and Egyptian Vultures; the coastal habitats of the Evros Delta, home to Marsh and Curlew Sandpipers, Black-winged Stilt, Spur-winged Plover and many more species; and the freshwater marshes of Lake Kerkini. Huge colonies of herons, spoonbills, cormorants and pelicans are the main attraction at Lake Kerkini, but we'll also explore the nearby woods and fields which hold Masked and Woodchat Shrikes, Black-headed Bunting and Olive-tree Warblers.
Varied, picturesque landscapes of north-eastern Greece
Migrating waders in Evros Delta
Dalmatian & White Pelicans at Lake Kerkini
Black, Egyptian & Griffon Vultures over the Dadia Forest
A variety of butterflies, reptiles & other wildlife
Bear tracking extension available in the beautiful Pindos Mountains
Grading
A/B. Easy to moderate day walks.
The birdlife of northern Greece has a decidedly eastern flavour. Tucked between Turkey, Bulgaria and the clear blue waters of the Thracian Sea, the region lies on an important migration 'flyway' between Africa and Europe and attracts birds from both the east and west of the continent. In early May the forests, scrubby hillsides and wetlands will be alive with returning summer migrants, as well as other birds passing through en route to their breeding grounds further north. Familiar species such as Blackcap, Nightingale and Spotted Flycatcher vie for perches with Masked Shrike, Olive-tree Warbler and Collared Flycatcher, whilst overhead, parties of Red-footed Falcons dash past. The coastal wetlands are at their best in the early spring and a few key inland lakes, such as Lake Kerkini, act as a safe haven for large colonies of herons, pelicans, cormorants and other waterbirds.
This exciting 8-day tour complements our popular 'Greece in Autumn' itinerary and visits the same three contrasting areas, the forests and hills of Dadia, the coastal habitats of the Evros Delta and the freshwater marshes of Lake Kerkini National Park. We start, however, with a direct flight to Greece's second city, Thessaloniki, which sits at the head of the three-fingered Halkidiki Peninsula. From here we take the coastal highway east to the pine forests and hills of Dadia, a journey of around three hours and the base for the first two nights of the holiday. The Dadia-Lefkimi-Soufli Forest National Park, to give the reserve its full name, is one of Europe's most important sites for raptors and is home to 20 breeding species including Short-toed Eagle, Booted Eagle, Black Kite and Levant Sparrowhawk, plus Eurasian Black, Griffon and Egyptian Vultures. During our time here we will a visit a hide which overlooks a vulture feeding station which regularly attracts all three species. Other smaller birds to look out for include Masked Shrike, Black-headed Bunting, Eastern Bonelli's Warbler, Short-toed Treecreeper, Red-rumped Swallow and Grey-headed Woodpecker.
A short distance to the south lies the Evros Delta, a huge expanse of saline and freshwater habitats formed by the Evros River, the longest in the Balkans, slowing and fanning out as it meets the Thracian Sea. Here, in the spring, Wood Sandpipers and Whimbrel share the mudflats with Marsh and Curlew Sandpipers, Little Stints, Spotted Redshank and Greater Flamingo. Broad-billed Sandpiper, Temminck's Stint and Collared Pratincole are regularly seen and Spur-winged Plover are common. Numerous Bee-eaters hawk for insects overhead, whilst the reed and tamarisk-fringed Athina Marshes nearby attract all three species of marsh tern (Black, Whiskered and White-winged), Pygmy Cormorant, Ferruginous Duck, Garganey and plenty of Marsh Harriers. We will be based in a comfortable, but simple, hotel on the northern edge of the delta for two nights, a short distance from Loutros Hill, a migrant hotspot in the spring and autumn. Early morning visits to Loutros Hill can yield an exciting variety of species including Eastern Subalpine Warbler, Eastern Orphean Warbler, Black-eared Wheatear, Blue Rock Thrush, Masked and Woodchat Shrikes and Ortolan Bunting. Eagle Owls also breed on the cliffs around the edge of the hill, and an evening excursion in search of one of these magnificent owls can be arranged for those who wish.
Finally, we move back west for three nights in a comfortable hotel close to the edge of Lake Kerkini, one of Greece's foremost birdwatching sites. The lake, which lies at the very heart of the Lake Kerkini National Park, is one of only ten Ramsar Sites in the country and home to a wonderful variety of breeding, wintering and passage birds. We will have two full days to explore Lake Kerkini and its surroundings which we will undertake by minibus, boat and on foot. Although the woodlands, fields, hills and fringing reedbeds around the lake hold Middle Spotted Woodpecker, Masked Shrike, Western Rock Nuthatch, Black-headed Bunting, Sombre Tit, Great Reed Warbler and Olive-tree Warbler, the main attraction of Kerkini in May is the huge and noisy heronry that has taken over a flooded forest in the heart of the lake. Here breed large numbers of Grey, Squacco and Black-crowned Night Herons, Little and Cattle Egrets, Pygmy and Great Cormorants and Spoonbills, alongside an impressive colony of Dalmatian and White Pelicans which cover an artificial island nearby.
Our time enjoying the birdlife of Lake Kerkini will be a fitting finale to our week in northern Greece. From here it is only an hour and a half back to Thessaloniki from where we catch our return flight home.
DETAILED INFORMATION
Outline Itinerary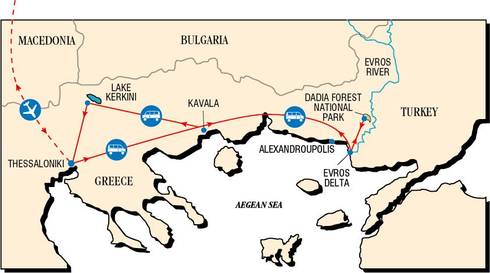 Day 1
Fly Thessaloniki & transfer Dadia
Day 2
Dadia Forest National Park
cloud_downloadDownload Full Itinerary
What's Included?
Flights
Accommodation:

We stay in comfortable hotels with private facilities throughout.

Food:

All meals are included in the price.
Dates & Prices
2022
Departures
Availability
Cost
Thu 28th Apr - Thu 5th May
SPACES
£1,595
Flights:
Most Naturetrek tours include flight costs ex-UK. If flights are not included, we indicate that here.
Flights are included in the tour cost
Regional Departures:
On certain tours it is possible to depart from a regional airport (rather than London). If a regional departure is possible, we indicate that here.
Regional Departures are available. Call 01962733051
Land only cost:
The "Land Only" cost is the tour price you will pay if you choose to arrange your own flights/transport.
£1,295
Single Room Supplement:
£175
Why Naturetrek?
At Naturetrek we craft expertly-guided group and tailor-made wildlife holidays and cruises to all seven continents. On one of our holidays, you can be assured that our passionate team will enable you to experience and enjoy the best of the world's wildlife and natural spectacles in as comfortable and rewarding a manner as possible, caring as best we can for the environment in the process. We are proud to provide:
The widest choice of wildlife holidays worldwide
Tours managed and led by naturalists, for naturalists
Outstanding value and exceptional customer service
Furthermore, as a Naturetrek client, our office team are always to on hand to help you – so if you have any queries about your holiday, whether before or after you have booked, we will be delighted to answer them on the phone. Please just give our team a call!