Spring in Northern Cyprus
Tour Code: CYP01
An 8-day natural history holiday to the fascinating Turkish part of the island of Cyprus, to enjoy its spring flowers and bird migration.
8 days from
£1,595 (Inc flights)
Land only price from
£1,345
Add this tour to your saved toursRemove from saved toursstar_border star

Add to Saved Tours
Highlights
Summary
North Cyprus has an astonishing diversity of plants and at the time of our tour the land is ablaze with colour; the diversity of orchids, in particular, will excite keen botanists. This is a 2-centre holiday and our first base will be near the delightful fishing harbour of Girne. From here we'll botanise on the foothills and wooded slopes of the Besparmak Mountains and watch for flurries of migrant birds including harriers, larks, pipits, warblers and flycatchers. During the second part of the tour we'll be based on the far eastern tip of North Cyprus where we'll explore maquis scrub and hope to see birds such as Little Crake and Pied Kingfisher in wetland areas, as well as aquatic plants.
Over 1,250 plant species in North Cyprus
30 species of orchid including the endemic Cyprus Bee Orchid
Visit towering Crusader forts & ruins of the Roman city of Salamis
Water Rail & Little Bittern, plus Purple & Squacco Herons
Carpets of anemones, Crown Daisy & the endemic Ophrys kotschyi
Spectacular migrant bird 'falls' near Cape Andreas
Enjoy tavernas & exploring the cobbled medieval streets of Girne
This tour can be combined with our 'The Island of Cyprus' holiday
Led by expert naturalist guides
Grading
Grade A/B. Day walks only.
Separated by both politics and religion from the south of 'Aphrodite's island', Northern Cyprus has always retained a distinctive identity, its economy supported by the production of cereals, grapes, citrus fruits and potatoes on the fertile Mesaoria Plain. The Mediterranean charm of the region is epitomised by a sprinkling of little villages which seem barely to have been changed by the passage of time. However, inevitably, as in so many other parts of the Mediterranean, the last few years have seen an increase in tourism to the island and plenty of development, although there are still many areas of outstanding natural beauty to be found here, such as the dramatic scenery and forests surrounding the Crusader castles and the stretches of pristine coastline at Silver Beach. In addition, this is an island that has witnessed over 8,000 years of civilisation and its history can be traced through the many Roman and other monuments and ruins still evident in the countryside.
Northern Cyprus is renowned in the botanical world for the astonishing diversity of its flora. Over 1,250 plant species have been identified, a number of which are endemic to the country. From February to May the land is ablaze with colour, the components of this floral mosaic changing in tone and form as the season advances. The 30 or so species of wild orchid are particularly coveted by botanists and representatives of this exotic family include the stunning endemic Cyprus Bee Orchid (Ophrys kotschyi). The avifauna is also of great interest, the north of the island sharing with the south the presence of two endemic birds, the Cyprus Warbler and the Cyprus Wheatear. During the extended period of spring migration huge numbers of birds pass through Cyprus heading to northern breeding areas. At such times the interesting selection of resident species is augmented by an ever-changing variety of migrants, adding an exciting unpredictability to every excursion.
This is a 2-centre holiday and our first base for this exploration of Northern Cyprus is near the delightful seaside town of Girne, formerly known as Kyrenia. A lively fishing harbour, around which are scattered numerous inviting tavernas, and a network of cobbled medieval streets, lend a timeless attraction to Girne, and these picturesque qualities are enhanced by the peaks of the Besparmak Mountains which rise inland from the town. Our field activities will focus initially on the abundant flora of the foothills and wooded slopes of these mountains, but during our stay we will also be looking for migrant birds at various coastal locations and wetlands.
A wealth of historical sites provides diversions from the natural history and our programme will be flexible in order to accommodate a little of the history of the region alongside our botanical and ornithological activities. Towering Crusader forts and ancient monasteries compete for our attention with reminders of the Roman era, such as the ruins of Salamis city near Famagusta, which many historians regard as the best preserved examples of Roman architecture in the eastern Mediterranean. Flowers thrive here amid the ruins and we should find such orchids as Serapias parviflora, S. orientalis, S. vomeracae, Orchis simia and many Ophrys species amongst the colourful profusion of poppies, Crown Daisies (Chrysanthemum coronarium), endemic Gladiolus triphyllos and handsome spikes of Giant Fennel (Ferula communis).
During the second part of the tour we will search for migrants on the eastern peninsula, near Cape Andreas. Falls can be spectacular and we will watch out for possible Pallid and Montagu's Harriers, Short-toed Larks, Tawny Pipits, warblers, chats, wagtails and perhaps Wrynecks and flycatchers too. On other days we will wander in the Kyrenia Mountains, a stretch of cliffs and pinnacles of hard limestone, dolomite and marble which forms a dramatic spine-like formation. On the peaks Calabrian Pine and Italian Cypress forests are interspersed with valleys of typical maquis scrub consisting of Arbutus, Myrtus, Laurus and Quercus coccifera. Between the mountains and the rich alluvial central plain lies a hilly area containing reservoirs which are often very productive for birdwatching and aquatic plants. Here we should find Little Crake, Water Rail, Little Bittern, Purple and Squacco Heron, Garganey and possible migrants among the reeds.
Early April is one of the best periods to botanise in Northern Cyprus and among the species we will be expecting to find will be carpets of Anemone coronaria, Cyclamen persicum, Crown Daisy, and many orchids that are typical of the eastern Mediterranean, such as the yellow Orchis morio ssp. syriaca, Ophrys scolopax ssp. lapethica, O. bornmulleri, O. levantina and of course the endemic Ophrys kotschyi. At this season it seems as if every available space is occupied by a profusion of wild flowers providing both a wonderful spectacle and a delight for botanists. Whilst the myriad of blooms are unfurling to welcome a new spring, it is also a period of transition for birds as wintering species are replaced by the newly arrived migrants from Africa.
DETAILED INFORMATION
Outline Itinerary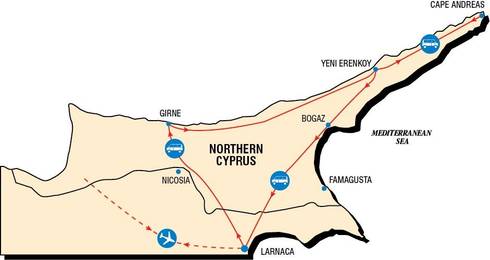 Day 1
Fly Larnaca and transfer to Girne
Day 2/4
A daily programme of natural history walks from our base near Girne
Day 5/7
A daily programme of natural history walks from our base near Yeni Erenkoy
cloud_downloadDownload Full Itinerary
What's Included?
Flights
Accommodation:

We stay in comfortable hotels, where all rooms come with private facilities.

Food:

All food is included in the price.
Reviews
The knowledge, commitment, good humour and helpfulness of Jenny and John Willsher were outstanding - faultless.

V.J. Nottinghamshire

This was my first led wildlife holiday. It exceeded my high expectations. Jenny is an expert, enthusiastic and diligent botanist - a delight to be with. Gulay was keen to deliver the best possible experiences to the group. Her driving was remarkable and she set up a meal with her family's restaurant, contriving to have the traditional bread being taken out of the traditional oven just as our group arrived - splendid!

J.C. Bristol

Both the trip leaders, Alan and Andy, were exceptional, both with their knowledge and leadership. Nothing was too much trouble.

W.G. Buckinghamshire

Both Andy and Alan were first class, good humoured, patient and absolutely on top of their subjects.

C.O-T. Herefordshire

Both leaders were outstanding for their knowledge, enthusiasm and communication skills.

Mr W. Hampshire

The flora was novel to me and was extremely varied. The plant leader was very knowledgeable and demonstrated the finer distinction very ably. Both contributed to presentation of Amphibia, reptiles and insects.

D.T. Glasgow

Small group, got to know everybody well. Large bus for trips - we could spread out and all have a window seat if required. Bottled water on tap! Always appreciated. Huge knowledge of Andy and Alan, good mix of birds, flowers and culture. Overall content, company and attention and care from leaders made the trip a great success.

B.B. Cambridgeshire

Leaders were friendly, expert and professional, made sure everyone saw as much as they wanted to, and stayed happy. They worked very hard to achieve this. Great to have information (and visits) on historical sites and the history of the island and its culture.

C.H. Dorset

Andy and Alan - very knowledgeable and made sure everyone saw most things. Weather - good most of the time which helps for butterflies. Plenty of migrating birds plus lots of alternative flora and fauna.

J.G. Bedfordshire

Tour leaders were outstanding, knowledgeable naturalists, patient and willing to share and explain things. Very impressed. The holiday was well paced. Time to enjoy things and reflect and we still saw lots of stuff - properly, not tick and rush! Local agent was very good, everything ran smoothly.

D.B. Somerset

Altogether a superb trip with plenty of good humour as well as serious iteration of species identification. Thank you!

S.J. Derbyshire
Show More Reviews
Show fewer reviews
Dates & Prices
2022
Departures
Availability
Cost
Wed 30th Mar - Wed 6th Apr
SPACES
£1,595
Flights:
Most Naturetrek tours include flight costs ex-UK. If flights are not included, we indicate that here.
Flights are included in the tour cost
Regional Departures:
On certain tours it is possible to depart from a regional airport (rather than London). If a regional departure is possible, we indicate that here.
Regional Departures are available. Call 01962733051
Land only cost:
The "Land Only" cost is the tour price you will pay if you choose to arrange your own flights/transport.
£1,345
Single Room Supplement:
£150
Why Naturetrek?
At Naturetrek we craft expertly-guided group and tailor-made wildlife holidays and cruises to all seven continents. On one of our holidays, you can be assured that our passionate team will enable you to experience and enjoy the best of the world's wildlife and natural spectacles in as comfortable and rewarding a manner as possible, caring as best we can for the environment in the process. We are proud to provide:
The widest choice of wildlife holidays worldwide
Tours managed and led by naturalists, for naturalists
Outstanding value and exceptional customer service
Furthermore, as a Naturetrek client, our office team are always to on hand to help you – so if you have any queries about your holiday, whether before or after you have booked, we will be delighted to answer them on the phone. Please just give our team a call!