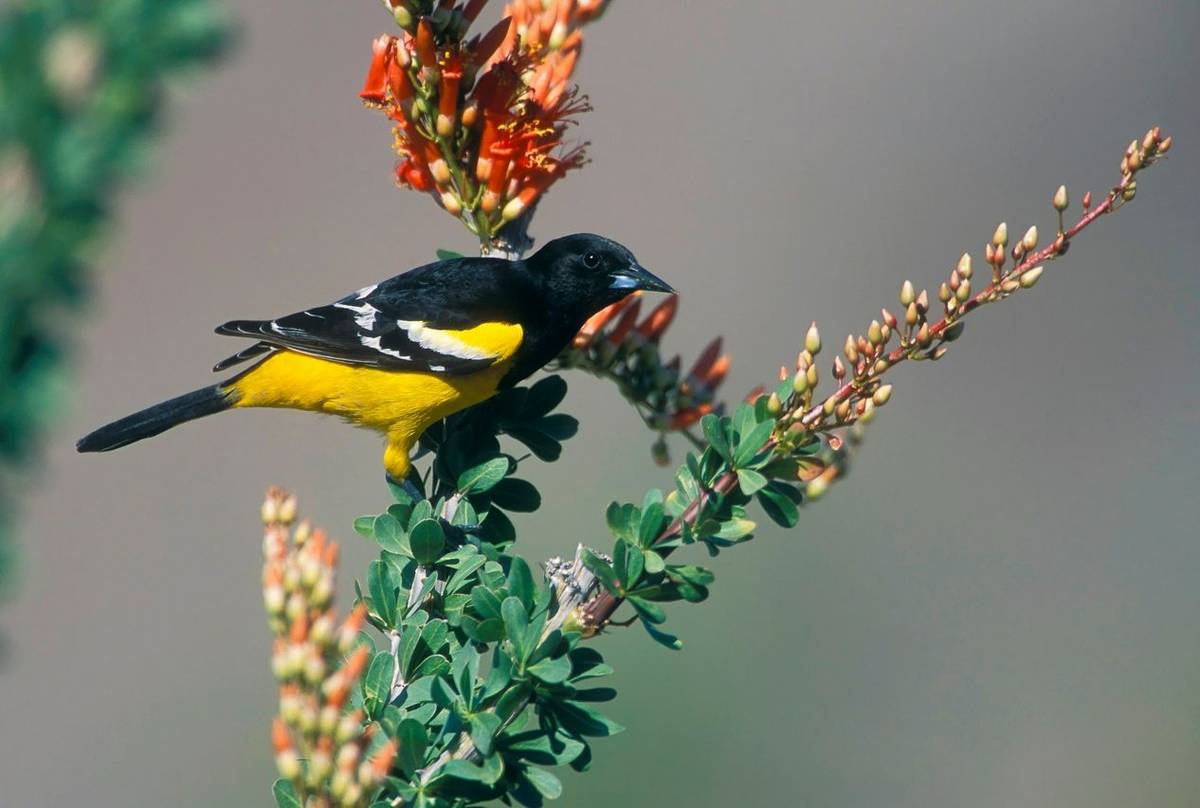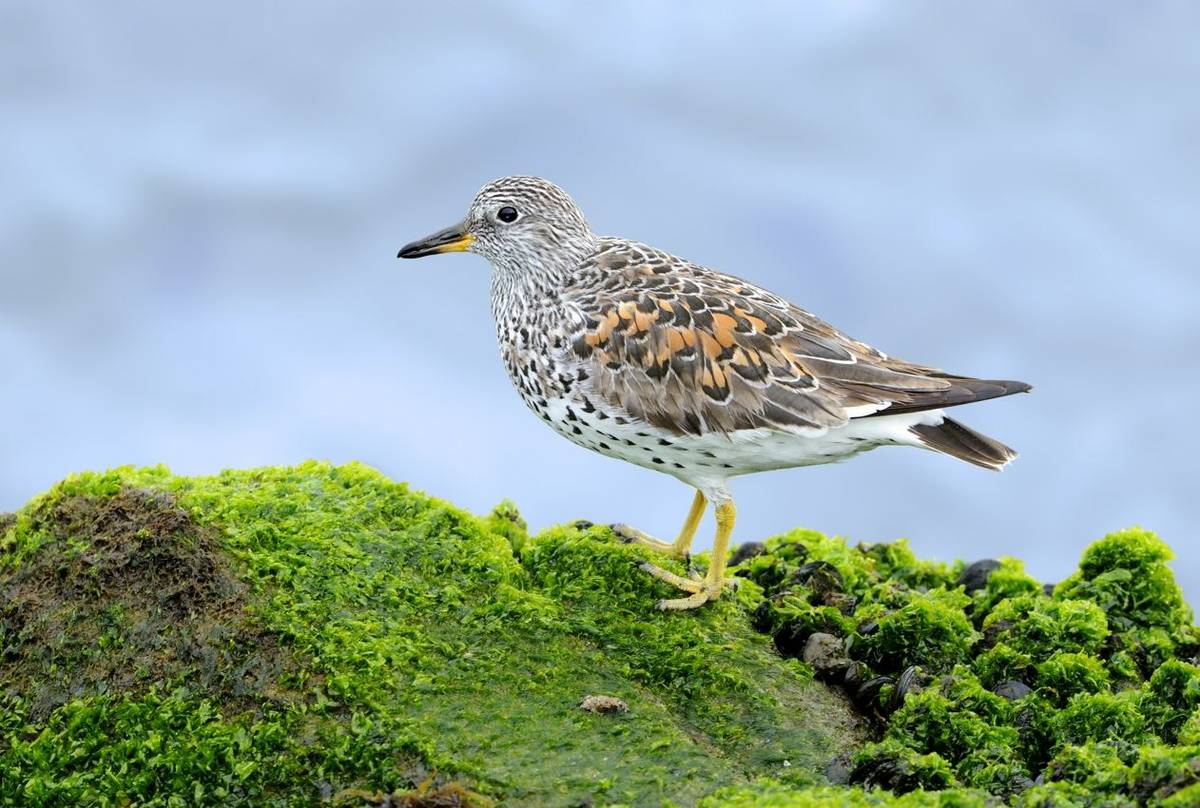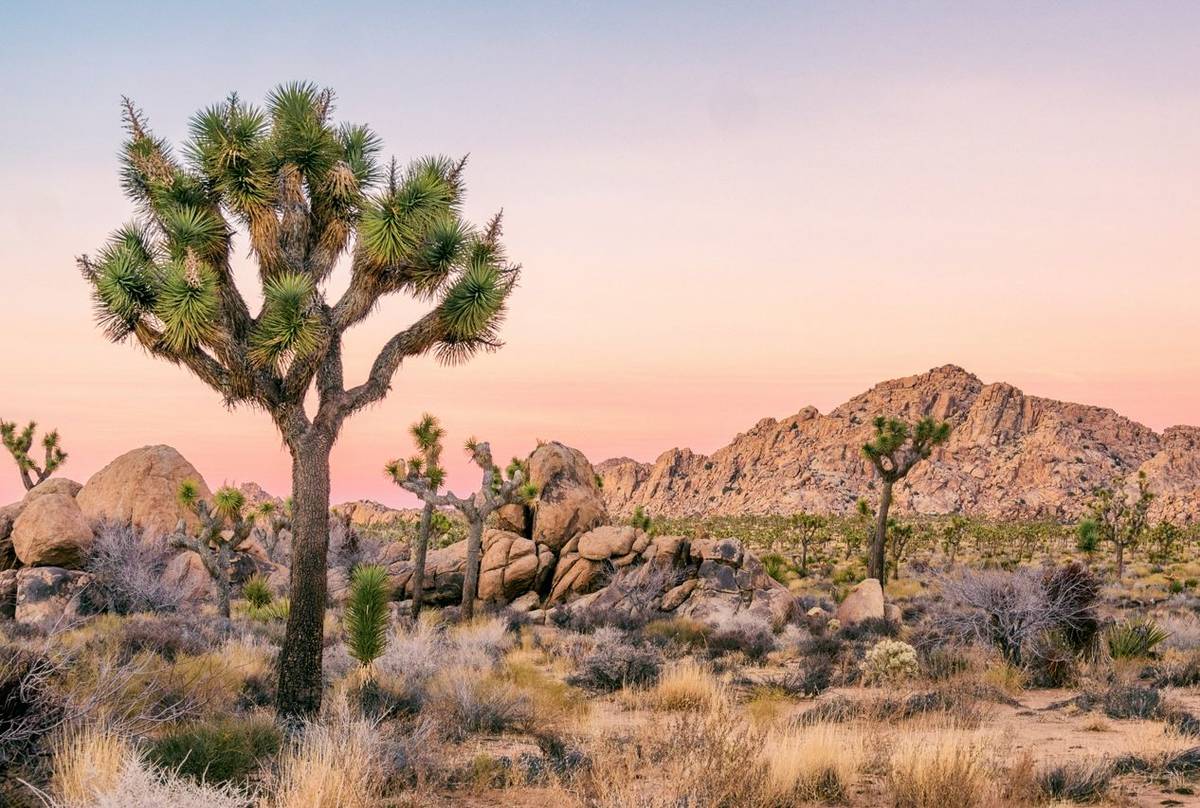 Tour Itinerary and Reports
Spring Wildlife of Southern California
Tour Code: USA16
A unique 15-day tour of southern California to enjoy the spring birds, mammals and butterflies, plus iconic landscapes including Death Valley National Park and Mojave National Preserve.
15 days from
£4,895 (Inc flights)
Land only price from
£4,095
Add this tour to your saved toursRemove from saved toursstar_border star

Add to Saved Tours
Highlights
Tour Itinerary and Reports
Summary
A country within a country, California's huge wildlife diversity reflects its extraordinary range of landscapes and its prime position along the Pacific flyway. This tour samples a range of habitats, beginning along California's famous beaches, which play host to seals and sea-lions, waders, gulls and terns, including the sought-after Black Turnstone and Heermann's Gull. On the coastal strip the chaparral scrub and oak woodlands are good for woodpeckers, hummingbirds and the endemic Yellow-billed Magpie, while inland we will visit the Laguna Mountains for speciality birds including Mountain Quail and Gray Vireo. We will scour 3 desert areas, including the notorious Death Valley, for their highly adapted wildlife which may include Bighorn Sheep, Desert Iguana, multiple butterflies including many blues, whites, and sulphurs, Cactus Wren, Greater Roadrunner, Gray and Desert Kit Fox, and many more. The incomparable Salton Sea attracts incredible numbers of migrating birds, bringing even the spoilt local birders running.
Superb variety of birds in spring finery
Wide variety of mammals including Elk, Coyote, Foxes, Whales, Seals and several range-limited squirrels
Wide range of shorebirds (waders) on the Pacific coast, up to 20 species including the very smart Black Turnstone
Search for the endemic Yellow-billed Magpie near Santa Barbara
Stunning variety of coastal, desert and mountain butterflies
Boat trip to Channel Islands National Park, with exciting offshore endemics
Visit the famous Salton Sea for migrants by the thousand and a chance of rarities
Superb inland desert birding at Anza-Borrego, Joshua Tree, and Death Valley National Parks
Night drives for unique desert-adapted mammals
Grading
Grade A/B. We will make early morning starts on most days to make the most of the wildlife, relaxing or driving during the middle of the day to avoid the heat, before enjoying late afternoon jaunts for more wildlife. The tour is comprised mainly of short walks, of easy to moderate level. Some of the walks will be at elevation, but on marked trails. Driving time between locations will be on average 1 to 2 hours; two drives will be up to 3 hours with a break at a local wildlife reserve.
California is a land of extremes. From the beautiful beaches and wetlands of the Pacific coast to the Mojave Desert and its inhospitable Death Valley, this state offers an unmatched range of spectacular landscapes and habitats to explore. Positioned on the 'Pacific Flyway', more bird species have been recorded here than anywhere else in the US – over 660 species and counting – and the hills are still home to Mountain Lion, Bobcat and Coyote. With a delightfully pleasant climate, comfortable accommodation and stunning scenery, California is the ideal place to enjoy North American wildlife in the spring.
Our tour begins with a direct flight to Los Angeles and an overnight stop in nearby Malibu. We will then explore the best of southern California's coastal birding sites and the diverse habitats of the Pacific Coast Highway, spending two nights north of LA in Ventura and two nights to the south in San Diego. Species diversity is especially high during the spring migration; 20 to 25 species of wader are possible at this time, including Black Turnstone, Surfbird and Wandering Tattler, and other highlights may include Allen's Hummingbirds, California Scrub Jay and California Towhee. In the hills above Santa Barbara we should find the endemic Yellow-billed Magpie, and we will enjoy a day-trip to the Channel Islands National Park, where special wildlife includes the endemic Island Fox and Island Scrub Jay, as well as unique subspecies of Loggerhead Shrike and Pacificslope Flycatcher.
We will then work our way inland, stopping in Brawley and Borrego Springs, and spending two nights in each of Joshua Tree and Death Valley National Parks. We will explore the Laguna Mountains, where highlights could include Mountain Quail, and we will hope to see some of the millions of migrants that visit the famous Salton Sea each spring. In Anza-Borrego we will search for desert thrashers and Ladder-backed Woodpecker and in Joshua Tree National Park we should find Scott's Oriole. Death Valley may seem harsh and barren, but it supports a surprising diversity of wildlife; we will offer an optional night-drive here, which could turn up various species of pocket mice and kangaroo rats. We will end our tour on Mount Charleston, where the evergreen forest, ancient Bristlecone Pines and ice-cold springs seem a world away from Death Valley, before making our way to Las Vegas for our flight home.
DETAILED INFORMATION
Outline Itinerary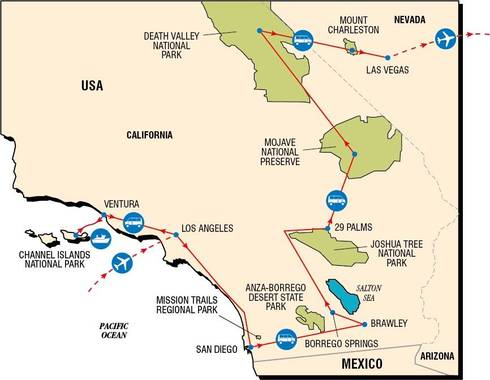 Day 1
Fly Los Angeles; overnight Malibu
Day 2/3
Pacific Coast & Channel Islands National Park
Day 9/10
Anza-Borrego Desert & Joshua Tree National Park
Day 11/12
Mojave National Preserve & Death Valley National Park
cloud_downloadDownload Full Itinerary
What's Included?
Flights
Accommodation:

We stay in comfortable accommodation throughout; all rooms have en-suite facilities. Some of the inns have swimming pools.

Food:

We have chosen to include breakfasts only on this tour; lunches and dinners will be payable locally. This means you can order according to your appetite each day, rather than taking on three course set menus with American-sized portions for every meal! We suggest budgeting around $15 per day for lunch and $35 per day for dinner; approximately $50 per person per day in total would be sensible. We will enjoy breakfast at our accommodation each morning, and eat dinner either here or a nearby restaurant in the evening. During the day, we will enjoy a mixture of local restaurants and the occasional picnic.
Dates & Prices
2021
Departures
Availability
Cost
Sun 25th Apr - Sun 9th May
SPACES
£4,895
Flights:
Most Naturetrek tours include flight costs ex-UK. If flights are not included, we indicate that here.
Flights are included in the tour cost
Regional Departures:
On certain tours it is possible to depart from a regional airport (rather than London). If a regional departure is possible, we indicate that here.
Regional Departures are available. Call 01962733051
Land only cost:
The "Land Only" cost is the tour price you will pay if you choose to arrange your own flights/transport.
£4,095
Single Room Supplement:
£1,300
Why Naturetrek?
At Naturetrek we craft expertly-guided group and tailor-made wildlife holidays and cruises to all seven continents. On one of our holidays, you can be assured that our passionate team will enable you to experience and enjoy the best of the world's wildlife and natural spectacles in as comfortable and rewarding a manner as possible, caring as best we can for the environment in the process. We are proud to provide:
The widest choice of wildlife holidays worldwide
Tours managed and led by naturalists, for naturalists
Outstanding value and exceptional customer service
Furthermore, as a Naturetrek client, our office team are always to on hand to help you – so if you have any queries about your holiday, whether before or after you have booked, we will be delighted to answer them on the phone. Please just give our team a call!