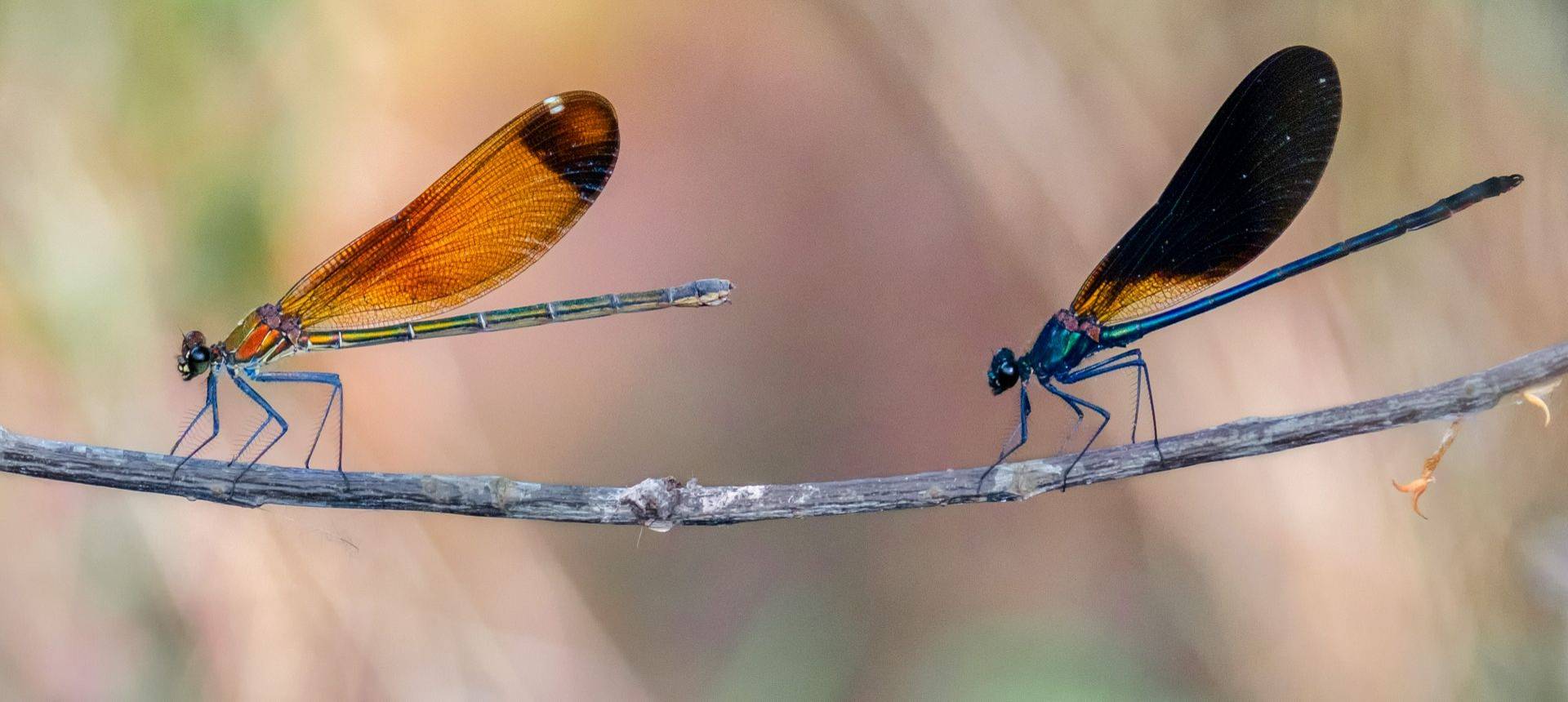 Sardinia's Dragonflies
Tour Code: ITA11
An 8-day holiday on the scented Mediterranean island of Sardinia, in search of its exotic dragonflies, birdlife and endemic reptiles and amphibians.
Sardinia's coastal lagoons, forests, mountains and limestone hills provide habitats for a rich variety of plant, insect and birdlife, including a number of endemics. Sardinia has about 35 species of dragonfly, most of which are not found in the UK, and its proximity to Africa means it hosts some rather exotic species. For the real dragonfly enthusiast there are exciting endemics such as the Island Bluetail, while the Copper Demoiselles which line up four or five in a row on reed stems, are rather easier to spot, and a gift to the photographer! Spring flowers, birds and a ubiquitous aromatic scent all add to the island's many charms.
Copper Demoiselle mating displays around small streams
Banded Groundlings (an African species) 'buzzing' around our feet
Green Hooktail, Bladetail & Lesser Emperor
Violet Dropwing, Orange-winged Dropwing & many more species
Up to 16 species of orchid including Sawfly, Milky, Man & Dense-flowered
Bee-eater, Golden Oriole, Barbary Partridge & Eleonora's Falcon
Curious Bronze Age stone tower monuments called 'nuraghi'
Led by expert naturalist guide
Can I help you?


X
Andy Tucker
Andy is an Aquatic Biology graduate (Aberystwyth) and worked in fisheries consultancy for a year after graduation before travelling to south-east Peru to work as a guide in the Amazon rainforest. During his year there he balanced guiding with his fisheries research and, after a brief spell back in England, returned to a full-time guiding post at Sacha Lodge in the Ecuadorian Amazon. Andy has travelled widely in Central and South America and his fluent Spanish is a huge advantage during our tours both across the Atlantic and in Spain. Andy has birdwatched for as long as he can remember and counts himself lucky to have seen so many fantastic bird and wildlife spectacles around the globe. He joined the Naturetrek team in 1998 and, while now kept busy as General Manager, is involved in the operations of a wide variety of tours in Latin America, Western Europe and North Africa.
Outline Itinerary
Day 1
Fly Alghero; transfer to Porto Torres
Day 2/3
Daily programme of wildlife excursions from Porto Torres
Day 4/5
Gennargentu National Park and lakelands from Abbasanta
Day 6/7
Daily programme of wildlife excursions from Capoterra
We spent a week hunting dragons on Sardinia, and we found some lovely damselflies and dragonflies that we don't normally see in mainland Europe. The scenery was beautiful, our guide was very knowledgeable and made sure we made the most of each site, the hotels were lovely and the food delicious.

C.C. Cambridgeshire
Food & Accommodation
All included in the price.
Comfortable hotels with en suite facilities.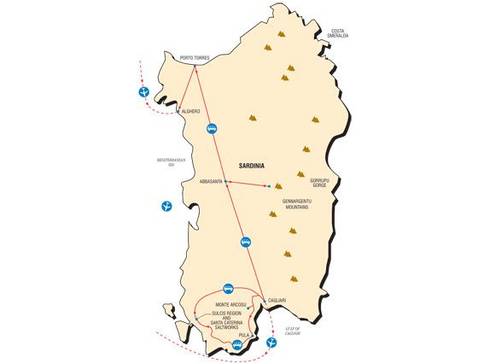 Tour Downloads
Tour leaders
Gerald Broddelez

Tour leader
Sardinia is the second largest island in the Mediterranean and lies in the Tyrrhenian Sea, south of Corsica. It is a land of contrasts, ranging from beautiful white sandy beaches and coves to a rugged mountainous interior and quieter southern areas. Great care has been taken to ensure that Sardinia has escaped the ravages of tourism which many other Mediterranean islands have suffered. The natural scenery is extremely varied, providing a wide range of habitats for the plants, animals and birds that live here. For the naturalist it is the island's abundant coastal lagoons, extensive forests, mountains and rugged limestone hills that are of particular interest, as they are home to a wide variety of flora and fauna. Human settlements have existed here for thousands of years and Sardinia is studded with traces of ancient civilisations, such as the curious stone tower monuments called nuraghi, built by Bronze Age inhabitants.
This tour visits the island's wild and little visited western coast and, if you love dragonflies, this is the trip for you! There are some amazingly colourful dragonflies here — indeed you would need to travel to Africa to see some of these species elsewhere. At this time of year more than 20 species can be seen, most of which are not found in Britain, including Green Hooktail, Bladetail, Banded Groundling, Island Bluetail and Long Skimmer. The island also boasts a rich diversity of other wildlife and is home to many endemic species; we will explore its marshes, lakes and other wetland areas in search of a tapestry of southern European insects, amphibians, reptiles and birds. Above us, the majestic outlines of Griffon Vultures will rise into the deep summer-blue sky. Closer to the ground we will be hoping to encounter some of the island's smaller inhabitants, such as the Tyrrhenian Tree Frog and Italian Wall Lizard, while Red and Fallow Deer and Wild Boar live in the scrub and forests. In summer the aromatic maquis delivers scents of thyme, myrtle, rosemary and lavender which blow across the island and flamingoes, known to the locals as 'rose-coloured folk', strut about in the numerous lagoons. Turquoise sea and lovely beaches also help provide a marvellous backdrop to our main quest — dragonflies!
After a flight to Alghero we will transfer to Porto Torres in the north-west of the island for a 3-night stay. The Sardinian coastline offers secluded inlets, golden sand dunes, wild lilies and Cistus as well as rugged cliffs that plummet to the sea, and from our base in Porto Torres we will visit nearby lakes and marshes that are excellent for birding and dragonfly watching. Numerous Banded Groundlings will be flying around our feet as we walk along, making the ground appear to shimmer underfoot. Island Bluetails, Lesser Emperors and Long Skimmers will be among the special dragonflies to look out for in these wetlands, darting around the long pink legs of Black-winged Stilts which pick their way daintily through the shallows here.
We will drive to the small reserve of Isola dell'Asinara, home to a large population of the rare Dark Spreadwing. Other dragonflies we'll hope to see on our guided tour of this uninhabited island are: Small Spreadwing, Broad Scarlet, Dainty Bluet, Blue-eyed Hawker, Southern Darter, Small Redeye and the distinctive Red-veined Darter. We will keep a look-out for the island's white donkeys, wild horses, Wild Boars and Mouflons, too. Lago Baratz is the only natural freshwater lake on Sardinia and offers one of the best places on the island for dragonfly watching: 15 species can be seen among the reeds and scrub! At the nearby area of Bosa, situated between the west-coast towns of Oristano and Alghero, the small streams are awash with Copper Demoiselles, and we'll be watching for their fluttery, butterfly-like flight — the males of this stunning damselfly perform dazzling display flights to attract females into their territories! Small Red Damsel, Green-eyed Hawker, and the glorious Violet Dropwing are found near these streams. We'll hope to round off our time here with views of Griffon Vultures and the romantic sunsets the area is famous for.
For the final part of our holiday we journey three hours south to Capoterra, near Cagliari. Purple Gallinule, Little Bittern and Red-crested Pochard are among the rare breeding birds we may see in this part of the island and we will visit the Isola di San Pietro, off the south-west corner of Sardinia to see its colony of Eleonora's Falcons which breeds there every summer. We can hope to add more than 10 species of dragonflies during our leisurely walks in the surrounding countryside, and top of our list of hoped-for last finds will be the Orange-winged Dropwing — a new species for Europe, coming from Africa and only recently discovered in the Cagliari area!

Please contact us on 01962 733051 for details on what extensions either pre or post tour are available for this Tour.
We spent a week hunting dragons on Sardinia, and we found some lovely damselflies and dragonflies that we don't normally see in mainland Europe. The scenery was beautiful, our guide was very knowledgeable and made sure we made the most of each site, the hotels were lovely and the food delicious.

C.C. Cambridgeshire

I am not an experienced traveller so going to Sardinia as part of a group to see the Dragonflies and Butterflies of the island was a reassuring way to go on a holiday with a difference. All the travel arrangements were well thought out and the hotels were of a high standard. The two guides who accompanied us (a party of 13 travellers) were friendly, helpful and extremely knowledgeable about all the various types of plants and animals we encountered on the trip.

M.R. Buckinghamshire

Gerald and Andrew worked very hard to ensure that the trip was very enjoyable/successful and they were good company throughout. Many thanks to them both.

Mr D. Kent

The trip for me was superb, we had fantastic leaders who taught us so much throughout and we saw some incredible dragonflies including the Bladetail and Green Hooktail. I could not have asked for more - absolutely brilliant!!! Many thanks.

A.K. Oxon

I learned a lot about the dragonflies and managed to get really good photos of all the species we saw. Accommodation, food, wine, weather were all excellent. History & Culture - I particularly enjoyed the trip to the Nuraghi Bronze Age site.

Dr T. Cambridgeshire

Wonderful holiday. Excellent leader.

R.A. Suffolk

This was the best Naturetrek holiday I have been on so far. The hotels were lovely, the food was great and its really good to have a choice for the meal in the evening. The group was small enough to be manageable but had enough pairs of eyes to notice everything. Nicola was a really great guide and flexed the itinerary according to the interests of the group. The picnic lunches were delicious and the Thursday lunchtime Sardinian pizza was a highlight! And the green hooktail was fabulous!

C.C. Cambridgeshire
2019
Departures
Availability
Cost
Sat 1st Jun - Sat 8th Jun
SPACES
£1,595
Flights:
Most Naturetrek tours include flight costs ex-UK. If flights are not included, we indicate that here.
Flights are included in the tour cost
Land only cost:

The "Land Only" cost is the tour price you will pay if you choose to arrange your own flights/transport.
£1,475
Single Room Supplement:
£185