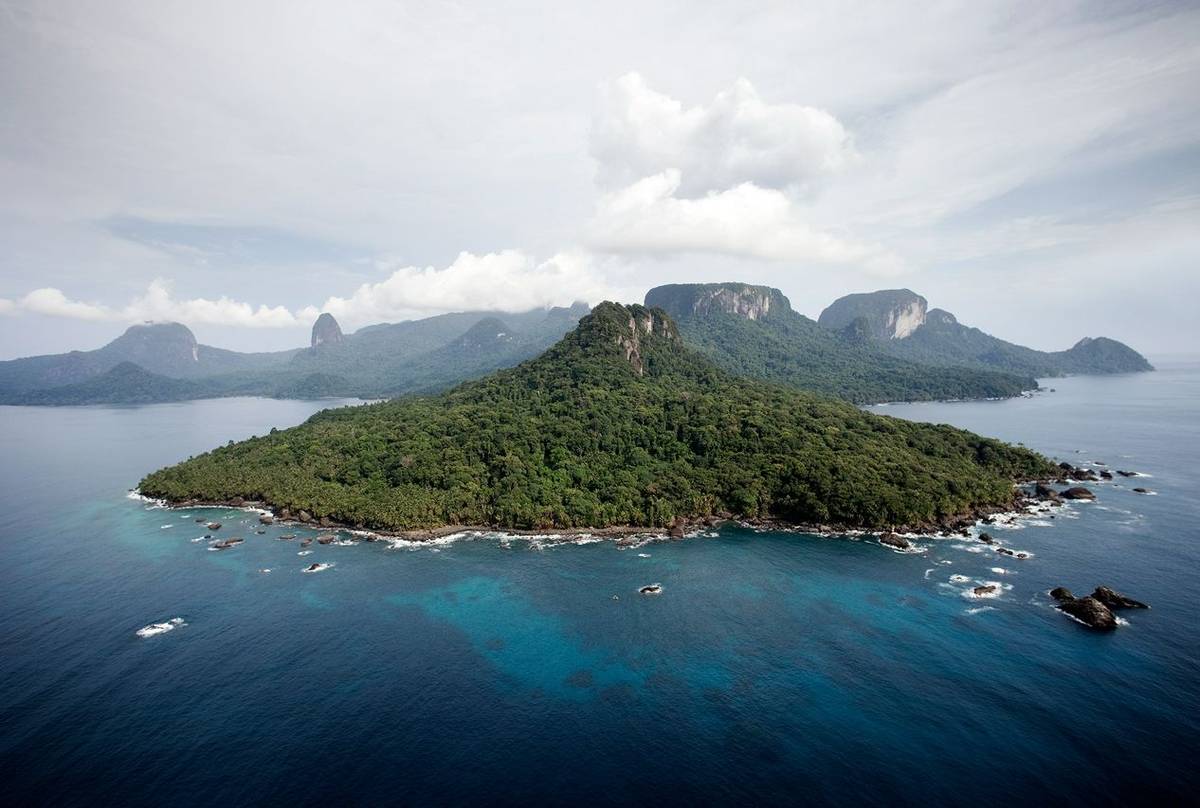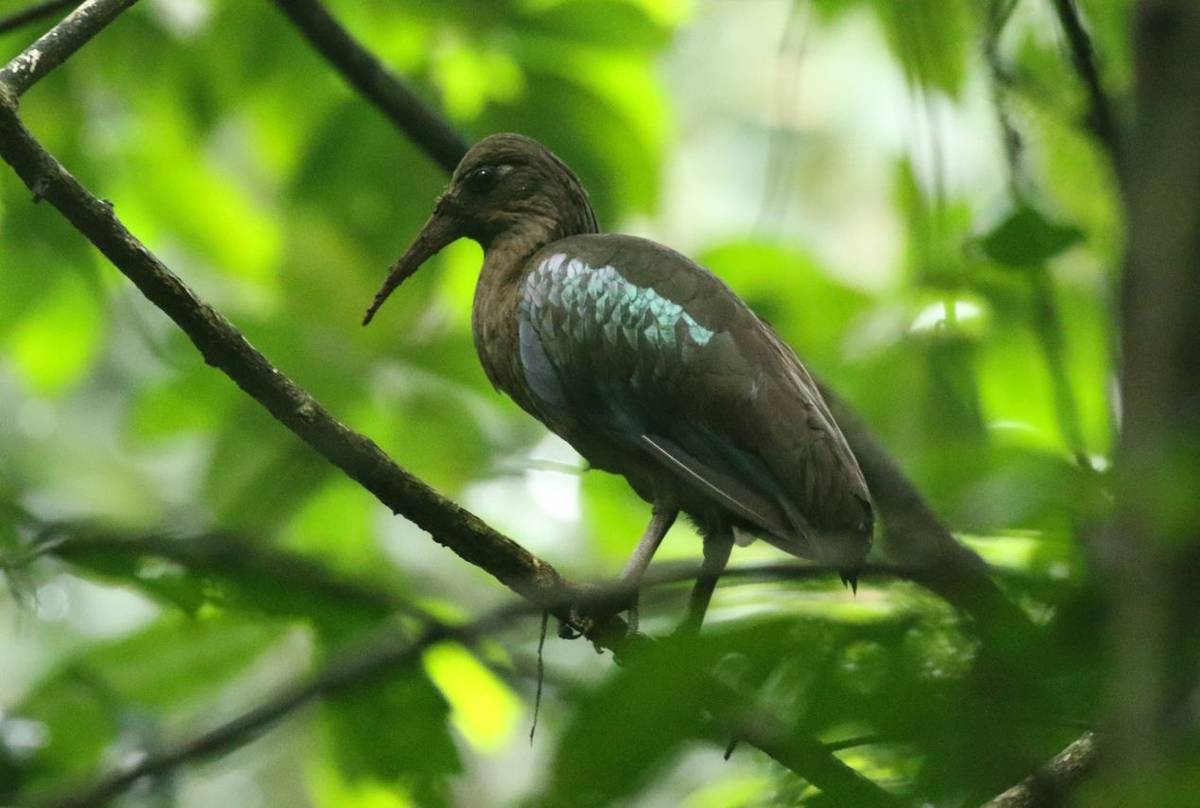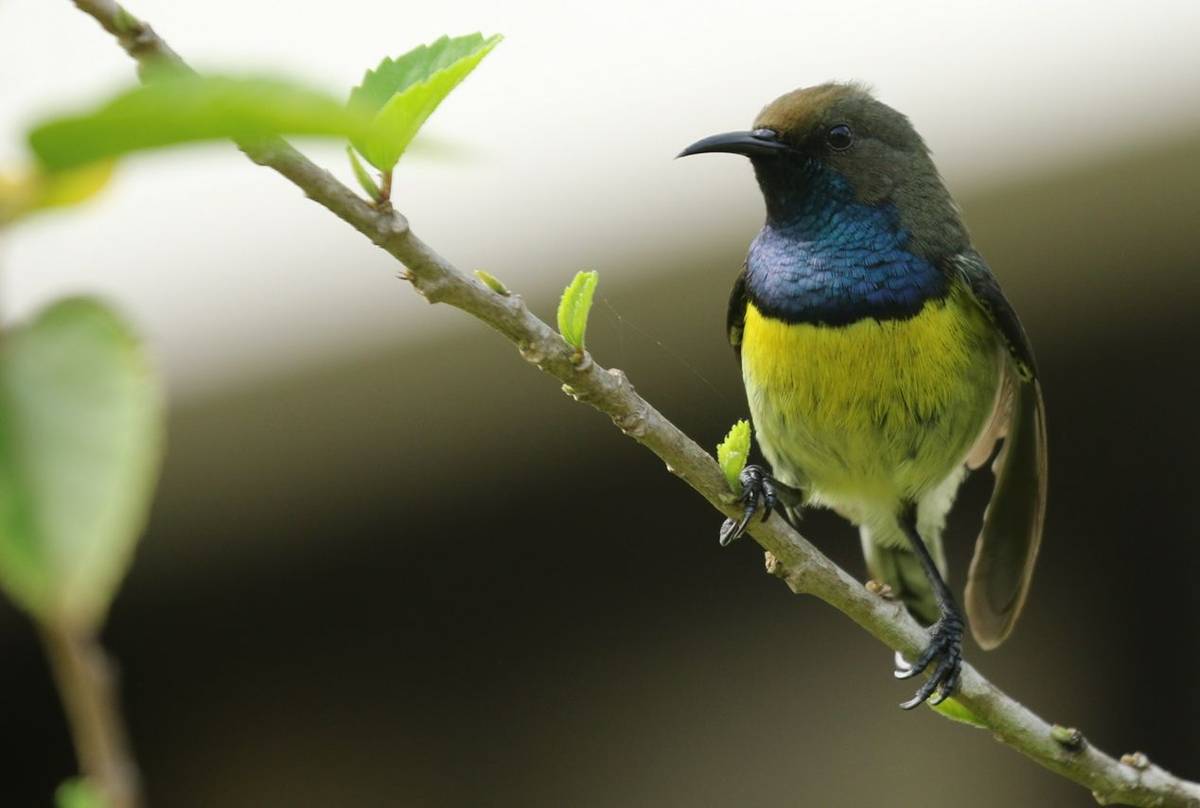 Tour Itinerary and Reports
Sao Tome and Principe
Tour Code: STP01
A 12-day holiday to the West African nation of São Tomé and Príncipe in search of its endemic birds and other natural history.
12 days from
£4,995 (Inc flights)
Land only price from
£4,595
Add this tour to your saved toursRemove from saved toursstar_border star

Add to Saved Tours
Highlights
Tour Itinerary and Reports
Summary
São Tomé and Príncipe are two small islands off the coast of continental Africa, in the Gulf of Guinea, west of Gabon and Equatorial Guinea. Although only 250km from the mainland, the islands, which make up a single country although 140km apart, boast an extraordinary number of endemic birds – no less than 28 species. Clothed in lush tropical forests and skirted with white sandy beaches, the islands are sometimes called the "African Galapagos." On this 12-day tour we begin with five nights on São Tomé, venturing into Obo National Park in the São Toméan highlands for such birds as São Tomé Speirops, Dwarf Olive Ibis, Giant Weaver and São Tomé Weaver. We then transfer to Príncipe for four nights, searching the forests and plantations for such delights as Príncipe Sunbird and Príncipe Golden Weaver.
See specialities such as Dwarf Olive Ibis and Sao Tome Grosbeak 
Other endemics include Newton's Sunbird, Giant Sunbird and Giant Weaver
We will maximise our time to find as many of the 28 species of endemic birds
Visit lush forests, deserted sandy beaches and mangroves
Stay for two or three nights in a boutique hotel on São Tomé very close to the beach
Transfer to Príncipe for four nights, staying in a converted plantation house
Boat trip to nearby seabird islands, with White-tailed Tropicbirds and Sooty Terns
São Tomé and Príncipe may be two separate islands but together they form one African island nation. They sit in the Atlantic Ocean, just north of the Equator, about 150 miles off the coast of Gabon. The islands are part of a volcanic chain known as the 'Cameroon Line' which runs from Mount Cameroon in the north, to the island of Bioko, through São Tomé and Príncipe, then onward to Annobón. These little-known outposts are clothed in lush tropical rainforest and fringed by white sandy beaches and colourful coral reefs. They are 'the Galápagos of Africa', their long isolation from the mainland freeing them to their own unique evolutionary path and allowing the creation of a suite of birds and other wildlife found nowhere else on Earth. Indeed, 28 endemic species of birds can be found on São Tomé and Príncipe (depending on which taxonomy is followed), together with an interesting variety of others that also live on the African mainland. Besides being a birders' paradise, this beautiful archipelago is also home to a fascinating assemblage of endemic reptiles, amphibians and plants.
Many of the once extensive sugar cane, cocoa and coffee plantations in the coastal areas on both islands have long been abandoned and are now clothed in secondary forest which harbours a wealth of birds. Further inland, the mountainous interiors are covered in extensive tracts of rainforest which cling to the precipitous slopes of towering volcanoes, their summits so often obscured within a veil of mist or cloud. Our visit to the islands will be during one of their drier periods — when birding opportunities can be maximised — and is designed to look for the endemics, although our tour avoids the strenuous hiking and basic camping necessary to find all of the 28 species present.
Our 12-day holiday will begin with an afternoon flight to Lisbon and an overnight stay. The next day, we will take an early morning flight from the Portuguese capital to São Tomé, where we will spend our first three nights at a well-appointed boutique hotel within walking distance of one of the island's idyllic beaches. The hotel gardens and immediate surroundings should produce our first endemics in the form of São Tomé Prinia, Newton's Sunbird and the remarkable Giant Weaver, as well as the localised Golden-backed Bishop. Further afield, we will venture into Obo National Park in the São Toméan highlands. The road from the town of São Tomé winds its way up the mountain, through fields, villages and coffee plantations, to the botanical research centre at Bom Sucesso. This is the starting point of the trail into the Obo National Park and is a good place in which to find São Tomé Thrush and São Tomé Oriole. We will follow the trail towards Pico de São Tomé, the island's highest peak, where we will be looking for São Tomé Spinetail, São Tomé Speirops and São Tomé White-eye. Higher up the mountain lies a spectacular crater lake which is a good place from which to survey the forests in the hope of seeing São Tomé Green Pigeon and São Tomé Olive Pigeon, as well as African Emerald Cuckoo. With luck on our side, we might even hear (or better, see) the elusive São Tomé Scops Owl!
Next, a short flight will take us to Príncipe, where we will spend six nights in a comfortable converted cocoa plantation house. It was on this island in 1919, during a total eclipse of the sun, that British astronomer Arthur Eddington corroborated Albert Einstein's theory of relativity for the first time, his photographs of the eclipse revealing bending of the starlight that accorded with Einstein's predictions! We will begin our explorations on Príncipe by walking to the stunning beach at nearby Ribeira Izé, Príncipe's first capital. The atmosphere on Príncipe is very relaxed, and we will spend the next few days exploring the nearby 'roças' (large plantation estates) as well as the island's unspoilt forests. Here we will be searching for species such as Príncipe Sunbird, Dohrn's Thrush-babbler and Príncipe Golden Weaver. On one of the days, conditions permitting, we will take a boat trip to the Tinhosas Islands, located 13 miles to the south of Príncipe, which are home to a large number of nesting seabirds including Brown Boobies, Sooty Terns and both Black and Brown Noddies. These waters are also home to several species of cetacean, with Humpback Whales passing through during this period.
After a week of enjoying the islands' vibrant tropical forests and deserted and unspoiled beaches, we must reluctantly depart, flying back to London via Lisbon.  
DETAILED INFORMATION
Outline Itinerary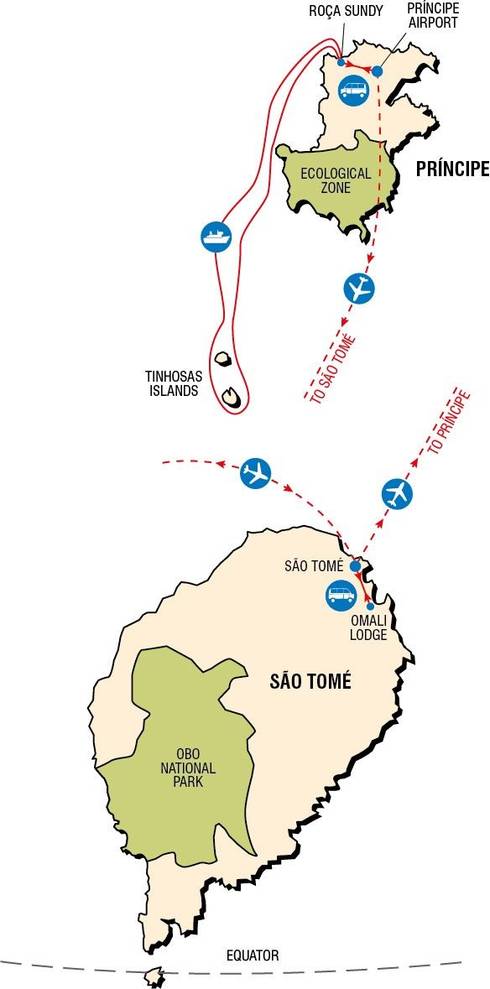 Day 1
Fly London to Lisbon, overnight
Day 3/4
Obo National Park and southern São Tomé
Day 6/10
General natural history excursions in Príncipe including boat trip to Tinhosas islands
Day 11
Fly to São Tomé; city tour; fly London
cloud_downloadDownload Full Itinerary
What's Included?
Flights
Accommodation:

A two centre holiday based in two comfortable, but simple, hotels. All rooms have en-suite facilities.

Food:

All meals are included except for dinner on day 1. Allow £25.
Dates & Prices
2022
Departures
Availability
Cost
Fri 14th Jan - Tue 25th Jan
SPACES
£4,995
Flights:
Most Naturetrek tours include flight costs ex-UK. If flights are not included, we indicate that here.
Flights are included in the tour cost
Regional Departures:
On certain tours it is possible to depart from a regional airport (rather than London). If a regional departure is possible, we indicate that here.
Regional Departures are available. Call 01962733051
Land only cost:
The "Land Only" cost is the tour price you will pay if you choose to arrange your own flights/transport.
£4,595
Single Room Supplement:
£495
Tour Leader:
Please note that, whilst we assign leaders to particular tours well in advance, we reserve the right to make changes if necessary
Andy Smith

Andy lives on the edge of Dartmoor in South Devon. He's been a keen birder and naturalist for as long as he can remember and has enjoyed a varied career divided between conservation work in Britain and Ireland, school teaching and wildlife tour leading. He started leading for Naturetrek way back in 1997 and has now led over 150 tours to a wide range of destinations in Europe, Africa, Asia, the Americas and Antarctica. When not currently leading tours Andy teaches geography and history to teenagers and in his spare time he explores the natural history of Dartmoor and the South Hams and serves on the records committee of Devon Birds. He also makes regular trips to the west of Ireland to visit his children and grandchildren. 
Why Naturetrek?
At Naturetrek we craft expertly-guided group and tailor-made wildlife holidays and cruises to all seven continents. On one of our holidays, you can be assured that our passionate team will enable you to experience and enjoy the best of the world's wildlife and natural spectacles in as comfortable and rewarding a manner as possible, caring as best we can for the environment in the process. We are proud to provide:
The widest choice of wildlife holidays worldwide
Tours managed and led by naturalists, for naturalists
Outstanding value and exceptional customer service
Furthermore, as a Naturetrek client, our office team are always to on hand to help you – so if you have any queries about your holiday, whether before or after you have booked, we will be delighted to answer them on the phone. Please just give our team a call!