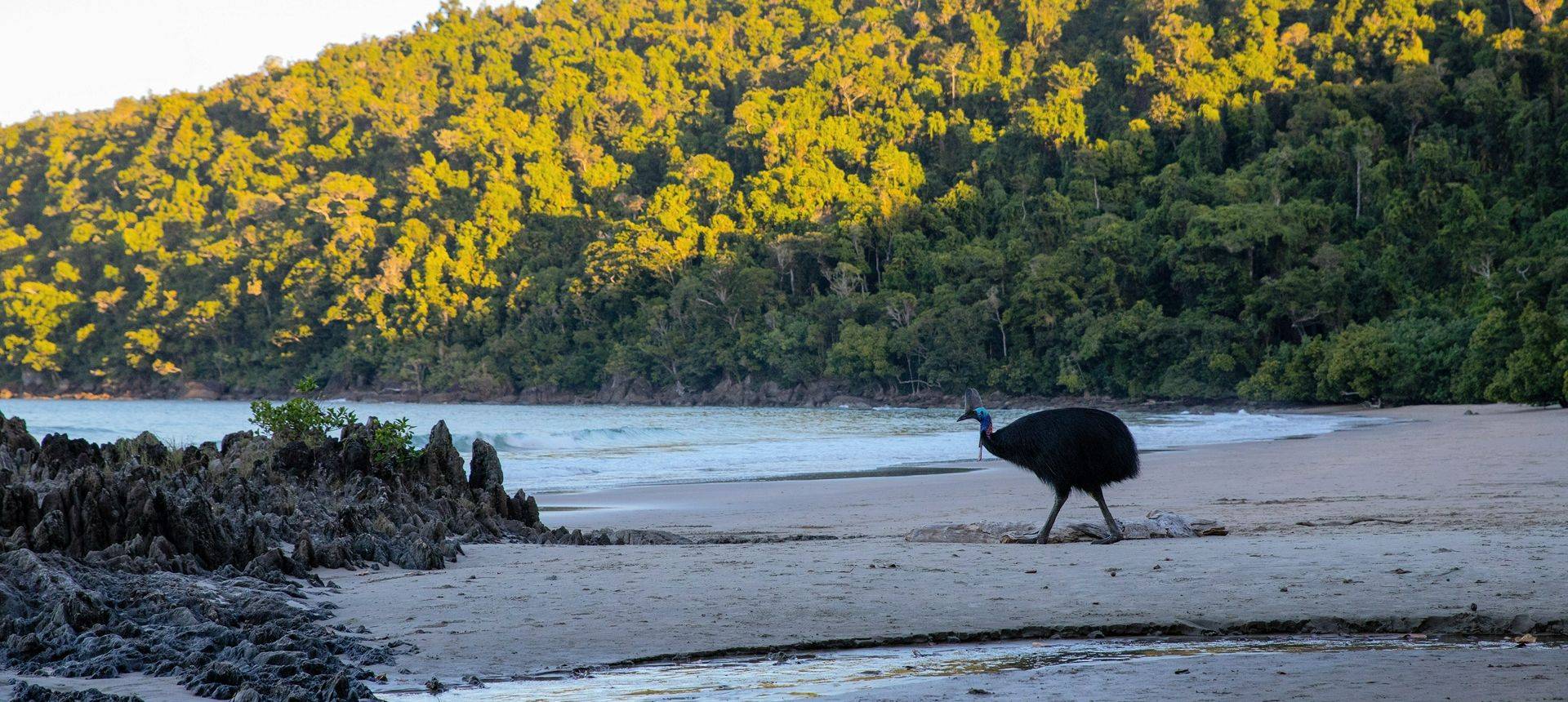 Queensland's Rainforests & Great Barrier Reef
Tour Code: AUS02
A 16-day appreciation of the feast of tropical birdlife, unique mammals and unrivalled marine life to be found on the Great Barrier Reef, the Atherton Tablelands, and in the Daintree and Lamington National Parks; indeed, the very best of Australia!
Tropical Queensland is Australia's ultimate wildlife destination. Beginning in Cairns, we'll enjoy the wealth of waterbirds in the mangrove-lined bay, then take a boat trip out to Green Island and Michaelmas Cay on the Great Barrier Reef for the corals, colourful fish and birdlife. Inland, we'll explore the Atherton Tablelands, looking for endemic birds in the rainforest around the beautiful crater lakes of Barrine and Eacham, and spotlight for rarely seen mammals. We'll explore the magnificent Daintree Rainforest by foot and by boat, then conclude our tour in Lamington National Park, Australia's most extensive tract of subtropical rainforest, where an exceptional diversity can be found.
Duck-billed Platypus, tree-kangaroos, possums & gliders
Riflebird, Victoria?s Chowchilla, Scrubwren, Atherton Dove, Fruit Wompoo
Explore the Daintree Rainforest & River by boat
Lamington National Park
Pristine ancient rainforests
Stay in small, locally owned lodges
Learn from our popular and expert Australian naturalist tour leader
Can I help you?

Outline Itinerary
Day 1/2
Depart London/in flight
Day 3/5
Cairns and Great Barrier Reef
Day 6/7
Atherton Tablelands
Day 8/11
Julatten and Daintree
Day 12
Fly Brisbane and transfer to Lamington National Park
Day 13/14
Lamington National Park
With our excellent guide we had excellent sitings of birds and animals. An excellent introduction to Australia. We were a small group that got on well. The food and accommodation were excellent. We would definitely recommend this holiday with Naturetrek.

G. & C.S. Gwent
Food & Accommodation
All included in the price.
A mixture of comfortable hotels and chalets, all with private facilities.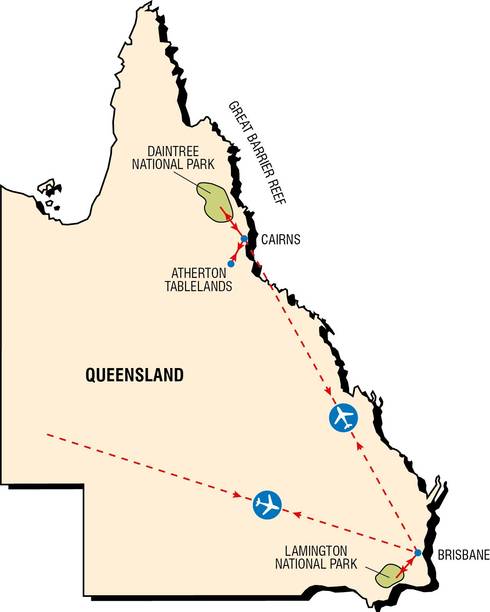 Tour leaders
Carol Iles

Carol was born and raised in Sunderland in England's industrial North-East but considers herself a country girl due to all the time she spent exploring the coastline and countryside, learning about the geology, plants and wildlife. Carol regarded the best aspect of graduating from the University of East Anglia was becoming fluent in French during a year in France, joining the UEA Bird Club, and meeting her future husband Andrew with whom she has travelled and birded for 30 years in almost 100 countries. This has included 6 months N-S in Africa, 6 months around South America, and two complete round-the-world trips. From her first visit to Australia in 1985 Carol fell in love with the scenery, the space and the wildlife, and she and Andrew eventually succeeded in emigrating in 1998. She has travelled extensively in Australia, always armed with binoculars and a spotlight, since seeing her first Sugar Glider. Reaching Julatten in NE Qld she and Andrew finally stopped and were encouraged in 1999 to establish themselves as guides, building a good reputation and relishing the opportunity to show others the amazing variety of mammals, birds, reptiles, frogs and plants in the area. Carol is a qualified TEFL teacher, which resulted in two happy years teaching English in Greece. A lifelong love of horses and riding led to her volunteering for 4 years with Riding for the Disabled, and her dedication to conservation has led her to join volunteer bird and mammal surveys, and weeding and planting schemes wherever she has lived in the UK and Australia. Carol's knowledge of the birds and mammals of the Atherton Tablelands, Daintree National Park and Cairns coastal fringe has been enthusiastically acknowledged by her clients, and her caring personality ensures everyone travelling with her receives the attention required to fulfill expectations.
Australia holds some of the world's finest remaining wilderness areas. Its scenic diversity and fascinating wildlife is difficult to match. It is, though, a vast spread, and difficult to digest without extended exploration. Queensland, by contrast, offers the continent in microcosm, much of the best of its varied habitats lying within a short distance of Cairns. Indeed, within a 'stone's throw' lie palm-fringed beaches, the coral reefs and colourful fish of the Great Barrier Reef, the tropical rainforests of the Daintree World Heritage Site and the lakes and rolling grassy uplands of the Atherton Tablelands, with their patches of upland rainforest and eucalyptus. Amongst these habitats we will look for the numerous tropical bird species that occur — parrots, cassowaries, Emus, colourful kingfishers, birds-of-paradise, bowerbirds, honeyeaters and exotic seabirds. We should also see a wide range of mammals including Duck-billed Platypus, tree-kangaroos, flying foxes, gliders, possums, and a variety of different kangaroos and wallabies.
We begin in Cairns, a neat, town-sized city with a magnificent backdrop of rugged, rainforested hills and overlooking a tidal, mangrove-lined bay that attracts a wealth of waterbirds. Pelicans, egrets, spoonbills, ibises, waders, terns and other wetland birds may all be enjoyed as we spend our first day on Australian soil strolling along the Esplanade. We will also walk in the Botanical Gardens, getting a feel for the region's tropical vegetation, and looking for such colourful bird specialities as the Double-eyed Fig Parrot; then, as a tropical dusk descends on the leafy city, the air fills with ghostly flying foxes bound for their favourite fruit trees!
For two days we will explore the Great Barrier Reef. This is the world's largest expanse of coral reef, still growing after more than 10,000 years and stretching over 2,000 kilometres from Papua New Guinea along Queensland's coast. It is home to over 15,000 species of fish, 400 types of hard and soft coral, 400 mollusc species and six kinds of turtle. We begin with a short cruise to Green Island, named by Captain Cook in 1770 and proclaimed a national park in 1924. This forested island lies on the inner reef and offers good snorkelling, gentle rainforest walks, and birds such as breeding Black Noddies and Emerald Doves. We will follow this with a full day's cruise to the Frankland Islands on the outer reef. Here we are able to enjoy a wide range of underwater activities, as well as breeding colonies of Brown Noddy, and Sooty, Bridled and Crested Terns. Alongside them, Brown Boobies, Great and Lesser Frigatebirds may also be seen. Those who prefer not to snorkel or dive need not worry; underwater observatories and comfortable glass-bottomed 'submarines' allow easy access to the remarkable show of colourful fish and corals beneath the water.
The Atherton Tablelands are an area of attractive upland dairy farming country, broken by pockets of high altitude rainforest, lakes and wetlands. Staying close to the beautiful crater lakes of Eacham and Barrine, we will look for some of the region's endemic birds and mammals in nearby rainforest and at the famous 'Cathedral' and 'Curtain' Fig trees. Wompoo Fruit Dove, Chowchilla, Atherton Scrubwren, Victoria's Riflebird (one of Australia's birds-of-paradise) and the obliging Musky Rat Kangaroo may be amongst the highlights. We will also arrange optional night-drives to look for owls, flying foxes, tree-kangaroos, gliders, possums and Duck-billed Platypus.
Not far to the north lies Julatten, a village situated in well forested farming country just south of the Daintree National Park. Surrounded by rainforest and farmland, and close to the dry bushland of interior Queensland and the magnificent Mount Lewis, the variety of birds in this area is exceptional. The chalets here are run exclusively for those interested in wildlife, and the surrounding rainforest and wetland are a birdwatcher's paradise. Nearby, we will explore the ambling Daintree River and rugged Daintree rainforest. This is a magnificent spot, best explored on early morning and evening boat trips along the Daintree River. Exploring the backwaters of this magnificent river, as the morning mists rise, is usually rewarded with abundant birdlife, including the rare Great-billed Heron, Black Bittern, Little Kingfisher and Papuan Frogmouth. On an evening or
night-time cruise we will expect to see Estuarine Crocodiles and nocturnal possums and gliders.
We now fly to Brisbane and drive up into south-east Queensland's coastal mountain range where the magnificent Lamington National Park encompasses Australia's most extensive remaining tract of subtropical rainforest and one of its richest wildlife areas. Amongst its mountain peaks, cliffs and gorges lies O'Reilly's, a family-run guesthouse. King Parrots, Satin and Regent Bowerbirds, Noisy Pittas, Paradise Riflebird and Albert's Lyrebird are amongst the numerous bird specialities, whilst Short-beaked Echidna, Whiptail Wallaby, Red-necked Pademelon, Northern Brown Bandicoot and Feather-tailed Glider are just some of the fascinating marsupials that we may see during our walks here.
Having seen some of the very best of Australia, and enjoyed standards of accommodation, fine wines and delicious seafood that are not normally associated with rainforest exploration, it will not be easy to return home! The range of possibilities for a holiday extension, however, are mouthwatering!
Please contact us on 01962 733051 for details on what extensions either pre or post tour are available for this Tour.
With our excellent guide we had excellent sitings of birds and animals. An excellent introduction to Australia. We were a small group that got on well. The food and accommodation were excellent. We would definitely recommend this holiday with Naturetrek.

G. & C.S. Gwent

Thank you for a magic holiday.

S.Y. Hampshire

... this was simply the best tour I've ever been on. It was absolutely outstanding. Thank you for a wonderful experience... Tony is a brilliant ornithologist.

A.G. Oxfordshire

The trip was very enjoyable and the guides excellent. Overall it was a terrific experience and I would like to thank you for giving it to me!

M. D. Worcestershire

Thank you for a wonderful holiday. Ellen and Glen fulfilled 2 holiday ambitions: to see a Duck-billed Platypus and to see a Lyre bird. Magic!

J.M. Norfolk
2019
Departures
Availability
Cost
Sun 25th Aug - Mon 9th Sep
SPACES
£6,395
Flights:
Most Naturetrek tours include flight costs ex-UK. If flights are not included, we indicate that here.
Flights are included in the tour cost
Regional Departures:

On certain tours it is possible to depart from a regional airport (rather than London). If a regional departure is possible, we indicate that here.
Regional Departures are available. Call 01962733051
Land only cost:

The "Land Only" cost is the tour price you will pay if you choose to arrange your own flights/transport.
£5,640
Single Room Supplement:
£750