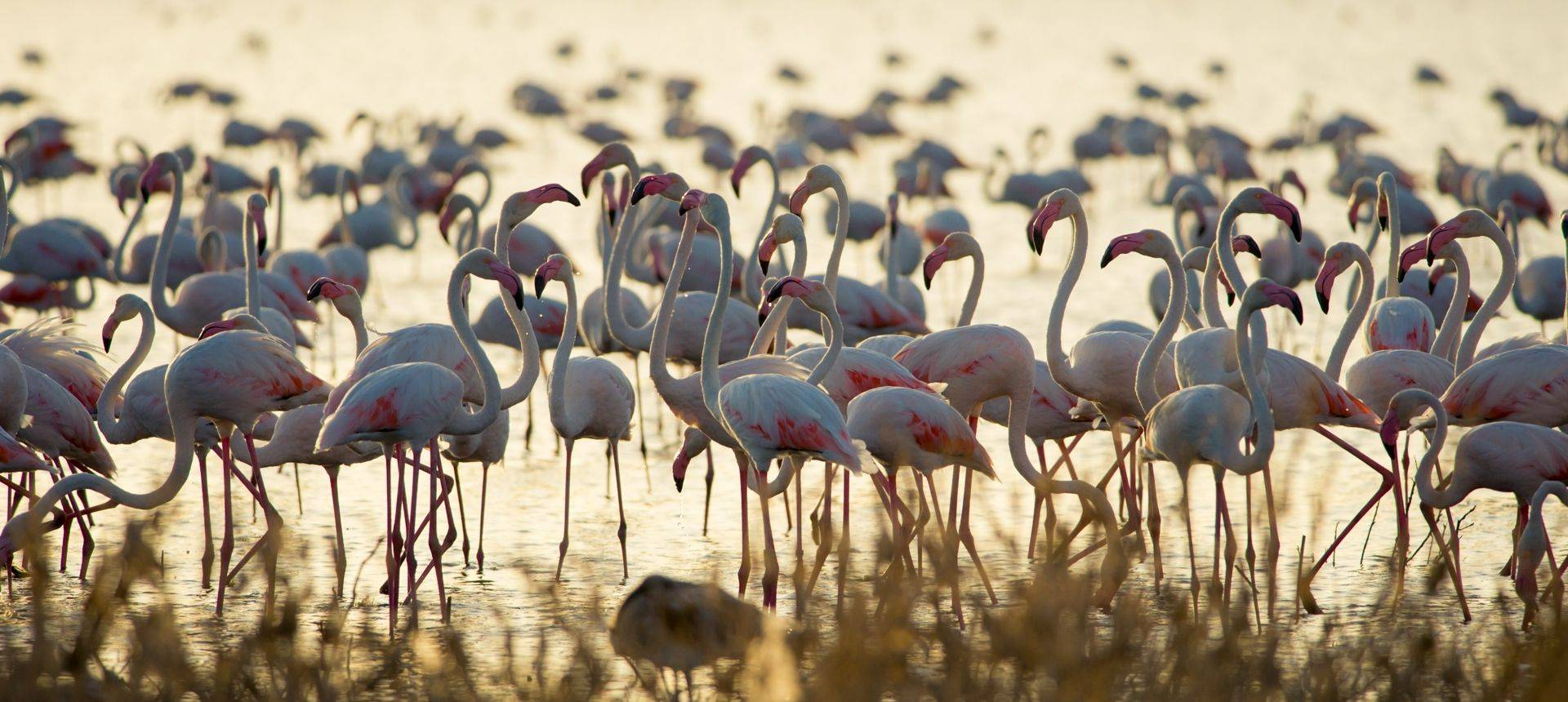 Provence at Christmas/New Year
Tour Code: FRA18
An 8-day holiday featuring the best of the birdlife of southern France in winter.
This Christmas wildlife holiday offers a unique mix of birds, mammals and local medieval and Roman antiquities, enjoyed in a mild Provencal winter climate with a special French Christmas Eve dinner to boot! In particular, we'll focus on the Camargue, the marshy delta of the River Rhône. This legendary region of wild horses, fighting bulls and abundant birdlife has been a 'Mecca' for birdwatchers for decades. The ancient delta of the Durance, known as the Crau, is another highlight – its dry stony habitat a home to steppe birds rarely seen elsewhere in France, such as Little Bustard and Pin-tailed Sandgrouse. We'll also explore the hills of Les Alpilles and Mont Ventoux, and look for wintering Wallcreepers at the great aqueduct of Pont du Gard!
Combine birds, culture & Christmas in Provence!
Enjoy the birdlife of the famous Camargue
Highlights include Greater Flamingoes & birds of prey
Eagle Owl, Little Bustard & Pin-tailed Sandgrouse in La Crau
Wallcreeper, Alpine Accentor, Citril & Snow Finches in the hills
Enjoy historical visits to Pont du Gard, Aigues-Mortes, Arles, etc
Experience a traditional French Christmas dinner
Expertly guided by a Naturetrek ornithologist & naturalist
Can I help you?


X
Tom Mabbett
Tom
Tom has been fascinated by wildlife and the natural world since childhood. At primary school he learnt all the British bird species, and he's been watching and enjoying them ever since! Trips to the Wildfowl and Wetlands Trust (WWT) Slimbridge further fuelled his passion for birds and, when Tom's family bought 10 acres of land, he created his very own nature reserve on it! After gaining a degree in Biology from Exeter University, Tom set off in search of some of the planet's incredible wildlife, first travelling slowly around the world, and then returning to Australia. As well as seeing a wonderful variety of the world's birds on his travels, he also spent a lot of time beneath the surface of the ocean, scuba diving in Thailand, Australia and Fiji. Two of Tom's many highlights were diving with mighty Bull Sharks and swimming alongside gigantic Whale Sharks. Since returning to the UK Tom has worked in school wildlife clubs and also worked at WWT Slimbridge. Having grown up in the Cotswolds, a lot of Tom's spare time has been spent recording the birds and reptiles of this area's commons and wetlands. He also travels in search of overseas wildlife as often as he can, and amongst the European destinations that Tom and his brother have explored have been Hungary, France, Spain, Holland and, most recently, snow-clad Poland in the depths of winter to focus on mammal-tracking. Tom has now lead and co-led over 20 Naturetrek tours in France, Spain, Italy, Portugal, Finland, Belgium, Greenland, Guyana, La Palma and Scotland as well as short UK breaks including the Somerset Levels and Forest of Dean. Tom remains a very popular leader with our groups and when not out in the field works within our busy operations team at our new office in Chawton. Please feel free to contact Tom on 01962 733051 or email tom@naturetrek.co.uk with any questions or to discuss a future tour.
Outline Itinerary
Day 1
Fly Marseilles and transfer to Arles
One of the best birding trips ever - great guides (extremely knowledgeable, excellent interpersonal skills, very good drivers and operated as a team) - we saw (and learnt) so much and were able to explore so many different and fascinating landscapes. With such wonderful leaders and a congenial group of guests (and good weather as a bonus), it was a brilliant holiday.

Z.A. West Sussex
Food & Accommodation
All included in the price.
Comfortable hotel serving good local food, all rooms with private facilities.
Provence, and especially the region of the Camargue, is best known as a spring destination for naturalists. However, there is also much to see in winter; indeed some birds are more readily seen at this season. Blue Rock Thrush, Black Redstart, Penduline Tit, Rock Bunting, Citril Finch, Snow Finch and Alpine Chough are amongst the interesting passerines that we should find, and a regular highlight of our previous visits has been that most prized of European birds, the enigmatic Wallcreeper. At a time when only the occasional Chiffchaff relieves the gloom of a British winter, it is possible to find up to seven species of warbler in Provence, including Cetti's, Sardinian, Subalpine and Dartford, and even more exciting is the presence of numerous raptors patrolling the Camargue marshes and surrounding hills, a variety which could include Spotted, Booted and Bonelli's Eagles. Best of all, we will be able to enjoy our birdwatching in a climate that is warmer, and during daylight hours that are longer than those at home!
Provence is also rich in architectural and historical features, a number of which can be viewed during the course of our birding activities. The name itself reminds us that the region was a Roman provincia and it contains a wealth of Roman antiquities. In the western part of the Rhône Delta we find the fully-walled medieval city of Aigues-Mortes, founded in 1241 by Louis IX to compete with other Mediterranean ports and to act as base for Crusades. It now lies eight kilometres inland as a result of natural silting. Less grand, but nonetheless interesting, buildings include shepherds's refuges in exposed parts of the delta, with characteristic rounded ends placed towards the prevailing wind.
The Camargue itself, covering about 750 square kilometres, is the marshy area of the Rhône Delta, and we will spend three days exploring this legendary region of wild horses and fighting bulls. The Greater Flamingo is probably its best known denizen but other wetland birds abound. Flocks of 3-4,000 Red-crested Pochard can be seen, together with Black-necked Grebes, Kentish Plovers, Avocets, considerable numbers of Mediterranean Gulls, Cetti's Warblers, and both Penduline and Bearded Tits. Numerous raptors are attracted by this abundance of prey and Common Buzzards are a conspicuous feature of the Provence landscape whilst scores of Marsh Harriers and Hen Harriers patrol the reedbeds. Other rarer birds of prey also occur on occasions, adding the exciting possibility of seeing Spotted, Bonelli's or Booted Eagles to each excursion in the field.
The ancient delta of the Durance — now a tributary of the Rhone — forms the area known as the Crau, covering some 50,000 hectares. This dry stony habitat has been extensively irrigated and grows crops such as melons and the famous Crau hay. This latter crop, which provides three cuts a year, is especially prized for feeding race horses. The surviving areas of original habitat support good numbers of Little Bustard and France's only population of Pin-tailed Sandgrouse. Other noteworthy residents include Calandra Lark, Dartford Warbler and Great Grey Shrike.
North-east of our base in Arles is a range of hills rising to 387 metres called Les Alpilles, a limestone extension of the Luberon range. Here we will look for Wallcreeper, and may also see Alpine Accentor, Rock Sparrow, Blue Rock Thrush and Bonelli's Eagle. A little further away is Mont Ventoux (1,909 metres), which we will plan to visit on our final day. The Italian poet and scholar, Petrarch, ascended Ventoux with his brother in 1336 and initially revelled in the view. Later, however, he read St. Augustine's admonition that 'men should not take pleasure in mountains or scenery', and regretted his frivolity. Hopefully, we can enjoy this splendid mountain without pangs of guilt! On its lower, wooded slopes we will look for the beautiful Citril Finch, and here we may also see Crested Tit. At higher elevations, above the treeline, we will hope to find two species characteristic of this inhospitable terrain, Alpine Accentor and that hardy alpine sparrow, the Snowfinch. Journeying to and from Mont Ventoux, we pass the great aqueduct known as the Pont du Gard. This aqueduct was constructed by Agrippa about 19 BC to carry the water of the Eure (near Uzes), to Nimes, some 40 kilometres away. It is generally regarded as one of the most remarkable feats of Roman engineering, and provides another chance of encountering the elusive Wallcreeper that would provide such a fitting finale to this winter break.
Please contact us on 01962 733051 for details on what extensions either pre or post tour are available for this Tour.
One of the best birding trips ever - great guides (extremely knowledgeable, excellent interpersonal skills, very good drivers and operated as a team) - we saw (and learnt) so much and were able to explore so many different and fascinating landscapes. With such wonderful leaders and a congenial group of guests (and good weather as a bonus), it was a brilliant holiday.

Z.A. West Sussex

I commend Maurice Seupe for his picnic lunches and his juggling of the visits to take account of weather forecasts also served us well.

A.M. Suffolk

I chose this holiday because I wanted to get away for Christmas and to enjoy the outdoors. I really enjoyed the holday.

P.M. Wales

Both James and Simon were so knowledgeable about birds and extremely patient when it came to helping participants hone in on those elusive birds in the distance.

V.P. Pitcher

Excellent rooms, delightful patrons. Altogether a most rewarding and well organised trip, with special thanks to our leaders James and Simon.

D.W. London

The leaders worked well together and that helped with the success of the trip.

S.H. London

The hotel was excellent - the hosts could not do enough for you, and were very obliging. Picnic lunches provided by James and Su were fantastic. Far better than any provided on other tours (not Naturetrek). Finding a café on Christmas Day was inspired.

G.T. West Sussex

We did this holiday 3 years ago and really enjoyed it so decided to risk a repeat. Flights were better for us this time - different guides this time but we couldn't fault them. Both worked tirelessly to ensure that everything went well, and to ensure that we saw as many birds as possible. Hotel now under different management - it was very good last time, possibly even better now! Thank you. More Christmas destinations please!

B.S. Buckinghamshire

Well beyond my expectations. To see one wallcreeper is great, two is a bonus but to see (have good views) three, now that's just greedy. Stunning black woodpecker. A special, memorable Christmas.

A.W. Gwent

The structure was just right - informal, but a carefully thought out, itinerary every day. The two leaders worked seamlessly together for our pleasure and enjoyment. The hotel was excellent - charming people and very good food.

F.W. North Yorkshire

My main comment is that the group of people on the tour with me absolutely made the holiday for me. They were all so wonderful it was in itself a wonderful experience for me. I feel I have made friendships with them all. As I am not an experienced 'tour' person (being an independent traveller) that says a lot for your company. I would certainly look forward to travelling with you again.

I.W. Canada
2019
Departures
Availability
Cost
Sat 28th Dec - Sat 4th Jan
SPACES
£1,495
Flights:
Most Naturetrek tours include flight costs ex-UK. If flights are not included, we indicate that here.
Flights are included in the tour cost
Land only cost:

The "Land Only" cost is the tour price you will pay if you choose to arrange your own flights/transport.
£1,375
Single Room Supplement:
£185