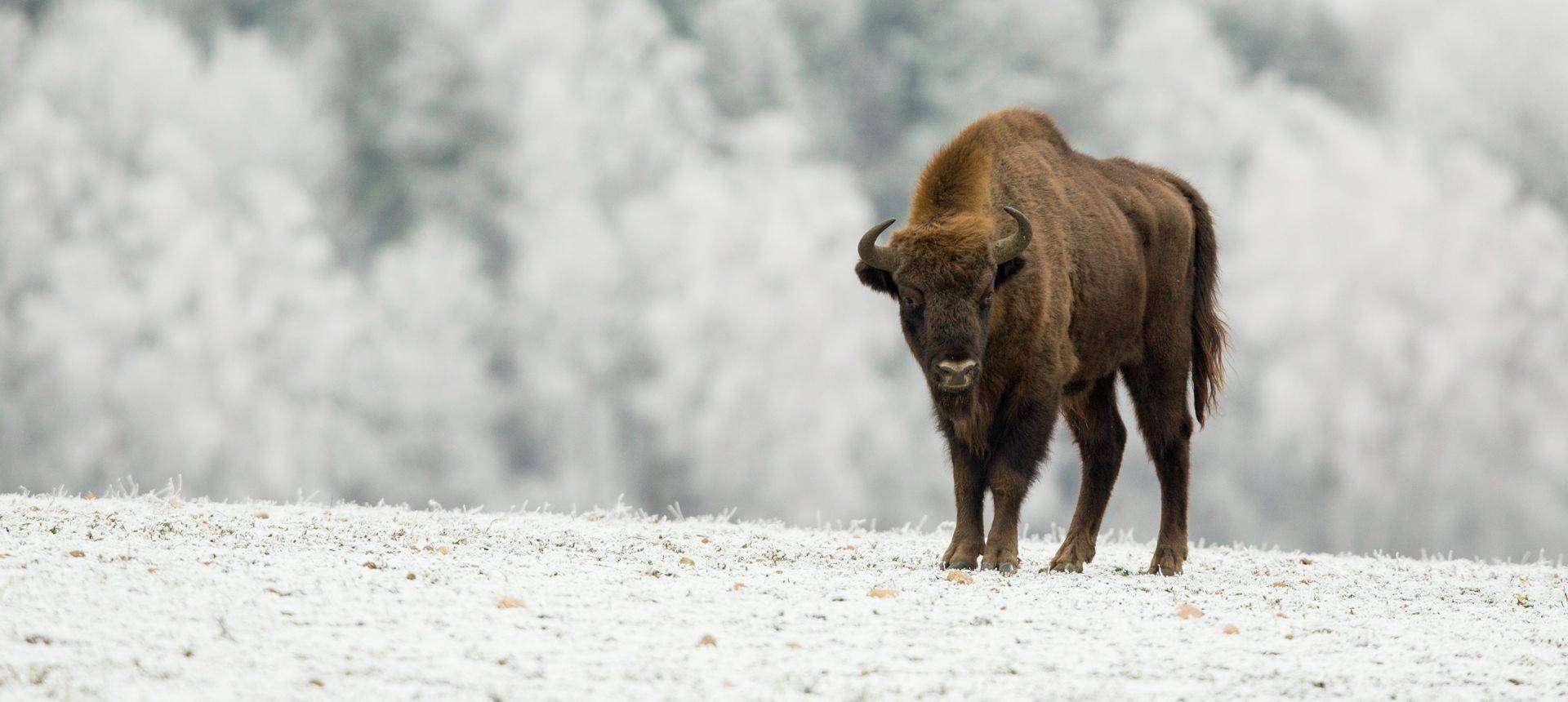 Poland in Winter
Tour Code: POL04
A 7-day winter adventure to Poland in search of large mammals rare or even extinct in much of western Europe.
This unique winter wildlife holiday focuses on the large mammals that are rare or extinct in western Europe, but still flourish in the remoter eastern corners of the continent. Timed to give us a full moon to increase our chances of a nocturnal sighting or two, this holiday explores the meandering rivers of the Biebrza Marshes and the extensive forests of Puszcza Borecka and Romincka. Within this snowy landscape live Elk (Moose), Red Deer, Beaver and a variety of birds, along with the impressive European Bison. Transport is by horse-drawn sleigh and, for the hardy, a night looking for Wolves from a 'high seat' should not be missed! 
Spectacular snowy landscapes
Mammals rare or extinct in western Europe
No tour has missed European Bison
Spend a night in a 'high seat' looking for Wolves
Track mammals & other wildlife with local foresters
Winter birdlife includes Waxwing, Nutcracker & White-tailed Eagle
Expert guidance by a Naturetrek naturalist & local guides
Can I help you?

Outline Itinerary
Day 1
Fly Warsaw and transfer Kruklanki
Day 2
Morning Puszcza Borecka; overnight Puszcza Romincka
I had an opportunity to enjoy the snowy landscape; view elk, bison, roe deer, and wild boar; experience a forest feast with a roasted wild boar, go on a sleigh ride, and spend several hours viewing wildlife from a high seat at the edge of a forest. The tour guides were informative and entertaining. This was my sixth Naturetrek tour, and every one was great. I recommend Naturetrek highly.

L.T. USA
Food & Accommodation
All meals from the evening meal on Day 1 to breakfast on Day 7 are included in our price.
A mix of forest lodges and hotels. All rooms have private facilities.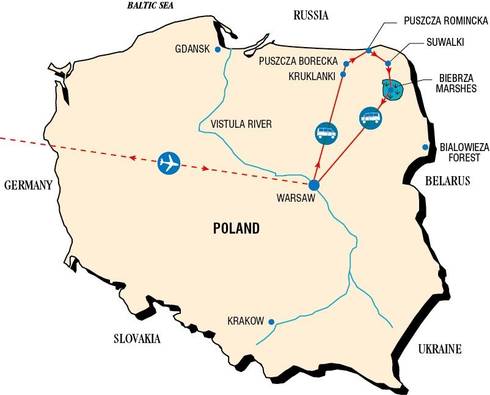 Tour leaders
Sinclair Dunnett

Sinclair was born in Edinburgh, but spent most of his childhood in the north of Scotland before studying Biology and Wildlife Management at the universities of Edinburgh and Aberdeen. He started the tour company Caledonian Wildlife in 1974, after work in various corners of the world, including oil prospecting in western Canada. He has led tours to Iceland, France, Poland, Israel, Nepal, India, the former USSR, Alaska, Texas, Spitsbergen, Tanzania, Kenya, Botswana, western Canada and Australia. His wildlife work in Tanzania, Guinea and the Congo, and his travels in other parts of Africa, including Mali, Ethiopia and South Africa, have given him an exceptional breadth of knowledge about the African continent. Following the recent merger of Caledonian Wildlife with Naturetrek, Sinclair has more time to spend in the field and he will continue leading his favourite Scottish and overseas tours under the Naturetrek banner.
European Bison, Wolf, and Lynx. These are three of the many mammals, formerly widespread in Europe but now extinct or rare in the more densely populated west, that flourish in Poland. A number of these animals are easily observed, but some only with difficulty. The object of this unusual winter holiday, that has proved such a firm favourite with clients since the first tour in 1985, is to search for the mammals of the Polish forests, and to study their tracks and signs. The advantage of travelling in winter is not only the snow cover which makes tracking so much easier, but also the cold weather at this season, which forces many creatures to shun their natural fear of man, and to appear less shy.
On our travels, we will also be able to enjoy the winter birdlife of Poland. It is true, of course, that many birds desert Poland during this season; but, like the mammals, those that do stay can be more easily found in the vicinity of man, where food is more readily available. Amongst those that we may see are such dramatic and attractive species as White-tailed Eagle, Rough-legged Buzzard, Hazel Grouse, Black Grouse, Waxwing and Nutcracker.
On our arrival in Warsaw we head northeast to Kruklanki, our base for one night whilst we explore the Puszcza Borecka forests in search of European Bison. The Wisent, as it is also known, is the largest land mammal in Europe and one that became extinct in the wild in the 1920s. Shortly after its demise, a programme of captive breeding was initiated, and in 1952 this magnificent animal was successfully reintroduced back into the forests of northeastern Poland. These forests now contain Europe's last remaining herds of Wisent and the sight of one of these imposing animals slowly plodding through the snowcovered forests is sure to be one of the lingering memories of the tour. This is the most reliable site in Poland for this impressive animal and, to date, we have never failed to find them here! Borecka is also a good spot for the elusive Whitebacked Woodpecker, plus Roe Deer, Raven and White-tailed Eagle.
Next we head into the north-east corner of Poland to the beautiful and fascinating forests of Puszcza Romincka, the favourite hunting area of Kaiser Wilhelm II. Our 4-night stay at Romincka is likely to be the highlight of the holiday for many. We will spend our time here in the company of experienced local foresters exploring these ancient mixed forests, looking for birds, mammals and other winter wildlife whilst learning how to decipher the tracks and other signs of Wolf and other larger mammals. Sightings of Wild Boar, Red Fox, Red and Roe Deer, Elk and Brown Hare are all possible; Weasel (which turn white in the winter here), Otter, Beaver and even Lynx are possible for the fortunate few! There will also be the opportunity to take optional nocturnal excursions to look for Wolves by waiting in high seats (an elevated hide). This will greatly enhance the possibility of seeing this elusive mammal, though is only recommended for the hardy and dedicated. Birds of the area include White-tailed Eagle, Sparrowhawk, Goshawk, Hazelhen, Black Grouse, Black, Three-toed and Grey-headed Woodpeckers, Waxwing, Great Grey Shrike, Hawfinch, Crossbill and Nutcracker. Our base for the four nights while we search for the mammals, birds and other wildlife of the Puszcza Romincka will be a comfortable and characterful lodge close to the edge of the forests.
Finally, we must tear ourselves away from the snow-clad mountains of north-east Poland and begin our return journey to Warsaw. En route we will spend our final night at Dobarz close to the huge complex of marshes and riverine woodlands along the meandering Biebrza River. The Biebrza National Park is one of the most important wildlife sites in the whole of Poland and an excellent area in which to look for Elk, the largest cervid in Europe and the same species as the animal known as the Moose in North America. We rarely fail to see it here! We also hope to find a variety of interesting birdlife in the marshes, with a chance of such species as Golden and White-tailed Eagles, Rough-legged Buzzard, Black Woodpecker and Waxwing amongst the commoner wintering waterfowl.
Please note that we do not include the Bialowieza Forest in the itinerary, as the Bison and other mammals are difficult to find here in the winter. Our time is better spent in the Borecka and Romincka Forests to the north, where we have a better chance of locating these elusive creatures with the help of the local foresters.

Please contact us on 01962 733051 for details on what extensions either pre or post tour are available for this Tour.
I had an opportunity to enjoy the snowy landscape; view elk, bison, roe deer, and wild boar; experience a forest feast with a roasted wild boar, go on a sleigh ride, and spend several hours viewing wildlife from a high seat at the edge of a forest. The tour guides were informative and entertaining. This was my sixth Naturetrek tour, and every one was great. I recommend Naturetrek highly.

L.T. USA

I really enjoyed the trip.

W.S. County Antrim

Piotr was absolutely excellent... lodge in Romincka was great, especially the food, which was superb.

A.M. Scotland

My wife and myself thoroughly enjoyed this trip.

P. & B.B. Yorkshire

Altogether a very enjoyable trip.

J.B. Isle of Man

This is the third trip I have done with you... this was very beautiful and so clean and quiet. I look forward to travelling with you again.

A.W. Oxfordshire

The guides were excellent and informative. The hospitality at all locations was superb.

P.S. London

The holiday was very good value. I shall certainly book with Naturetrek again soon!

J.H. Gloucestershire

Sinclair and Piotr were fantastic travelling companions and organisers. They were totally professional but also great fun, and mines of information. Nothing was too much trouble for them and they were both an essential part of the making this trip so enjoyable.

F.C. & E.G. Devon

Excellent value for money and quality and the variety of food far exceeded our expectations…

J.T. & P.T. France

We found the content of the trip to be both wide ranging and yet at the same time tailored to suit the needs of the group... Sinclair and Piotr were excellent.

A. & D.M. Somerset