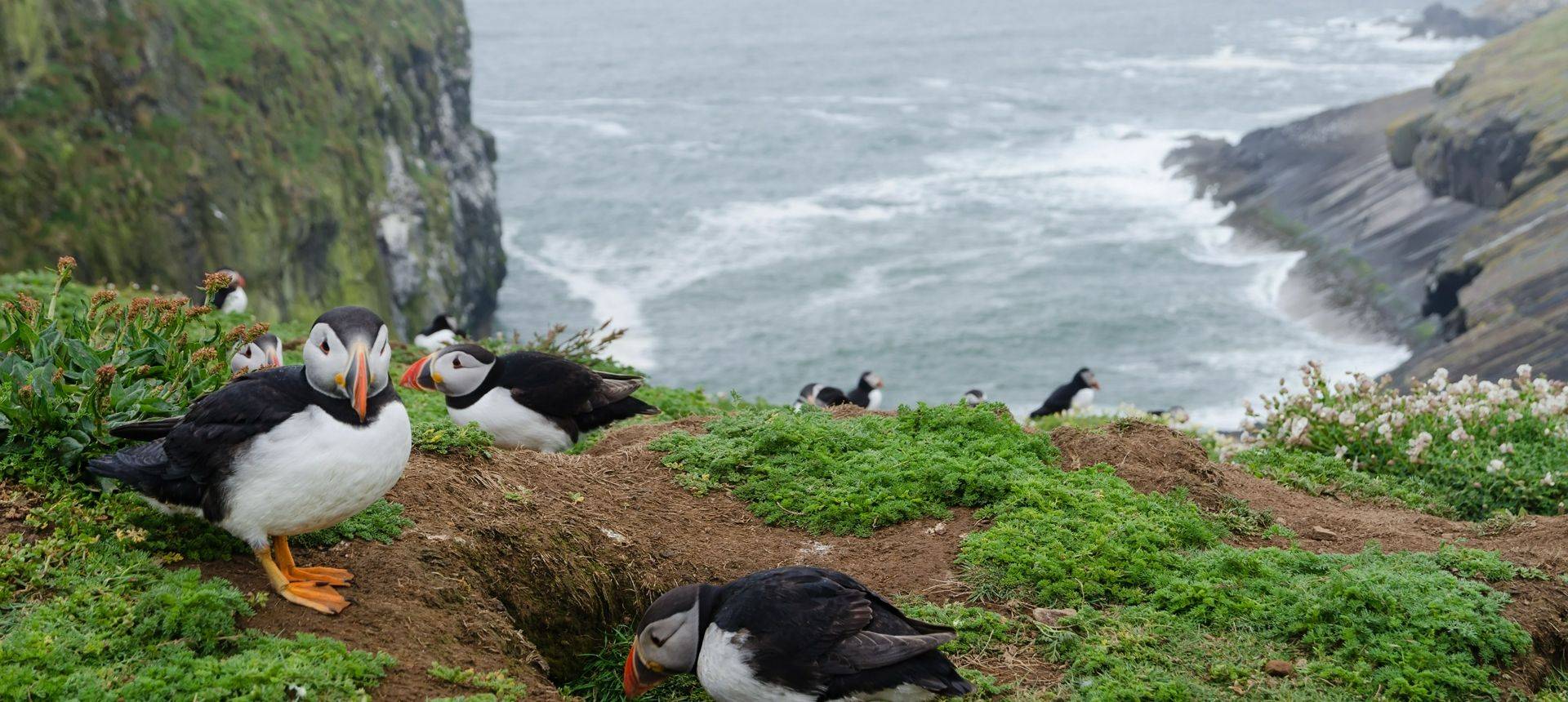 Pembrokeshire in Early Summer
Tour Code: GBR18
A 5-day holiday to enjoy Pembrokeshire's spectacular seabird colonies and other wildlife.
This wildlife holiday offers an introduction to Pembrokeshire's special natural history, at its best in early summer. It includes visits to spectacular seabird colonies, a rich marine-life and an abundance of wild flowers. Weather permitting, we'll take boat trips to view Grassholm's Gannet colonies from the sea (the island is home to 40,000 pairs), and we'll land on Skomer which at this time of year accommodates over half a million seabirds, including Manx Shearwaters, Guillemots, Razorbills and Puffins galore – the latter only an arm's length away! Offshore, dolphins and porpoises are regularly seen, while on the mainland we'll search for some of Pembrokeshire's other natural history delights including a variety of orchids, as well as rare butterflies and dragonflies.
Spectacular seabird colonies on Skomer & Grassholm
Puffins galore on Skomer
40,000 Gannets on Grassholm
Harbour Porpoise & Common, Bottlenose & Risso's Dolphins all possible
Silver-studded Blue, Marsh Fritillary & up to 20 species of dragonfly
Numerous limestone flowers, including Lesser Butterfly and other orchids
Comfortable hotel based near Milford Haven 
Expertly escorted by a Naturetrek naturalist
Outline Itinerary
Day 1
Arrive Hotel in Burton
Day 3
Stackpole Head & Bosherton Lakes
Day 4
Minwear Wood, Rosebush and the Teifi or optional boat trip to Ramsey or Grassholm
Day 5
Dowrog Common & St Davids. Depart lunchtime
We have very happy memories of our trip to St. David's. Thank you to everyone at Naturetrek.

M.C. Cambridgeshire
Food & Accommodation
Breakfast, and evening meals are included. Lunches are not included in the cost of the tour.
A comfortable 3-star hotel in Burton, near Milford Haven; all rooms are non-smoking with private facilities
Tour Downloads
Tour leaders
X

Andrew Bray

Andrew Bray recently retired from the military where he was working as a project manager for procurement programmes. He is an active member of the Army Ornithological Society and recipient of the President's Medal for his promotion of the society in the fields of bird watching and conservation. Andrew has led scientific expeditions to Ascension Island for 12 years; the findings from these have provided a long term data base for use by scientific bodies. He has organised many trips to continental Europe and within the UK for Army birdwatchers and has a long North American bird list! He is the leader of the ornithological group for the western part of Salisbury Plain which is a restricted area and organises bird, butterfly and botany walks for the area's local conservation group. He has travelled extensively around the world, and more recently to Ecuador and the Sultanate of Oman. Andrew enjoys sharing his passion for birding with others.
By June, the remote south-western tip of Wales is teeming with a rich diversity of wildlife from the mainland out to its famous Atlantic islands. The islands of Ramsey, Grassholm and Skomer are transformed during the early summer by the arrival of vast numbers of nesting seabirds: Grassholm is home to 30,000 pairs of Gannets; Skomer, pink-tinged with swathes of Red Campion, accommodates over half a million seabirds, including large numbers of Puffins. Pembrokeshire is well known for its populations of cetaceans, while Grey Seals and Choughs can be seen in many coastal areas. As well as enjoying the area's impressive marine fauna, we'll also take time to explore some of the peninsula's terrestrial habitats from our base in the village of Burton near Milford Haven.
Please contact us on 01962 733051 for details on what extensions either pre or post tour are available for this Tour.
We have very happy memories of our trip to St. David's. Thank you to everyone at Naturetrek.

M.C. Cambridgeshire

Matt was an excellent leader. He was professional, friendly, knowledgeable, able to adapt the itinerary to suit the weather, hard working and enthusiastic. He gave time to everyone and we gained a good deal of insight from him.

V.F. Nottinghamshire

A very relaxed and pleasant atmosphere with lots to see and do. A good holiday!

A.C. Gloucestershire

The trip was brilliant, the guide, Barry Oxley gave far more interest, patience, knowledge and humour than other trips we have been on. The day trip to Skomer Island was magical and the highlight of the trip. The Puffins were a delight. A day that will last with me all my life, brilliant.

L.W. Surrey
2019
Departures
Availability
Cost
Mon 10th Jun - Fri 14th Jun
1
£595
Land only cost:

The "Land Only" cost is the tour price you will pay if you choose to arrange your own flights/transport.
£595
Single Room Supplement:
£150