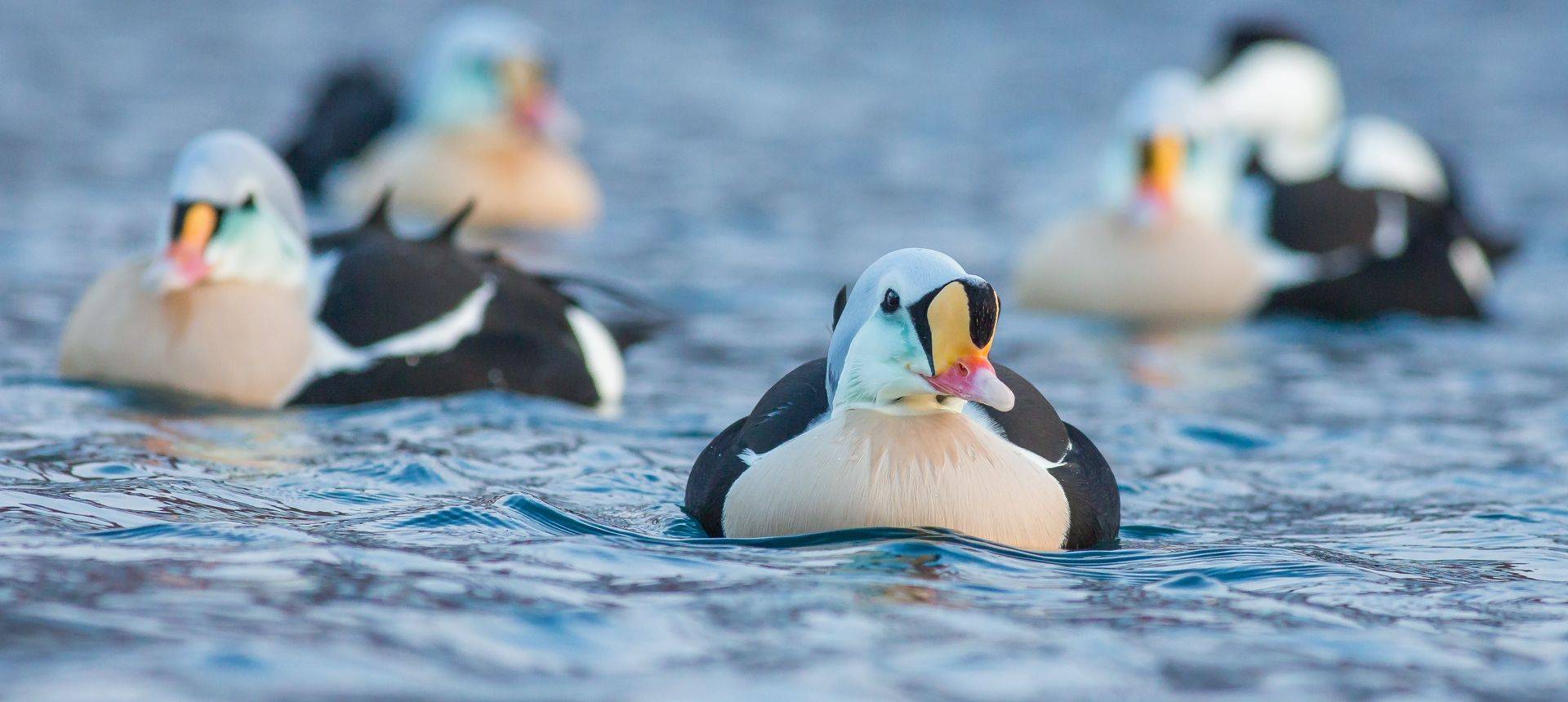 Norway's Varanger Fjord
Tour Code: NOR04
A 5-day birdwatching tour to the Varanger Peninsula at the northern tip of Europe in search of Steller's and King Eiders, Gyr Falcon and other arctic birds.
Varanger Fjord, at the northern extremity of mainland Europe, is the unusual destination for this exciting birdwatching holiday. Here, in a sparsely populated land of mountains, glaciers and tundra we will witness the specialised Arctic birdlife respond to the approach of spring and observe great assemblies of sea duck along the coast, including the largest concentration of Steller's Eiders in Europe. King Eiders and Gyr Falcons will be amongst other target species here, while further south in Finnish Lapland the inhabitants of the vast taiga forests will be our objective, with Three-toed Woodpecker, Siberian Tit and the confiding Siberian Jay among the avian highlights.
Take a rare glimpse of the Arctic in early spring
Enjoy large flocks of Steller's Eider, King Eiders and Gyr Falcon
Look for Siberian Tits and Siberian Jays in the taiga forests
Seabirds, including Brünnich's Guillemots on an offshore island 
'Northern Lights' – a possibility
Be guided by our expert local ornithologist(s)
Can I help you?

For expert advice call +44 (0) 1962 733051

Operations Manager

X
David Phillips
David has had an enthusiasm for both nature and astronomy from an early age. As an undergraduate, reading Mathematics and Physics, he took courses in astrophysics and became chairman of the university's Astronomical Society. For the past 10 years David has worked in the travel industry and, during that time, he has organised and led many astronomically themed tours. He has seen eight solar eclipses and spent many nights viewing the spectacular Northern Lights from northern Iceland, one of his favourite places. David has travelled to 70 countries on all seven continents, combining his love of wildlife and star-gazing; during a recent winter trip to Norway (looking for Orcas and Humpback Whales) he saw in the New Year with a spectacular Northern Lights display as a backdrop.
My wife and I have been on 6 or 7 Naturetrek holidays and have inspired many friends to do likewise... it was a truly wonderful holiday and exceeded all our expectations.

T.R. Wales
Food & Accommodation
All food included in the price.
Comfortable tourist hotels with private facilities.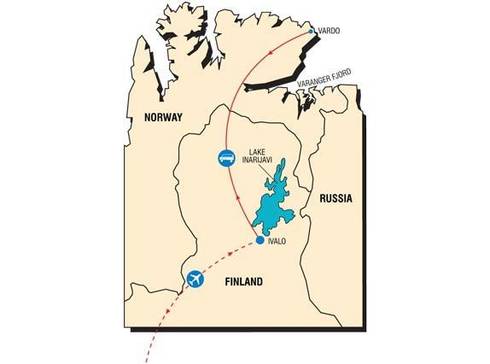 Tour Downloads
The Varanger Peninsula lies at the most northern tip of Europe, a sparsely populated land of mountains, fjords and glaciers extending out from the continent towards the icy wastes of the Arctic Circle. For much of the winter the interior of this region is a Christmas card scene of thick snow, the haunt of Willow Grouse and Snowy Owl, but thanks to the influences of the Gulf Stream, the deeply indented coastline is largely free of ice, providing sheltered havens for large rafts of sea-duck. Most of Europe's Steller's Eiders crowd into Varanger Fjord, sharing the open water with Common Eider, King Eider and Long-tailed Duck, to create a unique assemblage of birds that will be one of the highlights of this unusual early spring tour.

Our tour begins at Ivalo, in Finnish Lapland, amidst wonderful northern taiga forests where the likelihood is that snow will be covering the ground. A surprising number of birds choose to remain in these forests throughout the harsh winter months and now, with the unmistakable signs of spring all around, the new season is celebrated by courtship displays and the beginning of song. Siberian Tit will be one of the birds we will be hoping to find, along with, Arctic Redpoll, and Common, Parrot and Two-barred Crossbills. Although perfectly adapted to survive the rigours of the climate, many of these northern birds also appreciate a helping hand from humans, and garden bird tables in the villages are as popular with the local birdlife as they are in Britain. As we continue north along the Arctic highway into Norway, we will pause at some of the roadside feeding stations and hope to obtain close-up views of the various species coming to supplement their diet at the bird tables. The handsome Siberian Jay is one of the most adaptable of the taiga inhabitants and quick to take advantage of any free meals, often becoming remarkably confiding in such situations.

The trees are gradually replaced by open tundra as we cross Varanger Peninsula to the small fishing port of Vardo where we stay for two nights. Fringed by thickets of Mountain Birch, the blue waters of Varanger Fjord and the surrounding tundra represent one of the most accessible examples of Arctic habitat on the mainland of Europe. Arriving at the shores of the fjord our initial impression will be of the sheer numbers of sea-duck bobbing offshore, a view consolidated on the following day as we scan through the rafts of Common, King and Steller's Eiders, many of the males energetically performing their courtship displays. The crooning calls of the Common and King Eiders fill the air and mingle with the cries of nearby Long-tailed Ducks, the males resplendent in summer plumage. White-billed Divers are occasionally seen ploughing through the waves like pocket battleships, their ivory-coloured beaks gleaming in the morning sun, whilst inquisitive seals interrupt their fishing to peer at us. When we have absorbed the sights and sounds of the inshore waters, and weather permitting, we will board a small boat to visit Hornøya Island which is an important seabird breeding island in the fjord. Brünnich's Guillemot, one of the species of most interest to British birdwatchers, is numerous here, but there are also a thousand pairs of Puffin, plus breeding Black Guillemots, Razorbills and Guillemots — five members of the auk family all found on the one island. A huge Kittiwake colony adds to the spectacle and Glaucous Gulls may be present amongst vast, noisy colonies of Herring and Greater Black-backed Gulls. Returning to shore, we will look out for one of the local White-tailed Eagles soaring above the fjord and later in the evening there may be spectacular free entertainment, as the flickering lights of the Aurora Borealis illuminate the night sky, a true Arctic conclusion to our stay in this magical place.
All too soon, it will be time to return to Ivalo, but travelling through the glorious winter scenery of the peninsula there will be plenty more birdwatching opportunities as we pass roadside Willow Grouse. Gyrfalcon can be seen around the peninsula and the sight of these big northern falcons gliding over the tundra will be an enduring memory of our early spring visit to this fascinating region, where mainland Europe merges with the Arctic.

Please contact us on 01962 733051 for details on what extensions either pre or post tour are available for this Tour.
My wife and I have been on 6 or 7 Naturetrek holidays and have inspired many friends to do likewise... it was a truly wonderful holiday and exceeded all our expectations.

T.R. Wales

(Good value) because the birds on this trip are inaccessible terrain and we saw them with the help of the leader!

Mr & Mrs D. Norfolk

The trip was very good - made better by the performance of the guide and their boss, Jari, who was exceptional in both personality and effort. He was also an excellent bird spotter.

S. & A.M. Yorkshire

I thoroughly enjoyed this well organised trip. Excellent food and hotels. Harri Taavetti was an excellent guide and superb driver.

J.H. Cambridgeshire

Once again, a superb trip! The guide was a really first rate guide - very helpful and well-organised, and a very pleasant manner. He is an excellent birder, and made sure we all saw all the birds. I hope to do this trip again at some stage...a great way to spend a winter weekend!

S.W. Nottinghamshire
2019
Departures
Availability
Cost
Mon 18th Mar - Fri 22nd Mar
1
£2,295
Flights:
Most Naturetrek tours include flight costs ex-UK. If flights are not included, we indicate that here.
Flights are included in the tour cost
Regional Departures:

On certain tours it is possible to depart from a regional airport (rather than London). If a regional departure is possible, we indicate that here.
Regional Departures are available. Call 01962733051
Land only cost:

The "Land Only" cost is the tour price you will pay if you choose to arrange your own flights/transport.
£2,095
Single Room Supplement:
£185