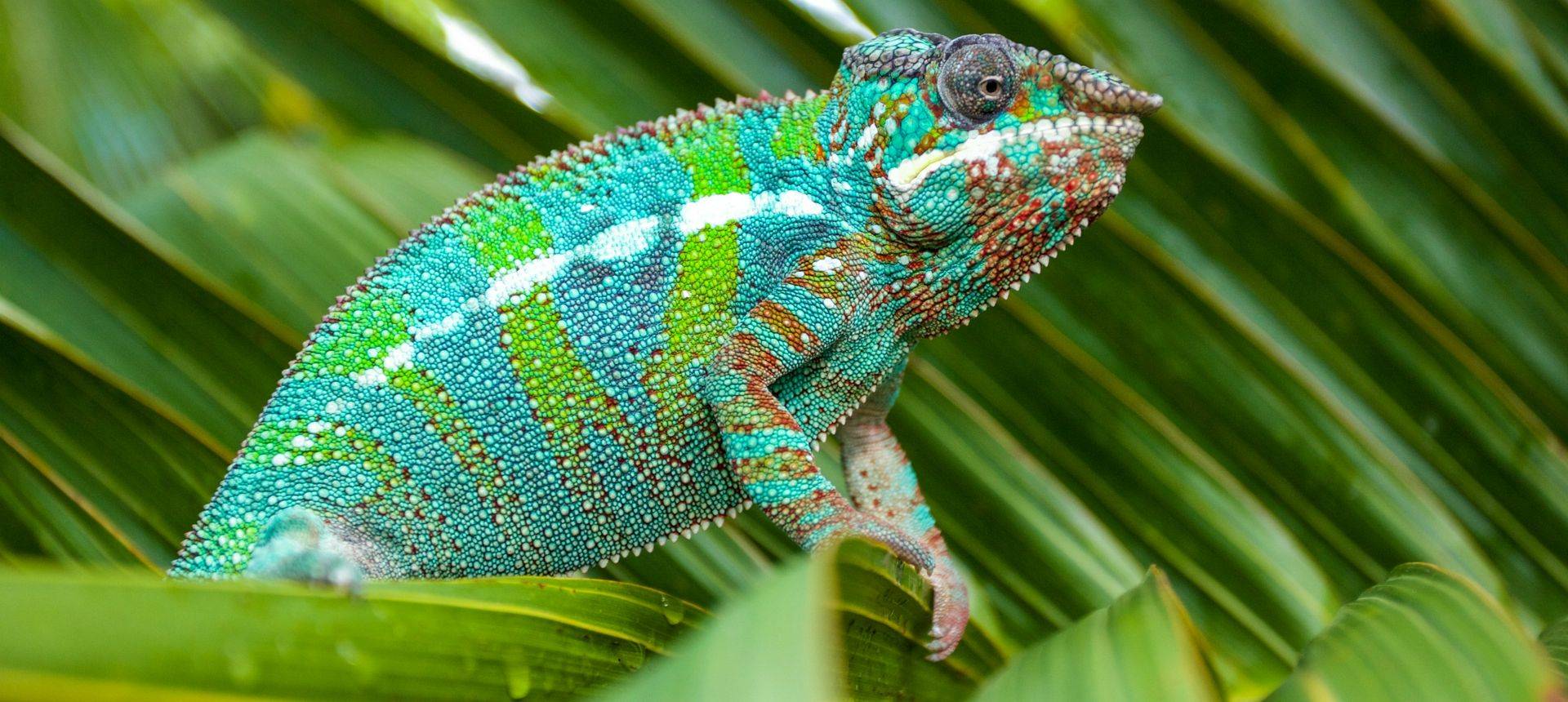 Northern Madagascar
Tour Code: MDG05
A 17-day natural history holiday to the forests and mountains of northern Madagascar in search of the mysterious and elusive Aye-aye and a wealth of other endemic animals and birds.
Madagascar's 165 million years of isolation has created an island full of the weird and the wonderful. Even amongst such oddities as the primates that sing like whales (Indris), the birds that nest in burrows (Ground Rollers) and the trees that appear to grow upside down (Baobabs), one creature that stands out above the rest, the bizarre Aye-aye. This scruffy-looking lemur with its trademark skeletal middle finger, staring eyes and bat-like ears is one of our key goals on this exciting holiday. Our quest will take us to the northern reserves of Masoala, Ankarana and Montagne d'Ambre National Parks. Aye-ayes are nocturnal, so we will spend the daylight hours looking for a wealth of other exciting wildlife including birds such as the amazing Helmet Vanga, such mammals as Red-ruffed Lemur and a host of fascinating chameleons and geckos.
Unique and endemic wildlife found nowhere else on Earth
Encounters with lemurs – hopefully including the Aye-aye
Pristine Rainforest of Masoala National Park
Beautiful Perrier's Sifakas at Andrafiamena
Limestone tsingy of Ankarana National Park
Leaf-tailed Geckos and tiny Brookesia Chameleons
Endemic birds including Helmet Vanga and Amber Mountain Rock Thrush
Small group size of only 12 people, plus expert guides and British leader
Can I help you?

Outline Itinerary
Day 3/5
Montagne d'Ambre National Park
Day 7/9
Ankarana Special Reserve
Day 12/15
Masoala National Park
Day 16
Fly Tana and on to London
I would like to express my sincere thanks and admiration for Roy Taylor who was an excellent tour leader. All the people on the trip with their diverse interests felt welcome and accommodated.

Mr & Mrs B. Berkshire
Food & Accommodation
All food is included in the price.
We stay in simple, but comfortable, hotels and lodges with a mix of private and shared facilities.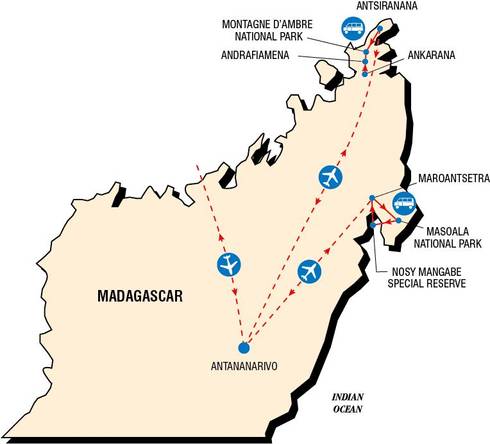 Tour Downloads
Tour leaders
Nick Acheson

Nick Acheson grew up watching Bitterns and Bog Bush-Crickets in North Norfolk. A year spent in the Camargue and Crau during his French literature degree inspired him to seek bigger, wilder landscapes and, on completing his MSc, he moved to Bolivia. Here he spent ten glorious years ringing James' Flamingos and austral migrant flycatchers, lamping for Maned Wolves and Giant Armadillos, working with Aymar , Quechua and Chiquitano indigenous people on sustainable development projects, teaching yoga, and whistling sweet nothings to Golden-headed Quetzals. Yoga then took him to India, where he has spent almost three years tracking Tigers and Snow Leopards, cruising on the Brahmaputra, and speaking clumsy Hindi. On return to the UK he worked for two years for Norfolk Wildlife Trust and he continues to work freelance for NWT, RSWT and the Hawk and Owl Trust. When not shedding tears to the sound of Indris in Madagascar or watching Walruses and Belugas from zodiacs in the arctic, he thinks, writes and listens to Bach in a flint cottage by a duckpond and swims in the sea off North Norfolk.

Andy Smith

Andy lives in north-east Dorset with his wife and the youngest of his six children. A keen birder and naturalist for as long as he can remember, Andy has enjoyed a diverse career divided between nature conservation work in Britain and Ireland, school teaching and wildlife tour leading. He has now led over 75 tours for Naturetrek and his travels have taken him to various parts of Europe, Africa, Asia, the Americas and Antarctica. When not busy leading tours, Andy teaches teenagers at an independent small school project near Ringwood in east Dorset.
One hundred and sixty-five million years ago the island of Madagascar was cast adrift. As the huge super-continent of Gondwanaland split apart, this large chunk of Africa started its slow, inexorable drift out into the Indian Ocean. And so began a unique experiment in evolution. Isolated from the rest of the natural world, the Malagasy fauna and flora took their own distinctive paths. Today over 80% of all life here is endemic, occurring nowhere else on Earth. The island is the last refuge of the lemurs and such endemic bird families as the vangas, ground-rollers and sunbird-asitys. It also supports an exceptional diversity of striking reptile species and many unique habitats such as the strange 'Spiny Forest'. This is truly a land of the weird and the wonderful. No creature, however, epitomises Madagascar more than the bizarre nocturnal Aye-aye, the scruffy looking lemur with its trademark skeletal middle finger, undoubtedly one of the most elusive and sought-after animals on the island and one of the key goals on this exciting holiday.
Our tour begins with a flight to Madagascar's capital, Antananarivo (Tana). From here we take a short flight to Antsiranana, and we continue by road to the green oasis of the Montagne d'Ambre (Amber Mountain) National Park, located on Madagascar's northernmost tip. Here we will stay in a comfortable wildlife lodge, from which we will explore this lush patch of montane rainforest in search of species including Sanford's Brown Lemur, Amber Mountain Fork-marked Lemur, Crowned Lemur and perhaps even the elusive Fosa, the largest carnivore on the island. The birdlife here is especially abundant and includes the endemic Amber Mountain Rock-thrush, as well as Madagascan Ibis, Souimanga Sunbird, Pitta-like Ground-roller, White-throated Oxylabes and Hook-billed Vanga.
Next we move south and, after a couple of hours, we turn off the road onto dirt tracks which lead to the local reserve of Andrafiamena. Here, a large patch of dry forest has been set up as a local nature reserve to protect a small population of the localised and rare Perrier's Sifaka. We will go out before lunch, and again in the late afternoon and evening, to maximise our chances of finding these beautiful animals. The birdlife here is superb, and we will be looking in particular for such species as Madagascan Harrier-hawk, Malagasy Green Sunbird, Blue Vanga, Grey-headed Lovebird and Madagascan Buttonquail.
Continuing south, we next stop to explore the dry forests of the Ankarana Special Reserve. The Ankarana massif is a limestone plateau which rises abruptly from the surrounding grassy plains. It has been eroded over the aeons into a dramatic landscape of jagged limestone pinnacles, known as tsingy, and numerous caves and other caste landforms, all edged by a dry deciduous forest. Wildlife here includes Crowned Lemur, Sanford's Brown Lemur and birds such as Crested Coua, Madagascan Pygmy Kingfisher and the localised White-breasted Mesite.
Next we will fly back to Tana and overnight there before an onward flight to Maroantsetra, gateway to the lush rainforests of the Masoala Peninsula. The Masoala National Park is the island's largest rainforest reserve and a strikingly beautiful place dominated by huge trees draped in climbers, mosses and other epiphytes. It is thought to be the richest area in the country for wildlife and, with much of this enormous biodiversity still largely unknown to science, who knows what we may find! We will certainly be on the look-out, however, for a wide variety of the more familiar lemurs — including both Red-ruffed and White-fronted Brown Lemur — and birds such as Red-breasted Coua, Short-legged Ground-roller, the bizarre Helmet Vanga, the rare Madagascan Serpent Eagle, and Bernier's Vanga. During our time here we will also organise an excursion to look for the bizarre and elusive Aye-aye. The best spot to search for this much-maligned creature can change from year to year: in some years it has been the small island of Nosy Mangabe where we may choose to camp for the night; in other years a small reserve along the river from Maroantsetra has proved fruitful. Being strictly nocturnal, however, we will be searching for them — and such other denizens of the night as Brown Mouse Lemur and the wonderfully camouflaged leaf-tailed geckos — only after dark!
For the botanist, Masoala contains an exceptional palm flora, including some of the rarest and most unusual palms on the island. This is also a wonderful place for reptiles such as Panther Chameleon and two species of intricately camouflaged Uroplatus leaf-tailed geckos, as well as amphibians including frogs such as the Tomato Frog and Green-backed Mantella. For many, our time at Masoala will be the unrivalled highlight of the holiday. It will then be time to leave this extraordinary 'evolutionary experiment' of an island, and transfer to Tana for our flights home.
Please contact us on 01962 733051 for details on what extensions either pre or post tour are available for this Tour.
I would like to express my sincere thanks and admiration for Roy Taylor who was an excellent tour leader. All the people on the trip with their diverse interests felt welcome and accommodated.

Mr & Mrs B. Berkshire

Overall definitely the holiday of a lifetime - brilliant

S.J. Middlesex

The Masoala Park was everything we hoped it would be. Pristine virgin forest with fantastic flora and fauna. The nocturnal fauna was very rewarding.

Mr & Mrs P. Essex
2019
Departures
Availability
Cost
Fri 25th Oct - Sun 10th Nov
SPACES
£5,995
Flights:
Most Naturetrek tours include flight costs ex-UK. If flights are not included, we indicate that here.
Flights are included in the tour cost
Regional Departures:

On certain tours it is possible to depart from a regional airport (rather than London). If a regional departure is possible, we indicate that here.
Regional Departures are available. Call 01962733051
Land only cost:

The "Land Only" cost is the tour price you will pay if you choose to arrange your own flights/transport.
£5,095
Single Room Supplement:
£750