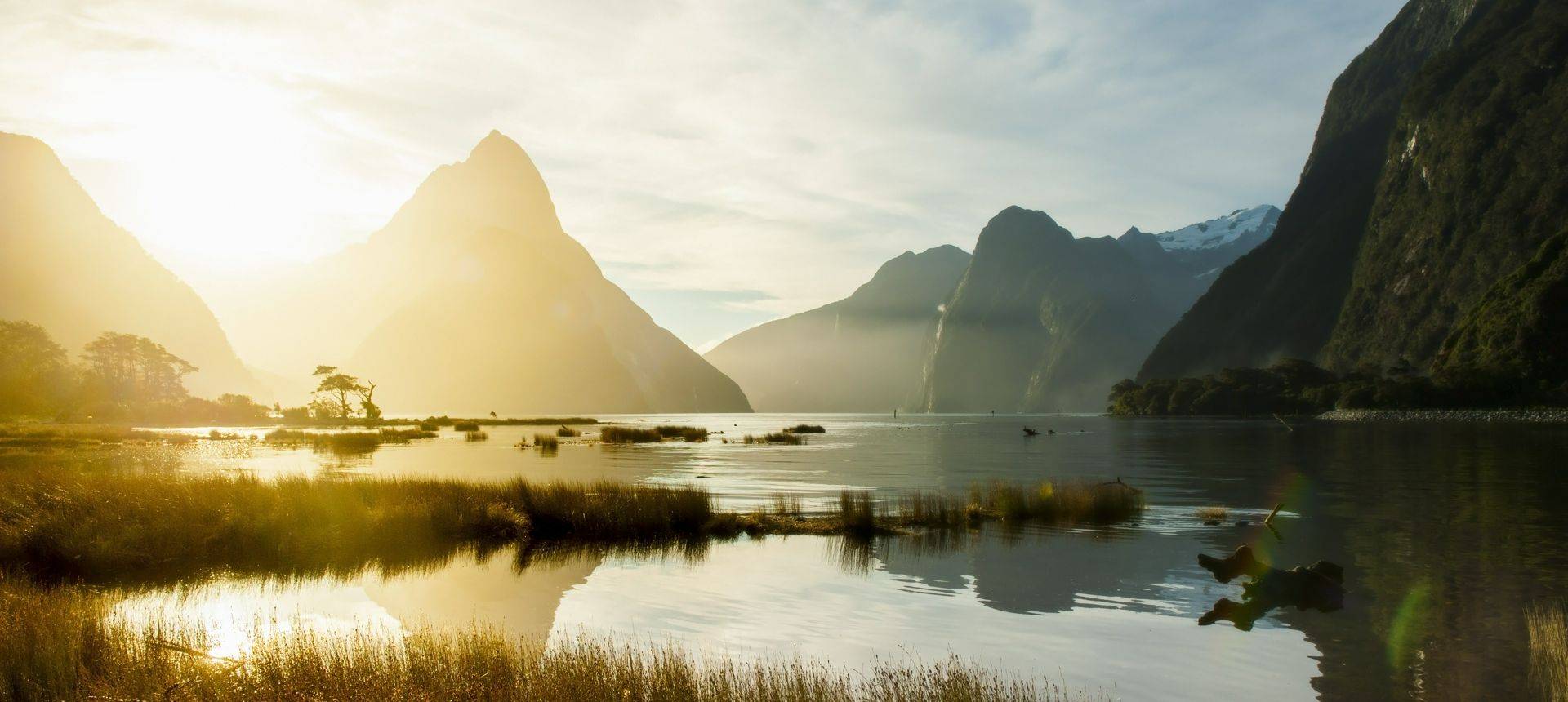 New Zealand's Natural History
Tour Code: NZL02
A 22-day experience of the unique and characterful birds, wildlife and scenery of New Zealand, from marshland to rainforest and from snow-capped mountains to the sea.
Beginning in Auckland, North Island, we'll first focus on observing migratory, endemic and rare birds of the west coast before heading to the central plateau to a podocarp forest in search of birds, insects and plants. Crossing to South Island we now explore the waters of Malborough Sounds before heading to Kaikoura for a pelagic trip and from there we go over Arthur's Pass and down the wild, wet west coast! During our day exploring Mount Cook National Park we'll look for the rare Black Stilt among other wildlife, before spending two nights on pristine Stewart Island, where Kaka, Weka, Bellbird and parakeets will be among our finds! Visits to Fiordland National Park, Milford Sound and Dunedin ensure plenty more highlights on this packed tour before it's time to return home.
Watch Australasian Gannets soaring in to their scattered rock colonies
Saddleback, Stitchbird, Little-spotted Kiwi & Takahe on Tiritiri Matanagi Island
Listen for the haunting call of the Kokako in the rainforest at Pureora
Visit spectacular Tongariro, a place of great significance to the Maori people
Encounter albatrosses, shearwaters & petrels crossing Cook Strait to South Island
Sperm Whale, Hector's & Dusky Dolphins, plus seabirds on boat trip from Kaikoura
Look for rare Westland Black Petrel & Fjordland Crested Penguin
Visit Mount Cook National Park & enjoy Fiordland's stunning glaciated scenery
Watch Brown Kiwis on Stewart Island, plus Shy Albatross & Yellow-eyed Penguins
Look for Yellowhead, Kea & Rock Wren, near Milford Sound
Can I help you?


X
Paul Stanbury
Paul graduated in Environmental Science in 1995 and joined the Naturetrek team in January 1996. His keen interests in birds and travel began when aged seven and the intervening years have taken him to many parts of the world. Paul has always had a particular interest in North American wildlife, a fascination which led him to spend the second year of his degree course studying at Western Washington University near Seattle, where he developed a detailed knowledge of the Pacific North-west and its birds. He has also travelled widely in Europe and Africa, and spent three months backpacking around South East Asia from Borneo to Thailand. At present, Paul lives in Petersfield, Hampshire, only 30 minutes from the Naturetrek office in Chawton where he is based.
Outline Itinerary
Day 1/2
Depart London/in flight
Day 4
Tiri Tiri Matangi Island
Day 5
Miranda Wildlife Sanctuary, Rotorua & Taupo
Day 6
Pureora Forest Park
Day 7
Tongariro National Park
Day 9
Cook Strait & Picton
Day 10
Marlborough Sounds
Day 12
Arthur's Pass & Hokitika
Day 13
Westland National Park
Day 14
Fox Glacier/Lake Moeraki
Day 18/19
Fiordland National Park & World Heritage area
The whole of the holiday, wildlife, and scenery, and the easy going, not rushed and the most friendly and easy going leaders and fellow travellers.

D.F. Kent
Food & Accommodation
All meals are included in the price.
We stay in a range of quality hotels, motels and lodges, generally with private facilities, except on Tiritiri Matangi Island where accommodation is basic, with shared facilities.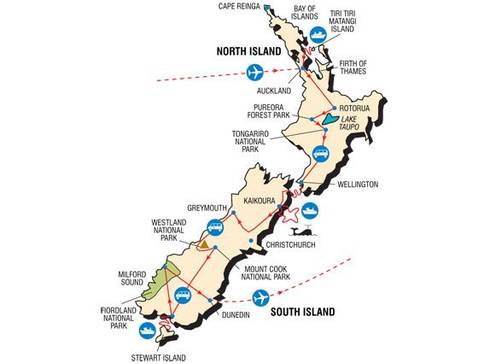 Tour Downloads
Tucked away in the southern rim of the Pacific, New Zealand is a land with an enchanting and refreshing nature. Whilst a morning may be greeted high in majestic mountain valleys by hearing the discreet scuttle of a skink beneath alpine shrubs, the afternoon may be spent on the sea, watching gliding albatrosses and porpoising fur seals.
New Zealand has a very rich and intriguing natural heritage which, when explored in the context of the beauty of the forests, mountains, coasts and wildlife, cannot help but captivate. The native birds, other wildlife and plants are diverse and unique, having evolved without the influence of land mammals since the island's isolation from Gondwana. Many, though, have become extinct or threatened since the arrival of humans and their accompanying menagerie of animal and plant pests. However, these threats have strengthened the nation's present-day commitment to conservation, deepening both the locals' and visitors' appreciation of this relatively clean, spacious country and its very special wildlife.
Our natural history journey begins in Auckland, an area characterised by water, volcanoes and islands. On the west coast we will watch Australasian Gannets soaring in towards their scattered rock outcrop colonies. Within a few hours' drive we will be on the east coast, observing congregations of migratory and endemic birds feeding on the silt flats of Miranda. We will also enjoy a visit to picturesque Tiritiri Matangi Island, to enjoy the fullness of birdsong in regenerating forest, including that of such reintroduced rarities as the Saddleback, Stitchbird, Whitehead, Littlespotted Kiwi and Takahe.
The central plateau of the North Island will share geothermal secrets with us as we walk through a valley of boiling mud and water at Waimangu, and in a podocarp rainforest at Pureora. In the mist at the break of dawn we may be lucky to hear the haunting call of the endangered Kokako, and encounter a diversity of other birds, insects and plant species. Not far away is Tongariro, New Zealand's first national park and a place of great spiritual significance to the indigenous Maori people. The park offers us a wonderful perspective of these volcanic landscapes, and the conservation issues that affect the area, as we walk amongst a subalpine flora and enjoy the spectacular mountain backdrop.
Kapiti Island lies off the west coast near Wellington, and is home to a wide range of endemic rarities. During one special night on the island we will seek out the endangered Little-spotted Kiwi, and look for the native owl, the Morepork (or Ruru), while enjoying further close encounters with Kaka and possibly Takahe.
On the way to the South Island, we may encounter species of albatross, shearwater and petrel, as well as dolphins, in Cook Strait. Then we will explore the waters of the Marlborough Sounds aboard a private charter vessel, before travelling further down the coast to Kaikoura, where snow-capped mountains reach to the sea. Here we will venture offshore once again, in search of Sperm Whales, Hector's and Dusky Dolphins, and a fine selection of seabirds.
Our journey now takes us over the main divide via Arthur's Pass, a route once used by the Maori people. We will then travel down the wild and wet west coast, beneath avenues of lush green rainforest, searching for the rare Westland Black Petrel and Fiordland Crested Penguin. The contrast of the west to the vast rolling Otago landscape of schist rock, tussock land and clear turquoise lakes, is striking. Next we will head for the heights and grandeur of Mount Cook National Park, and walk amongst alpine vegetation alive with clicking crickets as we search for the rare Black Stilt. Two nights on the almost pristine Stewart Island will allow us time to watch the Brown Kiwi in its natural environment, as well as the Kaka, Weka, Bellbird and parakeets. At sea fly a number of seabirds, including Shy Albatrosses and Fairy Prions, and in Paterson Inlet we may see shags, rare Yellow-eyed Penguins and dolphins. Back on the mainland, we will then be enticed by the glacially sculptured mountains and valleys of Fiordland National Park. The drive through to Milford Sound offers spectacular scenery as well as opportunities to seek out some unique endemic bird species, including the Yellowhead, Kea and Rock Wren; an optional boat cruise along the fiord, beneath its steep cliffs and waterfalls, is awe-inspiring.
Finally we arrive in Dunedin, the 'wildlife capital', where we will cruise around Taiaroa Head, the only mainland breeding site of the Northern Royal Albatross. With a wingspan of three metres, these seabirds are certainly impressive as they soar over cliffs dotted with nests of Spotted Shags and the rare Stewart Island Shags. Cruising on, past rocky shelves of lounging New Zealand Fur Seals, we will sail back down the harbour, towards the city. A magical way indeed to draw to a close our rich and diverse discovery of New Zealand's wildlife treasures.
Please contact us on 01962 733051 for details on what extensions either pre or post tour are available for this Tour.
The whole of the holiday, wildlife, and scenery, and the easy going, not rushed and the most friendly and easy going leaders and fellow travellers.

D.F. Kent

On group trips you hope for (a) an interesting destination, (b) good leaders, (c) a fun group, and (b) good accommodation and food. Achieving all four isn't guaranteed, but on this trip all four were outstanding. As we zig-zagged across North and South Islands and visited smaller islands, we saw an astonishing variety of scenery, vegetation and wildlife. I learned so much about New Zealand (both on land and at sea), and each day we had a perfect balance of travelling, walking, wildlife-watching and coffee-drinking.

A.L. Northumberland

We travelled through both North and South Island in a small group. We had wonderful views of the scenery off the usual routes. The wildlife refuges we visited gave us excellent views of the native flora and fauna. The highlights of the trip were the 3 Kiwi excursions, the first after several hours of searching resulted in hearing the calls but no sightings,however, we were extremely lucky to be awoken in the early hours by a call outside our cabin and were luck enough to see the Kiwi for a few minutes. The other two trips both resulted in up close encounters with two Kiwi's on each. Although we travelled over 4,000km in our 18 days it certainly did not seem that far and all the group, including the driver/guide, gelled from the start and this made every day an adventure.

M.Y. Gloucestershire

A very enjoyable trip. Naturetrek provided an excellent tour of New Zealand and we saw and learnt about all sorts of Flora and Fauna. I have been doing bird and nature tours for 15 years or more and this trip to New Zealand was the most comprehensive and interesting trip. An excellent tour.

P.G. Lancashire

A first class trip in every respect. The itinerary was well thought out, the tour well balanced, Wynston Cooper proved to be an excellent tour leader and the company was good. What more could I have asked for? ... All that remains is to decide next years destination.

B.C. Norfolk

The holiday surpassed all our expectations...The arrangements made for our holiday extension were excellent. Many thanks for a wonderful experience.

P. & B.J. Worcestershire

The tour leaders gave us so much information about New Zealand as we travelled. They were so knowledgeable about the animals and plants, it was fantastic.

B.L. Cumbria

We both thoroughly enjoyed the holiday, and were most impressed by the organisation. The guides could not have been more helpful and informative and we learnt a great deal about the country as well as its wonderful wildlife.

Mr & Mrs H. Warwickshire

Our tour leaders made a great team, their knowledge supplementing one another's. They were charming and friendly and always helpful when asked. Some of the best leaders I have travelled with; and this is doubly important when the trip is a long one, as this was.

M.M. Middlesex

I loved this holiday - my first with Naturetrek. The itinerary was ideal for me. I was so attracted by it on your website last November that I booked it immediately. I liked the concept of covering areas included by other operators, while visiting less known scenic, wildlife areas. I particularly wanted to visit Stewart Island, and Tiritiri Matangi was a bonus. The boat trips and the night and early morning walks were highlights. The three leaders were exceptionally knowledgeable, energetic, enthusiastic and good communicators, and made the holiday a wonderful learning experience; ideal for a first visit to New Zealand. All of my previous group holidays have been walking holidays, but this experience has inspired me to convert, at least partially, to wildlife holidays. Many thanks for a memorable holiday.

S.H. Flintshire

This holiday was wonderful - we went to such amazing places and saw such amazing things - both wildlife and scenery.

H.L. Hertfordshire

Naturetrek have got it 100% right. The whole holiday worked very well. I cannot speak more highly of the whole trip and the way it was organised and delivered.

A.P. Dorset

Extremely well organised. Both leaders knowledge of the birds, flora, fauna and history of New Zealand made the trip thoroughly enjoyable. They didn't mind how many times we asked questions, sometimes the same ones! Trip of a lifetime.

Mr & Mrs R. Suffolk
2019
Departures
Availability
Cost
Tue 29th Oct - Tue 19th Nov
SPACES
£7,795
Flights:
Most Naturetrek tours include flight costs ex-UK. If flights are not included, we indicate that here.
Flights are included in the tour cost
Regional Departures:

On certain tours it is possible to depart from a regional airport (rather than London). If a regional departure is possible, we indicate that here.
Regional Departures are available. Call 01962733051
Land only cost:

The "Land Only" cost is the tour price you will pay if you choose to arrange your own flights/transport.
£6,995
Single Room Supplement:
£995