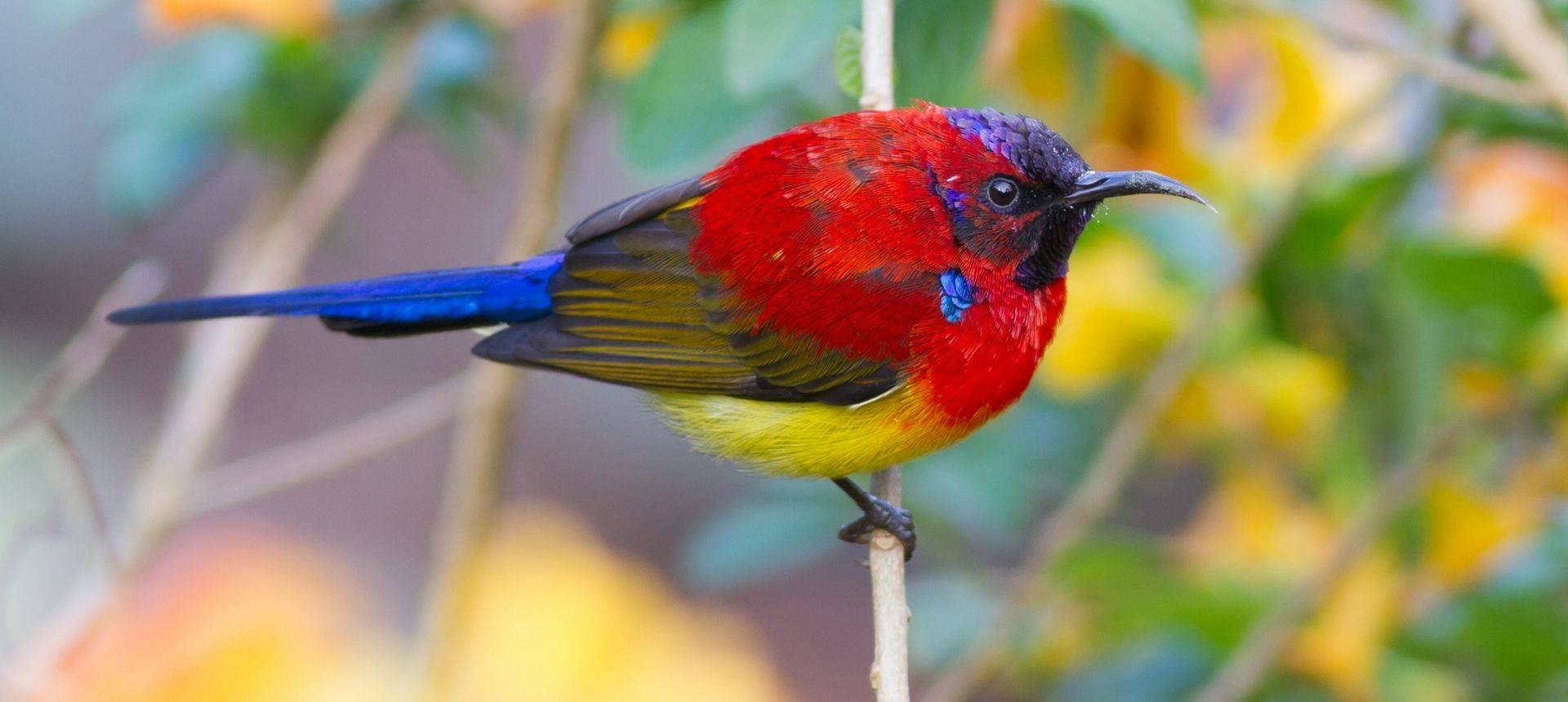 Nepal - Ibisbill Trek
Tour Code: NPL07
A 10-day holiday in search of Nepal's montane birds, including a 6-night trek along the Langtang Valley.
This tour focuses on one of Nepal's most sought-after species, the Ibisbill, as well as the wealth of other special bird life in the Kathmandu and Langtang Valleys. We begin by exploring the Trisuli River Valley in search of species such as Blue Whistling Thrush and the localised Spot-winged Starling. As we walk high above the Trisuli River and trek into the Langtang Valley we'll pass through forests, rhododendrons, and pretty villages, encountering a wonderful variety of bird life which may include Snow Pigeon, Hodgson's Mountain-finch, Rufous-breasted Accentor, Tickell's Warbler and Blue-fronted Redstart. Our ultimate goal, however, is to find breeding Ibisbills, in the Upper Langtang Valley; we'll also be hoping to see Nepal Wren-babbler which was only discovered in 1991.
White-capped River Chat & Plumbeous Water Redstart, Trisuli River
Himalayan Tahr, Common Goral & Royal's Pika possible
Bay Woodpecker, Red-headed Bullfinch & Mrs Gould's Sunbird
Beautiful Niltava & two species of ground warbler
Chance of Himalayan Honeyguide while inspecting cliff-hanging bees' nests
6-day trek in the Langtang Valley, with fully serviced camping
Look for breeding Ibisbills, Upper Langtang Valley, Kjangjin
Led by expert local naturalist guides
Can I help you?

For expert advice call +44 (0) 1962 733051

Operations Manager
Outline Itinerary
Day 3
Syabru Bensi - Camping
Day 4
Lama Hotel - Camping
Day 7
Ghora Tabela - Camping
I thought the trip was excellent and the trip leader and organization first rate.

N.M. Hampshire
Food & Accommodation
All meals are included, except for lunches and dinners in Kathmandu. Allow ?25.
Simple but comfortable, with private facilities included in Kathmandu. On trek we use standard 2-person tents.
About the region
We begin our trek in the Trisuli Valley where there are pretty Tamang villages, steep terraced fields and watery ravines filled with dense subtropical vegetation and tall stands of alder. The views to the Trisuli River as we climb up to Dhunche (1,830 metres), of Ganesh Himal, and snowbound Tibetan peaks at the head of the valley are quite magnificent.
The Langtang circuit is particularly special. It is here that we find Nepal's finest forests, and a peace and tranquillity that is sometimes lacking on more popular trails. Though just north of Kathmandu, the route on this tour takes us to some of Nepal's least populated regions, and remains relatively free of trekkers.
The tour 'in a nutshell'
A 10-day holiday in search of Nepal's montane birds including a 6-night trek along the Langtang Valley.
What birds might I see?
In the Trisuli Valley White-capped River Chats and Blue Whistling Thrushes decorate riverbed rocks, while Indian Rollers and mynas call from the riverside Sal forest. We can expect to encounter the colourful warblers, babblers, tits and flycatchers of the Himalayan foothills, and will keep a look out for the beautiful Pied Ground Thrush and Wedge-tailed Green Pigeon.
As we enter the magnificent mixed forest that dominates the lower Langtang Valley we'll be hoping to find some of the many species of sunbird, rosefinch, woodpecker, flycatcher and warbler that live here, as well as such forest gems as Bay Woodpecker, Red-headed Bullfinch, Mrs Gould's Sunbird, Beautiful Niltava and two species of ground warbler (or tesia). We will also stop along the way to inspect cliff-hanging bees' nests which sometimes have the rare and very elusive Himalayan Honeyguide in attendance!
We have a good chance of finding breeding Ibisbills in the upper Langtang Valley.
Anything else?
Nepal's alpine flowers.
Yaks, Himalayan Tahr (a large and shaggy, brown goat), as well as Common Goral and Royal's Pika are all possible.
Tibetan and Buddhist culture strongly in evidence along our route.

Please contact us on 01962 733051 for details on what extensions either pre or post tour are available for this Tour.
I thought the trip was excellent and the trip leader and organization first rate.

N.M. Hampshire

Thank you again for another great trip! We saw over 300 birds and some excellent mammals. Suchit was an excellent guide and great fun to be with.

J.M. Essex

The on the ground organization was excellent, with some great attention to detail (hot water bottles at high altitude!). I would like to congratulate Naturetrek on the overall service in putting this trip together. I had exact requirements for a custom made extension to be arranged at short notice, which you and your local agents achieved with little fuss.

M.A. London
2019
Departures
Availability
Cost
Sat 27th Apr - Mon 6th May
SPACES
£2,295
Flights:
Most Naturetrek tours include flight costs ex-UK. If flights are not included, we indicate that here.
Flights are included in the tour cost
Regional Departures:

On certain tours it is possible to depart from a regional airport (rather than London). If a regional departure is possible, we indicate that here.
Regional Departures are available. Call 01962733051
Land only cost:

The "Land Only" cost is the tour price you will pay if you choose to arrange your own flights/transport.
£2,295
Single Room Supplement:
£495