Menorca
Tour Code: ESP04
An 8-day holiday on this beautiful Mediterranean island in search of both its birds and flowers.
8 days from
£1,595 (Inc flights)
Land only price from
£1,475
Add this tour to your saved toursRemove from saved toursstar_border star

Add to Saved Tours
Highlights
Summary
Menorca is the most easterly and greenest of the Balearic Islands. Its rugged northern coast has a specialised flora and splendid displays of wild flowers in spring, as well as several wetland areas which are important for birds. We will be based for the week in a beautifully restored 18th century Menorcan farmhouse set in 10 hectares of countryside. From here we will explore the island's stretches of coast, woodland and wetlands by gentle daily walks in search of Menorca's special birds, flowers and culture.
Vetches, Cistus, gladioli & Alyssum among the colourful dune flora
Orchids abound, with Ophrys & Serapia species the most common
Balearic specialities & Menorcan endemics among a host of wild flowers
Europe's only sedentary population of Egyptian Vulture (40 breeding pairs)
Eleonora's & Red-footed Falcons
Purple, Night & Squacco Herons among a wealth of wetland birds
Moustached Warbler now breeding on the island
Prehistoric human sites & relics
The island produces some excellent gin!
Led by an expert naturalist guide

Grading
Day walks only, all straightforward (and optional). Grade A/B
Not just a smaller version of Mallorca, Menorca is the most easterly, and the greenest of the Balearic Islands. It may not have mountains on a Mallorcan scale, but it is a rugged, very rocky island, has comparatively little flat land, and consequently remains largely uncultivated. The southern coast is a series of low cliffs broken by sandy coves, usually backed with woodland and damp gorges. The northern coast is more rugged, with spectacular headlands and a specialised coastal flora that includes many of the local endemic plants. The island is also blessed with several wetland areas which are of particular importance for birds.
Menorca in spring offers a most intricate mosaic of wild flowers. White and mauve Cistus bushes, yellow Crown Daisies, purple gladioli, plus a great assortment of vetches, hawkweeds, bugloss and Alyssum among the dunes, ensure ubiquitous colour. Asphodels grow almost everywhere, and a wide variety of orchids occur, with Ophrys and Serapias species being most numerous. We should also find some of the Balearic specialities, such as the delightful Cyclamen balearicum, several sea-lavenders (Limonium spp.), and some of Menorca's endemics, such as the rare Senecio rodriguezii which occurs amongst the interesting and specialised plant communities of the northern coast; the latter are usually lowgrowing, often forming dense, spiny mounds, or are clothed with white or silver hairs to withstand salt-laden winds.
Birds of prey are one of the avian highlights on any natural history tour to this little island. Europe's only sedentary population of Egyptian Vultures occurs on Menorca (with about 50 breeding pairs), Booted Eagles and Red Kites — though the latter are declining — are seen with pleasing frequency, and a few pairs of Ospreys also breed on Menorca. Other raptors which we may see include Peregrine, Eleonora's and Red-footed Falcons. One of the most spectacular migrants, which also nests in several colonies on Menorca, is the Bee-eater. At the time of our visit, some of the breeding birds should be arriving and large numbers passing through. Another special bird is Audouin's Gull, one of the world's rarest gulls, which wanders the coasts of north-west Africa in winter but returns in spring to breed on the island. There are usually a few around the spectacular port of Mahon (arguably the best natural harbour in the Mediterranean) but sightings can also be expected at several other points on the coast.
The marshes at Son Bou and Tirant, and the fine wetland area of Es Grau support a variety of wetland birds. Little and Cattle Egrets, and Purple Herons are common; Night and Squacco Herons are more elusive but are often present. These areas and the old saltpans at several other sites are also excellent for waders, whilst the island's woodland and scrub abound with warblers, both resident species such as Cetti's, Dartford, and Sardinian Warblers, plus the more numerous and active migrants and summer visitors. Stone Curlews, Wrynecks, Hoopoes, Woodchat Shrikes, and abundant singing Nightingales breed on the island and add to the variety.
One of the most exciting aspects of birding in Menorca is the constant possibility of seeing something unexpected. White Storks, the occasional Black Stork, and Gull-billed Terns have all been recorded quite frequently in recent years, whilst Moustached Warblers, which had not been recorded breeding on the island before 1982, may now be seen at more than two breeding sites. Indeed, almost anything can turn up here in spring, and the chance of finding a real rarity, perhaps even a bird previously unrecorded from the island, is very real!
Our accommodation for the week is a splendid, and lovingly restored, 18th century Menorcan farmhouse. Set in 10 hectares of unspoilt countryside, with a large outdoor pool, this is a most relaxed setting. From this delightful base it will be easy to explore many of the most exciting areas of the island, using our minibus to access the best sites which we will then explore on foot. We will enjoy gentle walks along the coasts, through woodland and around the edges of wetlands where we will have plentiful opportunities to see a variety of birds and at least some of the island's flowers. Another fascinating aspect of this island is the large number of prehistoric human sites — standing stones, towers, stone dwellings, caves and other relics. We will see a number of these during our excursions, as well as gaining a feel for Menorca's more recent, but nonetheless long and very interesting history. It was, for example, held by the British as a naval base during much of the 18th century, and as a consequence, even today, gin is still produced on the island!
At the time of our visit — before the busy summer period — Menorca has relatively few tourists, and we will be able to explore the island in comparative peace. It is in any case a far less developed holiday island than Mallorca and many other Mediterranean islands. Indeed, most of the coast can only be reached on foot (or by boat) and there are some beautiful, isolated coves and beaches. We should find no difficulty in enjoying the history and, more importantly, the natural history of this delightful island away from the crowds!
DETAILED INFORMATION
Outline Itinerary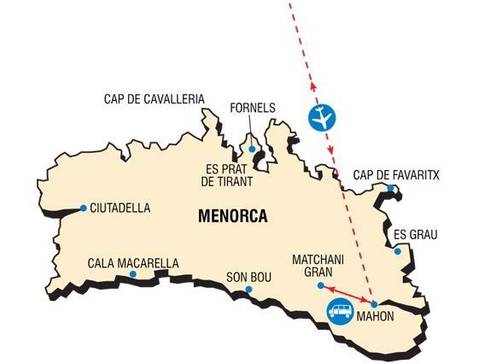 Day 1
Fly Mahon and transfer to Matchani Gran
Day 2/7
Daily birdwatching and botanical excursions all over Menorca from our base near Mahon
cloud_downloadDownload Full Itinerary
What's Included?
Flights
Accommodation:

A beautifully restored 18th century Menorcan farmhouse set in 10 hectares of tranquil countryside. All rooms with private facilities.

Food:

All included in the price.
Reviews
The itinerary was very good, and the leader well informed and thoughtful.

F.K. London

The best hotel I have ever stayed at on a tour. Both leaders were first class, kind and considerate and aware of the participants' needs.

M.F. Essex

Our hotel was excellent and the food some of the best we have had. The welcome and service were great. Our two leaders really know their stuff, but were relaxed and not too serious which was what we wanted. Altogether a nice, relaxing and interesting holiday.

A.M. Gwent

The Matchani Gran hotel was a good place to stay, and Sean and Jenny did their utmost to make us feel comfortable and enjoy our stay (and the food was first class!). I did appreciate being taken to sites which I would never have got to without guides. A great holiday!

R.L. Midlothian

The accommodation had excellent personnel with friendly service, calling everyone by name from the start - quite a feat - we even had a birthday dinner which was an unexpected surprise. Menorca is a beautiful place to go - we are delighted to have gone. Where shall we join you next!?

E. McC. Cheshire

Ted Griffiths and Barry Oxley were superb leaders in every way, being knowledgeable, helpful and fun to be with. We could not fault them in any way.

D.B. Warwickshire

I found the overall balance of the trip very satisfactory, covering many aspects of natural history.

A.B. Warwickshire

This was my 6th trip with Naturetrek. I had a lovely relaxing week - it did exactly what it said on the tin! Thank you again!

S.W. Ayrshire

Both leaders were excellent. The flowers were outstanding and it was very good to see the whole of the island and learn a bit about the differing areas.

A.C. Buckinghamshire

Lorenzo and his staff were lovely and the hotel was clean and peaceful. The two leaders were extremely knowledgeable and worked well together - all in all, I had a fabulous holiday and learned a lot.

L.C. London

This was a splendid bird and plant trip, very well led, and with a surprising and delightful variety of both birds and flora.

G.C. Dorset
Show More Reviews
Show fewer reviews
Dates & Prices
2022
Departures
Availability
Cost
Fri 22nd Apr - Fri 29th Apr
SPACES
£1,595
Flights:
Most Naturetrek tours include flight costs ex-UK. If flights are not included, we indicate that here.
Flights are included in the tour cost
Regional Departures:
On certain tours it is possible to depart from a regional airport (rather than London). If a regional departure is possible, we indicate that here.
Regional Departures are available. Call 01962733051
Land only cost:
The "Land Only" cost is the tour price you will pay if you choose to arrange your own flights/transport.
£1,475
Single Room Supplement:
£160
Why Naturetrek?
At Naturetrek we craft expertly-guided group and tailor-made wildlife holidays and cruises to all seven continents. On one of our holidays, you can be assured that our passionate team will enable you to experience and enjoy the best of the world's wildlife and natural spectacles in as comfortable and rewarding a manner as possible, caring as best we can for the environment in the process. We are proud to provide:
The widest choice of wildlife holidays worldwide
Tours managed and led by naturalists, for naturalists
Outstanding value and exceptional customer service
Furthermore, as a Naturetrek client, our office team are always to on hand to help you – so if you have any queries about your holiday, whether before or after you have booked, we will be delighted to answer them on the phone. Please just give our team a call!