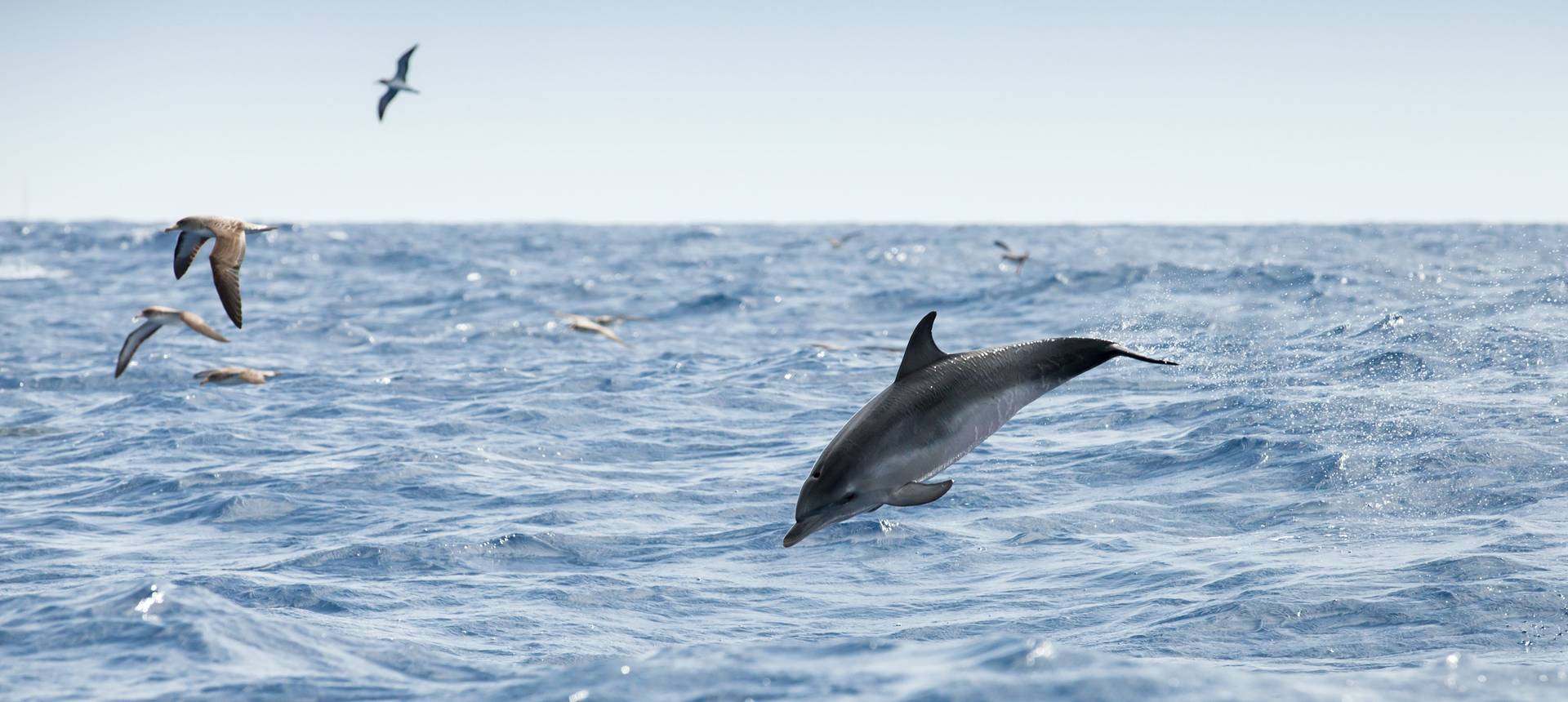 Madeira & Desertas Islands - A Seabird Extravaganza!
Tour Code: PRT02
A 5-day holiday in search of the special breeding seabirds, cetaceans and endangered Monk Seals of Madeira, including an exciting overnight excursion to the remote Desertas Islands.
The Madeiran archipelago is a seabird enthusiast's paradise! We begin our tour with an exciting night-time visit to the breeding colony of one of Europe's most threatened birds, the Zino's Petrel. We next turn our attention to Madeira's special landbirds, with a full day's tour in search of endemic specialities and subspecies. The climax of this holiday, however, is two sea crossings and a night spent on Desertas Grande. Twenty-five kilometres south-east of Madeira, the Desertas are, arguably, the ultimate seabird destination in the Western Palearctic, as well as a refuge for a small number of elusive and endangered Monk Seals!
Unique overnight stay on Desertas Grande - ultimate Western Palearctic destination for the seabird enthusiast
Privately chartered sailing boat used for inter-island crossings, seabird and cetacean watching
Nesting colonies of Bulwer's Petrel, Madeiran Storm-petrel and Cory's Shearwater
Fea's Petrel and Little, Manx and Great Shearwaters also possible
Night-time walk to Zino's Petrel colony
Trocaz Pigeon, Madeiran Firecrest plus other regional endemics and subspecies
Common, Bottlenose & Atlantic Spotted Dolphins; Short-finned Pilot, Bryde's and even Sperm and Fin Whales
Can I help you?


X
Andy Tucker
Andy is an Aquatic Biology graduate (Aberystwyth) and worked in fisheries consultancy for a year after graduation before travelling to south-east Peru to work as a guide in the Amazon rainforest. During his year there he balanced guiding with his fisheries research and, after a brief spell back in England, returned to a full-time guiding post at Sacha Lodge in the Ecuadorian Amazon. Andy has travelled widely in Central and South America and his fluent Spanish is a huge advantage during our tours both across the Atlantic and in Spain. Andy has birdwatched for as long as he can remember and counts himself lucky to have seen so many fantastic bird and wildlife spectacles around the globe. He joined the Naturetrek team in 1998 and, while now kept busy as General Manager, is involved in the operations of a wide variety of tours in Latin America, Western Europe and North Africa.
Since the Desertas Islands and the various shearwaters and petrels were the main reasons for our going on this trip we were very satisfied with the results. The leaders were excellent, friendly, helpful and informative

H.M. Sutherland
Food & Accommodation
All included in the price, except for dinners in Funchal. Allow £100 to £120.
Three nights in a comfortable, family-run, 3-star hotel near Funchal, all rooms with private facilities. For one night we will be beneath a simple shelter on Deserta Grande, or aboard a boat anchored just off-shore. Facilities are simple in both cases!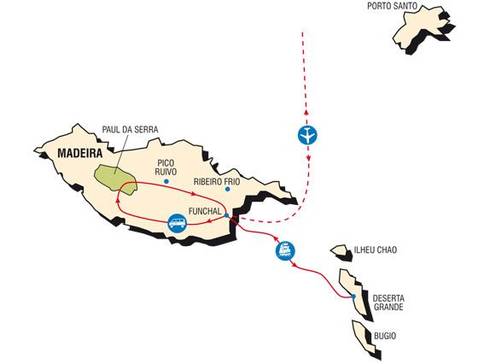 Tour leaders
Located in the middle of the North Atlantic some 560 kilometres off the coast of north-west Africa, the Madeiran archipelago consists of five larger islands and a few small islets. It is a seabird enthusiast's paradise! Of the larger islands, only Madeira and Porto Santo are inhabited. The Desertas Islands, situated 25 kilometres south-east of Madeira, are designated as a Special Protection Area on account of their internationally important seabird populations and are, arguably, the ultimate destination for anyone with an interest in the seabirds of the Western Palearctic.
We first turn our attention to Madeira's special landbirds though, with a full day's tour in search of such specialties as Trocaz Pigeon and Madeira Firecrest (both full endemic species); also other island and regional endemic species and subspecies such as Pallid and Plain Swifts, Spectacled Warbler, Chaffinch, Berthelot's Pipit, Kestrel, Buzzard and Sparrowhawk. With a traditional lunch midway through the day, we will also stop at designated viewing points for some fine sea-watching!
From above Funchal three distant islands 25 kilometres to the south-east can be seen: the alluring 'llhas Desertas', the focal point of our holiday. The Desertas are barren, devoid of both permanent human habitation and fresh water. Officially protected since 1990, the area is now a nature reserve comprising the islands themselves and the surrounding sea to a depth of 100 metres. There is a permanent research station on Deserta Grande and its two wardens are the only human inhabitants of the islands today. Viewed from Madeira, the islands look small; approached by boat, however, they are imposing, rising majestically from a crystal clear sea.
To get to the Desertas we embark on a 31/2-hour voyage from Funchal aboard our privately chartered vessel, the Ventura do Mar, looking out for Cory's, Great, Manx and Little Shearwaters and, with luck, Bulwer's Petrel, Madeiran Storm-petrel and the two sought-after Pterodromas, Desertas and Zino's Petrels. An exciting variety of cetaceans also inhabits these waters including Common, Atlantic Spotted and Bottlenose Dolphins. Shortfinned Pilot Whales are often found 'logging' at the surface, and Fin and Sperm Whales are also seen here as well as the occasional Bryde's Whale.
On our arrival at Deserta Grande, we drop anchor in the sheltered bay in front of the warden's hut. After an opportunity to swim, snorkel and do some fish-spotting in the magically clear water, we will take a guided tour of the island, visiting nesting areas of Bulwer's Petrels and Cory's Shearwaters. As dusk falls, rafts of birds congregate on the sea offshore. As darkness descends, Bulwer's Petrels are normally the first birds ashore, their doglike barking being heard all around! Some fly so close that their wings almost slap you, before they thud clumsily ashore. Cory's Shearwaters will also be heard (they breed higher up the cliff) and, a little later into the night, the Madeiran Storm-petrels will arrive, their squeaky calls demanding our attention. For those who wish to do so, it is possible to sit up on deck, even sleep on deck, listening to the calls and looking at the moonlit silhouettes of shearwaters, petrels and storm-petrels!
From 5am the Cory's will begin to file away for a day out at sea. By daybreak the show is usually over. Daytime on the Desertas Islands is contrastingly peaceful. Just a few terns and the resident Canaries and Berthelot's Pipits disturb this stillness. The islands are also home to an important, if small, population of one of Europe's rarest mammals, and with luck we may even see one of the 20 or so endangered Monk Seals which live here. We will enjoy breakfast, perhaps another swim, and then cruise back to Funchal (once again hoping for more seabirds and cetaceans en route), where we should arrive about lunchtime ready to catch up on some sleep! We end our tour with an exciting night-time visit to the breeding site of one of Europe's most threatened birds, the Zino's Petrel. This nocturnal seabird is endemic to Madeira and was presumed extinct in the mid-1900s, until it was 'rediscovered' in 1969! Today the species is confined to the high central massif, where between 65 and 80 pairs breed. The aim of this carefully guided visit is to experience the company of this endangered marine bird amongst some spectacular scenery and to listen to the eerie calls of the birds as they arrive back at their colonies as darkness falls.
Please contact us on 01962 733051 for details on what extensions either pre or post tour are available for this Tour.
Since the Desertas Islands and the various shearwaters and petrels were the main reasons for our going on this trip we were very satisfied with the results. The leaders were excellent, friendly, helpful and informative

H.M. Sutherland

Roy (Taylor, tour leader) was a real star. His bird spotting abilities were first class. He was also very personable and did his absolute best to manage the situation regarding the weather.

P. & R.R. Pembrokeshire

The land and sea biologists were well informed. We enjoyed their company.

Mr & Mrs G. Bedfordshire

This was our first organised trip as we have always done our own thing. We will use Naturetrek again for sure. Thank you for organising our four night extension - spot on.

Mr & Mrs G. Bedfordshire

Martin (leader) was a paragon of patience and consideration with all members of the group, with nothing being too much trouble.

D.H. Hampshire

I went specifically for the Petrels and Shearwaters but we saw and experienced so much more, all of it a fantastic bonus! Martin, Luis and the team were first rate. Their all-round knowledge was breathtaking.

G.C. Hertfordshire

I enjoyed the Boat trip to the Desertas Islands and camping onshore with the nocturnal seabirds coming ashore to their nest sites. It was very atmospheric with all the different calls.

R.B. Glasgow

The hotel was great, nicely situated above Funchal with a very warm and friendly atmosphere.

B.N. East Sussex

The big thing about this trip was the night on the Desertas and the seabird experience there which was everything we could have imagined and wished for…

P.G. Somerset
2019
Departures
Availability
Cost
Sat 15th Jun - Wed 19th Jun
4
£1,095
Flights:
Most Naturetrek tours include flight costs ex-UK. If flights are not included, we indicate that here.
Flights are included in the tour cost
Land only cost:

The "Land Only" cost is the tour price you will pay if you choose to arrange your own flights/transport.
£945
Room sharing options:
If a customer on this departure has already expressed an interest in sharing a room it will be flagged here. We will identify if there are sharing options for male, female or both.
Male sharing available
Single Room Supplement:
£95