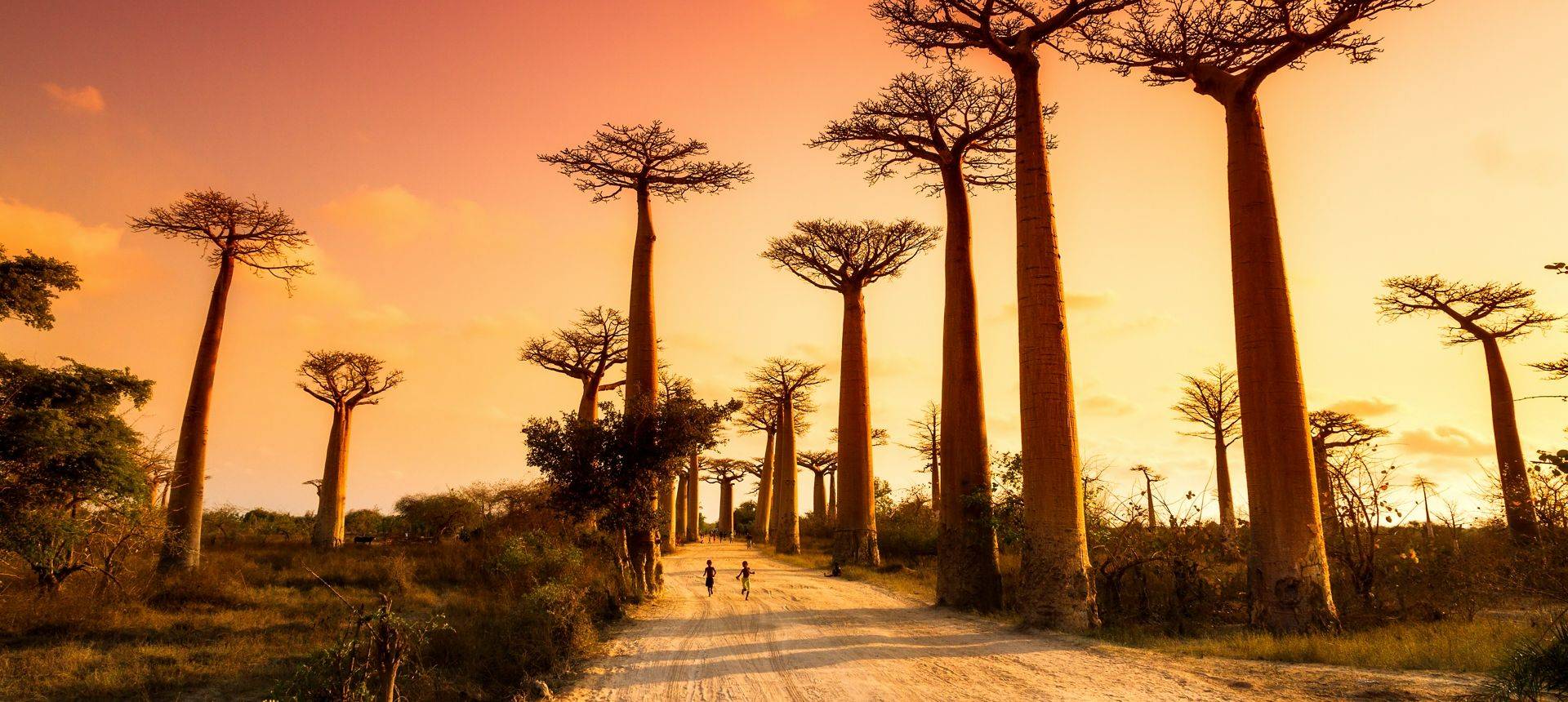 Madagascar: A Wildlife Photography Tour with Robert Harvey
Tour Code: MDG09
A 20-day wildlife photography holiday to the extraordinary island of Madagascar, focusing on photographing the unique wildlife and stunning landscapes, plus a little astrophotography.
By any measure, Madagascar ranks amongst the most extraordinary countries on Earth.  The fourth largest island in the world, it has been isolated from all other landmasses for some 80 million years. During that time, a dazzling array of endemic birds, mammals, reptiles, insects and plants have evolved, almost all of which are found nowhere else in the world.  Madagascar has all of the world's species of lemurs (of which there are over 100, and still more being discovered!), half of the world's chameleon species and six out of eight baobab species. The entire native terrestrial mammal fauna has evolved from just four colonists (one primate, one rodent, one insectivore and one carnivore) that are thought to have completed the perilous journey to Madagascar, by chance, on rafts of vegetation. Then, over tens of millions of years, these early pioneers evolved into over 100 living species, filling all manner of ecological niches across the island, and all are found nowhere else on Earth.
This tour has been specifically designed to maximise photographic opportunities, and we will explore and photograph several of the most spectacular locations and endemic species by both day and night. It will be led by professional photographer Robert Harvey, who is experienced in the key locations and target species. Our carefully constructed programme will be complemented by detailed guidance on locations and photographic settings to use for each subject.
Avenue of Baobabs at dusk, dawn and at night.
Astrophotography to capture the stunning night skies of the southern hemisphere and the Milky Way with unique Madagascar landscapes as foregrounds.
Kirindy Forest, one of the most biodiverse environments in the world for primates, where we will search for the island's largest carnivore, the Fosa, and largest rodent, the Giant Jumping Rat.
Extraordinary landscape of the Tsingy de Bemaraha with its iconic limestone pinnacles.
Dancing Sifakas, friendly Ring-tailed lemurs and spiny forest of Berenty.
Amazing nocturnal wildlife including chameleons, leaf-tailed geckos, giraffe-necked weevils and many species of lemurs.
Indri, the largest living lemur, and Aye-aye, the most bizarre of all the lemurs, in their rainforest homes.
Use of private charter flights to maximise our time in the field
Maximum group size of just 8 tour participants
Can I help you?

Outline Itinerary
Day 2
Arrive Tana & overnight
Day 4/5
Kirindy Special Reserve
Day 6/8
Tsingy de Bemeraha National Park
Day 10/12
Berenty Private Reserve
Day 15/16
Andasibe-Mantadia National Park
Day 17/18
The Palmarium / Andasibe
Food & Accommodation
All food is included in the price.
We stay in basic, but comfortable, hotels and lodges throughout. All rooms have private facilities.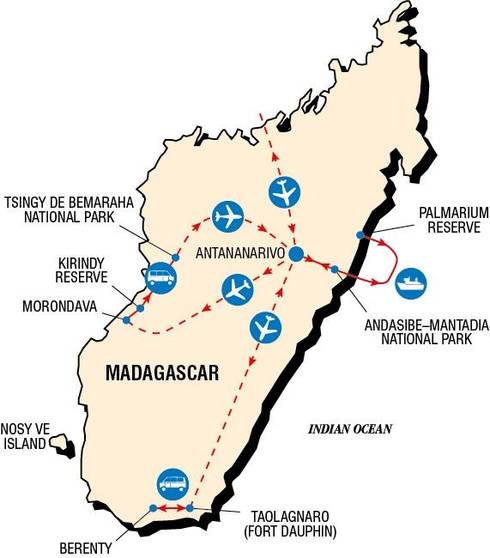 Tour leaders
Robert Harvey

Robert Harvey is a zoologist and professional photographer. In 2010 he was awarded the Associateship of the Royal Photographic Society for his work on coastal landscapes. In 2015 he gained the Excellence award of the Fédération Internationale de l'Art Photographique for his portfolio of 115 wildlife and landscape images that have been accepted in international exhibitions around the world. Robert joined Naturetrek in 2016 to share his passion for the natural world with aspiring photographers. He plans trips carefully, in order to optimise lighting, time of day, seasons, tides and the positions of the sun and moon. All his tours provide opportunities to learn new photographic techniques, for example making sharp images of birds in flight, capturing mammalian behaviour, stitching panoramas, high dynamic range, focus stacking and post-processing.
Isolated for 88 million years and comprising several distinct vegetation zones, Madagascar has given rise to some of the most spectacular scenery and bizarre species on Earth, making it a must for any keen photographer.
After arriving into Madagascar's capital, Antananarivo (Tana), and a good night's rest, the our tour begins with a flight to Morondava and a visit to one of Madagascar's most famous sights, the Avenue of Baobabs. A vivid sunset will allow for silhouetted shots of the boababs, and as dusk turns to night and the milky way spans the night sky, this unique setting will provide a wonderful opportunity in which to experiment with a little astrophotography.
For the next five days we will explore the fantastic wildlife reserves and dramatic landscapes of western Madagascar. Taking the opportunity to venture out at night as well as in the daylight hours, Kirindy Private Reserve offers us the opportunity to photography a mixture of diurnal and nocturnal creatures, including Fosa (Madagascar's top carnivore), Narrow-striped Mongoose, Red-tailed Sportive Lemur, Coquerel's Giant Dwarf Lemur and the quirky Giant Jumping Rat. Tsingy de Bemaraha National Park, meanwhile, with its jagged 'tsingy' peaks, limestone pinnacles and walking trails, will provide the perfect environment in which to indulge in some landscape photography. Humbolt's Heron, Madagascar Fish Eagle and White-faced Whistling Duck, amongst many other subjects, are all possible here.
After a brief stop in Tana, we next fly south to Fort Dauphin and from there drive to Berenty Reserve. This small reserve is packed full of wonderful wildlife, including large troops of Ring-tailed Lemurs, beautiful birds including Madagascar Paradise Flycatcher and Giant Coua, and a variety of other interesting wildlife such as Madagascar Ground Boa, Radiated Tortoise and Jewel Chameleon. And, of course, a photography trip to Madagascar would not be complete without the opportunity to photograph the famous Verreaux's Sifakas, or 'dancing lemurs', affectionately named due to their sideways hops that they make as they move across the ground. A trip into the nearby spiny forest will provide yet another unique and strange location in which to experiment with different photography techniques, and the drier areas around Berenty provide excellent habitat to explore at dusk in search of nocturnal inhabitants.
After a final morning in the reserve we head back to Fort Dauphin where we will overnight before taking our return flight to Tana. From here, we drive east to the rainforests of Andasibe-Mantadia National Park where we will hope to encounter Madagascar's largest lemur, the teddy bear-like Indri, and beautiful Diademed Sifakas. The trails throughout the park give us the chance to explore at a relaxed pace, keeping an eye open for other lemurs, plenty of rainforest birds, plus fascinating insects, frogs and reptiles including Parson's and Short-horned Chameleons. Night walks in the forest should also provide plenty of interest, with Madagascar Long-eared Owl, Satanic Leaf-tailed Gecko, Eastern Woolly Lemur and Goodman's Mouse Lemur all possible.
For our final two nights in Madagascar we continue to the east coast and the very special Palmarium Reserve, where wild Aye-ayes can be reliably seen each evening at dusk. The chance to see, and photograph, this extraordinary looking creature is sure to be the final highlight of our tour.
Sadly, we must then return to Tana ready for our flight home, with full memory cards and plenty of evocative photographs to process, which is sure to keep us busy for many months to come!
Please contact us on 01962 733051 for details on what extensions either pre or post tour are available for this Tour.
2019
Departures
Availability
Cost
Mon 22nd Jul - Sat 10th Aug
4
£7,995
Flights:
Most Naturetrek tours include flight costs ex-UK. If flights are not included, we indicate that here.
Flights are included in the tour cost
Regional Departures:

On certain tours it is possible to depart from a regional airport (rather than London). If a regional departure is possible, we indicate that here.
Regional Departures are available. Call 01962733051
Land only cost:

The "Land Only" cost is the tour price you will pay if you choose to arrange your own flights/transport.
£6,995
Single Room Supplement:
£750