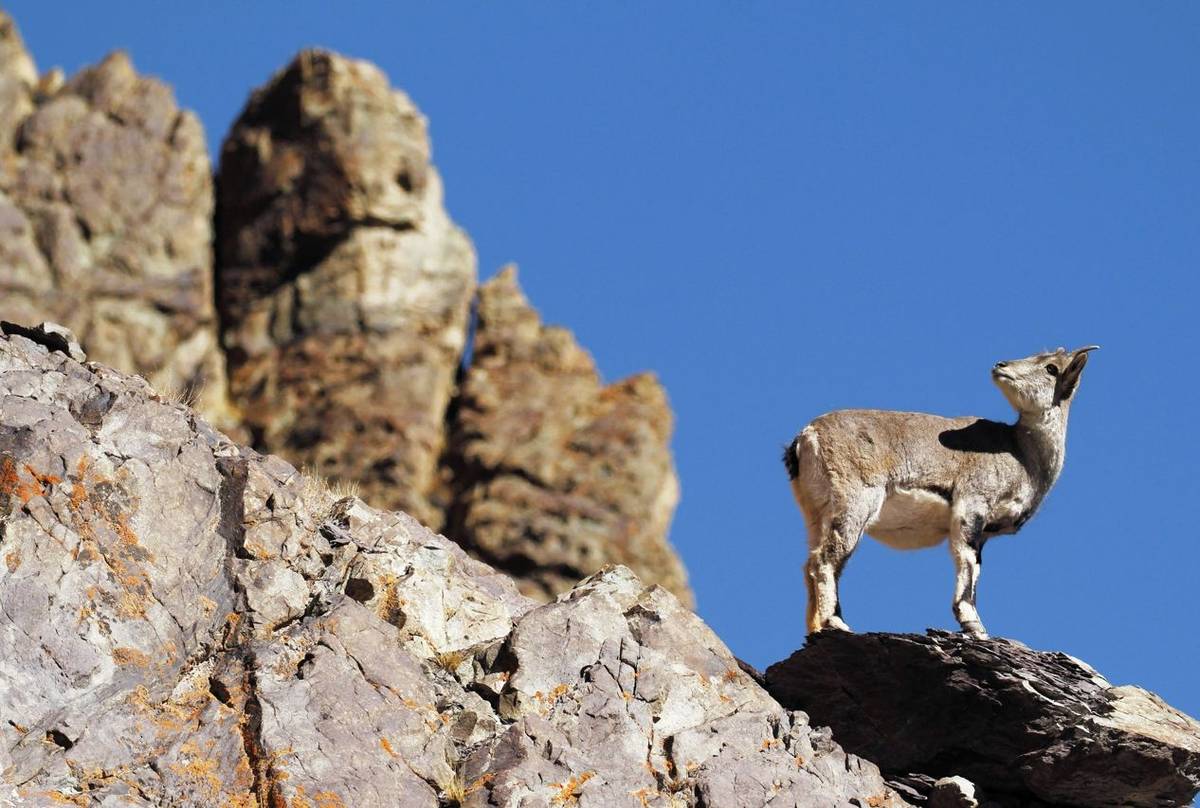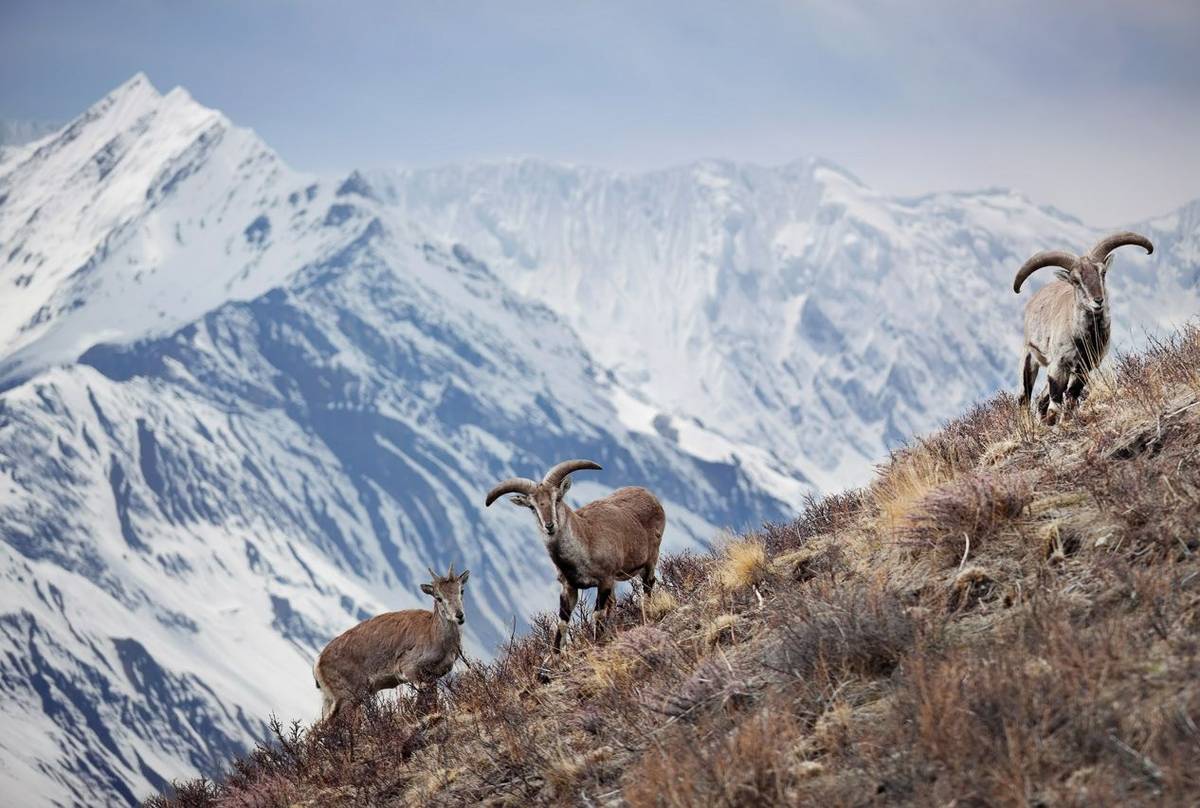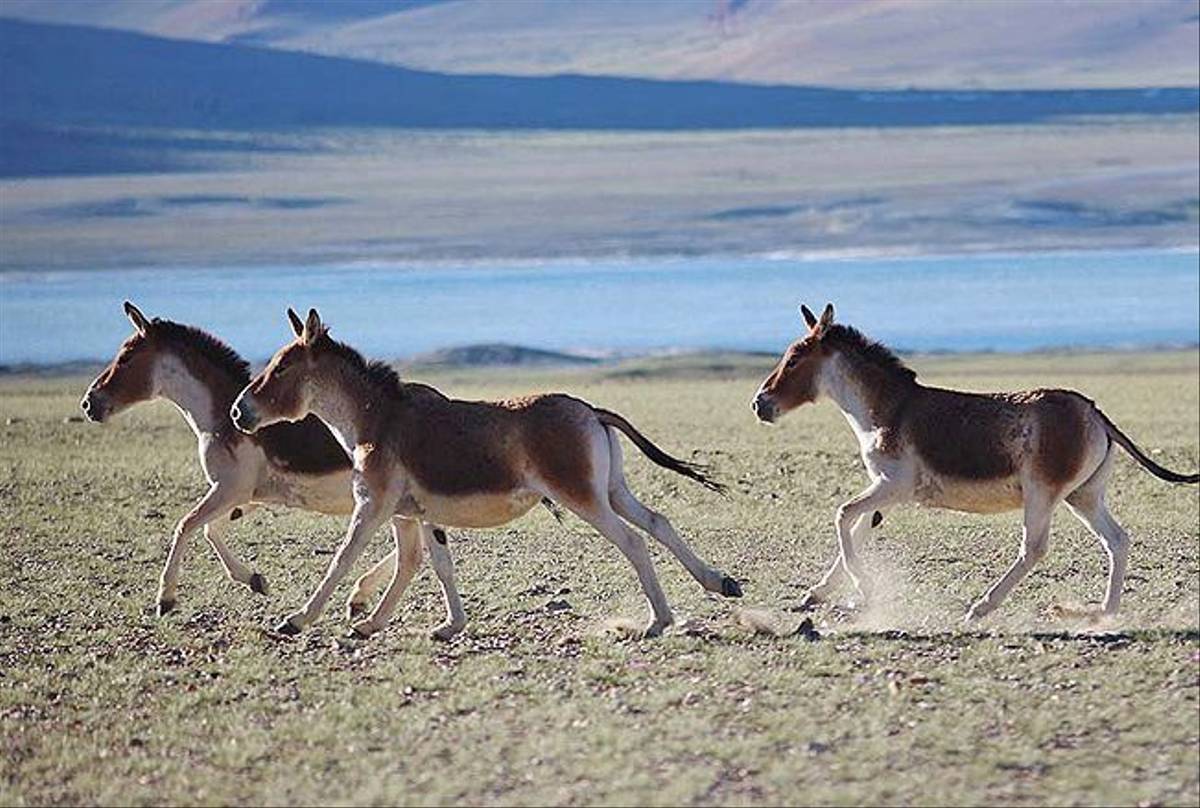 TOUR ITINERARY AND REPORTS
Ladakh - Birds & Mammals of the Tibetan Plateau
Tour Code: IND50
This 15-day wildlife adventure focuses on the iconic mammals and birds of the Tibetan plateau that are found in the remote regions of the spectacular high-altitude Buddhist 'kingdom' of Ladakh in north-western India.
15 days from
£3,795 (Inc flights)
Land only price from
£3,295
Add this tour to your favouritesRemove from Favouritesstar_border star

Add To Favourite
Highlights
TOUR ITINERARY AND REPORTS
SUMMARY
In order to reach India's Ladakh region, we fly first to Delhi and then make a spectacular Trans-Himalayan flight to Leh where we will be based for three days; this should be ample time to acclimatise and to enjoy the cultural and ornithological highlights before we drive south into the mountains to the tiny settlement of Zingchen. Here we will look for such birds as Hill Pigeon, Alpine Chough and Stoliczka's Tit-warbler as well as Ladakh Urial (a local wild sheep species) and then return to Leh. From Leh we will head into Hemis National Park, and then drive to the Tsokar basin, which lies south-east of Leh on the western edge of the Tibetan Plateau (4,600 metres). From our base in Tsokar, we'll look for Black-necked Cranes which breed in the Puga Valley as well as other specialities. Next we will drive to the Tibetan settlement of Sumdo from where we will visit the stunning Tsomoriri Lake in search of wetland birds, as well as Tibetan cultural and religious sites of interest. We will return to Leh and then on the next day we travel over the dramatic Khardung La pass to Nubra Valley, here will enjoy a Camel Safari (on Bactrian Camels) before continuing our journeys home.
Ibisbill, Citrine Wagtail, Mountain Chiff-chaff, Wallcreeper & warblers, Indus Valley
Himalayan Griffon, Chukar & Red-billed Chough, Zingchen
Brandt's Mountain Finch, Tibetan Snowfinch & Eastern Great Rosefinch, Zingchen
Tibetan Wild Ass, Bar-headed Geese & Tibetan Argali, Tsokar basin
Tibetan Partridge, Tibetan Sandgrouse & Hume's Groundpecker, Tsokar basin
Look for breeding Black-necked Cranes, Puga Valley plus Horned Lark & Great Rosefinch
Marmots, pikas, Woolly Hare & Mountain Weasel, Puga Valley
Himalayan Snowcock & White-tailed Rubythroat, Sumdo
Visit Tsomoriri Lake for wetland birds & buddhist monasteries
Drive over Khardung La, the highest motorable pass in the world
Visit a Tibetan Buddhist monastery
Enjoy stunning scenery
Led by expert naturalists
Grading
Day walks only. The high altitude will make some of you breathless at times (though the three full days spent in Leh should allow you sufficient time for acclimatisation).

Ladakh is a dry and arid mountain kingdom, dominated by magnificent gorges, cliffs, plateaux and rugged snow-capped peaks. On this unique 15- day tour of Ladakh during high summer, we will be accessing its highest and most remote regions in search of many of the special birds and mammals of the Tibetan plateau. Beginning in Leh, after a spectacular trans-Himalayan flight from Delhi, we will explore stunning high-altitude and mountain landscapes in a region that lies in the rain shadow beyond the Himalaya, right on the edge of the Tibetan Plateau. During the three days in Leh, we will acclimatise, and enjoy the cultural and ornithological highlights (amongst them Ibisbills, Citrine Wagtails, Mountain Chiffchaffs, Tickell's and Sulphur-bellied Warblers, Wallcreepers and Red-fronted Serins) of the Indus Valley.

After acclimatising to the high altitude whilst based in Leh, we will drive to Zingchen, a tiny settlement consisting of just five houses. Although only a short distance from Leh, we are now really in the mountains, and almost every winter Snow Leopards come down to raid the sheep pens here, and Dhole (Indian Wild Dogs) have also been seen. Zingchen is a good area for Ladakh Urial or Shapu (a local species of wild sheep). From now on we will be looking out for typical birds of these mountains such as Himalayan Griffon, Lammergeier, Golden Eagle, Himalayan Snowcock, Chukar, Hill Pigeon, Red-billed Chough, Alpine Chough and the exquisite Stoliczka's Tit-warbler. Black Redstarts and Common Rosefinches are everywhere and we can also expect to see some of the less common species such as Brandt's Mountain Finch, Plain Mountain Finch, Tibetan Snowfinch and Eastern Great Rosefinch.

Then, from Leh, we will visit Hemis National Park, the largest protected area in India and home to such elusive mammals as Snow Leopard, Bharal (Blue Sheep), Shapu, Tibetan Wolf and Eurasian Brown Bear, before driving to the Tsokar Wetlands. Lying south-east of Leh on the western edge of the Tibetan Plateau at an altitude of 4,600 metres, the Tsokar basin is known for its population of Kiang (Tibetan Wild Ass) and breeding Blacknecked Cranes, Bar-headed Geese and Ruddy Shelduck. This region also has a healthy population of Tibetan Argali (Great Tibetan Sheep), while Tibetan Wolf, Tibetan Partridge, Tibetan Sandgrouse and Hume's Groundpecker are among some of the other special wildlife regularly seen here.

From our base in Tsokar, we will spend a day exploring the areas around Puga and Sumdo. The former, a couple of hours away, is best known for its hot sulphur springs and their reputed medicinal properties. The meadows, marshes, streams and high rocky slopes of the Puga Valley also provide a variety of habitats for birds. This area is known for its breeding Black-necked Cranes, which we will look for here, as well as for such other specialities as Ibisbill, Tibetan Partridge, Horned Lark, Eurasian Eagle Owl, Upland Buzzard, Hume's Groundpecker, Tibetan Lark, Great Rosefinch and both Robin and Brown Accentors. A good variety of mammals may be seen here too, amongst them Long-tailed Marmot, Blue Sheep, Tibetan Wolf, Woolly Hare, Ladakh Pika, Red Fox and Mountain Weasel. From Puga we will drive for an hour to Sumdo, one of many Tibetan settlements in Ladakh, to enjoy the rich avifauna, including flagship species such as Himalayan Snowcock, Lammergeier and White-tailed Rubythroat. Similar species, and many more, may be encountered during a stay at Tsomoriri Lake, which lies at an altitude of 4,550 metres. This beautiful emerald-blue lake, the largest high-altitude lake in this trans- Himalayan region, is well known for both its breeding wetland birds as well as its scenic beauty. The lake (also known as the Tsomoriri Wetland Conservation Reserve) lies in the Changthang area of Ladakh and is an important breeding area for Black-necked Crane and Bar-headed Geese. Common Redshank, Ruddy Shelduck, Lesser Sand-plover and many other species also breed here. We will spend some time exploring the lake and we will also visit the ancient village of Korzok, set around a Tibetan Buddhist monastery which belongs to the Drukpa path of Tibetan Buddhism and houses a Shakyamuni Buddha and other fine Buddhist statues.

Finally, we drive over the Khardung La (5,359 metres), which is claimed to be the highest motorable pass in the world, to a fascinating and little-visited region of the Nubra Valley. We must now leave the spectacular mountain kingdom of Ladakh and fly back to Delhi where we spend our last night and the whole of the next day visiting the essential historical sites in Delhi to complete this special tour of one of the most beautiful regions on Earth.


DETAILED INFORMATION
Outline Itinerary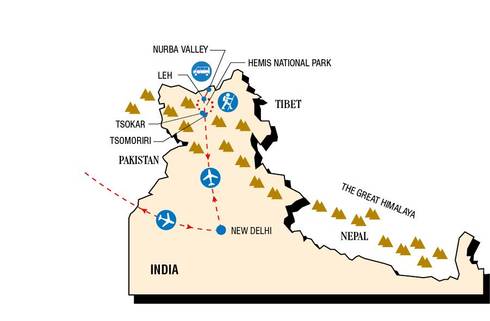 Day 2
Arrive Delhi; fly Leh.
cloud_downloadDownload Full Itinerary
What's Included?
Flights
Accommodation: A comfortable tourist hotel in Delhi and a simple but comfortable hotel in Leh, both with private facilities; fully serviced camping elsewhere.
Food: All included in the price except for lunches and dinners in Delhi.
DATES AND PRICES
2019
Departures
Availability
Cost
Fri 28th Jun - Fri 12th Jul
5
£3,795
Flights:
Most Naturetrek tours include flight costs ex-UK. If flights are not included, we indicate that here.
Flights are included in the tour cost
Regional Departures:
On certain tours it is possible to depart from a regional airport (rather than London). If a regional departure is possible, we indicate that here.
Regional Departures are available. Call 01962733051
Land only cost:
The "Land Only" cost is the tour price you will pay if you choose to arrange your own flights/transport.
£3,295
Room sharing options:
If a customer on this departure has already expressed an interest in sharing a room it will be flagged here. We will identify if there are sharing options for male, female or both.
Not available
Single Room Supplement:
£895
Why Naturetrek?
At Naturetrek we craft expertly-guided group and tailor-made wildlife holidays and cruises to all seven continents. On one of our holidays, you can be assured that our passionate team will enable you to experience and enjoy the best of the world's wildlife and natural spectacles in as comfortable and rewarding a manner as possible, caring as best we can for the environment in the process. We are proud to provide:
The widest choice of wildlife holidays worldwide
Tours managed and led by naturalists, for naturalists
Outstanding value and exceptional customer service
Furthermore, as a Naturetrek client, our office team are always to on hand to help you – so if you have any queries about your holiday, whether before or after you have booked, we will be delighted to answer them on the phone. Please just give our team a call!