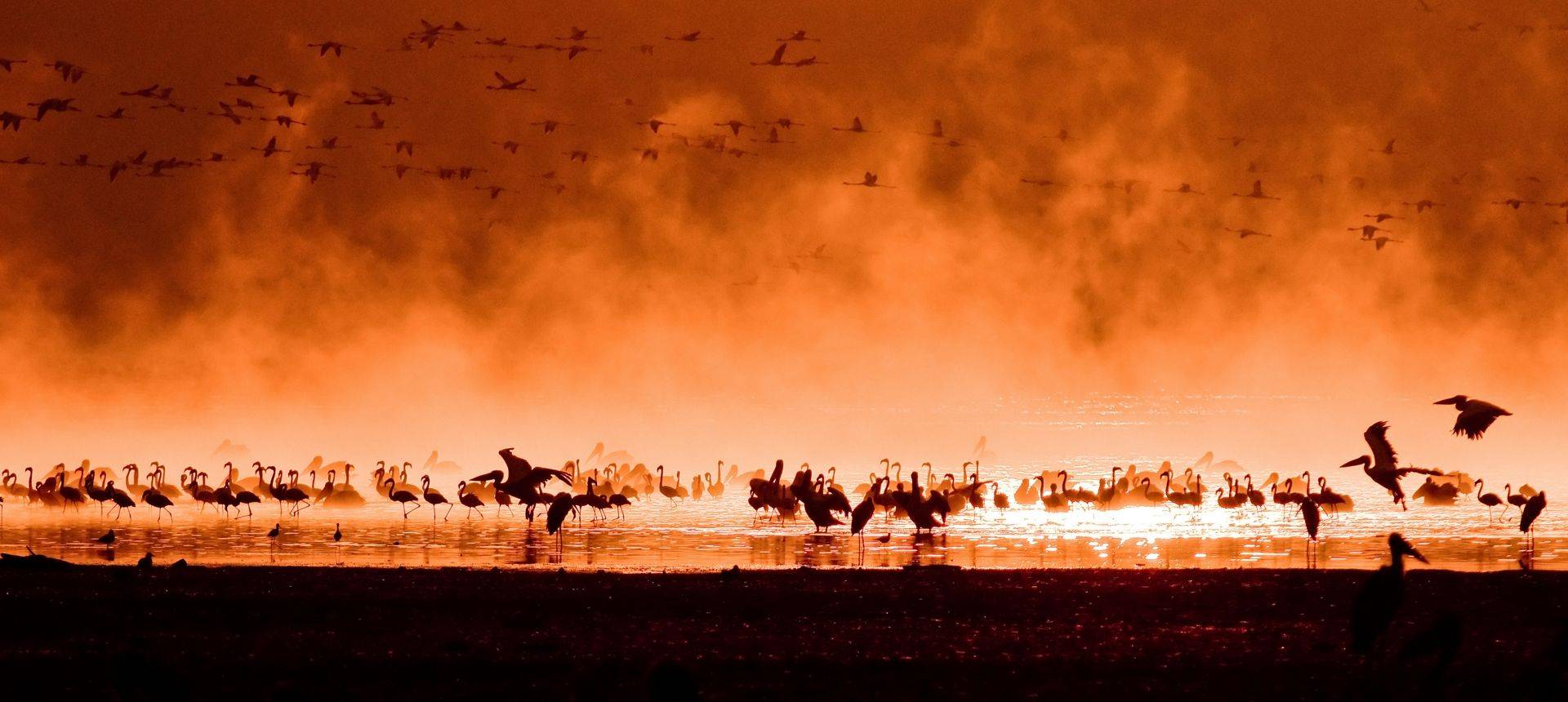 Kenya Highlights
Tour Code: KEN03
A 14-day birdwatching and wildlife safari to the Masai Mara, Rift Valley Lakes, Mount Kenya and Samburu, plus an optional extension to Amboseli, Tsavo and the coast.
Kenya is blessed with some of Africa's finest wildlife reserves. This two-week wildlife and birdwatching safari journeys through some of the country's most spectacular scenery and into its richest areas for wildlife. We begin in Samburu National Park in the arid north, home to Reticulated Giraffe and Grevy's Zebra. From here we move south to the forested slopes of Mount Kenya and then drop into the Rift Valley to visit Lakes Baringo, Bogoria and Nakuru; the latter two famous for the thousands – sometimes millions – of flamingoes that congregate here to feed. We conclude with 3 days in the acacia-dotted grasslands of the Masai Mara, home to thousands of Burchell's Zebra, Blue Wildebeest and Thompson's Gazelle, plus Masai Giraffe, Cheetah, Lion, Spotted Hyena and a diverse and colourful birdlife.
Visit the world famous Masai Mara
Exceptional wildlife of the Rift Valley Lakes
Wildebeest migration in July
Abundant birdlife (over 1,000 species recorded in Kenya!)
Abundant African mammals; Lion, Cheetah & Leopard all possible
Spectacular Rift Valley scenery
Explore Samburu National Park & Mount Kenya's forests
Expertly escorted by a British Naturetrek naturalist & local guides
Can I help you?


X
Paul Stanbury
Paul graduated in Environmental Science in 1995 and joined the Naturetrek team in January 1996. His keen interests in birds and travel began when aged seven and the intervening years have taken him to many parts of the world. Paul has always had a particular interest in North American wildlife, a fascination which led him to spend the second year of his degree course studying at Western Washington University near Seattle, where he developed a detailed knowledge of the Pacific North-west and its birds. He has also travelled widely in Europe and Africa, and spent three months backpacking around South East Asia from Borneo to Thailand. At present, Paul lives in Petersfield, Hampshire, only 30 minutes from the Naturetrek office in Chawton where he is based.
Outline Itinerary
Day 4/5
Mountain Lodge, Mount Kenya
Our drivers, John and Chris, were excellent.

R. & J.B. Scotland
Food & Accommodation
All included in the price.
Comfortable lodges with private facilities.
There is no doubt that Kenya is a magical country. Bearing a functional veneer of Westernisation, it is bustling and colourful, and packed with variety: a melting pot of everything African. Despite pressure from tourism and a growing population, this country remains the naturalist's first choice in Africa ... and perhaps the world. The reasons are clear. Game in the reserves is abundant; both it and the birdlife — a staggering thousand species, unrivalled by any other African area of similar size — are exceptionally colourful, approachable, and easily photographed. From arid deserts to verdant rainforests, from rolling grasslands to snow-capped equatorial peaks, from lush green hills and cultivated plains to the individual lakes and spectacular escarpments of the Great Rift Valley, Kenya has a variety of scenery and habitats unrivalled in Africa. All this is serviced by a good network of roads, and by standards of accommodation and cuisine as high as any on this great continent. Few visitors may complain!
We begin our holiday with a very scenic drive north to Samburu, perhaps the most attractive of Kenyan game reserves. Situated in the 'arid north', Samburu's mix of crocodile-filled rivers, dry grasslands and acacia woodlands, together with its beautiful Dom Palms and Baobab Trees, provide us with a great range of birds and some unusual mammals that include Reticulated Giraffe, Grevy's Zebra, Beisa Oryx and Gerenuk.
Next we move south once more for a 2-night stay at Mountain Lodge, situated at an elevation of 2,190 metres on the forested slopes of Mount Kenya. Here, on guided walks, we should see a wonderful variety of montane and forest birds, including such species as Red-fronted Parrot, Hartlaub's Turaco, White-starred Forest Robin and Montane Oriole. Most exciting of all, though, is the anticipation at dusk, dawn and during the night as such elusive mammals as Bush Pig, Giant Forest Hog, Large-spotted Genet and perhaps even a Black Rhinoceros may emerge from the forest to drink at the waterhole beside the lodge.
Leaving Mount Kenya we visit three very different Rift Valley lakes. The birdlife at each is outstanding. At Nakuru we explore the salty mudflats and hilly woodland around this flamingo-laden soda lake. This beautiful park is home to a large number of White Rhino and Leopard. At Lake Bogoria we search for Greater Kudu and visit hot springs, and at Lake Baringo we have plenty of time to explore a beautifully unspoilt freshwater lake, set amidst a rugged dry land of cliffs, plateaux and boulder-strewn acacia woodland, where Verreaux's Eagles and Hemprich's Hornbills are amongst many other unusual birds to be seen.
We conclude our holiday in the Masai Mara, travelling over the Rift Valley and viewing the spectacular Longonot volcano as we cross the cultivated plains of the valley towards the rolling grasslands of 'the Mara', where we spend three nights. This is the finest of Kenya's reserves, and teems with animals, especialIy in July, August and September when huge herds of Blue Wildebeest, pursued by their predators, are migrating into the Mara from the adjacent Serengeti in search of fresh pastures. Topi, Hartebeest, gazelles, Burchell's Zebra, Giraffe, Elephant and African Buffalo feed with them on the plains, and attendant Lions, Cheetahs, jackals and Spotted Hyenas. The birdlife may take second place, but is nonetheless abundant. Vultures, Martial Eagles, Secretary Birds, Ostriches, Ground Hornbills, and colourful barbets, weavers and finches litter the grasslands and acacias.
For those wishing for a more complete overview of Kenya's highlights, we should be delighted to offer a tailor-made extension to Amboseli, Tsavo and the coast (or to any other country in east Africa). These areas, sitting beneath snow-capped Kilimanjaro, present fine photographic opportunities, and a habitat of dry, rolling grassland where yet more bird and mammal species may be found. Finally, at Turtle Bay, in the heart of Kenya's Marine National Park, you may choose to snorkel on the coral reef, explore the bird-rich coastal forest of Sokoke, and the mudflats and mangroves of Mida Creek.

Please contact us on 01962 733051 for details on what extensions either pre or post tour are available for this Tour.
Our drivers, John and Chris, were excellent.

R. & J.B. Scotland

Tony is a splendid leader, laid back, tolerant, but quite efficient, as well as good fun. I think everyone enjoyed themselves largely because of his encouragement.

T., C. and E.J. Hertfordshire

We greatly enjoyed the main trip with the group round the various Reserves, and you will probably know from Tony Williams that we saw most of the birds we hoped to, and of course the mammals. We were very impressed, and particularly with Tonys leadership. He was very good in all respects and had a nice sense of humour.

J.H. Lancashire

Overall we had a wonderful holiday and achieved our aims of seeing the major African mammals and some spectacular birdwatching.

M. & L.S. London

Kenya is such a wonderful place that any trip there would be fantastic.

A.B. London

It was a trip of a lifetime and to have the chance to go on safari and see wildlife and be amongst them was superb. It more than met my expectations. Tom McJannet's knowledge of the area, wildlife and habitat made each day even more interesting. I would have no hesitation in recommending Naturetrek.

B.J. Northumberland

Overall an excellent and memorable holiday. The itinerary was well selected and gave us opportunities to view an extremely varied and interesting selection of animals and birds. Special mention to the guide, Cliff Waller, whose knowledge and experience of the area, as well as his more general abilities to converse on a range of subjects related to his own experiences, made him an extremely valuable companion on the trip. The accommodation and service were, in the main, excellent...All in all a wonderful experience, and we would hope to travel again with Naturetrek in the future.

R.S.H. & A.B. Hampshire

Cliff was an excellent leader, very friendly and approachable and his identification skills were outstanding. He always ensured that everyone was given every opportunity to see the wildlife, especially if there were species that an individual particularly wanted to see or had previously missed...Our driver, Bernard, was excellent, very friendly and knowledgeable, always responding to our requests, however the welfare of wildlife was always his first concern and was to be commended...The walk in the forest at Mountain Lodge will always be, for us, one of the highlights of the holiday. Overall this was an excellent holiday and more than lived up to expectations. We would have no hesitation in recommending Naturetrek and we are already planning our next holiday with you.

R. & G.D. Surrey

Overall an excellent trip. Highlights were 7 cheetah in one day at the Mara, including a mother with 5 sub adult cubs...The leader, Cliff, was very knowledgeable and good at identifying mammals/birds. Not afraid to correct himself later. Very personable...I'd happily go on another Cliff-led tour...Local guide Bernard was superb, polite, fun, friendly, informative and punctual (and drove well)...overall fantastic trip.

K.R. Lancashire