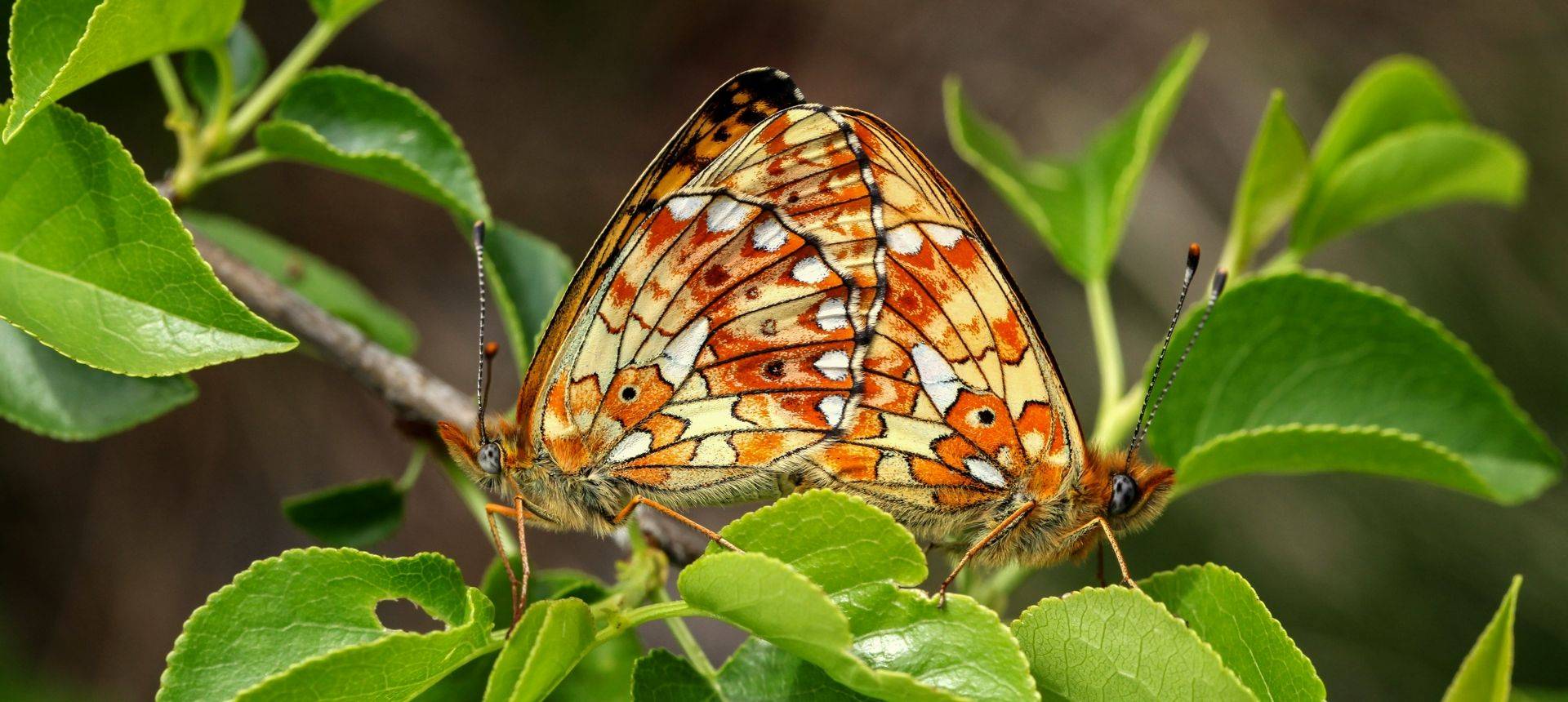 France - Butterflies of La Brenne
Tour Code: FRA06
A 6-day holiday, travelling to and from Poitiers by train, to enjoy the exceptionally rich wildlife of La Brenne, focusing in particular on its remarkable variety of butterflies.
Known locally as 'The Land of a Thousand Lakes', La Brenne harbours a rich tapestry of habitats including marshes, deciduous woods, dry heathland and farmland. Our local guide, Tony Williams, has been Warden of La Brenne since 1982 and has been guiding natural history tours in the area since 1984. Tony's knowledge of La Brenne is unsurpassed, and this, together with the access he has to private estates, makes our tour very special. The area we visit has nearly twice the number of butterflies compared with Britain and, as La Brenne is not an extensive area, most of the habitats we visit are within a short drive of our comfortable hotel at Mézières.
Travel by train on a flight-free holiday!
97 butterfly species recorded, including many not found in the UK
A wealth of blues, coppers, fritillaries & much more
Rarities such as Lulworth Skipper & Berger's Clouded Yellow
Great Peacock, nonpareils & wetland species in evening moth-trapping sessions
Based in a quiet, picturesque corner of France
Led by Naturetrek's own resident expert, Tony Williams
Can I help you?


X
Andy Tucker
Andy is an Aquatic Biology graduate (Aberystwyth) and worked in fisheries consultancy for a year after graduation before travelling to south-east Peru to work as a guide in the Amazon rainforest. During his year there he balanced guiding with his fisheries research and, after a brief spell back in England, returned to a full-time guiding post at Sacha Lodge in the Ecuadorian Amazon. Andy has travelled widely in Central and South America and his fluent Spanish is a huge advantage during our tours both across the Atlantic and in Spain. Andy has birdwatched for as long as he can remember and counts himself lucky to have seen so many fantastic bird and wildlife spectacles around the globe. He joined the Naturetrek team in 1998 and, while now kept busy as General Manager, is involved in the operations of a wide variety of tours in Latin America, Western Europe and North Africa.
Outline Itinerary
Day 1
Eurostar train from London St. Pancras to Poitiers; transfer Mézières-en-Brenne
Day 2/5
Butterfly and wildlife excursions throughout La Brenne
Day 6
Transfer Poitiers; Eurostar train from Poitiers to London St. Pancras
Jason led the party with good knowledge, good humour and greatly helped us enjoy our new found interest in butterflies/dragonflies.

Mr & Mrs H. Kent
Food & Accommodation
All included in the price, except for meals taken in transit.
A comfortable hotel with en suite rooms.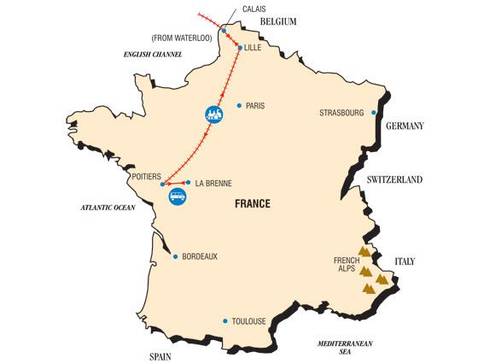 Tour Downloads
Tour leaders
Alan Miller

Tour leader

Jason Mitchell

Tour leader

Tony Williams

Tour leader

Simon Tonkin

Tour leader
Located in central France, La Brenne is a vast, yet intimate, low-lying landscape of fish ponds, marshes, flowery meadows, slow-flowing streams, small arable fields, rambling hedgerows, heaths, scrubland and deciduous forests. Indeed, it offers a medieval landscape that remains remarkably intact — still predominantly used to this day by fish farmers and smallholders who have favoured traditional rather than modern methods on account of the region's boggy terrain, poor soils and complex pattern of land ownership. As such, it remains a haven for wildlife and a wonderful place in which visiting naturalists may enjoy a wealth of natural history amongst tranquil surroundings.
With over 2,000 lakes, the 160,000-hectare Regional Nature Park of La Brenne is both internationally important and famed for its wetland birds. What is less well known is that it is also a magnificent place for butterflies due to its rich tapestry of habitats and the continued employment of traditional farming and forestry practices. To date, 97 butterfly species have been recorded in La Brenne (nearly twice the number occurring in the whole of Britain!), including a number of special species which are rare or rapidly declining in other parts of Europe.
Our aim on this tour will be to fully explore the butterfly fauna of La Brenne through visits to some exceptional meadow and forest habitats that have rarely, if ever, been visited by Britsh entomologists before. Amongst the species we will hope to encounter are a number of rare or threatened European species, including Camberwell Beauty, Large Copper and Large Blue, whilst amongst the common species found in La Brenne at this time of year, yet absent from the British Isles, are Large Chequered Skipper, Lesser Purple Emperor, Large Tortoiseshell, Southern White Admiral, Map, Pearly Heath, Sooty Copper, Alcon Blue, Provencal Short-tailed Blue, Great Banded Grayling, Ilex Hairstreak, Scarce Swallowtail and many species of fritillary, amongst them Spotted, Knapweed, Marbled and Lesser Marbled. We will also hope to see a number of butterflies that are rare in England but common in La Brenne, including Lulworth Skipper, Berger's Clouded Yellow, Shorttailed Blue, Heath Fritillary, Glanville Fritillary, Swallowtail, Wood White and Black Hairstreak. Weather permitting, we hope to see up to 50 species during the holiday, a variety which you would be hard pressed to see during an entire year of extensive travelling within the UK! In addition, we expect to encounter a wealth of other wildlife, in particular birds, dragonflies and orchids.
To find these species we will be in the highly capable hands of renowned local naturalist Tony Williams, who has worked in nature conservation in La Brenne for over 25 years. Needless to say, Tony's knowledge of this area and its many bird, plant and insect species is unsurpassed, and this, together with the access he has to private estates, makes our tour to the region very special. Our base will be a small and traditional hotel in Mezieres-en- Brenne, which has an excellent reputation locally for fine cuisine. Mezieres-en-Brenne is a charming small country town located in the north of la Brenne and at the heart of the butterfly action. All of our excursions are within a short drive of here, enabling us to maximise time spent watching butterflies in the field. The pace will be gentle, to allow time for photography and to marvel at the fabulous diversity of butterflies present. Each day we will focus on a different habitat type, to ensure that we are able to enjoy a varied range of butterfly species and experiences over the course of the holiday. As time and conditions allow, we will also run a moth-trapping session or two in the evening. This should attract a wealth of wetland species such as Gold Spot, Reed Dagger, Water Ermine, Reed Leopard, Pinion-streaked Snout, Reed Tussock, Brown-veined Wainscot, Blair's Wainscot, Bulrush Wainscot, Fisher's Estuarine Moth and Flame Wainscot, and some spectacular species such as Willowherb Hawk-moth, Clifden and other nonpareils, as well as the Great Peacock, Europe's largest moth. This will be a pioneering investigation, as very little is known about the moths of La Brenne!
To reach La Brenne in as environmentally sound a manner as possible we will travel by train from London to Poitiers, then take an hour-long minibus ride to our hotel. We will return home at the end of our holiday in the same manner, concluding a remarkably varied six days in a corner of France famed for its birdlife, but equally important for butterflies which, in a small way, this tour and its participants will help to promote.
Please contact us on 01962 733051 for details on what extensions either pre or post tour are available for this Tour.
Jason led the party with good knowledge, good humour and greatly helped us enjoy our new found interest in butterflies/dragonflies.

Mr & Mrs H. Kent

Tony Williams proved to be an excellent leader, determined for us to see as many species of butterfly as possible (including the elusive Woodland Brown!). The highlight of the trip was our visit to the private estate with its amazing wild flower meadows, but all the days were good. The lunches were excellent - lots of choice and variety, with all tastes catered for. We could not fault the organisation.

Mr & Mrs M. Wiltshire

The trip was a delightful experience - the people were great and very interesting. Tony Williams really was outstanding - so knowledgeable! He was always cheerful and made it all great fun with much humour. A good family hotel which made us very welcome. A resounding success!

J.B. Cheshire

A very enjoyable break in a lovely part of France with a very good, knowledgeable leader. I felt that in 4 days we covered the different habitats of La Brenne and saw many excellent species of butterfly. Also birds and dragonflies!

A.L. Rutland
2019
Departures
Availability
Cost
Thu 27th Jun - Tue 2nd Jul
SPACES
£1,195
Land only cost:

The "Land Only" cost is the tour price you will pay if you choose to arrange your own flights/transport.
£1,095
Single Room Supplement:
£130