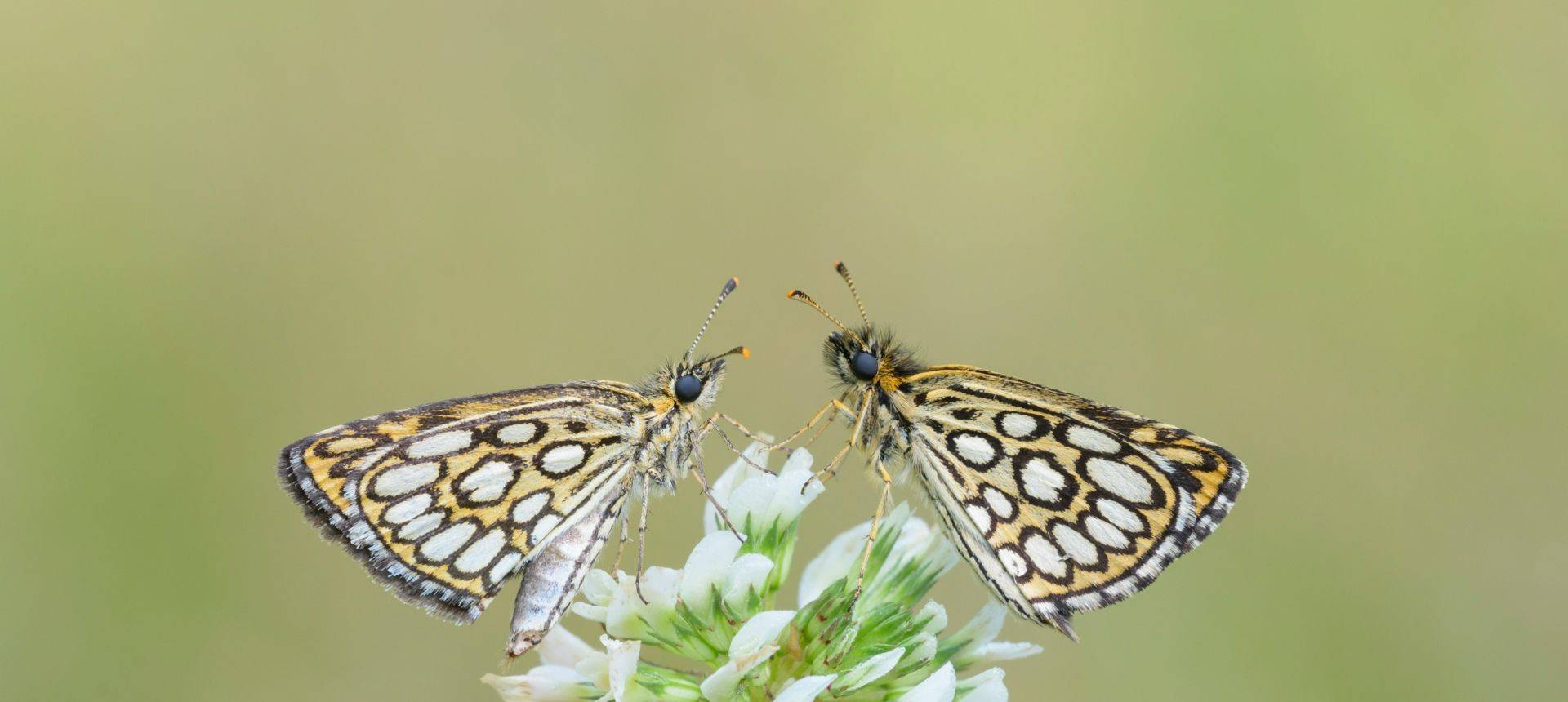 France - Butterflies in Normandy
Tour Code: FRA01
A 5-day tour, with travel by ferry, to enjoy the many delights of the Normandy region of France, but most especially its excellent variety of butterflies.
On this short break to Normandy we will visit the region's mosaic of different habitats in search of a wide range of butterfly species, as well as find time to enjoy the area's other wildlife and its culture. We'll explore small flower-rich meadows that are absent from the British Isles, and the Cotentin Regional Nature Park – one of the most important wetlands in Europe. Though our focus will be on butterflies we'll also enjoy the area's birds and many wild flowers, as well as the seafood, fruit, dairy products and other local produce for which the area is famed.
160 species of butterfly possible (more than twice the number in Britain)
Return travel by ferry from Poole to Cherbourg
Sooty Copper in small meadows, & Alcon Blue on Cotentin Peninsula
Marsh Fritillaries among a host of woodland species in Forest of Cerisy
Limestone grassland species including Chalkhill Blue & Faust's Burnet Moth
Scarce plants such as Large-flowered Self-heal
50 breeding pairs of White Stork
Visit the Bayeux Tapestry
Expertly guided by a Naturetrek naturalist
Can I help you?

For expert advice call +44 (0) 1962 733051

Operations Manager

X
Andy Tucker
Andy lives in north Hampshire with his wife and young children. He is an Aquatic Biology graduate (Aberystwyth) and worked in consultancy for a year after graduation before travelling to south-east Peru to work as a guide in the Amazon rainforest. During his year there he balanced guiding with his fisheries research and, after a brief spell back in England, returned to a full-time guiding post at Sacha Lodge in the Ecuadorian Amazon. Andy has travelled widely in Central and South America and his fluent Spanish is a huge advantage during our tours both across the Atlantic and in Spain. Andy has birdwatched for as long as he can remember and counts himself lucky to have seen so many fantastic bird and wildlife spectacles around the globe. He joined the Naturetrek team in 1998 and, while now kept increasingly busy as general manager, is involved in the operations of a wide variety of tours in Latin America, Western Europe and North Africa.
Outline Itinerary
Day 1
Sail Poole-Cherbourg; transfer to hotel at Port-en-Bessin for 4-night stay
Day 2/4
Exploration of Lessay, the Forest of Cerisy and Les Monts d'Eraines from our base at Port-en-Bessin
Day 5
Drive Cherbourg; sail Poole
Tom and John, our leaders, could not have been better. They took a good deal of trouble to ensure that we had a good and interesting holiday and had all the qualities one could hope for.

J.D. Dorset
Food & Accommodation
All included in the price.
A pleasant seaside hotel at Port-en-Bessin, with private facilities.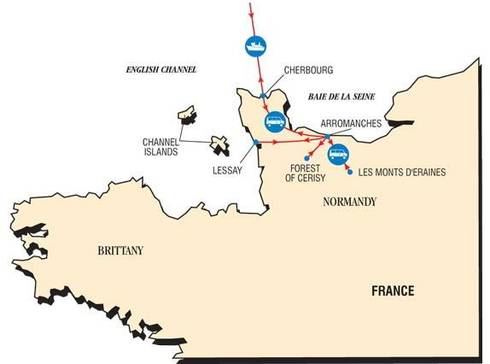 Tour Downloads
Tour leaders
Tom Brereton

Tour leader

Gerald Broddelez

Tour leader
The predominantly rural departments of Calvados and Manche, located in Normandy on the north-west coast of France, are easily accessed via the numerous ferry services running between England and the French ports of Cherbourg and Caen, yet are surprisingly little visited by British, or indeed any other naturalists. The region has an attractive and varied pastoral landscape, often likened to southern England, though much more unspoiled, and retains an abundance of birds, plants and butterflies long since lost from the English counties. Small, flower-rich meadows grazed by Normandy cattle dominate the rolling landscape, and there are numerous orchards, marshes, heaths, bogs and ponds. To the south lie some vast woodlands, whilst in the north a beautiful coastline, rugged in places, offers extensive areas of coastal dune grassland, interspersed by picturesque fishing villages. Interestingly, Normandy supports a rich butterfly fauna, with around 160 species (more than twice the number recorded in Britain!), and a remarkable wealth of other wildlife, set in tranquil surroundings. To explore the region, and enjoy these butterflies, we cross the Channel from Poole to Cherbourg, and drive to our base for this holiday, a pleasant hotel on the coast in the historic town of Port-en-Bessin-Huppain. Famed for its world-famous tapestry, nearby Bayeux is central to our entomological destinations and is within a short drive of our hotel.
On our first full day in Normandy we head west, perhaps stopping at suitable old meadow localities to look for Sooty Coppers which can be abundant at this time of year. En route, as we drive through the Cotentin Regional Nature Park (one of the largest and most important wetlands in Europe), we keep a watchful eye out for White Storks, of which more than 50 pairs now breed in Normandy, and Marsh Harriers. Along the many roadside hedgerows and flower-rich verges, we take a special interest in any whites we may see, as Wood Whites (the second brood of which is now on the wing) are locally common in this part of Normandy. However, our main focus today is the area of wet heaths, bogs and pine forests around Lessay, at the base of the Cotentin Peninsula. Here we will spend the whole day exploring numerous tracks through this important heathland region, searching for a number of butterfly specialities. Large Chequered Skippers are common, and Silver-studded Blues abundant, but our main target species is the globally threatened Alcon Blue, which is the subject of special conservation management in the area. Other species present include Sooty Copper, Purple and Ilex Hairstreaks, Dark Green Fritillary and Grayling. The shady pine forests are less attractive to butterflies, but we can expect to see Crested Tits amongst the evergreen foliage and, with luck, Honey Buzzards overhead. The area is important botanically and supports a large population of the orchid Summer Lady's Tresses, together with Heath Lobelia, Bog Rosemary and of course, Marsh Gentian, the food-plant of the Alcon Blue.
Our objective for the second day will be the large, state-owned Forest of Cerisy. This forest is dominated by beech, and contains a variety of other habitats including old meadows and calcareous mire, the latter supporting important populations of Marsh Fritillary. We will spend a full day exploring the network of rides which criss-cross the forest, looking for both grassland and woodland butterflies and moths. A very good variety of butterflies are found in the wood at this time of year including Camberwell Beauty, Ilex Hairstreak, White-letter Hairstreak, Map Butterfly, Silver-washed Fritillary, Clouded Yellow and possibly the last of the year's Lesser Purple Emperors. This large, secluded woodland supports a wide range of other wildlife including Wild Boar, Pine Marten, Honey Buzzard, Goshawk, Nightjar, Black Woodpecker, Middle Spotted Woodpecker, Melodious Warbler and Firecrest.
Finally we head south, to Les Monts d'sEraines, an area of undulating limestone hills between Caen and Falaise, the birthplace of William the Conqueror. The area comprises a mixture of scrub, limestone grassland and woodland, part of which has been designated a nature reserve. This is one of the most important limestone grassland sites in Normandy, and marks the north-west limit of this habitat type in France. During the day we will scour the botanically-rich slopes for butterflies such as Chalkhill Blue and Scarce Swallowtail, and also the regionally rare Faust's Burnet Moth. This leisurely day will give us ample time to search for other insect-life, including Jersey Tiger Moth and Stag Beetle and a whole host of scarce plants such as Large-flowered Self-heal, Chiltern Gentian, St. Lucie's Cherry, Mountain Germander, plus a number of true orchids and helleborines. Birdlife on the slopes will be quiet at this time of year, although we may possibly see Cirl Buntings which occur commonly in the region.
At the end of our holiday we return to Cherbourg to catch the Poole ferry, thus concluding a remarkably varied five days in a corner of France which richly deserves a higher profile as an excellent natural history destination.
Please contact us on 01962 733051 for details on what extensions either pre or post tour are available for this Tour.
Tom and John, our leaders, could not have been better. They took a good deal of trouble to ensure that we had a good and interesting holiday and had all the qualities one could hope for.

J.D. Dorset

Cannot speak too highly of both leaders. Not only knowledgeable but most thoughtful and considerate of us and excellent company. Very good ambassadors for your firm!

M.L. Oxfordshire

A really top-drawer leader in the person of Tom Brereton, who was efficient, calm, friendly and inclusive, with an admirable knowledge and experience of the natural world . I was not alone in pronouncing, on the way home on the ferry, that I would be happy to repeat the tour another year. There wasn't an idle moment - we were butterflying from the first day, offered optional pre-breakfast birding walks, and housed in a hotel that presented the very best of Normandy cuisine. Plus a memorable visit to the Bayeux tapestry and Manet-like picnics in beautiful locations. Who could ask for more?

E.H. Lincolnshire

Tom Brereton was one of the best tour leaders I have experienced.

D.H. Hertfordshire

The quality of the leaders of this trip was excellent, their specialist subject knowledge and general natural history grasp was very good indeed. They were both attentive of our needs at all times.

R. & J.D. Cheshire

Tom Brereton was an excellent leader - organised, knowledgeable on a wide range of wildlife, friendly and sensitive to the needs of all the party.

G.T. Oxfordshire

Thank you for a wonderful holiday. Everything was great from start to finish. Tom was superb. Everything ran like clockwork. We visited very varied habitats and had the most wonderful picnics and tried several items that were new to me. Tom and several of the other participants were very knowledgeable, which added to the pleasure.

V.B. Lancashire

This was a most interesting and enjoyable trip led by a very able leader. The holiday was both relaxing and stimulating. Highlights for me were the varied scenery of Normandy, the excellent base, variety of butterflies and Bayeux Tapestry.

A.L. Rutland

Tom was an excellent guide - extremely knowledgeable and willing to share his knowledge, an excellent driver, picnic organiser etc. A perfect leader and very inspirational. The group got on really well together and made me feel very welcome. My first Naturetrek trip but, based on my first experience, I wouldn't hesitate to book on another or recommend to others.

C.J. Dorset

The trip leader was absolutely excellent in every way.

K.M. Cumbria

This was an interesting and most enjoyable holiday. Paul was an excellent leader and showed great patience in helping a complete moth novice to appreciate the wonders of this much-neglected insect family. The early morning gatherings around the moth trap were most illuminating and gave me insight into the huge variety of moth species. The Hotel Gran Mugon was a superb base for this holiday, being ideally situated for making day trips to other spectacular parts of the Dolomites. The food was excellent and service top-notch. Paul did a great job with the picnic lunches, which we enjoyed in some spectacular settings. All in all, a great Naturetrek tour.

I.T. Cambridgeshire

I thought the trip was extremely well organised and Tom the leader was brilliant – couldn't have asked for anything more, extremely knowledgeable, both in locating and identifying subjects and sharing your knowledge, excellent driver, great at making picnics...I could go on and on!

C.J. Dorset

Fabulous trip. Tom was a good leader and very helpful. The variety of habitats was stunning, even around the beach, cliffs, dunes and trees of Arromanches. I really enjoyed the photography and am thrilled by the number of species I shot for the first time. It was all gloriously photogenic. I brought a rather reluctant friend with me who was on cloud nine all week and can't wait to do it all again! Well done and many thanks.

F.I. Leicestershire
2019
Departures
Availability
Cost
Thu 4th Jul - Mon 8th Jul
SPACES
£895
Land only cost:

The "Land Only" cost is the tour price you will pay if you choose to arrange your own flights/transport.
£895
Single Room Supplement:
£110