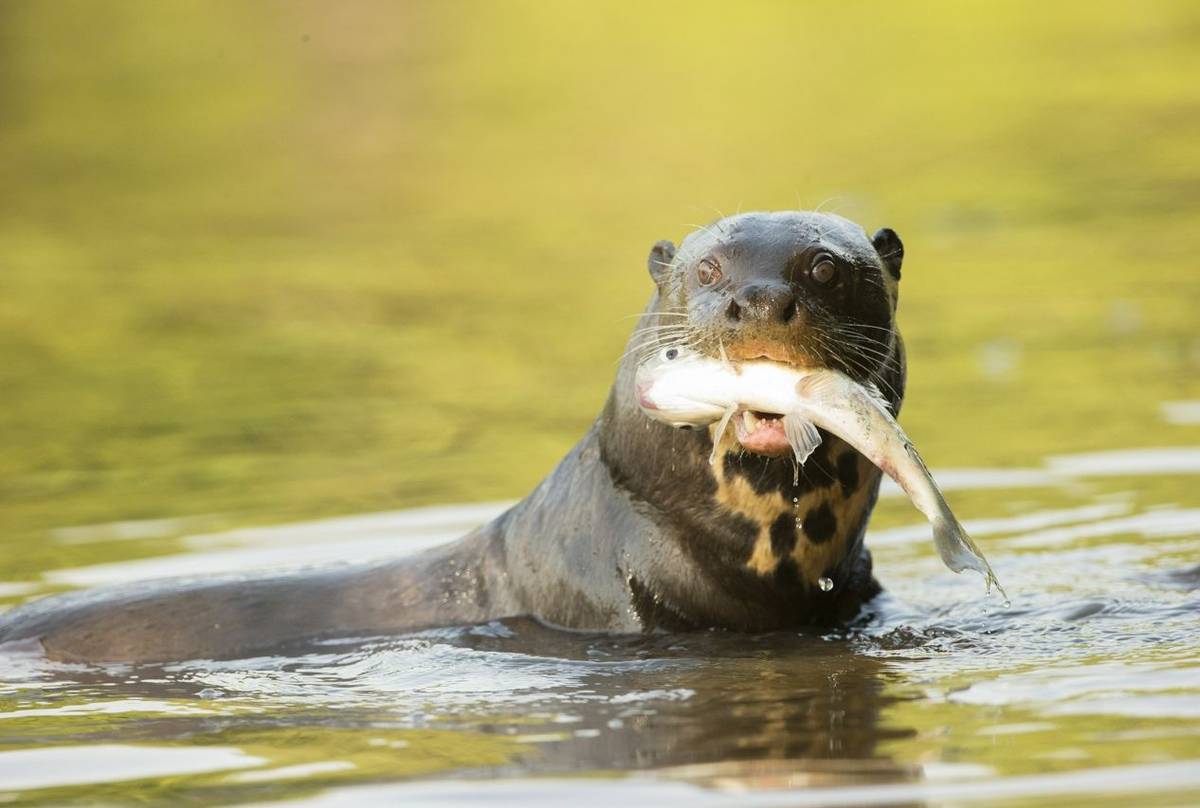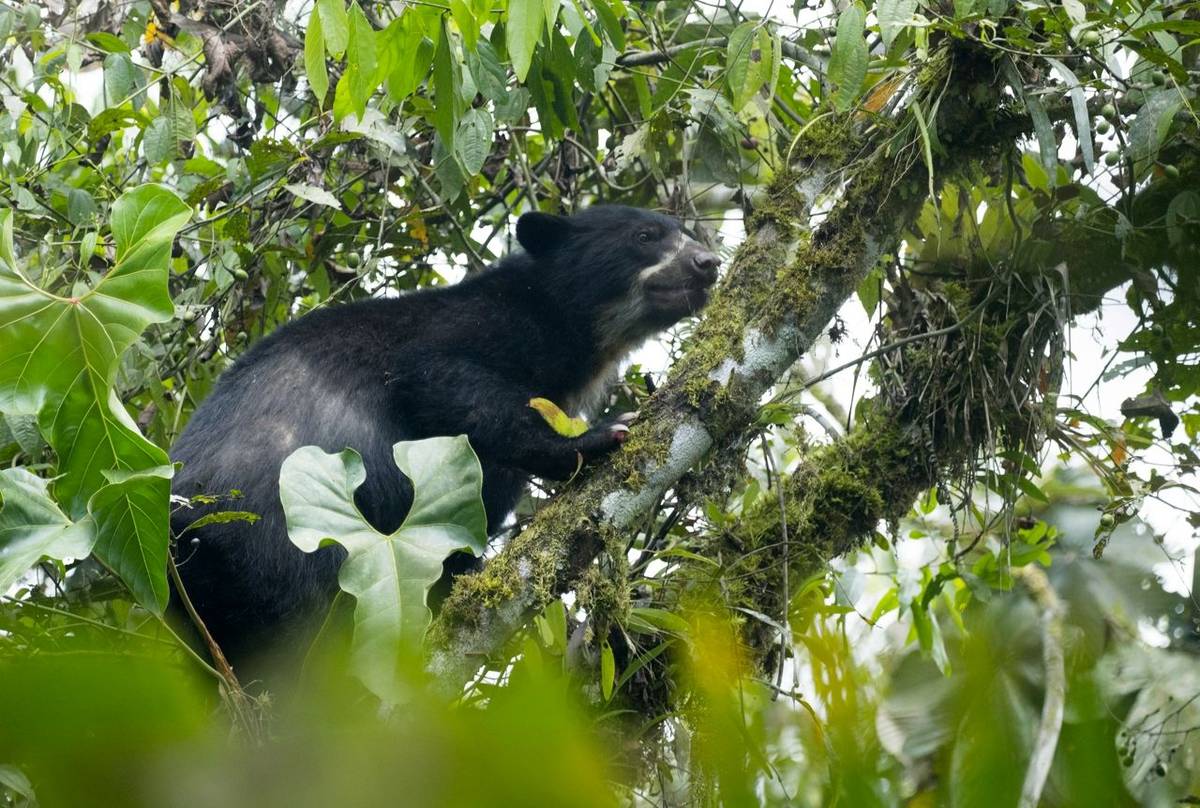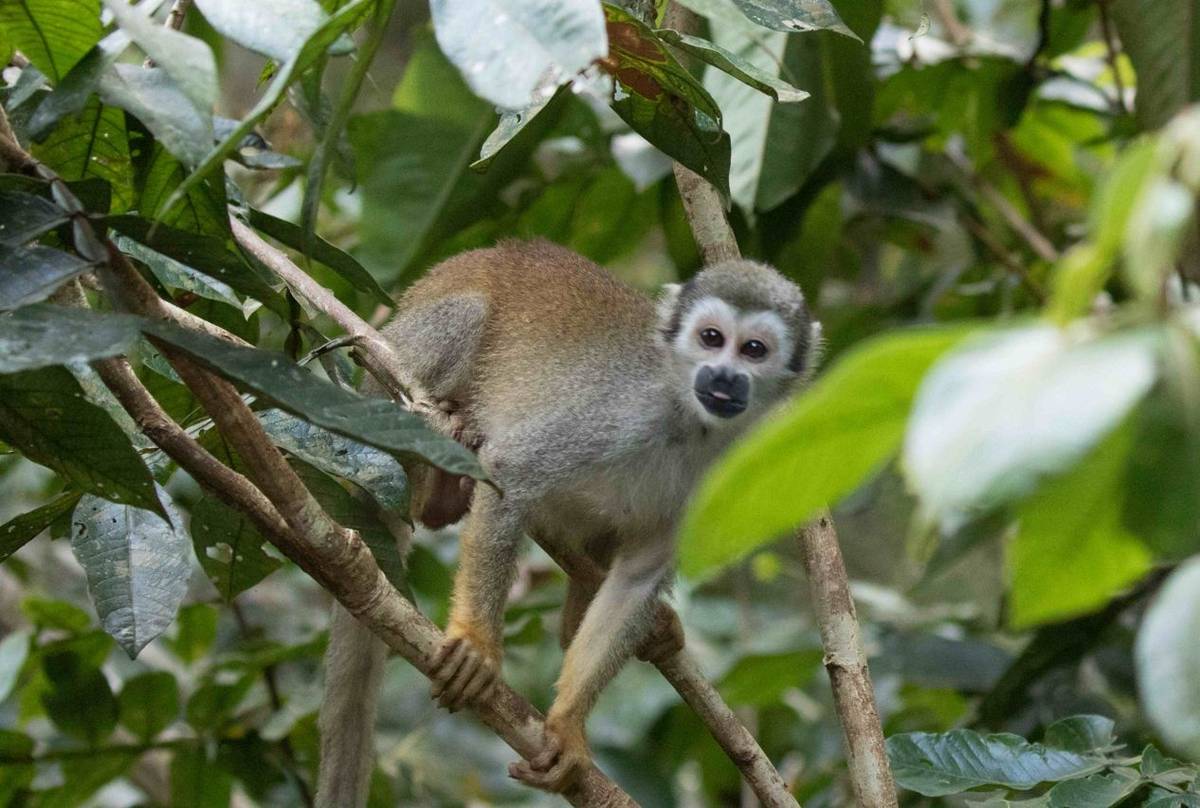 Can I help you?

Ecuador's Mammals
Tour Code: ECU14
A 15-day holiday in search of an exciting variety of mammal species, among them Spectacled Bear and Mountain Tapir, in the diverse landscapes of Ecuador.
15 days from
£4,495 (Inc flights)
Land only price from
£3,795
Add this tour to your saved toursRemove from saved toursstar_border star

Add to Saved Tours
Highlights
Can I help you?

Summary
Ecuador is already a firm Naturetrek favourite for birding tours, and Ecuador's mammals are now becoming more accessible due to the emergence of well-appointed jungle lodges in the Amazon. This, combined with the recent discovery of the Olinguito (a member of the raccoon family), has been the catalyst for us to launch this dedicated mammal-watching holiday, based in the contrasting Amazon and Andes regions.
After a flight to Quito, we head first to the subtropical forests in north-western Ecuador to search for the Olinguito. Next we head to the eastern cordillera where we'll explore the Cayambe Coca Ecological Reserve around Papallacta looking for Spectacled Bear, Mountain Tapir and other mammals in the area's high grasslands, native forest and bogs. We then travel down the eastern Andean slope, staying at Cabañas San Isidro in the picturesque Quijos Valley.  Finally a boat ride down the Napo River takes us to our base for the final four nights of the tour: Napo Wildlife Centre, situated among pristine upper Amazon rainforest within Yasuní National Park. Golden-mantled Tamarin, White-fronted Capuchin Monkey and White-bellied Spider Monkey will be among our hoped-for finds as well as sloths, marmosets, Red Brocket Deer and the elusive Equatorial (Monk) Saki. Finally, we fly to Quito and on homewards.
Spectacled Bear & Mountain Tapir, Giant Anteater & Tayra among target species, Andes
Giant River Otter & many monkeys plus sloths all possible
Search for the recently discovered Olinguito in forests of north-west Ecuador
Arrive by motorised canoe at Napo Wildlife Centre (4-night stay)
Excursions to look for Giant River Otters, Hoatzin & Agami Heron
A wealth of birds attracted to gardens at Cabañas San Isidro
Look for iconic mammals in the Cayambe Coca Ecological Reserve
Led by expert naturalist guides
Grading
B

Ecuador is a firm favourite of ours. Its small size (comparable with the UK), equatorial location and climate, staggering scenic variety and extraordinarily rich natural history make it one of the most perfect of wildlife holiday destinations. Until recently, however, its elusive mammals have been hard to see, but this has changed. Well-appointed jungle lodges in the Amazon today offer good opportunities for mammal-viewing while, in the Andes, Spectacled Bear and Mountain Tapir are hard work but regularly seen. The recent discovery of a new mammal species, the Olinguito (a member of the raccoon family, Procyonidae), announced in 2013 and seen by one of our groups shortly afterwards, prompted us to launch a dedicated mammal tour to Ecuador. Mountain Tapir, Spectacled Bear and Olinguito will be amongst our targets, plus a wide variety of other Neotropical mammals, from Giant River Otter and armadillos, to anteaters, monkeys and sloths. When mammal-watching is quiet, as it will be at times, we will take time to enjoy Ecuador's rich birdlife and other natural history.

We begin our tour with a flight to Quito from where, after an overnight stay, we will head to the subtropical forests in northwestern Ecuador to search for the Olinguito. Here, night-time spotlighting sessions should give us a very good chance of seeing this endearing mammal, while myriad hummingbirds and colourful tanagers abound around our cloudforest lodge during daylight hours.

We next pass back through Quito and up high into the Andes for a 4-night stay beside the tumbling Quijos River, an ideal base from which to explore the wild, windswept and starkly beautiful Cayambe Coca Ecological Reserve. In contrast to the cosy cabins and delicious food at our lodge, the habitat around and above Papallacta is rather desolate, comprising high grassland and bog, interspersed with small patches of native forest clinging to the mountain slopes. Spectacled Bears and Mountain Tapirs use these forest patches for shelter, but may be seen at dawn and dusk as they venture from their daytime lairs to forage and feed. These forest patches therefore provide the focal points for our patient scanning and, with expert local help, we have a good chance of seeing Spectacled Bear and a reasonable chance of Mountain Tapir. Warm and waterproof clothing is essential here, although a hot soak in the thermal baths will be very welcome at the end of a day in the mountains!

From Papallacta we continue down the eastern Andean slope, following the route taken by Francisco de Orellano on his discovery of the Amazon in 1541. Nestled in the foothills of the Andes at 2,070 metres, in the picturesque Quijos Valley, Cabañas San Isidro is a comfortable wildlife lodge surrounded by some of the largest and most accessible tracts of primary subtropical forest in Ecuador. Here, Red-tailed Squirrel and Black Agouti are both observed and photographed occasionally, while Spectacled Bear, Mountain Tapir, Giant Anteater and Tayra are amongst other mammals frequently photo-trapped and occasionally seen. Cabañas San Isidro also attracts a wealth of birds to its gardens, and these will keep us entertained when mammal-watching proves quiet!

We continue by road to Coca, the gateway to Amazonian Ecuador. Here we will board motorised canoes for a 2½-hour journey down the Napo River, Ecuador's principal tributary of the Amazon, to the superb Napo Wildlife Centre. The NWC, as it is affectionately known, is owned and managed by the native Kichwa-Añangu community who conserve over 21,400 hectares of the pristine upper Amazon rainforest which surrounds a comfortable rainforest lodge and lies within the Yasunì National Park. This lodge, which sits beside Anangucocha, a tranquil and ancient oxbow lake, is our base for the next four nights. From it, we will enjoy both daytime and night-time walks along the Tiputuni and Napo Trails, exploring tracts of rainforest that are seasonally flooded, and some that are not. Golden-mantled Tamarin, Whitefronted Capuchin Monkey, White-bellied Spider Monkey, Silvery Woolly Monkey, Noisy Night Monkey, both Two-toed and Three-toed Sloths and the elusive Equatorial (Monk) Saki are amongst the species that occur here and may be seen with patience and good fortune. We will also silently explore the rivers and creeks by dugout canoe, hoping to encounter a family of Giant River Otters, and such avian highlights as Hoatzin and the exquisite Agami Heron. The possibility of a sighting of a Pygmy Marmoset, Red Howler Monkey, Nine-banded Long-nosed Armadillo, Red Titi or Red Brocket Deer further adds to the excitement of our extended stay along the Napo while, for those with an interest in birds as well as mammals, the nearby parrot clay-lick is well worth a visit. Here, a variety of parrots and parakeets are attracted to the clay, offering excellent photographic opportunities from the adjacent viewing platform.

A 3-hour motorised canoe journey up the Napo to Coca, and a short flight over the Andes to Quito, brings our exploration of this delightful country and its diverse birds and mammals to a conclusion.

DETAILED INFORMATION
Outline Itinerary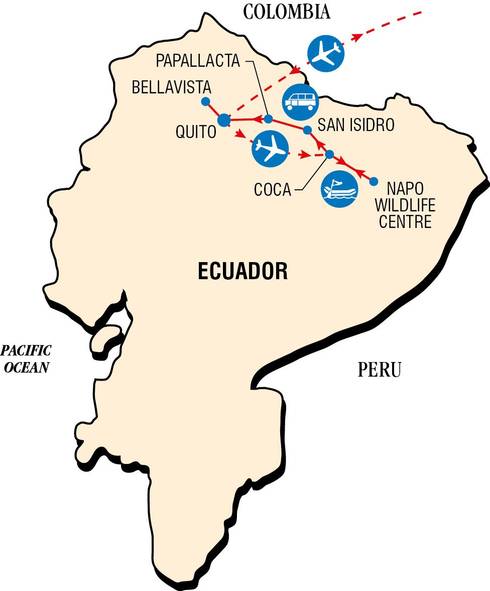 Day 8/9
Cabañas San Isidro
Day 10/13
Napo Wildlife Centre
Day 14
Return Quito; fly UK
cloud_downloadDownload Full Itinerary
What's Included?
Flights
Accommodation: A comfortable guesthouse, three wildlife lodges and a thermal spa hotel. All rooms have private facilities.
Food: All included in the price.
Why Naturetrek?
At Naturetrek we craft expertly-guided group and tailor-made wildlife holidays and cruises to all seven continents. On one of our holidays, you can be assured that our passionate team will enable you to experience and enjoy the best of the world's wildlife and natural spectacles in as comfortable and rewarding a manner as possible, caring as best we can for the environment in the process. We are proud to provide:
The widest choice of wildlife holidays worldwide
Tours managed and led by naturalists, for naturalists
Outstanding value and exceptional customer service
Furthermore, as a Naturetrek client, our office team are always to on hand to help you – so if you have any queries about your holiday, whether before or after you have booked, we will be delighted to answer them on the phone. Please just give our team a call!