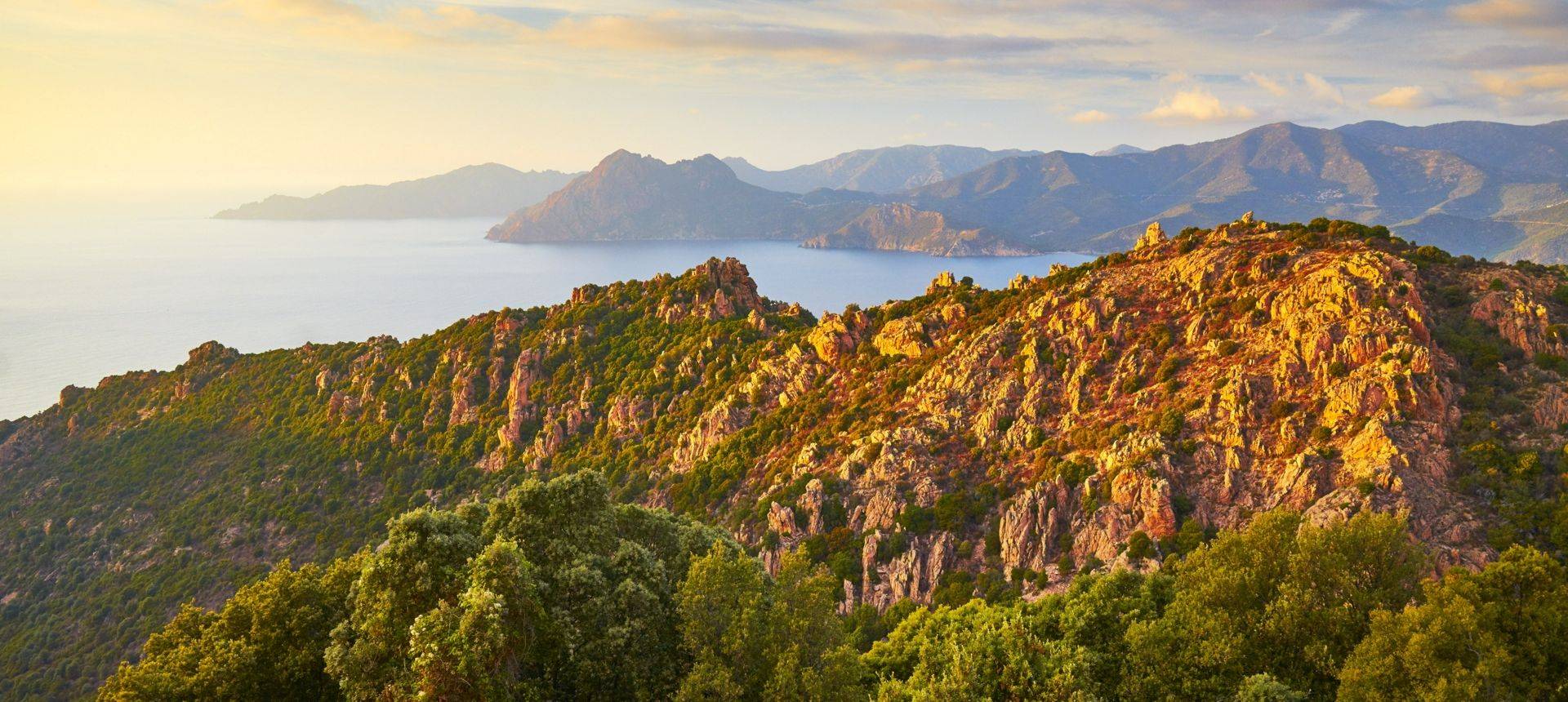 Corsica - The Scented Isle
Tour Code: FRA04
An 8-day holiday of birdwatching and botanical walks in the rugged mountains of northern Corsica.
There can be no Mediterranean island as spectacular as Corsica. The wild and rugged landscape is wholly dominated by huge, snow-capped granitic mountains. Accessible only via tortuous winding roads, or pretty mountain trails, Corsica provides a near perfect Naturetrek destination, its wealth of endemic plant and bird species ensuring its appeal to the naturalist. The riot of colour presented each spring by a profusion of blossoming plants, the lush green meadows and forests, the towering snow-capped peaks, and the deep blue sea and sky, all provide a memorable backdrop to one of our most popular wildlife holidays.
Enjoy daily wildlife walks amongst spectacular mountains & gorges
See the endemic Corsican Nuthatch & endemic race of Crossbill & Citril Finch
Experience the island's scented & colourful maquis
Discover a rich flora, including many orchids & endemics
Sample characterful accommodation amidst stunning scenery & tasty cuisine!
Learn from our expert botanist & ornithologist leaders
Can I help you?


X
Tom Mabbett
Tom
Tom has been fascinated by wildlife and the natural world since childhood. At primary school he learnt all the British bird species, and he's been watching and enjoying them ever since! Trips to the Wildfowl and Wetlands Trust (WWT) Slimbridge further fuelled his passion for birds and, when Tom's family bought 10 acres of land, he created his very own nature reserve on it! After gaining a degree in Biology from Exeter University, Tom set off in search of some of the planet's incredible wildlife, first travelling slowly around the world, and then returning to Australia. As well as seeing a wonderful variety of the world's birds on his travels, he also spent a lot of time beneath the surface of the ocean, scuba diving in Thailand, Australia and Fiji. Two of Tom's many highlights were diving with mighty Bull Sharks and swimming alongside gigantic Whale Sharks. Since returning to the UK Tom has worked in school wildlife clubs and also worked at WWT Slimbridge. Having grown up in the Cotswolds, a lot of Tom's spare time has been spent recording the birds and reptiles of this area's commons and wetlands. He also travels in search of overseas wildlife as often as he can, and amongst the European destinations that Tom and his brother have explored have been Hungary, France, Spain, Holland and, most recently, snow-clad Poland in the depths of winter to focus on mammal-tracking. Tom has now lead and co-led over 20 Naturetrek tours in France, Spain, Italy, Portugal, Finland, Belgium, Greenland, Guyana, La Palma and Scotland as well as short UK breaks including the Somerset Levels and Forest of Dean. Tom remains a very popular leader with our groups and when not out in the field works within our busy operations team at our new office in Chawton. Please feel free to contact Tom on 01962 733051 or email tom@naturetrek.co.uk with any questions or to discuss a future tour.
Outline Itinerary
Day 1
Fly Bastia and transfer Evisa
It has been a wonderful trip and our tour leaders were both flexible and innovative. For me, personally, the variety of wild flowers, especially those long since extinct or extremely rare in Britain, made the trip particularly rewarding.

T.R. Anglesey
Food & Accommodation
All included in the price.
A two-centre holiday using characterful and well situated mountain hotels with private facilities.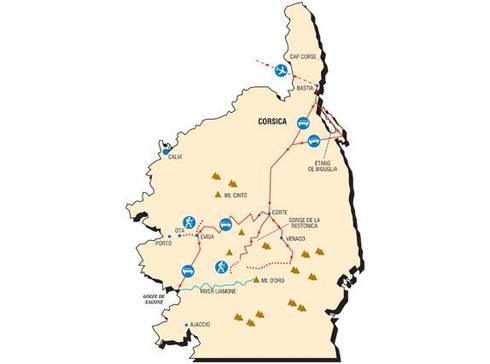 Tour Downloads
Tour leaders
Jason Mitchell

Tour leader

David Morris

Tour leader

David Tattersfield

Tour leader
There can be no Mediterranean island so spectacular as Corsica. There can be no island anywhere, as   mountainous. It is truly a green mountain in   a turquoise sea. Further, and what is so   remarkable, is that an island so   well-deserving of its ancient Greek name, Kaliste (the most beautiful), is so   delightfully free of tourists and tourist   development. Corsica's wild and rugged   landscape is wholly dominated by the   huge granitic mountains which soar to   nearly 2,740 metres and form a giant spine   that runs the length of the island.   Accessible only via tortuous winding roads,   or pretty mountain trails, Corsica provides   a near perfect Naturetrek destination, its   numerous endemic plant and bird species   ensuring its appeal to the naturalist. On   this holiday we will be staying in two  simple but comfortable mountain hotels,   both situated in fabulous settings. From   them we will be exploring the island's   wealth of natural history, wherever possible on foot. 
Corsica is by far the greenest of the   Mediterranean islands, in part because it is   the least populated of the larger islands,   but also because it is so remarkably well   covered with unspoiled natural forest and   maquis. The riot of colour presented each   spring by the profusion of blossoming   plants, the lush green meadows and   forests, the towering snow-capped peaks,   and the deep blue sea and sky will   undoubtedly provide one of the great   memories of this holiday. It is Corsica's    isolation from mainland Europe, being 160   kilometres from the coast of southern   France, and 80 kilometres from the Italian   mainland, together with its exceptional   topography, that give the island its unique   cultural blend, and cause the high degree   of endemism amongst its flora and fauna   (although many of the endemics are   shared with neighbouring Sardinia, just 12   kilometres away). The endemic Corsican   Nuthatch occurs in the island's high pine   forests, as do endemic races of the Citril   Finch and Crossbill, amongst others. The   acidic nature of Corsica's rock does   slightly limit the variety of plants, but   amongst the many endemics we will hope   to see are    Pinguicula corsica Crocus,   corsicus Leucojum longifolium, Corsican   Pine and Corsican Hellebore, plus a   wonderful range of orchids.
We begin our holiday by flying to Bastia (or   Calvi) in the north of the island. From here   we will drive south-west through the   scented air of the maquis to Evisa, taking   the scenic route that winds through the    rugged and almost uninhabited hills that   rise abruptly from the island's coastline.  
This is one of the most beautiful and   peaceful corners of the island, with its   extensive maquis and Holm Oak forest   providing cover for many bird species,   including Woodchat Shrike, Marmora's,   Subalpine and Dartford Warblers, and   Bee-eaters. Overhead fly Alpine and    Pallid Swifts.  
Driving on, we will reach Evisa, a    beautiful hilltop village in one of Corsica's   finest settings. High in the mountains, yet   overlooking the sea and the spectacular   Spelunca Gorge, the view from our hotel   terrace is breath taking. From this base,    we will spend the first part of our holiday   looking for Corsican Nuthatches in the   Forest of Aitone, enjoying the fabulous   scenery and flowers of the Spelunca   Gorge, and looking at the exceptional   variety of coastal and wetland birds    and plants to be found on the Liamone   Estuary and the dunes of the Golfe    de Sagone.  
Crossing the Col de Verghio, and driving   through the extensive forests of Aitone and   Valdo-Niello, we will descend to the historic   town of Corte, Corsica's ancient capital.   Nearby is the beautiful valley of La   Restonica, in the heart of the Corsican   National Park. This is a long, narrow and   spectacular valley, with numerous walking   opportunities and an interesting range of   birds and plants. To explore the region we   will spend the second part of our holiday in   a comfortable auberge near the Restonica   valley itself, an ideal base for our birding   and botanical walks in the area. In the   Gorge de la Restonica and the beautiful   high alpine meadows of the Asco Valley we   will look for    Cyclamen repandum    and   Leucojum longifolium   , Lammergeier, Golden   Eagle, Alpine Accentor, Alpine Chough and   Water Pipit. In the forest of Corsican Pines   near Vizzavona we have our best chance of   finding Corsican Nuthatches, Crossbills and   Citril Finches, whilst in the nearby Verghello   Valley, that sits between the giant summits   of Monte Cinto and Monte d'Oro, a range    of differing vegetation provides a   corresponding diversity of bird and plant species.  
Finally, by way of a contrast from the   island's dominating mountain habitats, we   will visit one of Corsica's few good   wetlands, the coastal lake of Biguglia.   Here, a good variety of wetland birds may   be supplemented by such specialities as   Red-footed Falcon, Osprey or Audouin's   Gull — a final treat, perhaps, from a truly   special destination!  
Please contact us on 01962 733051 for details on what extensions either pre or post tour are available for this Tour.
It has been a wonderful trip and our tour leaders were both flexible and innovative. For me, personally, the variety of wild flowers, especially those long since extinct or extremely rare in Britain, made the trip particularly rewarding.

T.R. Anglesey

Paul Harmes, tour leader and botanist, and Alan Miller, co-leader and ornithologist, were wonderful, making our time happy. Both were very keen and our group was delightful, knowledgeable, small in numbers and enjoyed sharing their interests. The two leaders were constantly watching to see we oldies could manage and were ready to help us.

E.S. Essex

Went on a solo holiday with Naturetrek to Corsica. With like minded travellers we were escorted up snowy peaks and down to leafy glens. It was just the fantastic holiday I had long waited for. We were catered for well and the guides were just amazing. Full of enthusiasm and very knowledgeable. Corsica is just the most amazing island and I have many happy memories from my week with Naturetrek. Made a special effort to make me feel welcome and looked after as a solo traveller. 

J.B. Cheshire

Glorious week on the Mediterranean island of Corsica just a few hours off the coast of Nice on the Cote d'Azur. Snow still resting on the high peaks in May, while strongly scented maquis covered the hillsides. Many endemic wildflower plants, (including orchards) were brought to our attention with such enthusiasm by an expert plant identification person. Corsican finches, the Corsican nuthatch, the Corsican Fire Salamander as well as the Corsican pine were wonderful to see, together with flocks of bee-eaters, crossbills and a good view (over several minutes) of a firecrest, also an enormous Egyptian grasshopper. Spectacular gorges, truly breathtaking landscapes and such a variety of habitats, from the inland highlands to the coastal salt pans. From the iconic historical village of Corte to the Roman ruins at Aléria near the eastern coast. Both our guides were professional both in their knowledge and their behaviour during our trip. Our Ornithologist (s) and Plant expert were both good all rounders and yet still eager to learn from anyone within the group with a special expertise. Very friendly and informative with willingness to go out of their way to help us see things we were particularly interested in. 

J.B. Edinburgh

This was the first time I'd been with Naturetrek and to Corsica and I was v. impressed by the country, scenery and the company. I spoke to someone in the office before I went who answered my questions & gave me accurate & helpful information and the booking arrangements were straightforward. We had 2 guides, both knowledgeable, well informed & able to communicate well. There was a flexible approach to fit in with people's interests (mostly birds & plants) and the weather and their was a sense of companionship & learning from each other. The group was friendly and individuals were able to adapt to each other with a sense of humour. A very enjoyable experience.

G.C. Cheshire

Both Paul and Alan were excellent leaders. They took great care over the less mobile members of the group, ensuring they were not left out. They also showed incredible patience with the more challenging participants. Paul and Alan's knowledge of the natural history and political history of the area made for a really enjoyable week.

G.W. Suffolk

I cannot speak more highly of the leaders for their knowledge of birds and plants, as well as their concern for their clients' safety and comfort. They were both excellent leaders and helped make sure that we both enjoyed ourselves and saw a wide range of birds and plants.

C.H. Hertfordshire

The visit was well planned, using known sites that provided good opportunities to see a variety of habitats and various treats of wildlife. Our leaders were keen to give us the best ... their enthusiasm for both the area and its wildlife was quickly passed on, making the foundations for a very successful trip. The accommodation was excellent and we appreciate the efforts made to look after us. No complaints at all - we were very well catered for! Overall the holiday was an excellent introduction to the area, providing good opportunities to see some fantastic wildlife. Many thanks to both Alan and Paul.

D.K. Suffolk

This was my 8th Naturetrek holiday and one of the best. Flowers, scenery, expertise of leaders... all excellent.

K.H. Edinburgh

Both leaders worked tirelessly to ensure that everyone got the most out of the trip and enjoyed themselves thoroughly. Their hard work, good humour, broad knowledge and enthusiasm made for a very happy and successful week.

C.H.D. Dorset

David Morris was brilliant in so many ways. His knowledge extends beyond birds. He was excellent on orchids and butterflies etc which was a real bonus. He was very helpful on the more difficult climbs (eg. carrying my rucksack)! He was able to give very accurate descriptions of walks etc. I found this very reassuring. A very impressive young man and an excellent leader. Even though I'm not a 'birder', I'd happily join another holiday where he was a leader.

E.B. Bedfordshire

This was a happy group. I was very impressed with the programme - both botany and birds. Coming from so far away is a gamble but this was great.

K.P. New Zealand

In the company of very knowledgeable and cheerful leaders and nice participants, it was great being in such beautiful nature and learning an seeing so many plants and birds.

B.L.H. London

The knowledge of the two leaders was amazing. Being taken to places that David knew we would see birds and flowers worked really well.

S.E. Suffolk

Each day brought something different. Both hotels were excellent. The food was very good. The knowledge and enthusiasm of the tour leaders was excellent.

J.E. Hampshire
2019
Departures
Availability
Cost
Sun 28th Apr - Sun 5th May
SPACES
£1,595
Flights:
Most Naturetrek tours include flight costs ex-UK. If flights are not included, we indicate that here.
Flights are included in the tour cost
Land only cost:

The "Land Only" cost is the tour price you will pay if you choose to arrange your own flights/transport.
£1,475
Single Room Supplement:
£190
Sun 5th May - Sun 12th May
SPACES
£1,595
Flights:
Most Naturetrek tours include flight costs ex-UK. If flights are not included, we indicate that here.
Flights are included in the tour cost
Land only cost:

The "Land Only" cost is the tour price you will pay if you choose to arrange your own flights/transport.
£1,475
Single Room Supplement:
£190