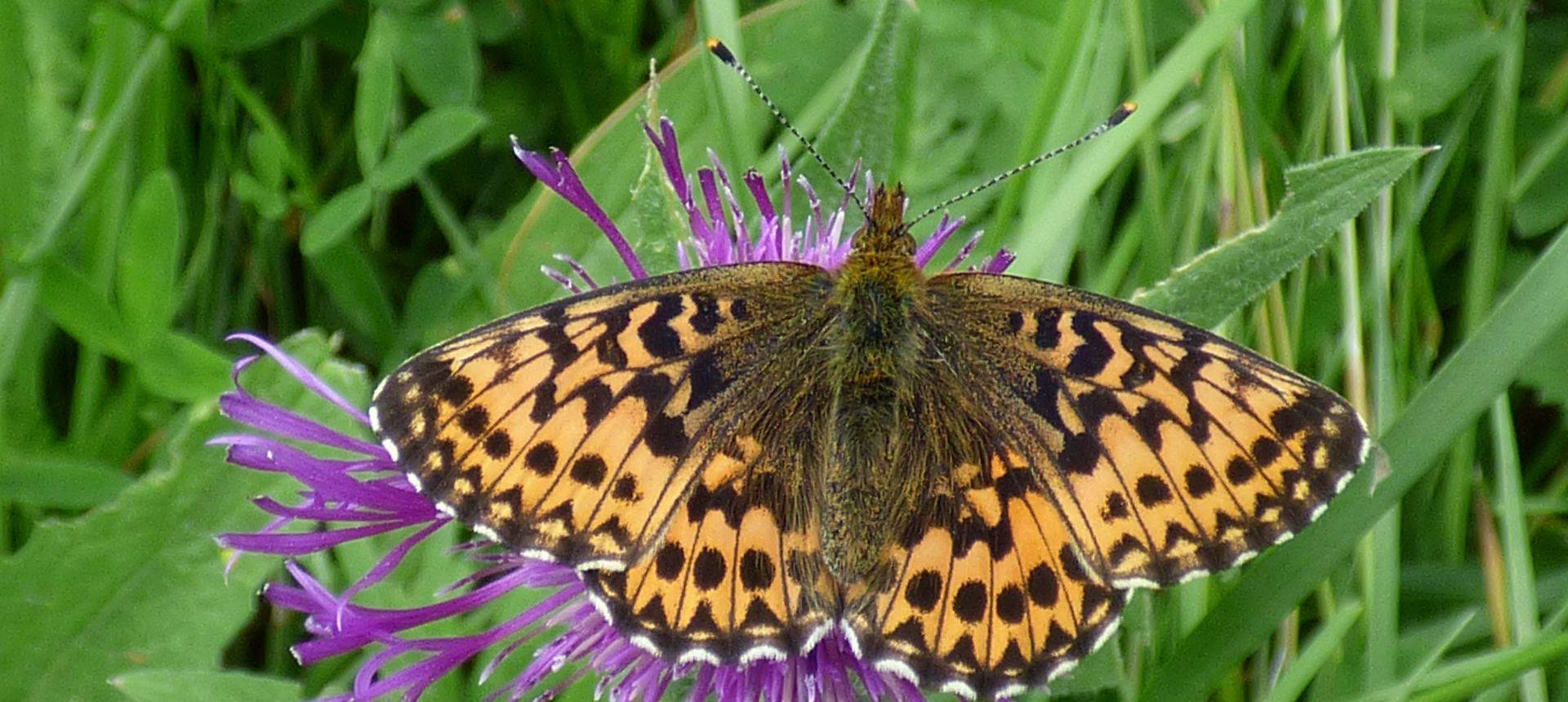 Butterflies of the Dolomites
Tour Code: ITA01
An 8-day holiday in search of the butterflies of the spectacular Dolomites Mountains in north-eastern Italy.
The Italian Dolomites lie within one of Europe's butterfly hotspots, making this an excellent base for finding unfamiliar butterfly species amongst dramatic mountain scenery. We stay in a wonderfully friendly, family-run hotel, blessed with exceptional mountain views. From this delightful base at 1500m, we are well placed to visit diverse habitats from 900m in the valleys below to 2200m on the Sella Pass. We will spend each day on foot, enjoying gentle walks as we pursue butterflies amongst rich meadows and high pastures. This is a very popular single-centre holiday, packed with wonderful walks, as we enjoy the butterflies amongst some of the most spectacular scenery in Europe! Please note that this tour is run in conjunction with Butterfly Conservation, to whom 10% of tour revenue is donated.
A week of butterflies from an idyllic family-run mountain hotel
Find Alpine Blue, Mountain Clouded Yellow & Common Brassy Ringlet
Amanda's Blues dance in the meadows around our hotel
We will search for Apollos floating in their mountain habitat
Discover Titania's and Thor's Fritillaries
Spectacular scenery in the Italian Dolomites
Learn from our expert lepidopterist tour leaders
10% of revenue donated to Butterfly Conservation
Encounter a wealth of Alpine flora and birds, as well as dozens of moth and butterfly species.
Can I help you?


X
Andy Tucker
Andy is an Aquatic Biology graduate (Aberystwyth) and worked in fisheries consultancy for a year after graduation before travelling to south-east Peru to work as a guide in the Amazon rainforest. During his year there he balanced guiding with his fisheries research and, after a brief spell back in England, returned to a full-time guiding post at Sacha Lodge in the Ecuadorian Amazon. Andy has travelled widely in Central and South America and his fluent Spanish is a huge advantage during our tours both across the Atlantic and in Spain. Andy has birdwatched for as long as he can remember and counts himself lucky to have seen so many fantastic bird and wildlife spectacles around the globe. He joined the Naturetrek team in 1998 and, while now kept busy as General Manager, is involved in the operations of a wide variety of tours in Latin America, Western Europe and North Africa.
Outline Itinerary
Day 1
Fly to Venice and transfer to the Fassa Valley
Day 2/7
A daily programme of alpine walks in search of butterflies from our base in the Fassa Valley
This was a very successful and enjoyable holiday. The hotel at Tamion was situated in a lovely rural spot. The food was very good and the Dolomites scenery was quite sensational.

D.S. Leicestershire
Food & Accommodation
All food included in the price.
A friendly and comfortable family-run hotel (with private facilities), with fine views over the Fassa Valley.
The dramatic peaks of the Italian Dolomites are renowned for their magnificent walks and alpine flora, but it is less well known that they are also one of Europe's top butterfly hotspots.  The sheltered valleys provide a warm microclimate at a southern latitude, whilst the range of altitudes accessible provides a diversity unimaginable in Britain. 'The Distribution Atlas of European Butterflies' (Kudrna, 2002) shows over 150 species that are to be found within 50 kilometres of our base in the Val di Fassa. Indeed the valley is something of a secret refuge, for not only does it hold its own endemic flora but it is also home to the Ladin people, their traditions and their unique language with its Latin roots, quite different from Italian.
This relaxing week is set amongst the mountains but does not involve any strenuous mountaineering. Strolling gently through the alpine meadows, we will see waves of fritillaries, not only the familiar Silver-washed, Dark Green and Pearlbordered but also Titania's and Mountain Fritillaries. Amongst the tall meadow grasses the Mazarine Blue flies in good numbers, and a flash of gold will lead us to Scarce Coppers, a reminder of what Britain has lost with the extinction of the Large Copper. Clouds of day-flying moths will be stirred up at our feet — another sign of the sheer diversity of nature all around us. The Val di San Nicolo is the first of several side valleys we will visit, its open meadows separated by a gushing river, and with wooded sides and the steep slopes that bring such varied habitats into one delightful area.
Our hotel is situated on a shoulder above the main Val di Fassa, nicely off the beaten track, and with a wonderful view in all directions. A friendly, family-run establishment with a Tyrolean atmosphere, it provides a superb breakfast buffet as an excellent starting point for our day trips.  The early evening is a good time to find roosting butterflies whilst strolling near the hotel, and in this way both Amanda's Blue and an unusual form of the Marsh Fritillary (E. aurinia debilis) were found by recent groups. It is certainly a necessity to return to the hotel at the end of each day with a hearty appetite, for the evening meal is always a treat! Most evenings, weather permitting, we will run a moth-trap in the woods behind the hotel for those who are interested, then inspect the contents before breakfast the following morning.
There may be some patches of white amongst the distant peaks but the snow will be long gone from the ski slopes above Canazei, which by early summer have become the Bindelweg along which Farrer found such a variety of alpine flora.  We will drive up to the Pordoi Pass (at 2,239 metres) to walk a stretch of that path; home to a number of mountain ringlets of the genus Erebia, the Alpine Heath and the Mountain Clouded Yellow.
The domain of 'King Lauren's Rose Garden' sits on a terrace high above our hotel, and is accessible by cable car or by shuttle bus. It is like a natural rock garden, stretching up to a mountain refuge lunchstop with an impressive view back to the sheltered high alpine pasture where we will spend the afternoon looking for butterflies, amongst them Shepherd's Fritillaries, Silky Ringlets and a multitude of more familiar skippers and marbled whites.
A short drive south will bring us into the extensive Panevéggio Natural Park, with its own range of mountains, rivers, forests and pastures. We can expect to find the Arran Brown, the Sooty Ringlet and the Common Brassy Ringlet, as well as the more easily identified Large Chequered Skippers, Alpine Blues and Warren's Skippers. With luck, we will experience Apollos drifting around us in sheltered glades — a truly memorable encounter.  There will be plenty of opportunities for photography; the longer we stay, the longer our species list will grow, and digital images will certainly help us to keep track of our sightings.
We may choose to descend to lower levels to extend the range of species on the wing. Swallowtails, Scarce Swallowtails and Camberwell Beauties are all to be found, and have a habit of popping up at unexpected moments. On a previous trip, the only Purple Emperor we saw settled at our feet at lunchtime!
If you enjoy entrancing scenery, fresh mountain air, and a rich diversity of wildlife, all coupled with Italian wine and cooking, this is the trip for you. If you are also a butterfly enthusiast, prepare to be impressed!
Please contact us on 01962 733051 for details on what extensions either pre or post tour are available for this Tour.
This was a very successful and enjoyable holiday. The hotel at Tamion was situated in a lovely rural spot. The food was very good and the Dolomites scenery was quite sensational.

D.S. Leicestershire

The leader, Rob Parker was absolutely excellent. Extensive knowledge of butterflies, keen to share his knowledge, most competent organiser, sympathetic and interested in his group and a good sense of humour. Delightful genuinely family run hotel. Pleasant and efficient service. Good food.

M.L. Oxfordshire

Rob Parker was an outstanding leader. His organisation was faultless. He handled the group in a very friendly and efficient way. His great knowledge of butterflies and his familiarity with the area meant that he could take us direct to the best places. Gianluca provided a special touch, he was knowledgeable and charming and provided splendid picnic lunches.

J. & M.S. Bristol

Hotel was excellent. Staff always very friendly and helpful. Evening meals consistently of a very high standard. Local wines good value for money. Everything clean. The logistics and organisation of the trip were first class. Great range of habitats provided superb range of things for all tastes - scenery, Lepidoptera, botany... Excellent co-operation between the guides. Picnics - a wonderful selection of Italian meats, cheeses, fruit and wine was provided every day. Both Rob and Gianluca are great leaders. Robs knowledge of the area, its history and of course its butterflies was fantastic. His athletic use of a net led to many species being seen that would otherwise have flown away. Gianluca has a phenomenal enthusiasm for everything which is infectious.

I.S. Hertfordshire

Travelling as a small group in 2 minibuses with a UK based leader who was very knowledgeable on all aspects of natural history, supported by an Italian who was equally enthusiastic. Our comfortable family run hotel with excellent food, for the week is located in a mountain hamlet in the meadows, so that a short stroll could find much of interest after a good day out exploring a good range of habitats further afield in search of butterflies, etc.

D.S. Hertfordshire

The guides, Jessica and Luca were extremely knowledgeable and informative. The hotel, the Gran Mogan was amazing and faultless on cleanliness, and the variety of excellent food could not be surpassed. The staff were always cheerful and helpful. All in all a wonderful holiday and we will certainly travel with Naturetrek again.

B.P. South Glamorgan

Delightful holiday, wonderful scenery and enthusiastic, knowledgeable tour leaders. I was glad of the wide-ranging interests of the holiday.

H.C. London

Tour leaders Alan and Dave were helpful, organised and knowledgeable.

Mr & Mrs D. Dorset

The organisation and leadership were exemplary.

P.S. Liverpool

Alan and Dave took a lot of care to make sure everyone was happy.

Mr & Mrs M. Wiltshire

This trip was most enjoyable. The two leaders are a great team with complementary expertise. They cared for the group throughout. It was good to return to base with time to freshen up for the evening. A lovely hotel.

M.R. Dorset

The holiday was excellent and this was made possible because of the number of people on the trip and the knowledge of the two leaders. One thing I enjoyed was looking at a moth and being allowed to try and identify this in a book - it got me hooked! But this happened only once as the experts did this most of the time. Paul did go through plants and bugs at times with me, which I enjoyed. The hotel was very good, the food choice was good also and well cooked. Picnics were always something to look forward to - well done to the supermarket shoppers!

R.M. Norfolk

Had a wonderful time - butterflies, flowers and setting amazing. The family and staff who run the hotel were friendly and welcoming - the food was creatively presented and delicious. Alan was so knowledgeable and his enthusiasm was infectious. He was able to give us almost individual attention as there were only three in the group, and he impressed us with his catering skills every lunchtime.

W.S. West Sussex

Delightful hotel in beautiful surroundings, and a varied and interesting itinerary. Alan and Jessica were ever attentive and helpful, adjusting the itinerary to make the best of the weather. Super picnics! The hotel staff/owners were delightful and even stayed up for our 3am arrival!

A.M. East Sussex

Alan and Jessica have been possibly the best field leaders I have experienced in 12-15 natural history trips to Europe and South America, and this was my first trip with Naturetrek. I plan to investigate additional opportunities for butterfly trips to Europe and western Asia and hope Naturetrek provides such. This Dolomites Butterfly trip combined the best of my desires of mountain scenery, accessible high elevation, butterflies and unexpected abundance of wild flowers, all from one lodging.

R.M. USA

This was one of the best natural history holidays we have taken. The hotel was excellent in all respects - comfort, food and the rooms and the family who run it were superb. All in all an extremely enjoyable trip!

T. & J.D. Cleveland
2019
Departures
Availability
Cost
Wed 10th Jul - Wed 17th Jul
6
£1,595
Flights:
Most Naturetrek tours include flight costs ex-UK. If flights are not included, we indicate that here.
Flights are included in the tour cost
Regional Departures:

On certain tours it is possible to depart from a regional airport (rather than London). If a regional departure is possible, we indicate that here.
Regional Departures are available. Call 01962733051
Land only cost:

The "Land Only" cost is the tour price you will pay if you choose to arrange your own flights/transport.
£1,445
Single Room Supplement:
£180