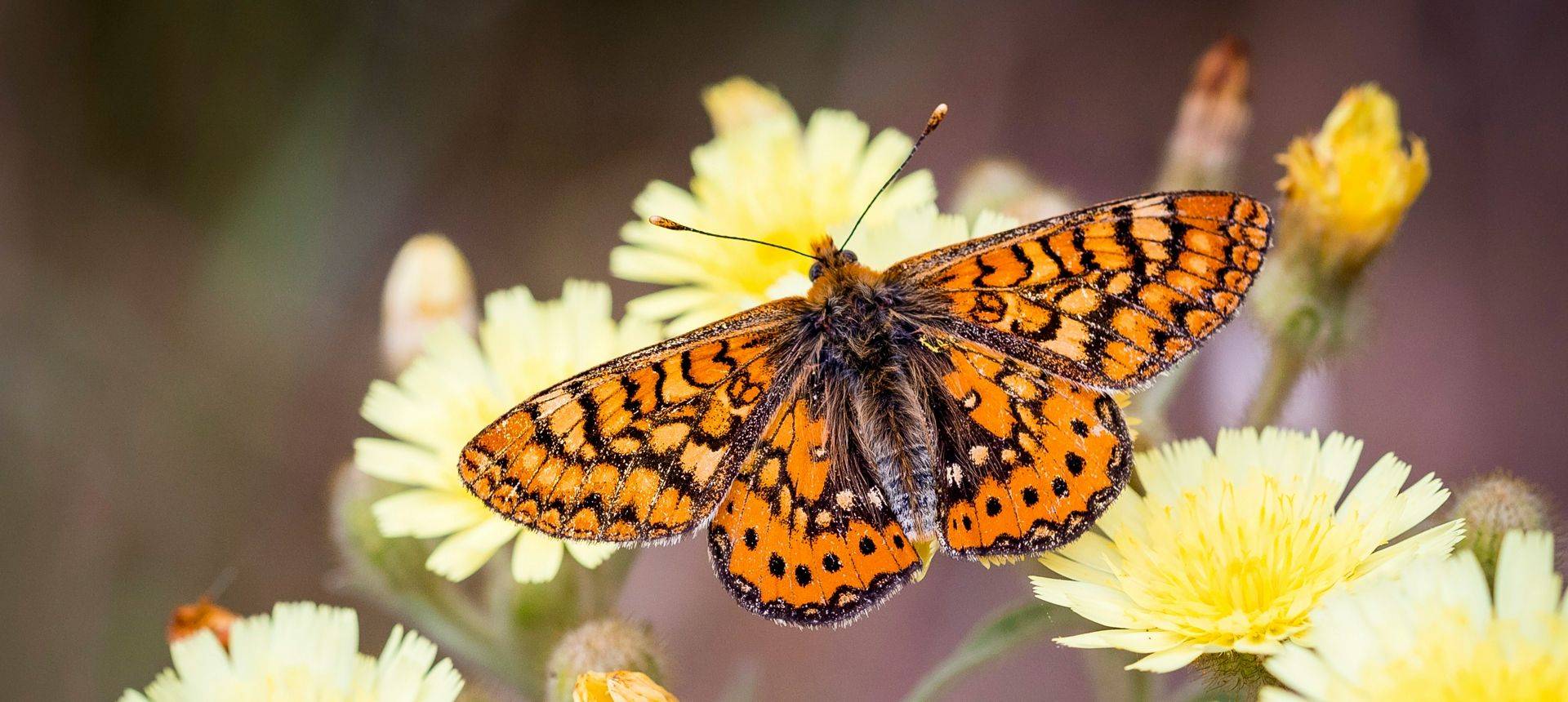 Butterflies of Hungary
Tour Code: HUN02
An 8-day butterfly holiday, run in conjunction with Butterfly Conservation, to the Aggtelek and B?kk National Parks in north-eastern Hungary.
Home to nearly 200 butterfly species, Hungary's sure to become as firm a favourite destination with lepidopterists as with ornithologists! We'll spend two full days in Aggtelek National Park in search of the numerous fritillaries, blues, whites, coppers, hairstreaks and graylings that abound. For the second half of our holiday we will be based within the Bükk National Park, at the southern edge of the Carpathians. We'll explore a variety of habitats, including Beech woods and plains, across an altitudinal range between 300 and 960 metres above sea level – Black Hairstreaks, Reverdin's Blue and Berger's Clouded Yellow should be among our finds, as well as a host of interesting birds, damselflies and dragonflies.
10% of the tour cost donated to Butterfly Conservation
3x the British number of butterfly species!
Pallas's Fritillary, Purple Emperor & Hungarian Glider along River Bodva
Scarce Swallowtail, Poplar Admiral, Sooty & Purple-edged Coppers
Chequered, Turquoise, Silver-studded & Chapman's Blues
Raptors, warblers, woodpeckers & shrikes
Rich butterfly fauna & flower-filled meadows
Evening wine-tasting of full-bodied Hungarian reds, & whites
Led by expert naturalist guides
Can I help you?


X
Paul Stanbury
Paul graduated in Environmental Science in 1995 and joined the Naturetrek team in January 1996. His keen interests in birds and travel began when aged seven and the intervening years have taken him to many parts of the world. Paul has always had a particular interest in North American wildlife, a fascination which led him to spend the second year of his degree course studying at Western Washington University near Seattle, where he developed a detailed knowledge of the Pacific North-west and its birds. He has also travelled widely in Europe and Africa, and spent three months backpacking around South East Asia from Borneo to Thailand. At present, Paul lives in Petersfield, Hampshire, only 30 minutes from the Naturetrek office in Chawton where he is based.
Outline Itinerary
Day 1
Fly Budapest and transfer to Aggtelek National Park
Day 2/3
Aggtelek National Park
Day 4/7
Bükk National Park
The weather wasn't as warm as expected but we saw plenty of butterflies nonetheless and got good views of them as they were more settled than if it had been hotter. Accommodation was perfect for our needs and there was a superabundance of delicious food. The leaders were also very good, friendly and knowledgeable on all sorts of wildlife.

H.M. Sutherland
Food & Accommodation
All included in the price.
Comfortable hotels throughout; all rooms with private facilities.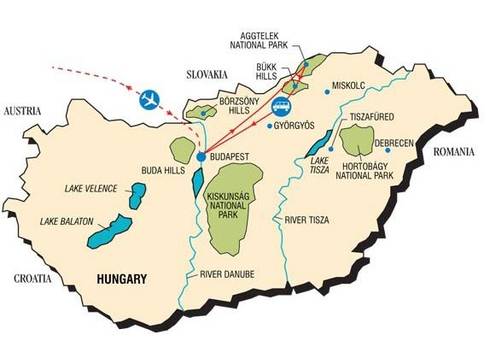 Tour Downloads
Tour leaders
Andy Harding

Tour leader

Terry Goble

Tour leader
Hungary has long been established as one of Europe's top birdwatching destinations, but this beautiful land-locked country, at the heart of the continent, is less well known for its other wildlife treasures, in particular its butterflies. Although modern farming practices are on the increase, many areas are still farmed using a variety of low intensity, wildlife-friendly techniques, unchanged for generations. As a result butterflies still flourish and dancing clouds of these colourful sprites are still a common sight over flower-filled meadows and sunny woodland glades. Nearly 200 species occur here, well over three times the number to be found in Britain, and Hungary is sure to become a favourite with the lepidopterists amongst us, as it has already become with ornithologists. Indeed, it is one of the aims of this holiday, run in conjunction with Butterfly Conservation (to whose conservation fund 10% of the holiday cost will be donated), to raise the interest in butterflies overseas.
We begin our holiday with a flight to the nation's capital, Budapest, a beautiful city that merits a few extra days for sightseeing prior to, or at the end of our tour, should you so wish. From here we travel to the Aggtelek National Park, which lies along Hungary's border with Slovakia, about four hours's drive from the capital. Aggtelek is situated within one of the most scenic parts of Hungary, a region rich in wildlife, history and folklore. Here, amongst a landscape which predominantly consists of rolling meadows that are still mown by hand and ploughed by horse, pretty villages lie scattered, together with patches of deciduous woodland, limestone karst and, along the River Bodva, damp water meadows. This diversity of habitats is home to a wealth of butterflies, as well as other fauna and flora, and we have our first three nights here to thoroughly explore the region in search of the numerous blues, whites, coppers, graylings, hairstreaks and fritillaries that abound. Species to look out for include Pallas's Fritillary, High Brown Fritillary, Silver-washed Fritillary, Duke of Burgundy, Map Butterfly, Camberwell Beauty, Purple Emperor, Hungarian Glider, Dryad, Great Banded Grayling, Scarce Swallowtail and many, many others. The birdwatchers amongst us will no doubt keep an eye skyward in case a Goshawk or an Eastern Imperial or Short-toed Eagle should pass overhead whilst, at lower levels, such species as Barred Warbler, Red-backed Shrike, Woodlark and Rock Bunting may be seen.
Leaving Aggtelek National Park, we next drive the short distance to the Bükk National Park, our base for the final four nights of this holiday. The Bükk Hills lie at the southern edge of the Carpathians and rise gently from 300 metres above sea level to a maximum elevation of 960 metres. Although an upland area, most of our time will be spent exploring the deciduous woodlands and valleys in the lower reaches of the park and thus no strenuous walks will be necessary to fully appreciate this rich area. During our three full days here we will explore, amongst other areas, the Hoy Valley and the Nagymezo and Omassa regions of the Bükk Plateau. This is an extremely rich park for butterflies. Amongst the woods and over the flower-filled meadows and verges fly Scarce and Common Swallowtails, Wood Whites, Chestnut Heaths, both Brown and Purple Hairstreaks, Poplar Admirals, Large, Sooty and Purple-edged Coppers, Queen of Spain Fritillaries, Purple and Lesser Purple Emperors, Berger's Clouded Yellows, and Chalk-hill, Short-tailed, Chequered, Turquoise and Reverdin's Blues amongst many others. Woodland edges host Scarce Fritillaries and Black Hairstreaks whilst the Bükk's fine old Beech woods are home to Camberwell Beauty and Hungarian Glider. The great Hungarian Plain begins at the foot of the Bükk Hills and we will also visit the grasslands and wetlands here in the hope of adding such species as Silver-studded Blue and Chapman's Blue to our tally. For those with an interest in other wildlife, birds to look out for include Hawfinch, White-backed, Black and Grey-headed Woodpeckers, whilst dragonflies include Southern and Small Emerald Damselflies, Blue-tailed Damselfly, Common and Migrant Hawkers, White-tailed Skimmer and Vagrant Darter.
This north-eastern region of Hungary is also famed for its full-bodied red and white wines, the fruity red Bull's Blood being one of its more famous exports. There will be the opportunity to try some of Hungary's best over dinner each evening ... and perhaps raise a glass to the quality of the Magyar wildlife enjoyed during the week!
Please contact us on 01962 733051 for details on what extensions either pre or post tour are available for this Tour.
The weather wasn't as warm as expected but we saw plenty of butterflies nonetheless and got good views of them as they were more settled than if it had been hotter. Accommodation was perfect for our needs and there was a superabundance of delicious food. The leaders were also very good, friendly and knowledgeable on all sorts of wildlife.

H.M. Sutherland

A week in Northern Hungary spotting so many different butterflies with an enthusiastic leader always ready to help with identification. The flower-filled meadows were stunning and the woodland walks provided numerous day flying moths and interesting insects as well as the butterflies. 

D.M. Nottinghamshire

Bukk Hills - Nomad Hotel - excellent. Very homely feeling with pretty rooms. The staff, especially Barbara, were most welcoming, friendly and helpful. Very good food. Marvellous breakfast buffet!

J.B. Hampshire

Hotels were comfortable. Good food, superb surroundings, very warm welcome. Both leaders knew every detail about the butterflies and were at pains to show good birds to those who were interested. Flexibility was necessary, but the sites chosen could hardly have been bettered. Vic Tucker's knowledge of butterflies was mind-boggling. Andras Schmidt knew both butterflies and birds to an impressive extent. He was ably assisted by his wife, Ilona, and not-quite-7-year-old son, Richard, who caught two rare fritillaries for us. A word for our driver, Steve, who was much more than that: preparing lunch, helping people in and out of the coach, carrying luggage, and always smiling. This was a wonderful trip. My third holiday with Naturetrek - I certainly hope that it will not be the last.

J.B. Dorset

Both Vic Tucker and Andras Schmidt were excellent - helpful and knowledgeable. The drivers were also good.

G.B. Norfolk

Vic Tucker's knowledge of butterflies is phenomenal. How does he remember all the little variations in blues, fritillaries etc?... Gerard Gorman's knowledge of all nature is truly amazing. His ability to mimic bird calls has to be experienced to be believed.

R.P. Cambridgeshire

One of my best trips ever.

C.B. Surrey

Another great trip with excellent leaders - extremely enthusiastic and helpful and never flagging, despite extremely hot weather.

M.W. Middlesex

The participants ranged from expert to novice and Vic (co-leader) soon had us all working together, sharing knowledge and information. We certainly learned a great deal on the trip. The trip was a huge success. We were extremely lucky to have a week of unending sunshine. We were delighted to end with personal [butterfly photograph] totals of more than 70 species of which 40 plus were new to us. We will have no hesitation in recommending this trip to others.

A. & G.M. Bedfordshire
2019
Departures
Availability
Cost
Tue 11th Jun - Tue 18th Jun
SPACES
£1,695
Flights:
Most Naturetrek tours include flight costs ex-UK. If flights are not included, we indicate that here.
Flights are included in the tour cost
Regional Departures:

On certain tours it is possible to depart from a regional airport (rather than London). If a regional departure is possible, we indicate that here.
Regional Departures are available. Call 01962733051
Land only cost:

The "Land Only" cost is the tour price you will pay if you choose to arrange your own flights/transport.
£1,495
Single Room Supplement:
£195