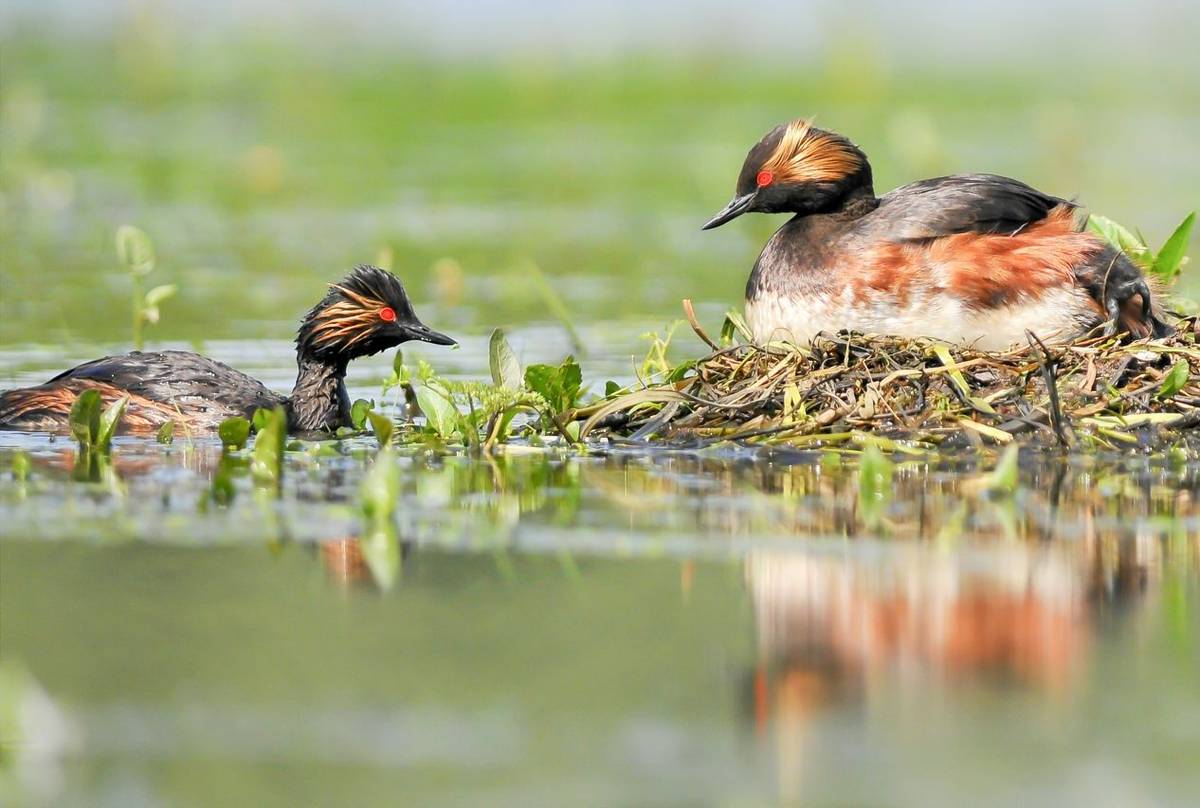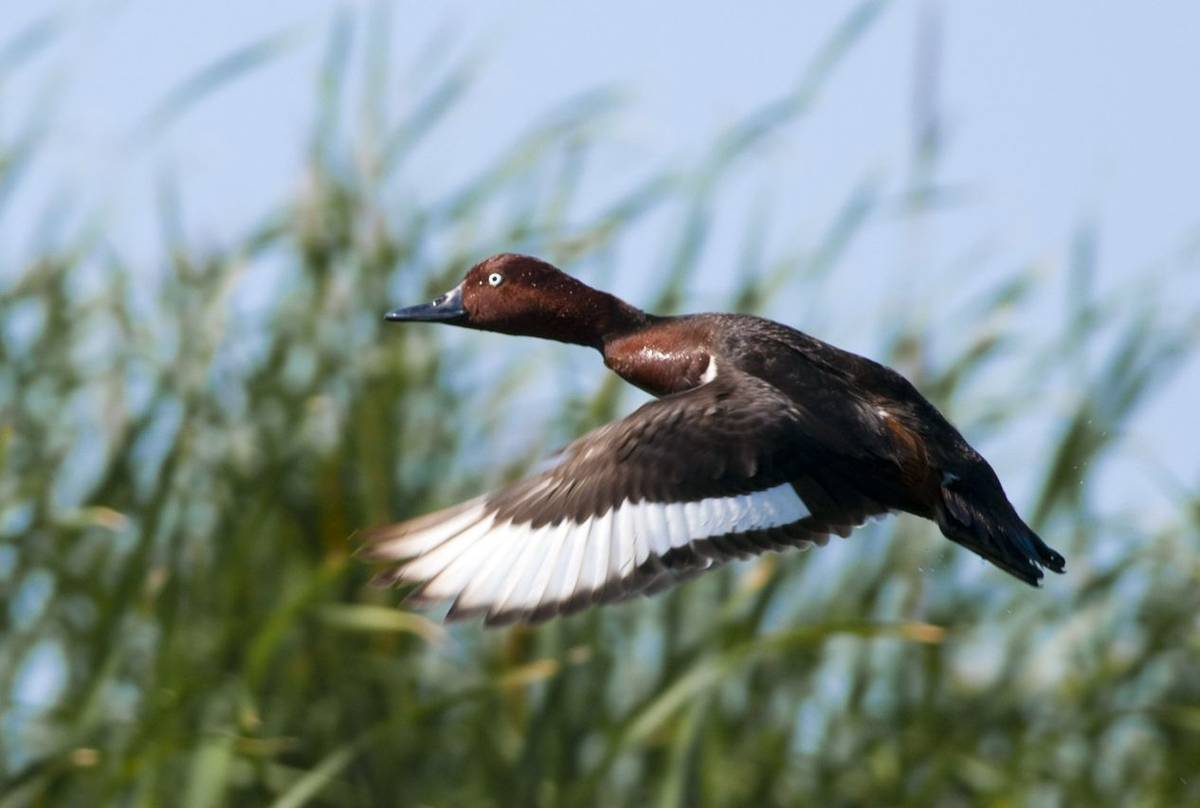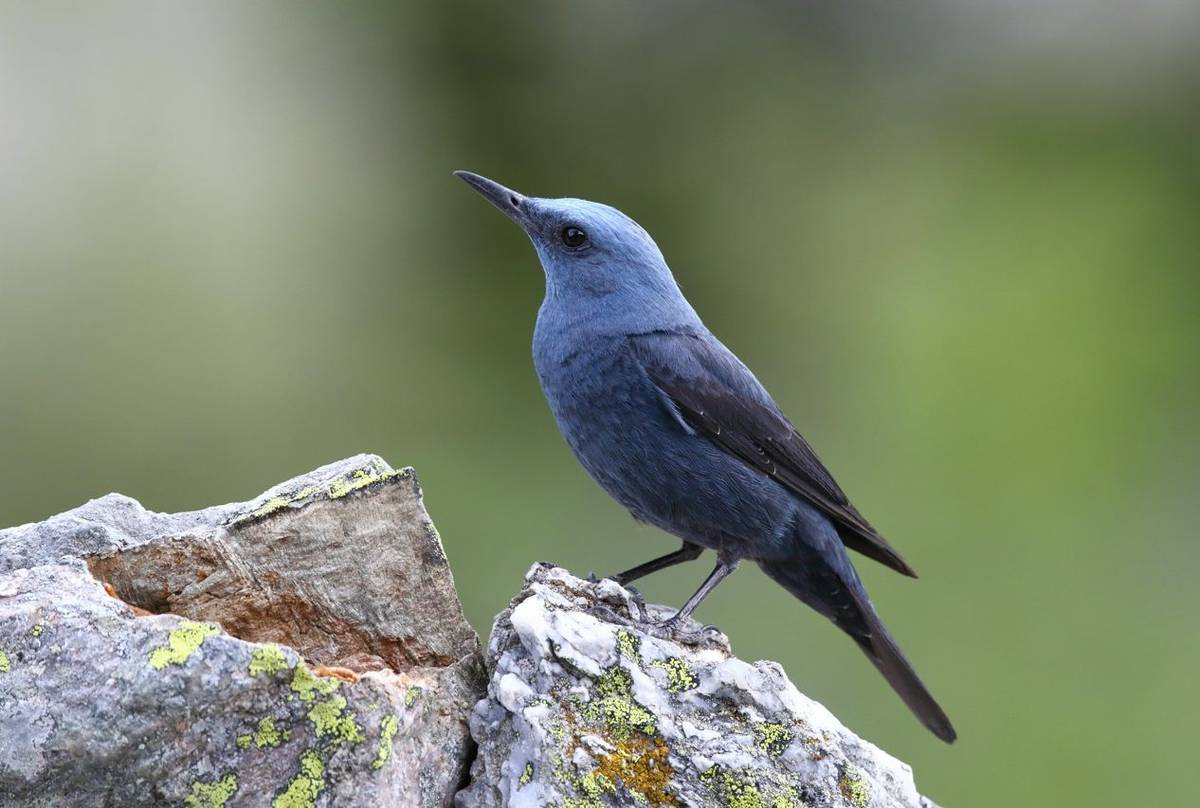 Spring Birding in Bulgaria
Tour Code: BGR03
A 10-day tour in search of the birds of the Rhodope Mountains, Black Sea Coast and Danube Valley.
10 days from
£1,595 (Inc flights)
Land only price from
£1,345
Add this tour to your saved toursRemove from saved toursstar_border star

Add to Saved Tours
Highlights
Summary
We begin in the rugged Rhodope Mountains to the south of Sofia, which are famous for their raptor populations, and harbour interesting smaller birds including Sombre Tit, as well as a variety of upland meadow and woodland plants. We then transfer to the Black Sea Coast searching for Masked Shrike, Olive-tree Warbler and other specialities as we travel north-east towards Burgas. The extensive saltpans and wetlands near Burgas are one of Europe's richest bird areas and we can expect to encounter a superb variety of wetland species before we head north to the Romanian border in search of an exciting range of breeding ducks, warblers, terns and raptors. We end our holiday in the Danube Valley and Dobrudza steppes.
Impressive range of breeding & migrating birds
Look for Wallcreeper at the limestone gorge of Trigrad
Raptors include 5+ species of eagle & 3 species of vulture
Goshawk, Long-legged Buzzard & Red-footed Falcon
Pygmy Cormorant, Glossy Ibis, 3 species of heron & Spoonbill
Warblers, flycatchers & woodpeckers among a host of breeding birds
Ferruginous Duck, Gull-billed & Capsian Terns, plus Dalmatian Pelican
Orchids, irises & crocuses amongst the rich flora
Expert naturalist guide
Grading
A. Easy day walks only.
Bulgaria is one of the least visited corners of Europe, yet it is a diverse and very scenic country whose geographic position and wide range of habitats and altitudes ensure a quite exceptional range of exciting birds alongside many interesting plant and butterfly species. This spring tour, designed to complement our autumn birdwatching holiday, is timed to see the impressive range of breeding birds that descend on Bulgaria each spring, along with numerous migrating birds tracking north along the Black Sea coast. Based first in the Rhodope Mountains, then on the shores of the Black Sea and finally in the Dobrudza steppes and Danube Valley, this holiday promises to give us a fascinating introduction to Bulgaria's dramatic landscapes, birdlife and rich culture.
We will start first in the rugged Rhodope Mountains to the south of Sofia. From our hotel tucked high in the pine forests, we will visit a number of contrasting sites, including the magnificent limestone gorge at Trigrad (a noted haunt of the beautiful crimson-winged Wallcreeper) and the extraordinary jagged and boulder-strewn volcanic landscape around Studen Kladenatz. The Rhodopes are justly famous for their impressive raptor populations and, as we explore the area, we will keep our eyes skyward in search of Golden, Eastern Imperial, Booted and Short-toed Eagles, as well as Black, Griffon and Egyptian Vultures and Long-legged Buzzards. Smaller birds may include Rock Nuthatch, Blue Rock Thrush, Sombre Tit, Eastern Orphean and Barred Warblers, Crossbill and Rock Bunting. For those interested in plants, the upland meadows and woods hold such species as Bug and Bird's-nest Orchids, various crocuses, and the colourful Iris reichenbachii and Gladiolus illyricus.
Transferring north-eastwards to Pomorie on the Black Sea coast, we will pass close to the border with Greece and Turkey and travel through a varied landscape of wooded hills, fertile valleys and stony plains. Stops will be made to search for such bird specialities as Masked Shrike and Olive-tree Warbler and, whilst on the move, we can look out for Lesser Spotted Eagles, Montagu's Harriers and roadside Rollers, Bee-eaters and Lesser Grey Shrikes.
At Pomorie we will explore the extensive wetlands nearby, which make this one of Europe's richest bird areas. Between the saline Lake Atanasovsko with its surrounding saltpans, the reed-fringed Lake Mandra with its water meadows and adjacent wooded hills and the riverine forest and coastal dunes of the Ropotamo Nature Reserve, we can expect to encounter a huge range of birds and other wildlife. Birds here are likely to include White Pelican, Pygmy Cormorant, Glossy Ibis, Night, Purple and Squacco Herons, Little and Great Egrets, Spoonbill, Whitetailed Eagle, Slender-billed, Mediterranean and Little Gulls and just about any European wader.
Leaving Pomorie behind, we will travel north to Kavarna, passing the quaint old Byzantine port of Nesebar en route, with its numerous churches and ruins, and stopping in the wooded Goritza Hills where Black, Middle Spotted and Grey-headed Woodpeckers and Semi-collared Flycatcher all occur. From our hotel at Kavarna, which overlooks two wooded valleys where Golden Oriole, Syrian Woodpecker and Levant Sparrowhawk breed, we will explore northwards to the dramatic, cliff-bound headland of Kaliakra with its precipitously positioned castle. Inland, the sky above the rolling steppe will be dotted with song-flighting Calandra and Short-toed Larks, while on the grassland itself we are likely to find Stone Curlews, Isabelline and Pied Wheatears, and Lesser Grey Shrikes, plus numerous Corn and Black-headed Buntings. Further north again is Durankulak, a freshwater lake very close to the Romanian border. This is an important breeding site for a huge range of exciting wetland birds including Ferruginous Duck, Little and Great Bitterns, Gull-billed and Caspian Terns, Spotted and Little Crakes and Paddyfield Warbler (here at the western extremity of its range), whilst the surrounding woodlands and fields hold various flycatchers, woodpeckers and warblers, plus Lesser Spotted Eagle, Goshawk and Red-footed Falcon.
The final leg of our journey will take us inland, across the Dobrudza steppes to the small town of Vetren for two nights close to the Danube River, which forms the border between Bulgaria and Romania. Here we will focus on the famous Srebarna Lake Biosphere Reserve and the nearby Nova Cherna marshland, where we hope to find Dalmatian Pelican, Red-necked and Blacknecked Grebes, Whiskered Tern, Ruddy Shelduck and Penduline Tit, and have another chance to see any wetland birds that we might have missed elsewhere. We end our time in this fascinating and beautiful part of the world by crossing the Danube River into Romania and, from there, flying home from its capital city, Bucharest.  
DETAILED INFORMATION
Outline Itinerary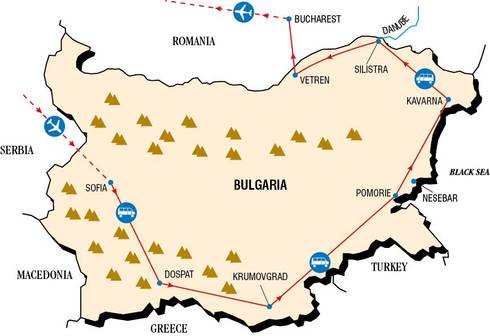 Day 1
Fly Sofia and transfer to Dospat
cloud_downloadDownload Full Itinerary
What's Included?
Flights
Accommodation:

We stay in simple but comfortable hotels with private facilities throughout.

Food:

All meals are included in the price.
Reviews
The organisation of the itinerary was excellent. Completely satisfied with the holiday.

R.C. London

I thoroughly enjoyed the Bulgaria in Spring holiday - excellent leader in Andy Smith and knowledgeable local guides. The country is fascinating and the wildlife and habitats superb.

B.M. Cheshire

Andy Smith was excellent and his knowledge superb - an inspiration!

M.B. Guernsey

Your trip leader, Andy Smith, is an excellent teacher and takes time with each member of his party throughout the trip, irrespective of their knowledge to ensure maximum interest.

G.C. Surrey

A wonderful trip - excellent leader, great company, beautiful countryside and amazing birds. The Wallcreeper singing only 30 feet away was the fulfilment of a lifetime ambition! Thanks to all concerned.

S.L. Sussex

Thoroughly enjoyed all aspects of the holiday. First trip of this type I've been on, but was extremely impressed by Andy Smith's identification and leadership qualities, as well as his all round knowledge. Count me in for many future trips. Thanks for a great holiday!

B.U. Gwent

Andy Smith was outstanding in all aspects of tour leadership. His knowledge of bird calls, songs, plumage, and his ability to see the birds and hear them, was outstanding. His awareness of the group was excellent.

A.K. Northumberland

This was our first holiday of this kind. We were extremely excited beforehand and I'm pleased to say that the holiday exceeded all expectations! Special thanks to Andy for his skills, patience and never-ending enthusiasm, and our fellow travellers who made this holiday the best!

J. & P.M. Leicestershire

I would like to say how impressed I was with our tour leader, Andy Smith. His amazing hearing and eyesight enabled my son and I to see many birds we otherwise would not have seen.

J.E. Derbyshire

The local guide knew the best bird destinations and I don't think I would have seen half the birds on this trip if I went on my own. It made me realise I made the right decision, saving me time, hassle and worrying... I had a fantastic time.

J.E. Derbyshire
Show More Reviews
Show fewer reviews
Dates & Prices
2022
Departures
Availability
Cost
Fri 6th May - Sun 15th May
SPACES
£1,595
Flights:
Most Naturetrek tours include flight costs ex-UK. If flights are not included, we indicate that here.
Flights are included in the tour cost
Regional Departures:
On certain tours it is possible to depart from a regional airport (rather than London). If a regional departure is possible, we indicate that here.
Regional Departures are available. Call 01962733051
Land only cost:
The "Land Only" cost is the tour price you will pay if you choose to arrange your own flights/transport.
£1,345
Single Room Supplement:
£185
Why Naturetrek?
At Naturetrek we craft expertly-guided group and tailor-made wildlife holidays and cruises to all seven continents. On one of our holidays, you can be assured that our passionate team will enable you to experience and enjoy the best of the world's wildlife and natural spectacles in as comfortable and rewarding a manner as possible, caring as best we can for the environment in the process. We are proud to provide:
The widest choice of wildlife holidays worldwide
Tours managed and led by naturalists, for naturalists
Outstanding value and exceptional customer service
Furthermore, as a Naturetrek client, our office team are always to on hand to help you – so if you have any queries about your holiday, whether before or after you have booked, we will be delighted to answer them on the phone. Please just give our team a call!