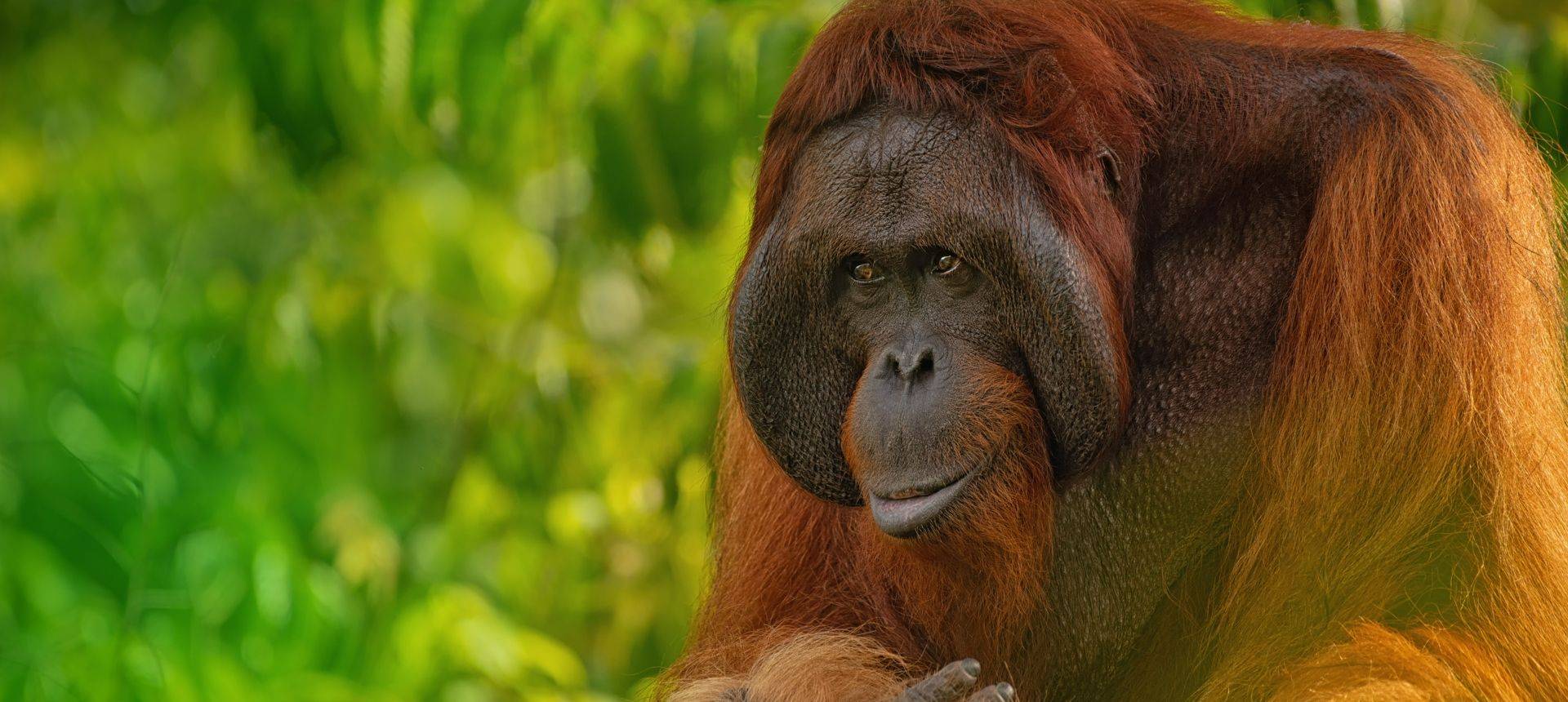 Borneo's Orang-utans
Tour Code: MYS02
An 11-day tour to the rainforests of Borneo in search of the endearing Orang-utan and other wildlife.
There are few more endearing animals on the planet than the Orang-utan, and the principal focus of our holiday will be this gentle and endangered great ape. We will visit the Sepilok Orang-utan Rehabilitation Centre, where we'll see semi-wild Orang-utans, many of which have been orphaned, in the latter stages of a rehabilitation process designed to allow their eventual release into the wild. We'll then return to Sandakan and take a boat down the Kinabatangan River where we'll hope to encounter wild Orang-utans, troupes of Proboscis Monkey and perhaps Asian Elephant amongst the region's riverine forest. We'll then visit the Gomantong Caves before concluding our tour with a 4-night stay at the amazing Borneo Rainforest Lodge in the Danum Valley Conservation area, one of the finest wildlife lodges anywhere in the world!
Pristine rainforests, home to hornbills, malkohas, broadbills & pittas
Includes a visit to Sepilok Orang-utan Rehabilitation Centre in Sepilok Reserve
Opportunity to see wild Orang-utan plus troupes of Proboscis Monkey at Kinabatangan
Varied & colourful avifauna such as Storm's Stork & endemic Bornean Bristlehead
The Gomantong Caves (for bats, Bat Hawks, swiftlets & possibly edible-nest harvesting)
Night-time excursions to look for Flying Squirrel, Buffy Fish Owl & other nocturnal wildlife
Led by an expert naturalist guide
Can I help you?


X
Tom Mabbett
Tom
Tom has been fascinated by wildlife and the natural world since childhood. At primary school he learnt all the British bird species, and he's been watching and enjoying them ever since! Trips to the Wildfowl and Wetlands Trust (WWT) Slimbridge further fuelled his passion for birds and, when Tom's family bought 10 acres of land, he created his very own nature reserve on it! After gaining a degree in Biology from Exeter University, Tom set off in search of some of the planet's incredible wildlife, first travelling slowly around the world, and then returning to Australia. As well as seeing a wonderful variety of the world's birds on his travels, he also spent a lot of time beneath the surface of the ocean, scuba diving in Thailand, Australia and Fiji. Two of Tom's many highlights were diving with mighty Bull Sharks and swimming alongside gigantic Whale Sharks. Since returning to the UK Tom has worked in school wildlife clubs and also worked at WWT Slimbridge. Having grown up in the Cotswolds, a lot of Tom's spare time has been spent recording the birds and reptiles of this area's commons and wetlands. He also travels in search of overseas wildlife as often as he can, and amongst the European destinations that Tom and his brother have explored have been Hungary, France, Spain, Holland and, most recently, snow-clad Poland in the depths of winter to focus on mammal-tracking. Tom has now lead and co-led over 20 Naturetrek tours in France, Spain, Italy, Portugal, Finland, Belgium, Greenland, Guyana, La Palma and Scotland as well as short UK breaks including the Somerset Levels and Forest of Dean. Tom remains a very popular leader with our groups and when not out in the field works within our busy operations team at our new office in Chawton. Please feel free to contact Tom on 01962 733051 or email tom@naturetrek.co.uk with any questions or to discuss a future tour.
Outline Itinerary
Day 2
Arrive Kota Kinabalu and fly Sandakan. Overnight Sepilok
Day 3
Sepilok Orang-utan Rehabilitation Centre
Day 4/5
Kinabatangan River
Day 10
Depart Kota Kinabalu
This was probably the best wildlife holiday I have ever been on. Everything was incredibly well organised, the accommodation and food was well above my expectations and the guides were superb. We saw so much more than I ever expected. I had a wonderful time and 2500 photos to remind me!

H.H. Kent
Food & Accommodation
Included in the price, except for any meals required in Kota Kinabalu. Allow ?10.
Comfortable eco-lodges, all rooms with private facilities.
There are surely few more endearing creatures in the world than that gentle rainforest giant, the Orangutan. A close affinity with Homo sapiens is obvious, and gazing into the solemn inscrutable features of an old male, or observing the impish behaviour of youngsters at play, it is easy to appreciate their evolutionary links with mankind. Sadly, in its native Sumatra and Borneo, the 'old man of the forest' has been subjected to relentless pressures which have reduced its world population by as much as 50% during the last 10 years to a meagre 25,000 animals. Hunting for meat and the demands of the pet trade have been contributory factors, but more significant has been the large-scale clearance of forest throughout the region, leaving dwindling habitats for the apes.
The principal focus of our holiday will be Orang-utans but, as we visit some of the most magnificent rainforests on Earth, we will also be entering the domain of many wonderful birds, mammals and insects, including another threatened primate, the bizarre Proboscis Monkey. Our tour begins with a flight to Kuala Lumpur, the modern capital of Malaysia. From here we quickly progress by air to Kota Kinabalu, in Sabah, and thence to Sandakan where we drive a short distance to the Sepilok Orang-utan Rehabilitation Centre. This extraordinary place was established in 1964 to help once captive or displaced Orangutans learn to fend for themselves back in the wild and, during our time at Sepilok, we will see every facet of the work carried out there. Everyone will undoubtedly fall in love with the wide-eyed and bewildered little orphan Orangs, which are regularly taken into care and exemplify the scale of the problem faced by the Centre, as adult apes are ruthlessly slain to facilitate the felling of more trees.
Returning to Sandakan we take a boat along the Kinabatangan River to spend two nights at the Sukau Rainforest Lodge. As we explore the river tributaries and hidden oxbow lakes we will be hoping to encounter our first wild Orang-utans foraging in the riverine forest. We will also no doubt be observed by troupes of potbellied and comic-looking Proboscis Monkeys, another animal threatened by forest clearances. After making the initial acquaintance of Sabah's stunning birdlife around Sepilok, we now have the opportunity to consolidate this experience as we meet hornbills, pittas, kingfishers, broadbills, woodpeckers and many other representatives of the very extensive avifauna. The rare Storm's Stork is occasionally recorded at Sukau, and we also have a chance of glimpsing Asian Elephants at the river edge. An excursion to the legendary Gomantong Caves will bring alive scenes familiar from TV documentaries as numerous swiftlets dash into these vast cathedral-like cave systems, their nests forming the unlikely basis of 'bird's-nest soup', and at dusk there is a spectacular exodus of several million bats which emerge like plumes of smoke to fan out over the surrounding ocean of trees.
We conclude our tour at the Danum Valley Conservation Area, where we spend four nights at the superbly situated Borneo Rainforest Lodge. The Danum Valley contains one of the last remaining tracts of primary lowland dipterocarp forest and is renowned as one of the very best natural history sites in south-east Asia. We have a very good chance of finding more Orangutans in the forests here, indeed all 10 species of primate found in Sabah have been recorded in the Danum Valley, together with a quite remarkable selection of mammals, birds and reptiles. As is usual in such forest habitats, many of the inhabitants are difficult to find or nocturnal in habits but, with several full days to explore the area, we are assured many exciting observations. The prolific birdlife includes a number of pheasants, eight species of hornbill, the endemic Bornean Bristlehead and a whole host of other Asian specialities. Mention should also be made of the many exotic butterflies which occur in a diversity of colour and form to enhance every day in the field.

At the end of this memorable tour we will have learnt much about Orang-utans and hopefully enjoyed the rare privilege of watching them in the wild.

Please contact us on 01962 733051 for details on what extensions either pre or post tour are available for this Tour.
This was probably the best wildlife holiday I have ever been on. Everything was incredibly well organised, the accommodation and food was well above my expectations and the guides were superb. We saw so much more than I ever expected. I had a wonderful time and 2500 photos to remind me!

H.H. Kent

I thought the whole trip was just fabulous.

J.H. Surrey

Borneo's Orangutans was an exceptional holiday; my first experience of wildlife travel, which far exceeded my expectations. The tour was very well organised, with great locations, accommodation, food and, above all, expert and enthusiastic guidance from tour leaders. I cannot recommend this too highly.

J.P. Greater Manchester

This was my first trip with Naturetrek. I thoroughly enjoyed the holiday and it exceeded my expectations... I found that having a naturalist heading the party was invaluable. I am spreading the word and recommending Naturetrek to anyone who has an interest in nature.

S.D. Bristol

This was yet another awesome Naturetrek tour... All accommodation was excellent. Service great, food very good.

S.A. USA

The guides were very knowledgeable and were able to share their knowledge with the group; there are so many things that I would have missed without their expertise.

A.B. London

Hotels were excellent! Surroundings amazing, especially Danum Valley. Staff very accommodating, friendly and always smiling. A very well balanced trip which worked very well for me (first-timer!), especially the Danum Valley - an incredible place to stay and definitely return. I didn't want to leave. Chris did a great job at accommodating everyone and was very well planned and organised. I definitely got a great taste of the Orang-utans, the river life and the Danum Valley forest. The trip leader: What can I say? A star! He made my trip a very enjoyable one, from start to finish. Chris listened to everyone and we had so many great walks/treks/boat rides that he organised. Thanks Chris. The local guides were great guys too! Very knowledgeable and interested to talk to. Always smiling and very reliable. A great mix of people.

D.I. Hertfordshire

This was an excellent trip. Having started off as someone who mainly wanted to see Orang-utans and with little knowledge of the bird life of Borneo. I am now a convert and enthusiastic about spotting birds and other wildlife. I put this down to the skills of our trip leader Chris Kehoe and local guide Hasmit. Chris managed the trip very well and ensured the group got whatever the individuals wanted from the experience. There was never any pressure to do walks of treks that you did not wish to do. It was obvious that Chris is extremely knowledgeable about the bird-life in particular, and very patient with those of us who were new to this type of holiday. The local guide was also very good and a delightful young man. The whole experience has exceeded expectations.

J.L. Middlesex

We had a fantastic trip and Chris Kehoe, together with the local guides, was wonderful. The friendliness of the local people, as well as the diversity of the wildlife and spectacular scenery, made this one of our most enjoyable and memorable holidays! Thank you.

B.M. Kent

A most interested and enjoyable holiday...excellent leaders in the shape of Chris Kehoe, Hamit & Nadir... Their knowledge and enthusiasm was without bounds, to the extent that I became caught up init and am now a convert to bird-watching as well as mammal spotting. Without a doubt, I would consider another Naturetrek holiday.

P.B. Middlesex

Terry was excellent - a good and amusing communicator, very personable and with a great knowledge of mammals, birds, reptiles and amphibians, and he was able to take on some invertebrates as well. Energetic and enthusiastic. Great stuff!

G.T. Staffordshire

I thought the local guide Hazwan Suban excellent; he knew the bird and mammal species, could identify them on the spot, and could pick them out with his scope to show their details - a very good guide with the advantage of having local knowledge. The three locations where we stayed provided a range of habitats and kept interest levels high. The Orang-utans, the bat cave and exploring the jungle from the river were star attractions, but Danum Valley outclassed them all - undamaged jungle, the canopy walk, the numbers of mammals, birds, and sundry lizards and snakes, and the fact that what we could see was just as it had been for hundreds of years.

J.M. Oxfordshire

Very well organised with attention to detail. Great care was taken to meet the needs of all members of the group. It was a real privilege to share the expertise of Terry Reis and Hazwan Suban. This was my first wildlife holiday and a genuine learning experience!

J.P. Greater Manchester
2019
Departures
Availability
Cost
Wed 4th Sep - Sat 14th Sep
6
£4,495
Flights:
Most Naturetrek tours include flight costs ex-UK. If flights are not included, we indicate that here.
Flights are included in the tour cost
Regional Departures:

On certain tours it is possible to depart from a regional airport (rather than London). If a regional departure is possible, we indicate that here.
Regional Departures are available. Call 01962733051
Land only cost:

The "Land Only" cost is the tour price you will pay if you choose to arrange your own flights/transport.
£3,895
Single Room Supplement:
£495