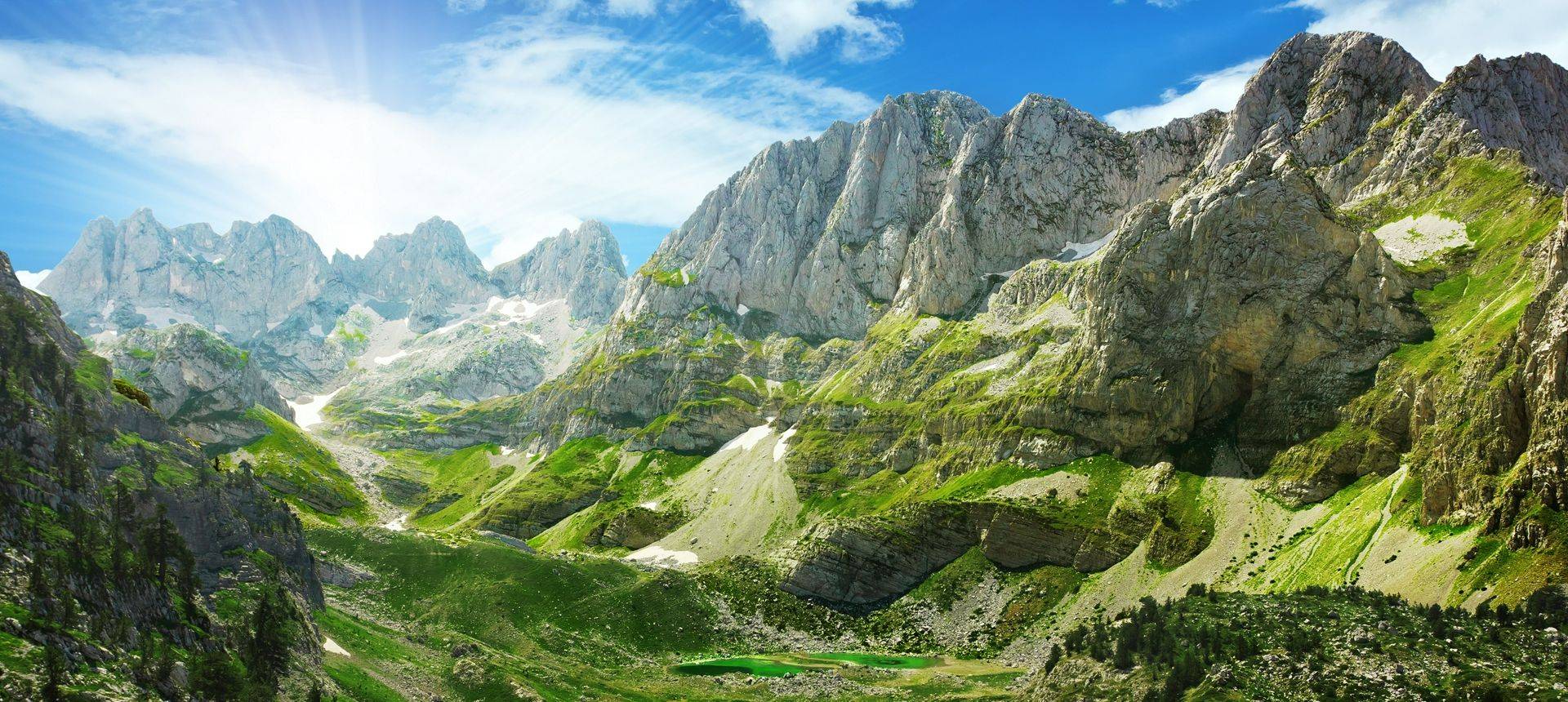 Albania in Spring
Tour Code: ALB01
A pioneering 8-day holiday to a little-known Balkan country, focusing on the birds and other natural history of the Albanian Alps and the scenic wetlands of Divjaka-Karavasta National Park.
Closed for so many years to the outside world, Albania has now opened its doors to become a rewarding tourist destination, with much to offer the visiting naturalist. After an evening flight to the capital, Tirana, we stay in a hotel close to the airport before driving south the next day to the historic city of Berat where we'll be based for two nights. From here we'll explore Divjaka-Karavasta National Park, and the 4,000-hectare Karavasta lagoon where we'll look for a host of waterbirds including Garganey and Greater Flamingos. Whilst in this area we will also visit Vjosë-Nartë protected south Karavasta, which is magnet migrating birds such as Black-winged Stilts, Avocets, Spotted Redshanks, Kentish Plovers, Stints Sandpipers. Next, we drive to north-east country Valbonë Valley Park Albanian Alps, stay traditional guesthouse beside River Valbonë. home Brown Bear, Wolf Chamois though these are elusive. Hazel Grouse, Capercaillie, Rock Partridge both Black and White-backed Woodpeckers.  Finally make a scenic ferry ride across lake Komani before heading back Tirana our flight home.
2-night stay in the old town area of Berat, a UNESCO World Heritage Site
Explore Karavasta lagoon which holds 5% of the world's breeding Dalmatian Pelicans
Pygmy Cormorants, Marsh Sandpipers & Caspian Terns, Karavasta lagoon
Look for Red-footed Falcons, Collared Flycatchers, Subalpine Warblers & Nightingales
Slender-billed Gulls, Collared Pratincoles, Stone Curlews, Bee-eaters & Hoopoes, Vjosë-Nartë
Ring Ouzel, Black Redstart, Wheatear, Water Pipit & Nutcracker all possible, Valbonë Valley National Park
Enjoy delicious traditional Albanian cuisine: a fusion of Mediterranean & Middle Eastern flavours
Take the 2-hour ferry across Lake Komani, dubbed 'one of the great boat trips of the world'!
Led by expert naturalist guides
Can I help you?


X
Tom Mabbett
Tom
Tom has been fascinated by wildlife and the natural world since childhood. At primary school he learnt all the British bird species, and he's been watching and enjoying them ever since! Trips to the Wildfowl and Wetlands Trust (WWT) Slimbridge further fuelled his passion for birds and, when Tom's family bought 10 acres of land, he created his very own nature reserve on it! After gaining a degree in Biology from Exeter University, Tom set off in search of some of the planet's incredible wildlife, first travelling slowly around the world, and then returning to Australia. As well as seeing a wonderful variety of the world's birds on his travels, he also spent a lot of time beneath the surface of the ocean, scuba diving in Thailand, Australia and Fiji. Two of Tom's many highlights were diving with mighty Bull Sharks and swimming alongside gigantic Whale Sharks. Since returning to the UK Tom has worked in school wildlife clubs and also worked at WWT Slimbridge. Having grown up in the Cotswolds, a lot of Tom's spare time has been spent recording the birds and reptiles of this area's commons and wetlands. He also travels in search of overseas wildlife as often as he can, and amongst the European destinations that Tom and his brother have explored have been Hungary, France, Spain, Holland and, most recently, snow-clad Poland in the depths of winter to focus on mammal-tracking. Tom has now lead and co-led over 20 Naturetrek tours in France, Spain, Italy, Portugal, Finland, Belgium, Greenland, Guyana, La Palma and Scotland as well as short UK breaks including the Somerset Levels and Forest of Dean. Tom remains a very popular leader with our groups and when not out in the field works within our busy operations team at our new office in Chawton. Please feel free to contact Tom on 01962 733051 or email tom@naturetrek.co.uk with any questions or to discuss a future tour.
Outline Itinerary
Day 1
Fly Tirana and transfer Berat.
Day 2
Divjaka-Karavasta National Park from Berat.
Day 3
Vjosë-Nartë from Berat.
Day 4
Transfer Valbonë Valley National Park.
Day 5/7
Valbonë Valley National Park.
Day 8
Transfer Tirana via Koran Ferry and fly London.
Thought that Albania might be a bit grey with lots of identical tower blocks of flats but it was beautiful with happy, friendly people everywhere. We birdwatched on the coast for 3 days before taking the long journey to the mountains where the scenery was stunning. Shooting was only banned in 2014 so there was not the quantity of birds around but plenty of variety. The food, always plentiful, was a mixture of Turkish, Italian and Greek and delicious.

H.K. Stirling
Food & Accommodation
All included in the price.
Two small family-run guesthouses. All rooms have en suite facilities.
For so long, many of us will have had no more than a tantalising glimpse of Albania — perhaps from Corfu or the Adriatic Sea — its distant and rugged hills full of allure, but not opportunity. Shackled for so much of the latter half of the 20th century by the isolationist and atheistic policies of the regime of the then People's Republic of Albania, followed by economic difficulties in the 1990s (post communism), only in the 21st century has the new Republic of Albania emerged from the shadows to become a tourist destination of great potential. Indeed, with its unspoiled beaches, wild mountainous topography, delicious cuisine and an archaeological heritage fashioned over millennia through successive Greek, Roman and Ottoman occupations, the potential for tourism is rich and varied. So too is its natural history, which we will be excited to discover and enjoy on this holiday.
First, we must fly to Tirana, Albania's capital. Then we will transfer to the historic city of Berat, our base for three nights. Berat lies on the River Osum, beneath the pine-clad Tomorr Mountains, and boasts a wealth of beautiful buildings of high architectural and historical interest. The old town of Berat is now a UNESCO World Heritage Site and we will find time to enjoy it, along with its white Ottoman houses, medieval hilltop castle and vibrant atmosphere. Our guesthouse lies on a quiet cobbled street and here we will sample our first Albanian cuisine, which marries classic Mediterranean tradition with flavours and spices from the East. On our first full day we will head to the coast to explore the superb and littleknown Divjaka-Karavasta National Park. The 4,000-hectare Karavasta lagoon is the largest in the country and, with 5% of the world's breeding Dalmatian Pelicans, it is of international importance. Naturally, these special birds will be a highlight. However, the park's marshes and shallow pools are teeming with other life. Garganey and Greater Flamingoes can be present in their hundreds, with Pygmy Cormorants, Marsh Sandpipers and Caspian Terns amongst the supporting cast. In the surrounding pine woods we will look for Collared Flycatchers, Subalpine Warblers and Nightingales.
The following day we will visit the Vjosë- Nartë protected area south of Karavasta, a huge complex of saltpans and coastal dunes around the Nartë lagoon. This magnet for migrating birds can offer some of the best wader-watching in Europe, with Black-winged Stilts, Avocets, Spotted Redshanks, Kentish Plovers, stints and sandpipers in abundance, and Slenderbilled Gulls, Collared Pratincoles and Stone Curlews amongst other highlights. Bee-eaters and Hoopoes will no doubt add a splash of Mediterranean colour!
The second phase of our holiday will be spent exploring the Valbonë Valley National Park, the gem within the Albanian Alps. Here we will enjoy daily walks with the aim of discovering the wealth of natural history in these wild and rugged mountains. They hold a healthy population of both Brown Bears and Wolves, though these are elusive and hard to see, as well as Chamois and such avian stars as Hazel Grouse, Rock Partridge and Black Woodpecker. One spectacular walk ascends through vast Beech woodlands to meadows above which may hold Ring Ouzels, Black Redstarts, Wheatears and Water Pipits. Nutcrackers are possible here too, whilst after rainfall there's always the chance of a Fire Salamander! Botanically, this area is also wonderfully rich. Meadows are covered in Green-winged Orchid, while the fascinating Coralroot and Bird's-nest Orchid are common in the Beech woodlands, with an array of other alpine species possible. Both tours will appreciate and enjoy all forms of natural history; for the more bird focused, the earlier departure is recommended, while in late May there will be more botanical interest as well as butterflies on the wing. As the trail climbs higher the landscape opens out to reveal breathtaking views of snow-clad peaks, with Maja Jezercë the highest of these at over 2,600 metres. Our guesthouse is located in the valley, beside the River Valbonë, and we will be served traditional cuisine in a cosy lodge nearby.
The time will come to bid farewell to this wild region and wend our way southwards, back towards Tirana. However, one more treat lies in store. The ferry journey across Lake Komani has been dubbed by travellers and guidebooks alike 'one of the great boat trips of the world'! A trip of two hours or so will see us cruising between towering peaks and sheer cliff faces across a region in which no roads or power lines connect its few hardy resident farming families to the outside world. This unforgettable experience provides a fitting and dramatic finale to our holiday in this wild and little-known land.
Please contact us on 01962 733051 for details on what extensions either pre or post tour are available for this Tour.
Thought that Albania might be a bit grey with lots of identical tower blocks of flats but it was beautiful with happy, friendly people everywhere. We birdwatched on the coast for 3 days before taking the long journey to the mountains where the scenery was stunning. Shooting was only banned in 2014 so there was not the quantity of birds around but plenty of variety. The food, always plentiful, was a mixture of Turkish, Italian and Greek and delicious.

H.K. Stirling

The lunch at the "stan" will live long in the memory. All I can say is that for me it was a wonderful holiday.

D.C. Buckinghamshire

Good balance and well described in your brochure.

K.H. Surrey

The trip was well organised with a variety of interests catered for. Valbone NP was a wonderful experience.

B.F. Devon

Tom Mabbett inspired us with his knowledge, enthusiasm and energy. We very much enjoyed the whole holiday and it was also an adventure!

M.F. Devon

Offered good opportunities for bird watching and wild flowers. Expert guiding very good. Different locations visited all excellent. Albanian food and hospitality, especially in the mountains fantastic. Tom's leadership very professional and Marsela too. The extension to Tirana/Sarande was also very well arranged.

S.T. Leicestershire

I enjoyed the great variety with the combination of cultural and wildlife interest. As a walking holiday this was ideal for me, with regular stops to observe our surroundings. One of the highlights was the hospitality shown by the mountain people. The food produced under such primitive conditions was fantastic.

G.L. Norfolk