The Julian Alps, Slovenia
Tour Leader Spotlight – Paul Tout

This email address is being protected from spambots. You need JavaScript enabled to view it.
Paul popped into our offices at Mingledown Barn back in December 2014, the same week that we moved office (in fact I nearly missed his initial contact email, which came through when our internet was offline!). Paul was down the road from us over the Christmas break, and we had a great chat about tour possibilities in NE Italy, Slovenia and Croatia, near where he lives. I could tell that Paul not only had the wildlife knowledge that our Naturetrek leaders need, but was also a people-person, and a general knowledge sponge; he had all the makings of a great tour leader. The following spring when I needed a co-leader in Slovenia, I signed him straight up and the rest, as they say, is history! Paul now leads Naturetrek tours to the Julian Alps, south Slovenia, Istria, along Croatia's Dalmatian coast, and should have been leading a brand new tour to the Carnic Alps this June – but we'll have to save that one for next year instead!
When and how did your interest in wildlife begin?
Mum says my first word wasn't 'mamma' or 'dadda' but 'bird'. I'm told I was placed at the back door to watch the sparrows feeding on the lawn and a Song Thrush battering snails. I grew up in the 1960s and 1970s on the very edge of London in the Lea Valley, on the border between Herts. and Essex and was taught to swim at an early age because of the nearby gravel pits. Kids used to drown quite often back then. We were 'feral' kids at that age, I suppose, and enjoyed an immense amount of freedom of movement compared to children of the same age today. After a free-floating interest in fishing and butterflies, my interests crystallised around birds with my first pair of binoculars. I became a member of a local Young Ornithologists' Club group, the leader of which, Tony Aberdein, died just last weekend (early June 2020). Tony was a man of immense generosity and patience with all of us and I learnt an enormous amount from him! Thank you, Tony!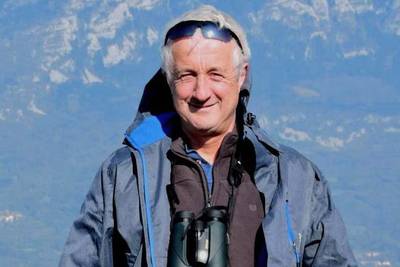 Close to the YOC's base, at the RSPB reserve at Rye Meads, back then much smaller and called Rye House Marsh, was a long-standing bird-ringing group based at the sewage works which I joined in 1975. This represented a quantum leap in my natural history education, as the group collected data, not only on birds, but also on butterflies, plants, mammals and anything else of interest. Every Saturday for years I was out before dawn and 'on the go' often until well after dark. In 1979 I went away to university to study Zoology, with a solid foundation in natural history.
When and where was your first tour leading assignment for Naturetrek?
I've lived in NE Italy since 1989. Initially, I briefly taught English as a foreign language before teaching Environmental Science at an international school for 15 years until 2005. Since then I've worked as an ecological consultant, natural history guide for schools (obviously in Italian!) and private groups, as well as a scientific translator and editor for Italian academics and publishers. I'd done some occasional tour work for other companies on and off since 1993 and from 2011 I was head gardener and guide at a small botanical garden of native plants close to Trieste called Carsiana. When the cooperative I was working for failed to re-win a public tender for running the garden in 2014 (though they almost immediately won it back), I sent my CV to Naturetrek. Not long after, Kerrie Porteous contacted me to say that a co-leader had been forced to drop out of Naturetrek's upcoming Julian Alps holiday in Slovenia and asked whether I would be interested and able to help out? I said that I certainly was and that's how I began.
What is your 'day job'?
I have several contracts as an ecological consultant carrying out monitoring work (birds, moths and butterflies and some botanical surveys) on protected sites in NE Italy and sometimes Slovenia that I can fit in on the days that I'm not with a tour. I also help run several local nature reserves and the botanical garden for which our cooperative, Rogos, has public contracts and in the winter there is always plenty of translation work to be getting on with, but between April and July, and again in autumn, there are several Naturetrek holidays which I lead. I also help to develop new itineraries, including the Carnic Alps, southern Slovenia, Istria and another in Dalmatia, with the local knowledge I've acquired over 30 years and making use of my local language skills and contacts to create the best holiday experience possible.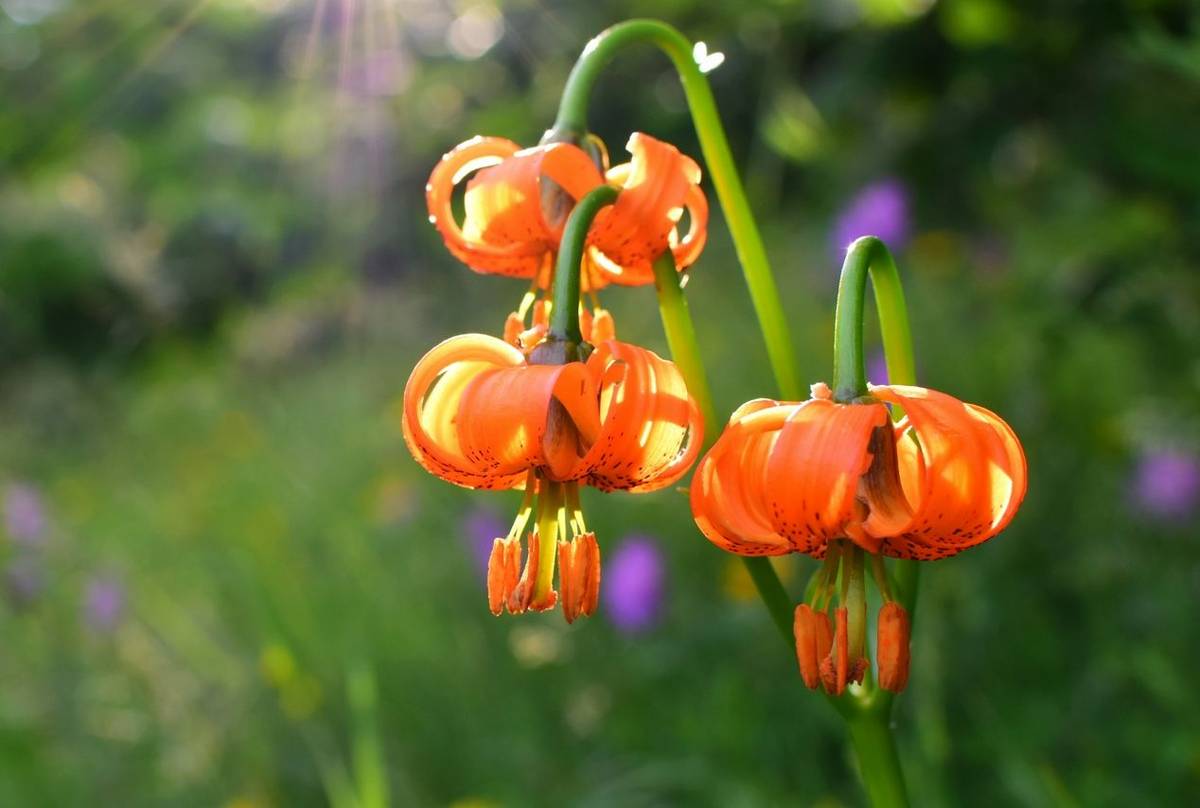 Carnic Lily, Italy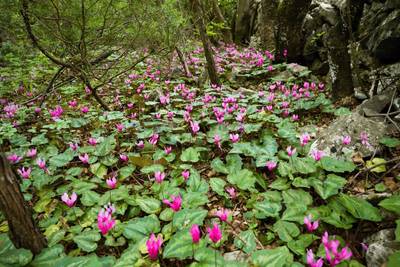 Spring Cyclamen, Croatia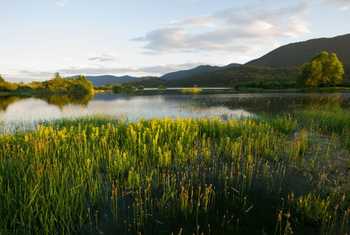 Lake Cerknica, Slovenia
What other interests do you have outside of wildlife?
A few. I'm an intellectual butterfly, interested in local history, politics, economics and sociology and how these interact with the area's biodiversity. Climate, geology and geological history too. These are always interesting topics (for me at least!) on journeys in the van on the holidays and around the table in the restaurant. I do try to avoid the B- word of late, though!
What current conservation projects most interest you?
I try not to worry about things that I have no control over. I don't always succeed. I'm interested by the re-wilding debate going on at the moment in the UK because a lot of spontaneous abandonment is taking place in Italy and the Balkans and it's clear that it's a very mixed bag as far as biodiversity is concerned. As people disappear from the Apennines, Alps and Carpathians then some flagship species such as Wolves and Bears are doing very well indeed, but there are big losses too, of flora and small fauna which rely on traditional management systems such as Ortolan Buntings, Apollo butterflies and grassland orchids.
One of my hobby horses is nitrogen pollution. It's massively underestimated as a source of loss of biodiversity but it's a real problem, very subtle and insidious, whether it's the direct use of nitrogen fertilizers and slurry in agriculture or the more diffuse kind via oxides of nitrogen from power stations, car exhausts and evaporation from slurry ponds and manure piles on farms or the sludge-beds of sewage works. Every year in Britain almost every hectare in the east of the country receives about a quarter of the annual agricultural dose in atmospheric deposits. That speeds the growth of nitrogen-loving species such as nettles, cow parsley, hemlock, dock and brambles. No wonder flowery meadows only persist for a year or two if not cut annually. That has knock-on effects on moths, butterflies and other insects and thence to birds such as Red-backed Shrike and Turtle Dove that need sparse vegetation to hunt or feed. It even favours generalist bird species like Wood Pigeon because the vegetation on which they feed is richer in proteins when soaked in nitrogen. I was shocked by just how 'green' Dorset was, even in winter. But it was a sickly green, not the dull midwinter brown of a nitrogen-poor hay-meadow in Slovenia, one that would burst into a riot of colour in the month of June. Britain needs to do what it can to reduce nitrogen pollution. Electric vehicles and the closure of fossil fuel power stations will help, but the brutal intensification of fertilizer use in agriculture and animal rearing means the issue will continue to worsen.
What is your most memorable wildlife encounter to date?
Ah! It was on a Naturetrek tour, which I think was in 2016, and a remarkable coincidence. We were travelling in upper Istria in Croatia in a single van through an area with a lot of Wildcats, when I saw one jump off the road and into the long vegetation on the verge. All the people on the opposite side to the driver had good views as the cat stared up at us for a few seconds before slipping away into the scrub. As we set off I had a divided vehicle. Those on the kerbside were elated, a tick for all of them. Those on the driver's side were miserable and despondent. They'd missed it. I felt a bit rotten as I drove on. I usually see a Wildcat or two each year, sometimes close to home. Not even five minutes had passed when, a mile up the road, on the driver's side this time, ANOTHER Wildcat was sitting in a track entrance watching the world go by. I slowed down as we drew level, calling out and everyone on the left got their Wildcat too, as it turned and trotted off, giving an excellent view of its black-tipped bushy tail. Happiness had been restored.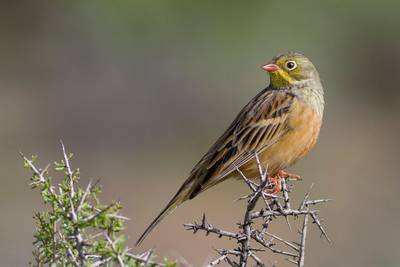 Ortolan Bunting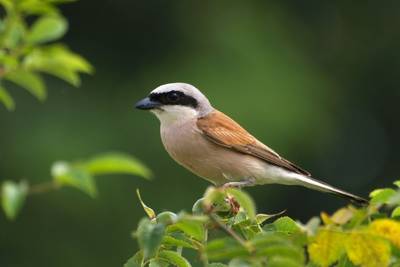 Red-backed Shrike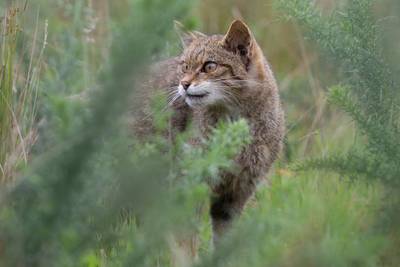 Wildcat
What did you do before working for Naturetrek?
Well, I outlined that above. But before coming to live in Italy, for three years I ran a Manpower Services Commission team of ecologists, illustrators and ground workers in Epping Forest. I also taught English in Sudan and worked for the National Trust on Brownsea Island in Dorset. 
What new destination would you most like to travel to next?
I like discovering places for myself and having the ritual of travelling there under my own steam and then sharing them with other people. I know Croatia quite well but I've never been to Bosnia and Herzegovina. I'm told it's amazingly unspoilt and wild with magnificently varied scenery and has a rich culture. I'd like to set up a Naturetrek itinerary there. I also love Balkan food … so that adds an element of risk for my waistline. But I'm prepared to sacrifice myself if required.
What are you reading at the moment?
There was plenty of time to read during the lockdown which I spent on the borders of Dorset and Somerset in the UK. I read Robert MacFarlane's "Underland" about the world below ground, its relationship to mythology and the human psyche in which he visited various subterranean places and what these say about humankind's relationship with the planet. It was wonderful reading MacFarlane's take on the River Timavo, a subterranean waterway that flows beneath the Karst for 40 kilometres, indeed beneath my house, and enters the Adriatic at Duino. I also read Mark Cocker's "Crow Country" which was perfect for lockdown as I woke every morning to the sounds of Rooks and Jackdaws and fell asleep to them. Occasionally their calls even punctuated my dreams. When I left for Italy at the end of May I was reading Stephen Moss's "Wild Hares & Hummingbirds". I wish I'd started it earlier now. Since I got home it's been hard to find the time to pick up a book at all.
Apart from that it's mostly shorter articles and current affairs online, watching Britain and Italy change from afar and close up. Generally speaking though, I like to spend as much time outdoors as I can.
Which three people would you invite to dinner?
Oh dear! Where to start? I think one would have to be a political figure and probably a 'baddie' too. Baddies are always more interesting. My father did two six-month tours guarding the top surviving Nazis in Spandau prison and thus regularly 'dined' with Albert Speer and Rudolf Hess, both of whom must have been extraordinarily interesting company but he was only 20 years old at the time. Margaret Thatcher? An evening with a great grandmother and/or a great grandfather would be extraordinary too. If I had to choose a scientist it would either be Charles Darwin or the great naturalist of the Karst, Giovanni Scopoli. As an Italian we could converse in the dialect he would have been familiar with as a regular visitor to Trieste.
If you'd like to go on tour with Paul, follow the link below for a list of the upcoming departures that he's leading.
View Paul's Upcoming Tours