Our Naturetrek Tailormade team loves nothing more than planning unique and exciting wildlife holidays for our guests. Perhaps most of all, we love the diversity of the holidays that we create, as well as the diversity of those we create them for. We know that each new enquiry brings its own suite of specific requirements and needs, which can vary from a family's wish to have a swimming pool at each hotel, to a disabled person's need for accessible rooms and vehicles. We pride ourselves on offering the very best wildlife holidays, and enjoy the challenge of creating itineraries which meet the unique needs of each individual client or family. In general, the world is becoming much better adapted to supporting those with particular mobility restrictions, and although occasionally there are limitations that might make certain destinations unfeasible for safety or practical reasons, our expert staff are always on hand to provide an honest assessment of the locations that they feel would be best suited to each individual. We understand that travel can be a daunting prospect for those with physical disabilities and so we hope to offer reassurance in taking care of all arrangements, from airport assistance to hand-selecting the most suitable lodges and the very best naturalist guides. In this article we have offered a few ideas for those tours that we think can be best adapted to our clients with special requirements.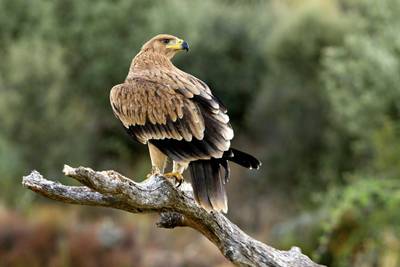 Spanish Imperial Eagle, Coto Donana
The Best of European Birdwatching
Coto Doñana, Spain: birdwatching in Europe can be intrinsically tricky for the mobility impaired, as the majority of nature reserves can only be accessed by foot along rough or sandy tracks which are unsuitable for wheelchair users. This is where Coto Doñana comes into its own, as the park is best explored by vehicle. Although unfortunately the vehicles themselves are not yet wheelchair adapted, for those with family or friends who are willing to help seat them in vehicles, the destination offers the opportunity for some wonderful European birdwatching, where target species include Purple Gallinule, Marbled Teal, Crested Coot and Spanish Imperial Eagle. If very fortunate you might even catch a glimpse of the critically endangered Iberian Lynx!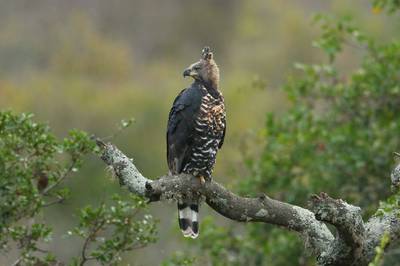 Crowned Eagle, Zululand
The Best of South African Birdwatching
Zebra Hills Safari Lodge, Zululand: this stunning lodge is situated in the Manyoni Private Game Reserve in northern Zululand. It is possible to find all of Africa's 'Big Five' mammals in the reserve, which is also a haven for over 400 bird species including Pink-throated Twinspot, Neergaard's Sunbird, Rudd's Apalis, Gorgeous Bush Shrike, Crowned Eagle and Bearded Scrub-robin. The 3-bedroom annexe is also perfect for families, with all bedrooms and bathrooms located on the ground floor and accessible for disabled guests.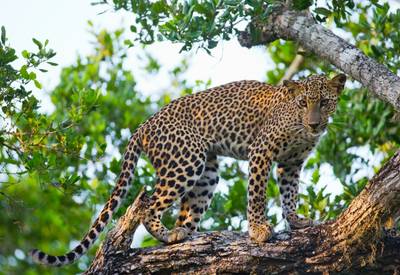 Leopard, Yala National Park
The Best of Asia's Wildlife
Yala National Park, Sri Lanka: unfortunately, much of Asia (and particularly the Indian subcontinent) still lags behind the rest of the world in its accessibility for disabled guests. However, for those particularly interested in Asian wildlife, Yala National Park in Sri Lanka is a very exciting option. Yala is one of the oldest and most popular parks in Sri Lanka and is most famous for its high density of Leopards, although it also supports an extremely diverse selection of other wildlife including Sloth Bear, Sri Lanka Junglefowl, Changeable Hawk-eagle, White-bellied Seaeagle, Lesser Adjutant and Black-necked Storks. Cinammon Wild Yala Resort is located on the border of the national park and is our favourite disability-friendly hotel in Sri Lanka.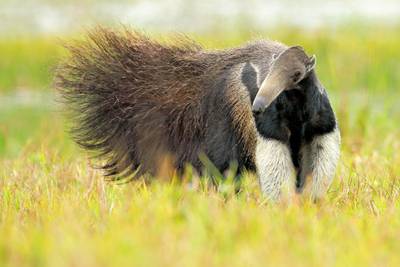 Giant Anteater, Pantanal
The Best of South America's Wildlife
The Pantanal, Brazil: much of South America is best explored on foot via tracks, which makes it a challenging destination for disabled guests. However, Brazil's Pantanal provides a welcome exception to this, as the majority of wildlife activities can be enjoyed from the comfort of a vehicle or boat. As with our other suggested locations, a willing family member or friend is essential for providing support and assistance when entering boats and vehicles. However, as long as you do have this support, then the activities and lodges are all well suited to disabled travellers. The obvious highlight of any journey to the Pantanal is the opportunity to see Jaguars in the wild, and previous guests have even been lucky enough to see adults hunting the Caiman, Capybara and young Giant River Otter which are also common in the Pantanal. Birdlife is also spectacular, and highlights may include Sun Bittern, Agami Heron, Capped Heron, Toco Toucan and Hyacinth Macaw.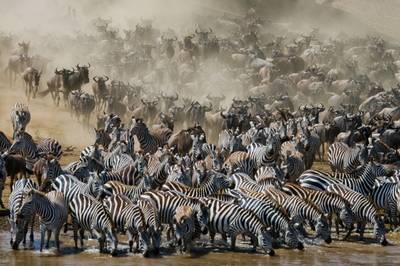 Wildebeest Migration
The Best of Africa's Mammals
The Great Migration, Tanzania/Kenya: the annual wildebeest migration across the grasslands of Kenya's Masai Mara and Tanzania's Serengeti is easily the greatest gathering of large mammals in the world. 1.2 million Blue Wildebeest congregate and travel in a cyclical movement across the parks, which attracts large numbers of predators in their wake. Although roads are not tarmacked (unlike in the Kruger National Park in South Africa), the majority of lodges are well geared up for disabled guests with accessible tents, bathrooms and dining areas. The hospitality is second-to-none and offers an African safari like no other.
We believe that incredible wildlife experiences should be accessible to all, and feel privileged that we may be able to make such experiences possible for some of our physically impaired clients. Below is some feedback from a family who recently returned from a Tailormade holiday to Tanzania:
Well, what a trip! We are just about back down to Earth after our fantastic family holiday. I would like to thank you profoundly for the obvious care and attention involved in the planning of our Tanzanian trip. We met our guide and wow was he an angel in disguise. He announced that my daughter was his new 'sister' and that he would look after her as such. He didn't let us down. He was efficient, caring and very knowledgable … we had a terrific time. All the hotels were excellent. We really loved the lodges. All the management and staff were so helpful that we had no problems with my daughter being wheelchair bound. All in all, it was a most memorable trip for us all. Thank you for your part in its organising. Thank you is not adequate but will have to do!
If you would like to discuss organising your own tailormade holiday, please call Georgie Head on 01962 733051 or email This email address is being protected from spambots. You need JavaScript enabled to view it..