Tony Hale travelled on our 'Spitsbergen - Realm of the Polar Bear' holiday and submitted this entry to our writing competition.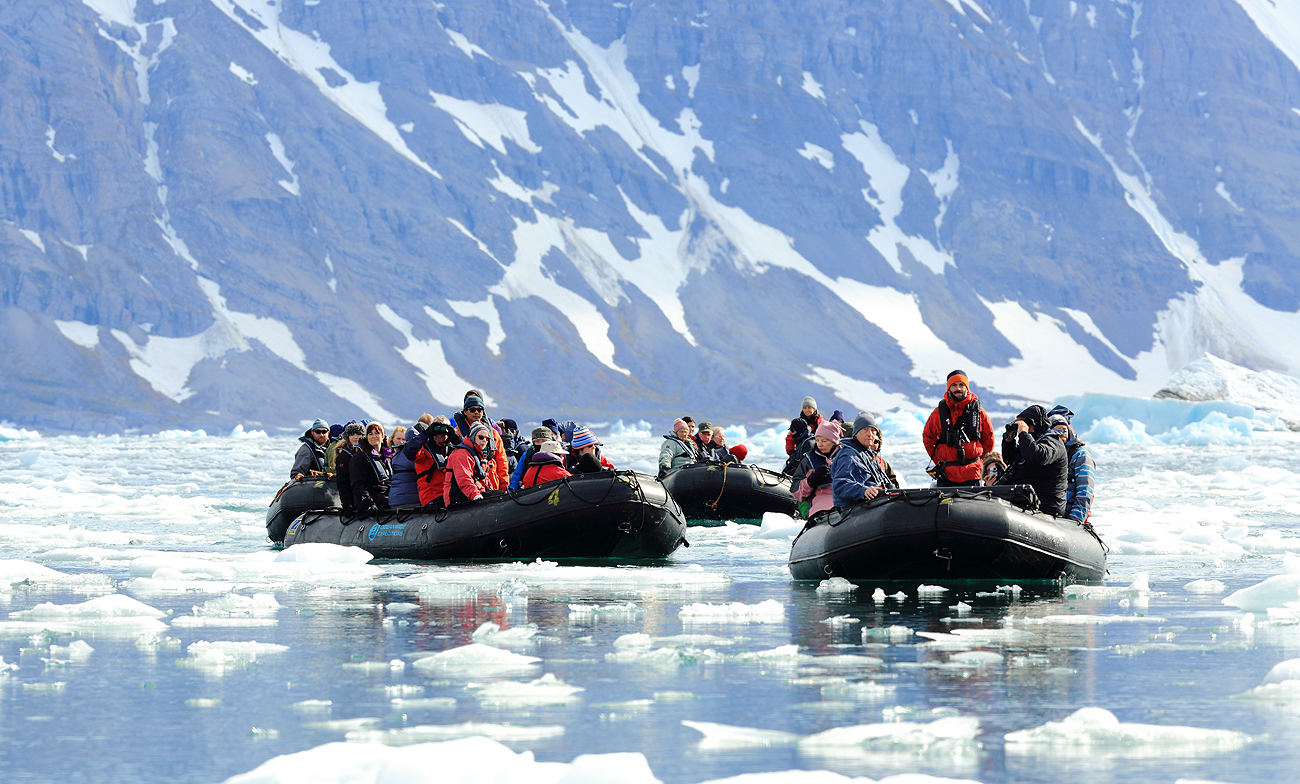 Naturetrek Spitsbergen group
Ripples of excitement, joy and anticipation were running though the group of wildlife enthusiasts, as our cases were loaded on to Zodiacs, before heading out to the Ortelius anchored near the harbour, which was to be our home for the next 10 days. It had been worth the wait; our time in Longyearbyen, had not been wasted. We had been dive-bombed by Arctic Terns, seen Common Eider ducks and Barnacle Geese nesting near the road, many small alpine flowers, and even a few Reindeer. However, that was now behind us as we gathered on the quay, with our lifejackets secured, waiting our turn to board a Zodiac, for the first of many trips on what was to be the 'holiday' of a lifetime.
After the obligatory safety briefing, followed by an 'abandon ship' exercise, we gathered to meet the Captain, crew and leaders, to toast the success of the trip. Then our first meal - which set a very high standard, and which was consistently followed all the time we were on board. And so to bed, to dream about tomorrow and yet more excitement.
A talk on the Arctic environment and how to care for it was followed by our first trip ashore. A pair of Long-tailed Skuas and Red-throated Divers were nesting nearby. We also saw Barnacle and Pink-footed Geese, and also the ubiquitous Snow Bunting, the only small passerine regularly seen in Spitsbergen. After lunch, the adrenalin started again as a report of a Blue Whale circulated through the ship. Unfortunately it was quite a long way away, but it showed itself well enough to satisfy most of those present, and enabled the photographers to get some decent pictures. Then we had another walk ashore where we watched an Arctic Skua driving off a Reindeer that was getting too close to its nest. The wind had risen and the sea was getting choppy; however, we all embarked safely without anybody falling in, though there were some near misses! The trip back to the ship was 'interesting' and most people, especially those sitting near the front, got a bit wet. Thanks to the skill of those in charge of the boats, we all arrived safely, more than ready for another excellent dinner. That evening we saw our first glacier, an amazing sight confirming that we were definitely in the Arctic.
Another Zodiac trip took us to an area where we were shown some very smart King Eiders among the more usual Common Eiders, but the highlight were some Grey Phalaropes, the females showing off in their dazzling summer plumage with the more sombrely dressed males in close attendance - wonderful!
The ship was now in an area of broken sea ice and everybody was on the lookout for Polar Bears. We had seen a few Ringed Seals and also a Bearded Seal quite close to the ship, when news started to filter through that two Polar Bears had been seen a long way away, apparently feeding on a dead seal. The ship turned and slowly got closer until we could easily see the scene. Another Polar Bear appeared and gradually made its way towards the kill; we were all expecting a fight, but they gave up their kill quite calmly and walked away. We were told later that fighting used up valuable energy which was better used in just keeping alive.
After giving support to a ship under charter to the BBC which required assistance, we continued on our way, eventually meeting solid pack ice which barred our way. The Captain was hoping to take us right round the island, but the ice was so thick that our attempt had to be abandoned.
On another occasion, we were near a colony of about 60,000 Brünnich's Guillemots, and the calm sea was literally covered with them. Many were on a small, beautifully sculptured iceberg which was an amazing spectacle. As a bonus, someone spotted an Arctic Fox, still changing from its winter coat, feeding on what looked like a dead guillemot. The Zodiacs managed to get close enough so that we all got a good view.
A visit to a Little Auk colony enabled close up views of these super birds to be had, while a group of about 20 Walrus on a sandy beach amused us, as newcomers clambered over them, trying without success to find a place in the centre.
The end of our holiday was approaching. The farewell gathering was tinged with sadness as we recalled our adventures, and thanked the Captain, his crew and our leaders, before disembarking and starting our journey home.
Read more about our 'Spitsbergen - Realm of the Polar Bear' holiday.