The Reptiles & Amphibians of Morocco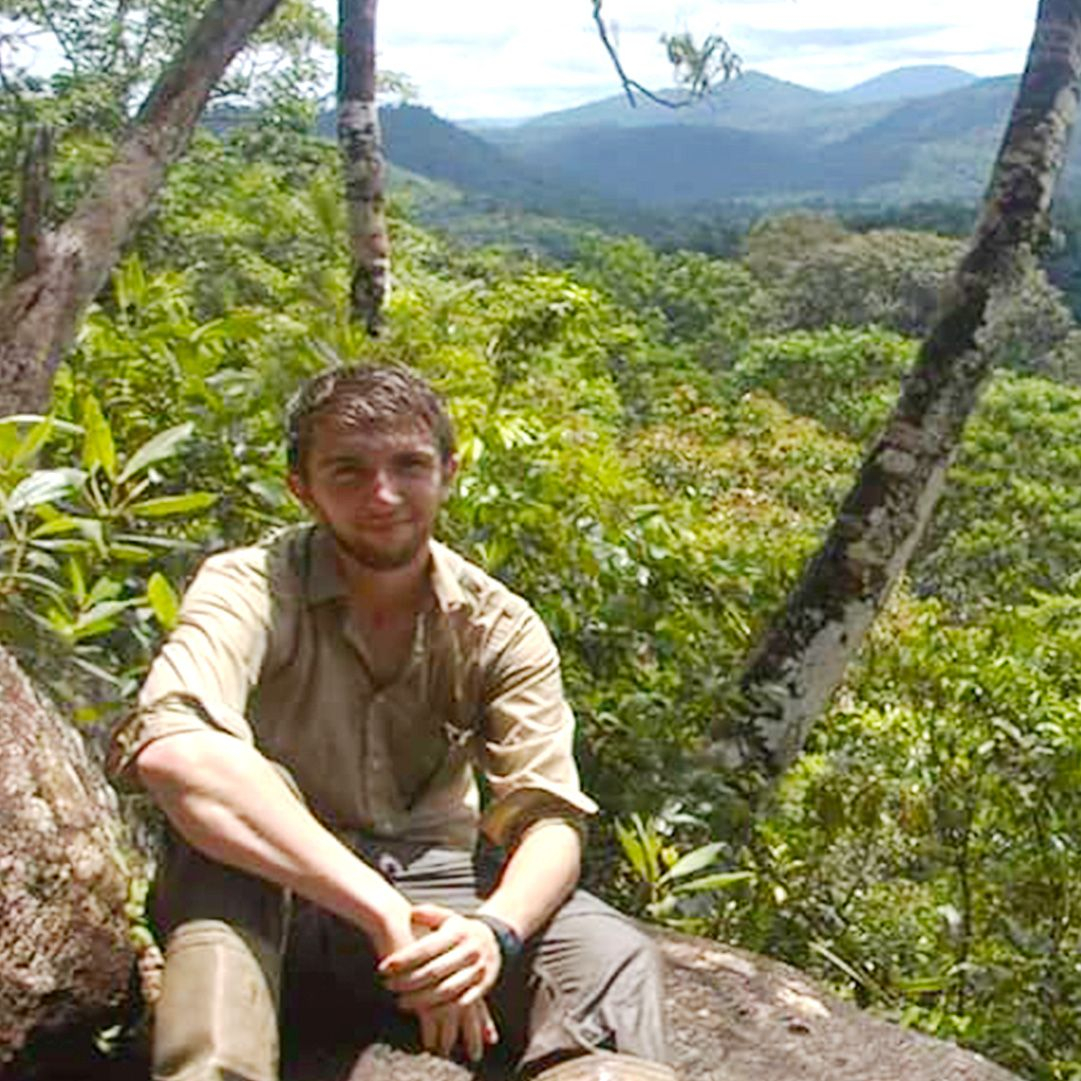 This email address is being protected from spambots. You need JavaScript enabled to view it.
In September 2023, five guests joined me on an exploration of southern Morocco in search of the country's incredible reptile and amphibian species! This tour covers a range of fascinating habitats from the Euphorbia-rich Macaronesian coastline to the xeric Sahara-edge habitats. 
Driving south from our arrival point in Agadir to the lively coastal town of Sidi Ifni, we stopped at the scenic Oued Massa Nature Reserve to lay our eyes upon our first reptiles in the form of Golden Fringe-toed Lizards (Acanthodactylus aureus). These lizards were supercharged as we approached midday and were showing great bursts of speed. We also spotted avian delights along the way such as Moussier's Redstart, Stone Curlew, Crested Lark, Great Grey Shrike, Black-winged Stilts and more.

Our 2-night stay in Sidi Ifni was productive while exploring the beautiful Macaronesian coastal habitats, rich in Euphorbias and other fascinating flora. We had an incredible introduction to our first snake, an impressive tropical African relict species – the Puff Adder (Bitis arietans) waiting in ambush for prey at the roadside in the northern extremes of its vast range across Africa. We also found what would be the first of multiple Bibron's Agamas (Agama bibronii), Moorish Gecko (Tarentola mauritanica), Helmethead Gecko (Tarentola chazaliae) and Harris Geckos (Saurodactylus harrisii). The beautiful Spanish Terrapin (Mauremys leprosa) was abundant in the remaining water bodies, sporadically revealing its piercing blue eyes above the water, as were amphibians unique to north Africa, such as the vocal Sahara Water Frog (Pelophylax saharicus) and intricately-patterned Berber Toad (Sclerophrys mauritanica). Exploring this coastline treated us to an excellent array of 'by-catch'. We had fantastic views of Lesser Egyptian Jerboa, Jirds, Fat Sand Rat and Barbary Ground Squirrel, as well as birds such as Hoopoe, Lanner Falcon, Montagu's Harrier, Little Owl, Red-rumped Wheatear, White-crowned Wheatear and even a brief glimpse of a Pharaoh Eagle Owl on the road at night. On foot, we encountered a freshly moulted scorpion (Buthus sp.) next to its discarded exoskeleton and watched another hunt a moth while it glowed under UV black light.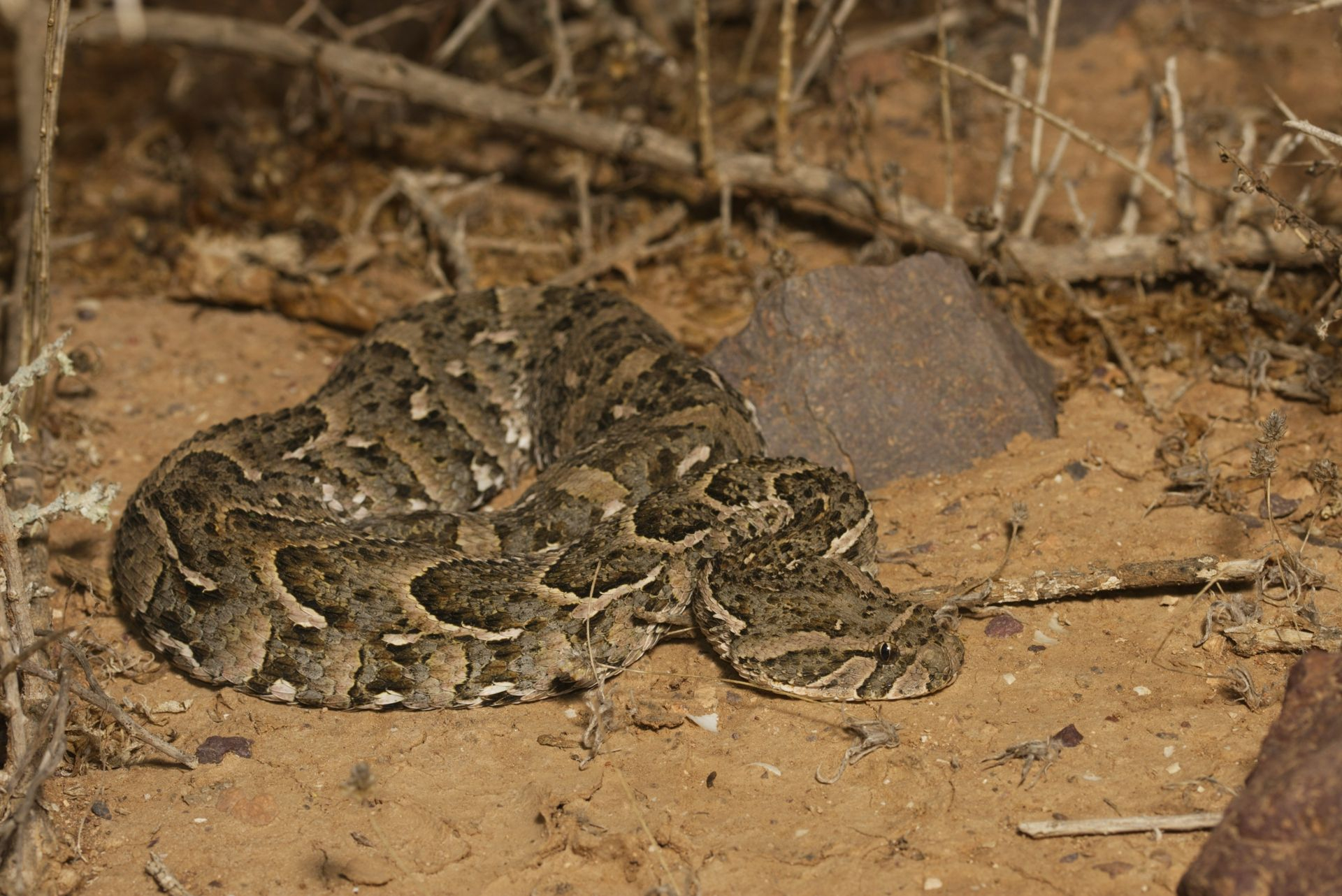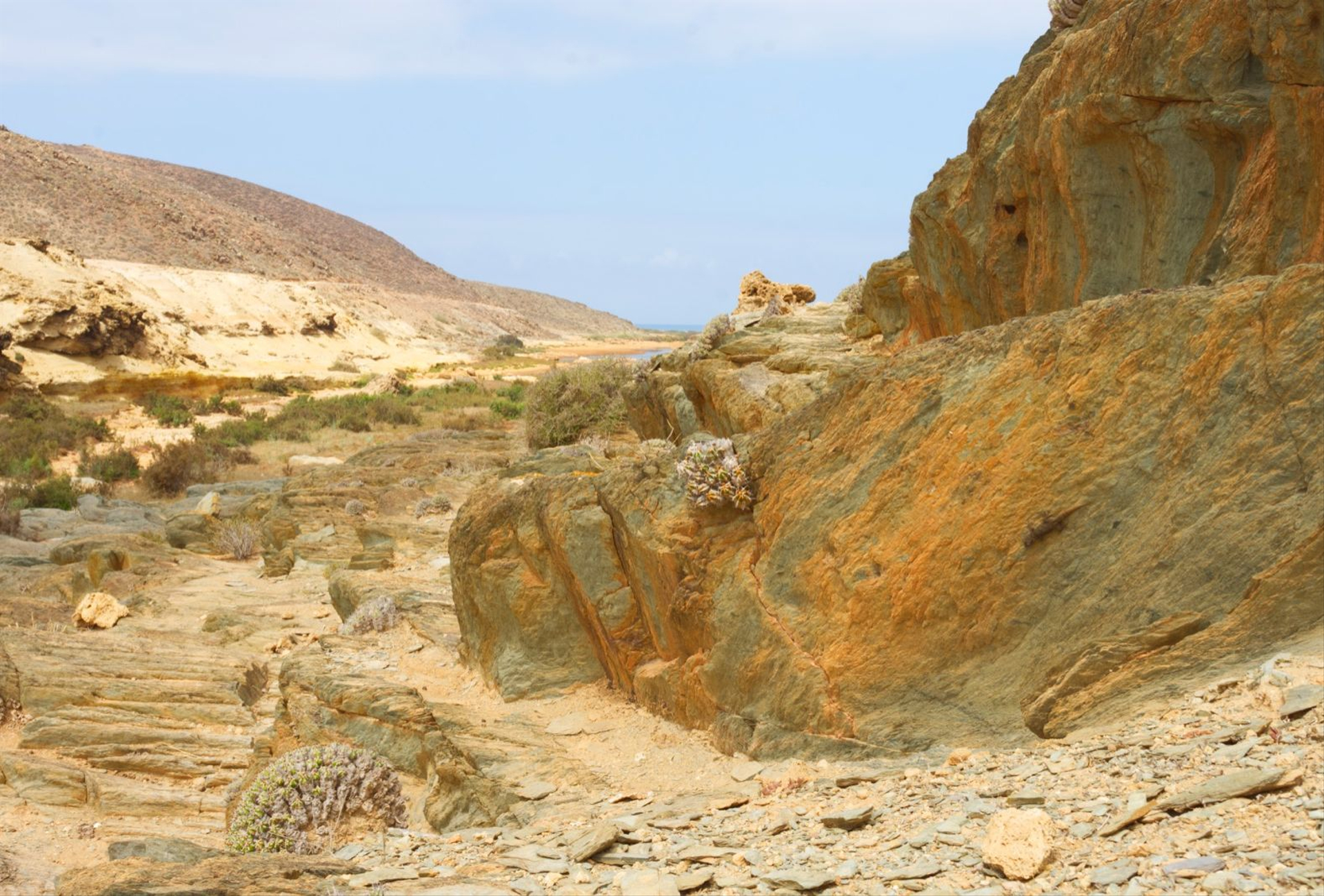 Moorish Gecko (Tarentola mauritanica) in habitat near Sidi Ifni © J. Phangurha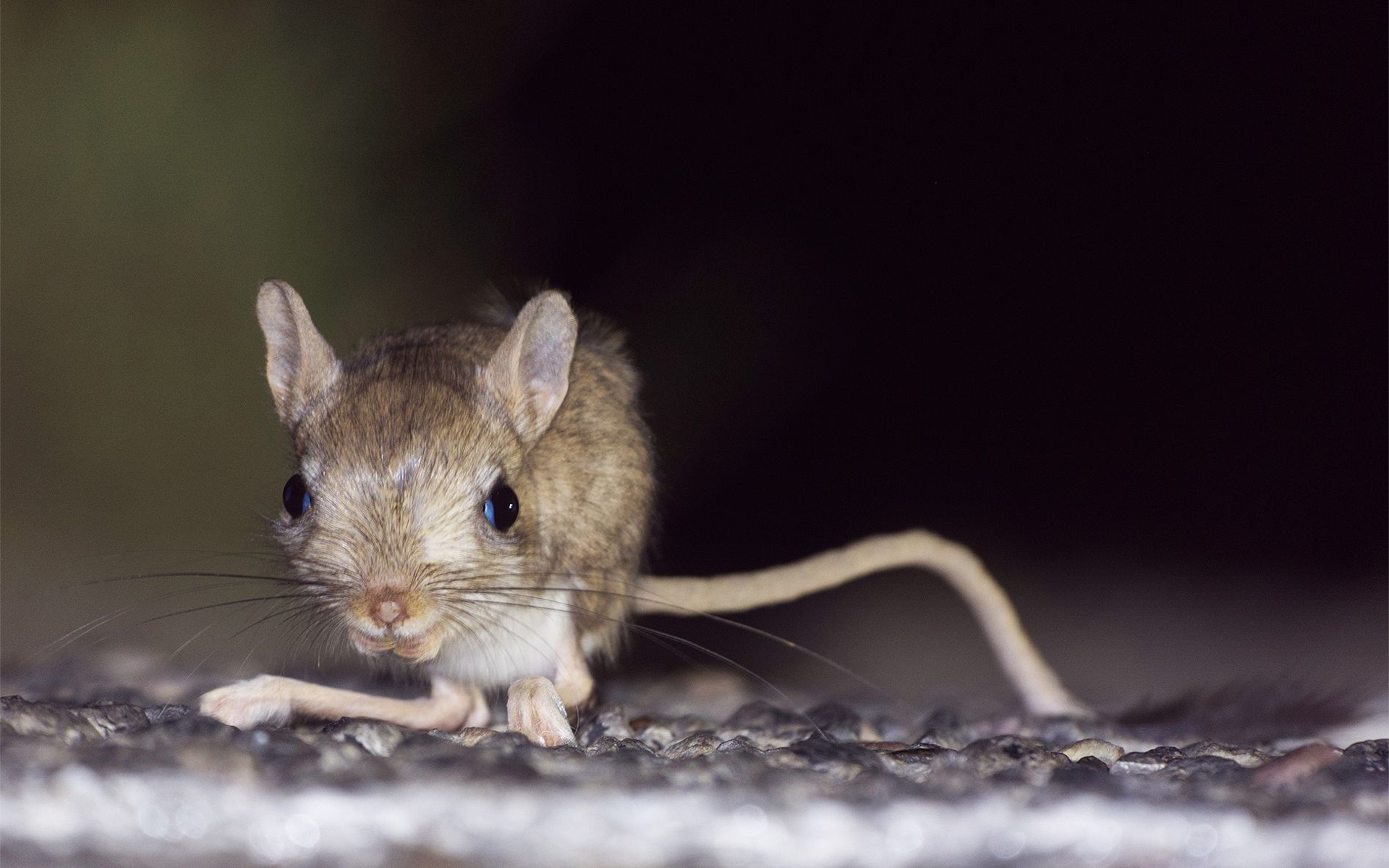 Lesser Egyptian Jerboa © J. Phangurha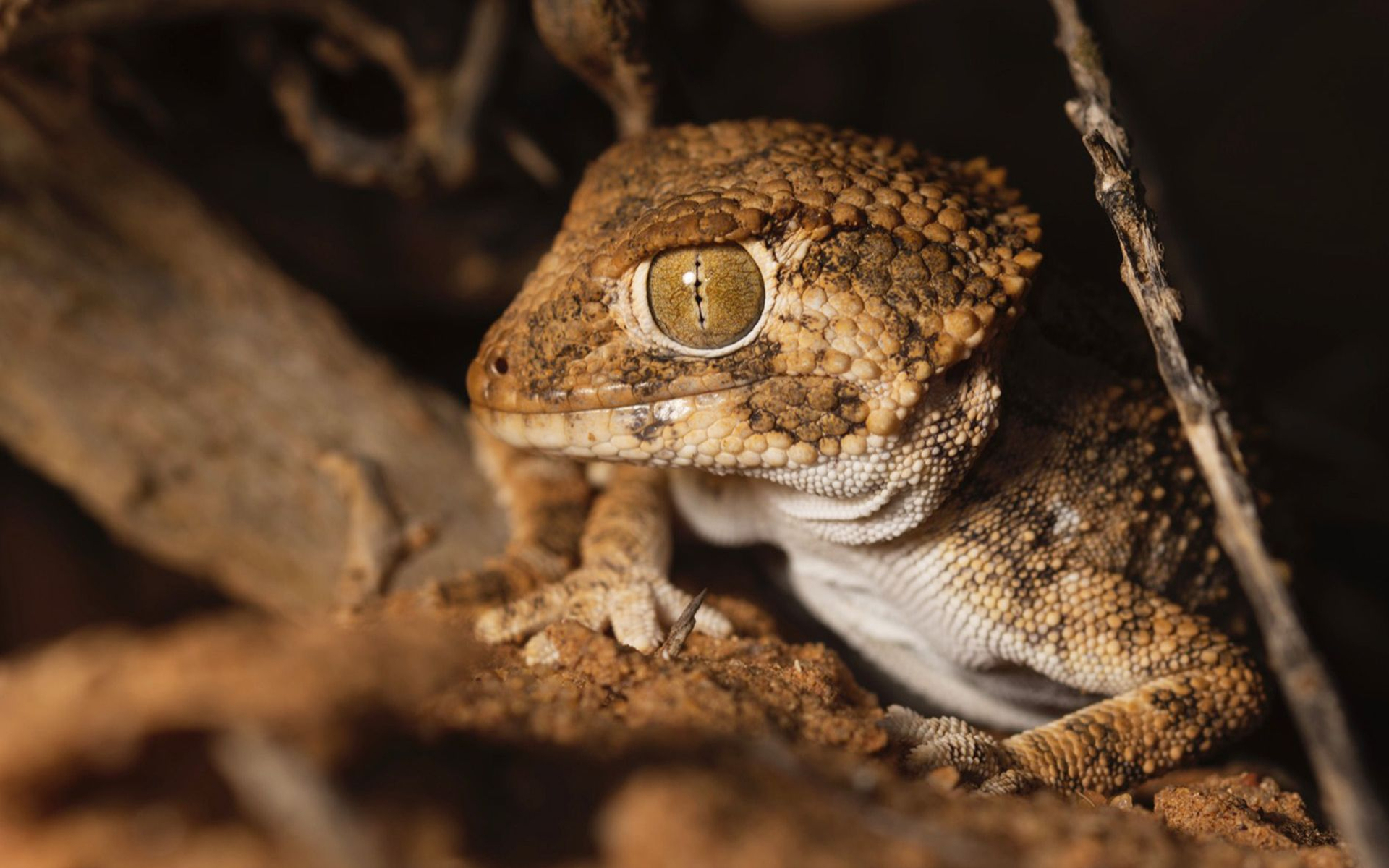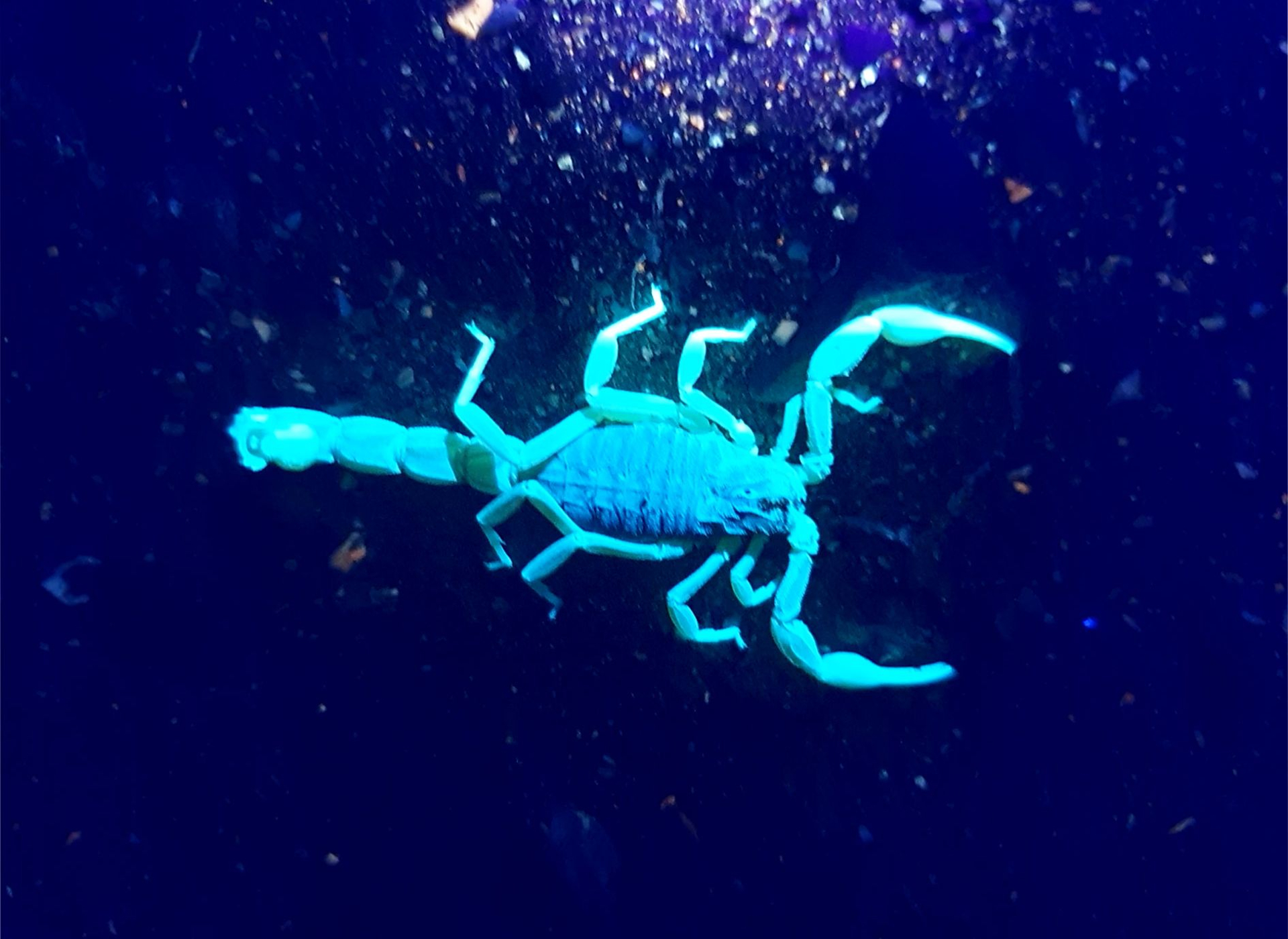 Buthus sp. under UV black light © J. Phangurha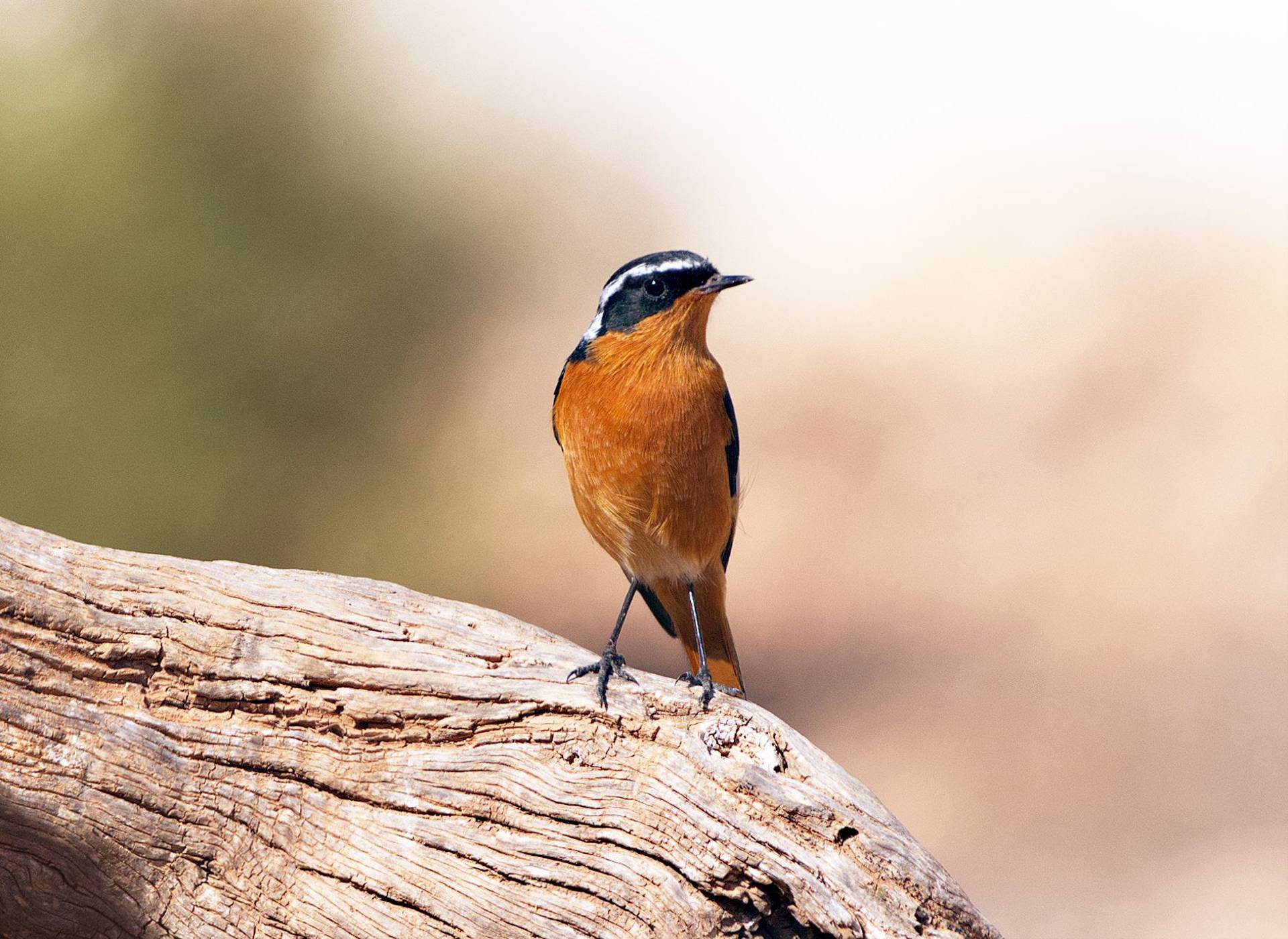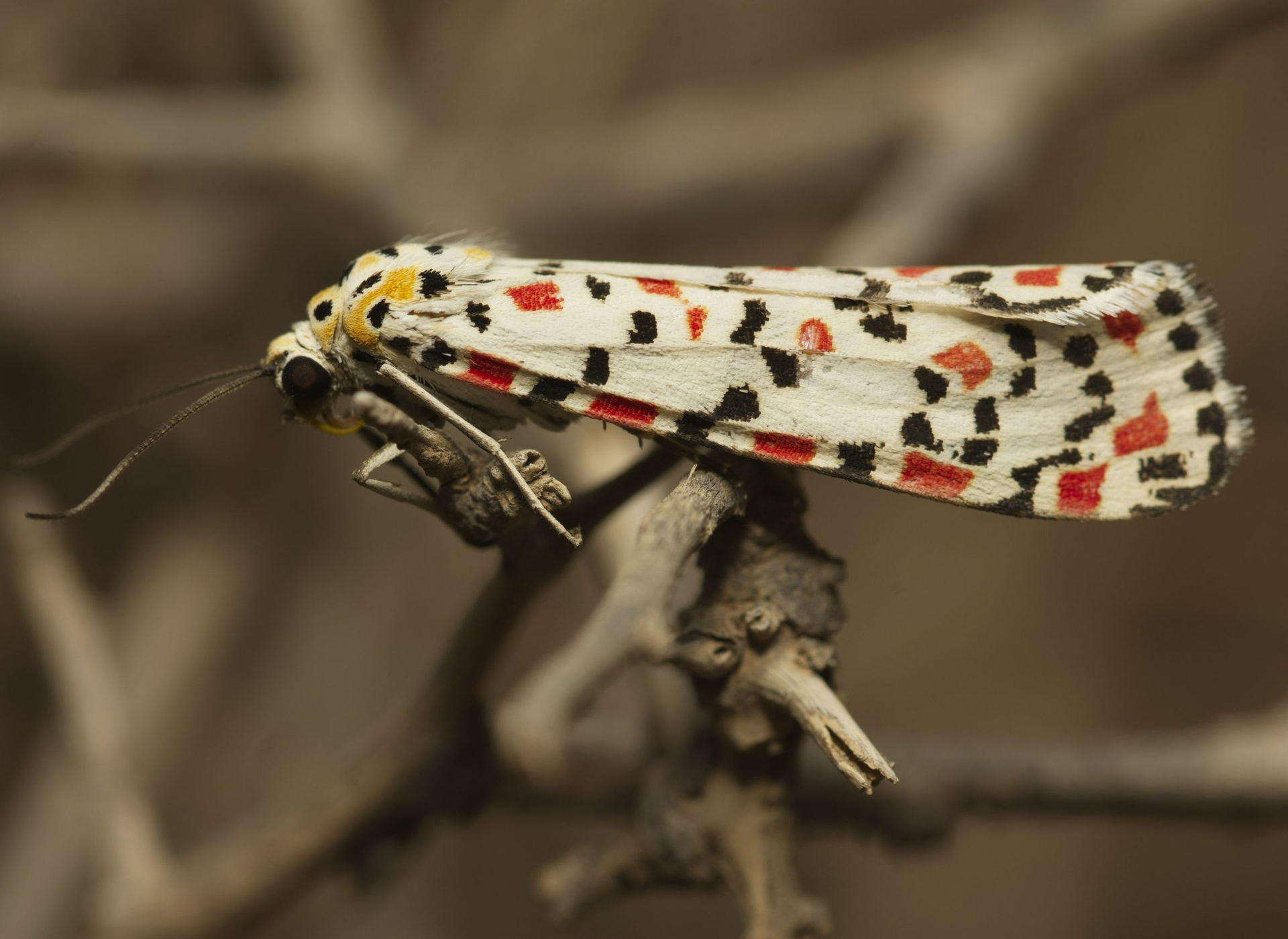 Crimson Speckled © J. Phangurha
Before leaving the coast for the inland arid Saharan habitats and associated species around the towns of Guelmim and Assa, we successfully searched a rockface for the endemic Moroccan Day Gecko (Quedenfeldtia moerens), having great views of multiple individuals. In this area, we were also treated to a pair of Black-crowned Tchagra hunting insects in the scrub. During the drive to Guelmim we stopped to stretch the legs and were pleasantly surprised to find a masquerading master – the Conehead Mantis (Empusa sp.) mimicking vegetation swaying in the breeze. It also happened to be inhabiting the leaves of Desert Melon (Citrullus colocynthis), a conspicuous specialist of this xeric habitat. The fruit is very bitter and is ignored by most wildlife, but it has uses in traditional medicine as a laxative and the seeds can be ground into a flour (Crossbill Guide: Southern Morocco by M. Pitt, 2023).

After taking some time to settle into our beautiful and authentic accommodation, La Maison de l'Homme Bleu, we headed out for the evening and saw the first of multiple Algerian Gecko (Tropiocolotes algericus), a small species more abundant in the Saharan edge habitat, alongside the first of many Northern Elegant Gecko (Stenodactylus mauritanicus) – the group marvelled at the mesmerising eye and scale patterns of this beautiful lizard! Two notable invertebrates revealed themselves to us during this evening as well. The striking Crimson Speckled moth, a rare migratory species in the UK and a Solifuge (Galeodes sp.) – commonly known as a Camel Spider, but it is in fact in a separate Arachnid order (Solifugae) from spiders (Araneae). This bizarre creature hunts other invertebrates under the cover of darkness using suction cup-like organs on the tips of its front limbs to catch prey and then its powerful, individually mobile mandibles and enzymes to 'mash' its prey into a consumable liquid.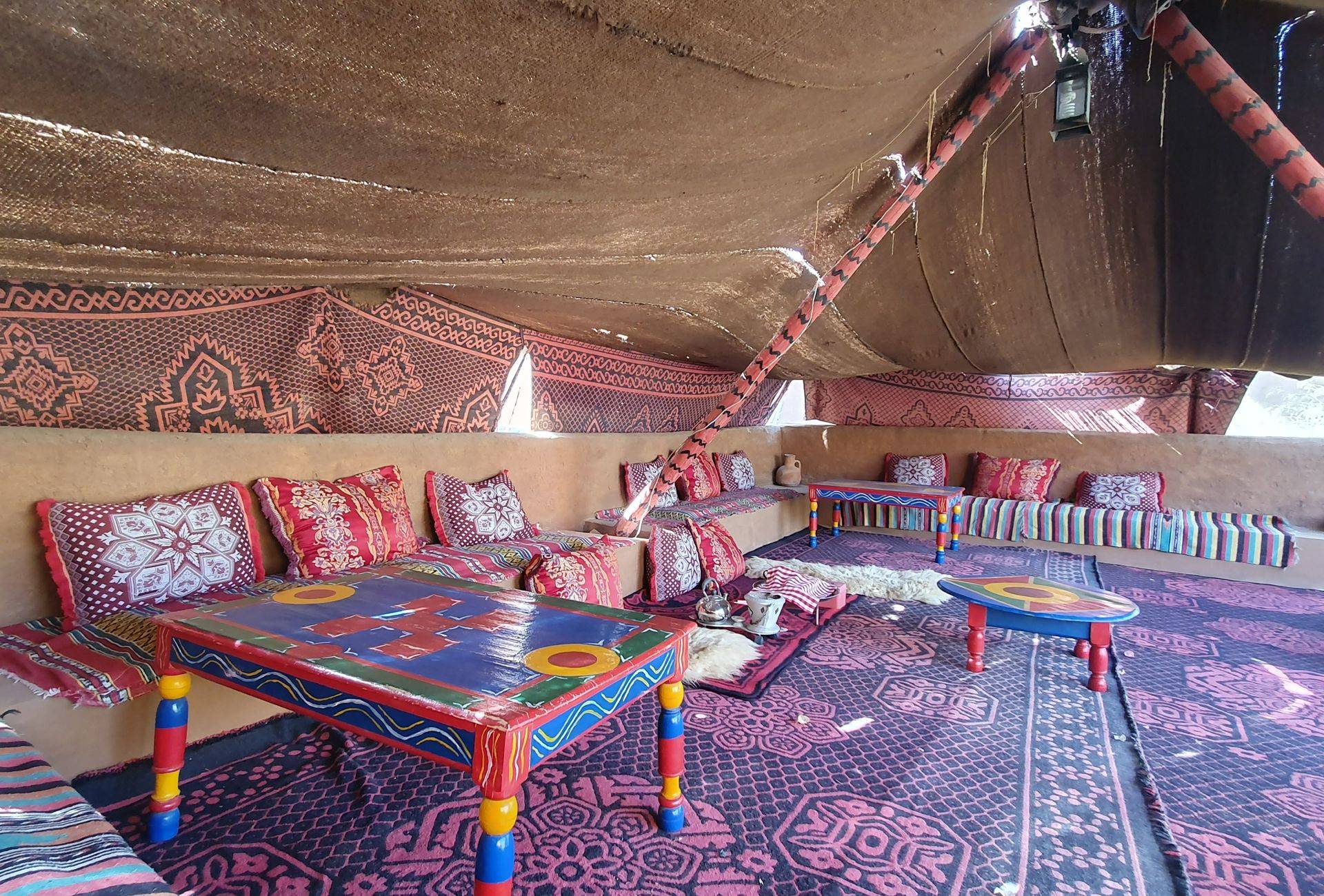 Garden seating area at La Maison de l'Homme Bleu
© J. Phangurha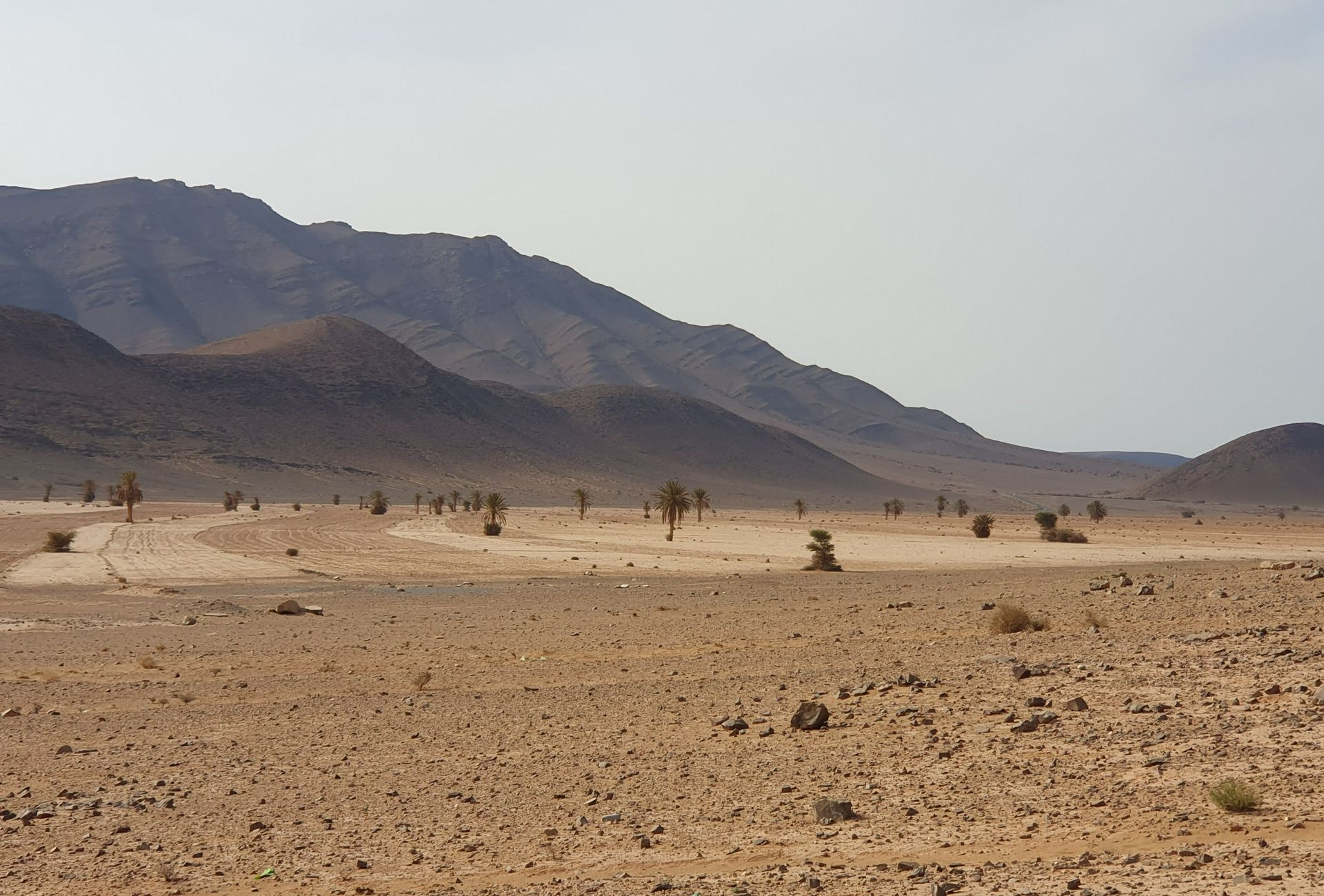 Habitat near Guelmim © J. Phangurha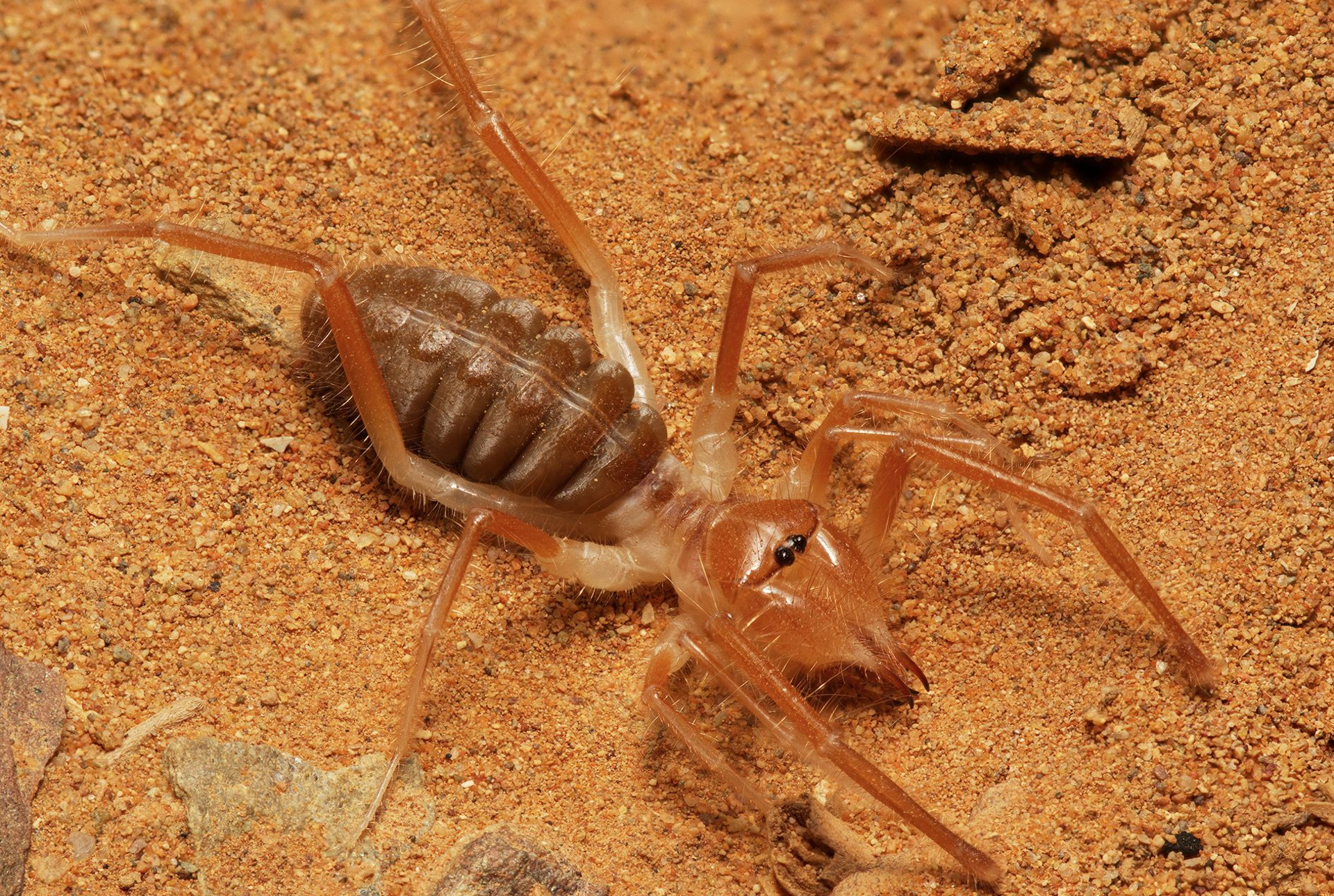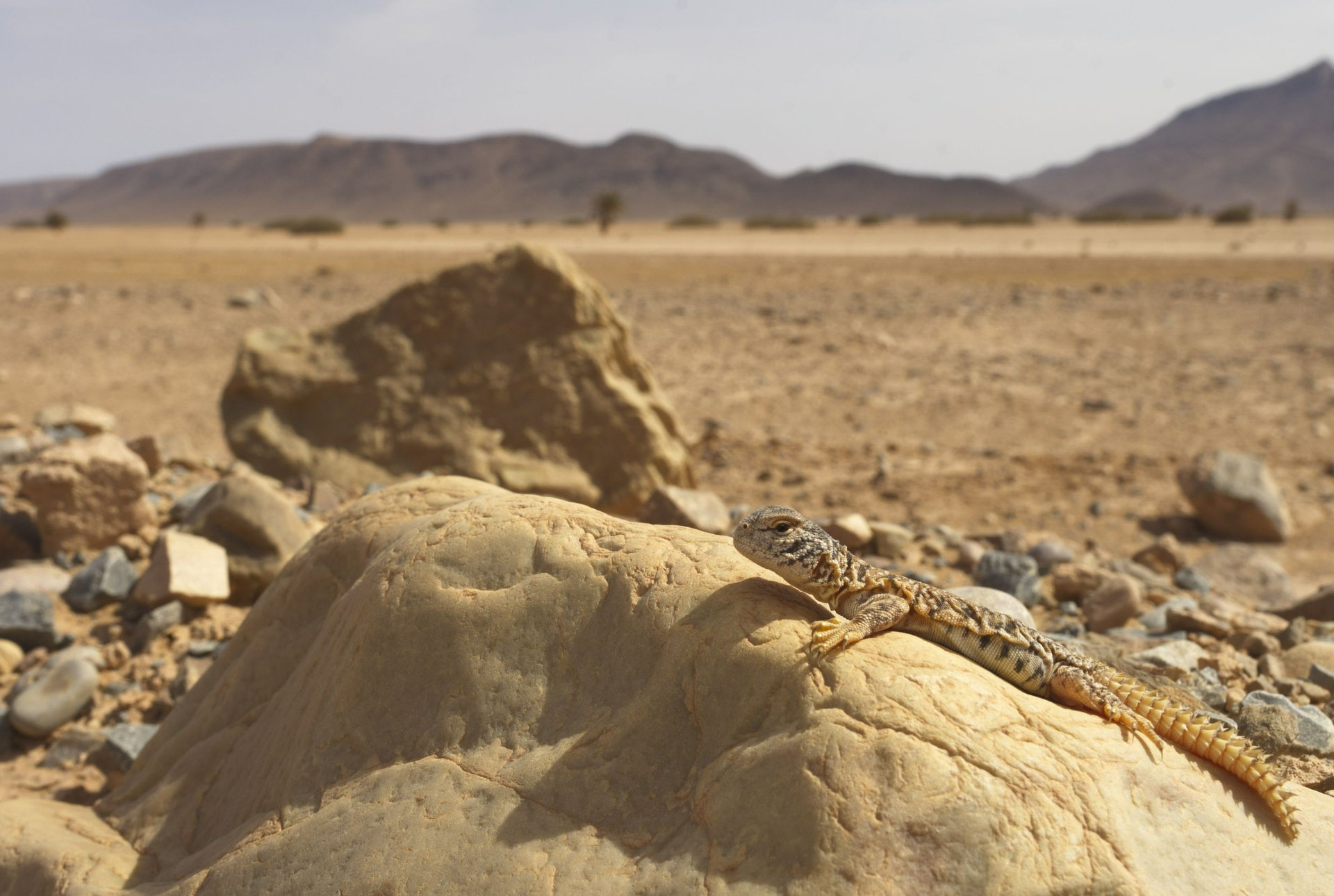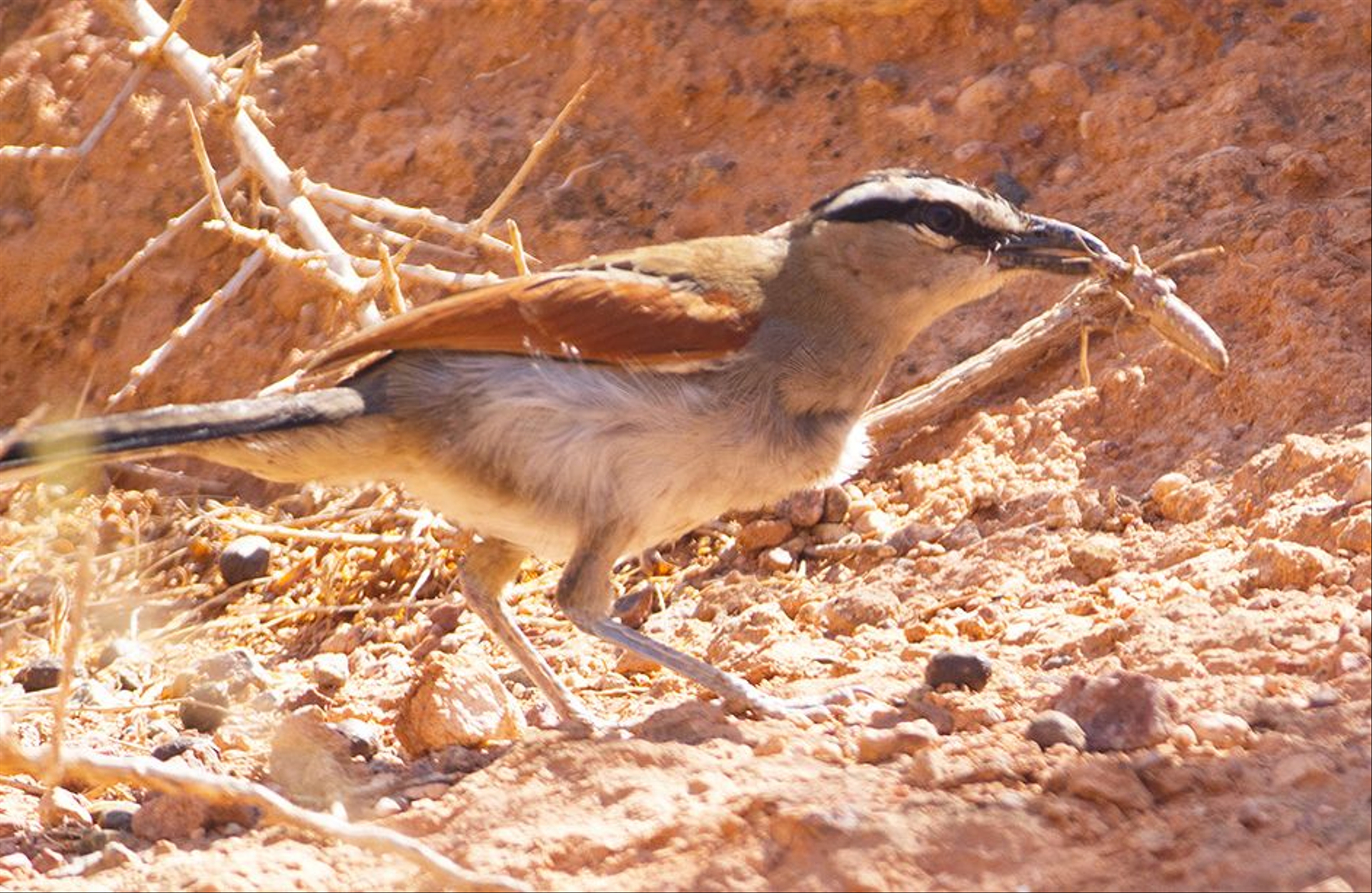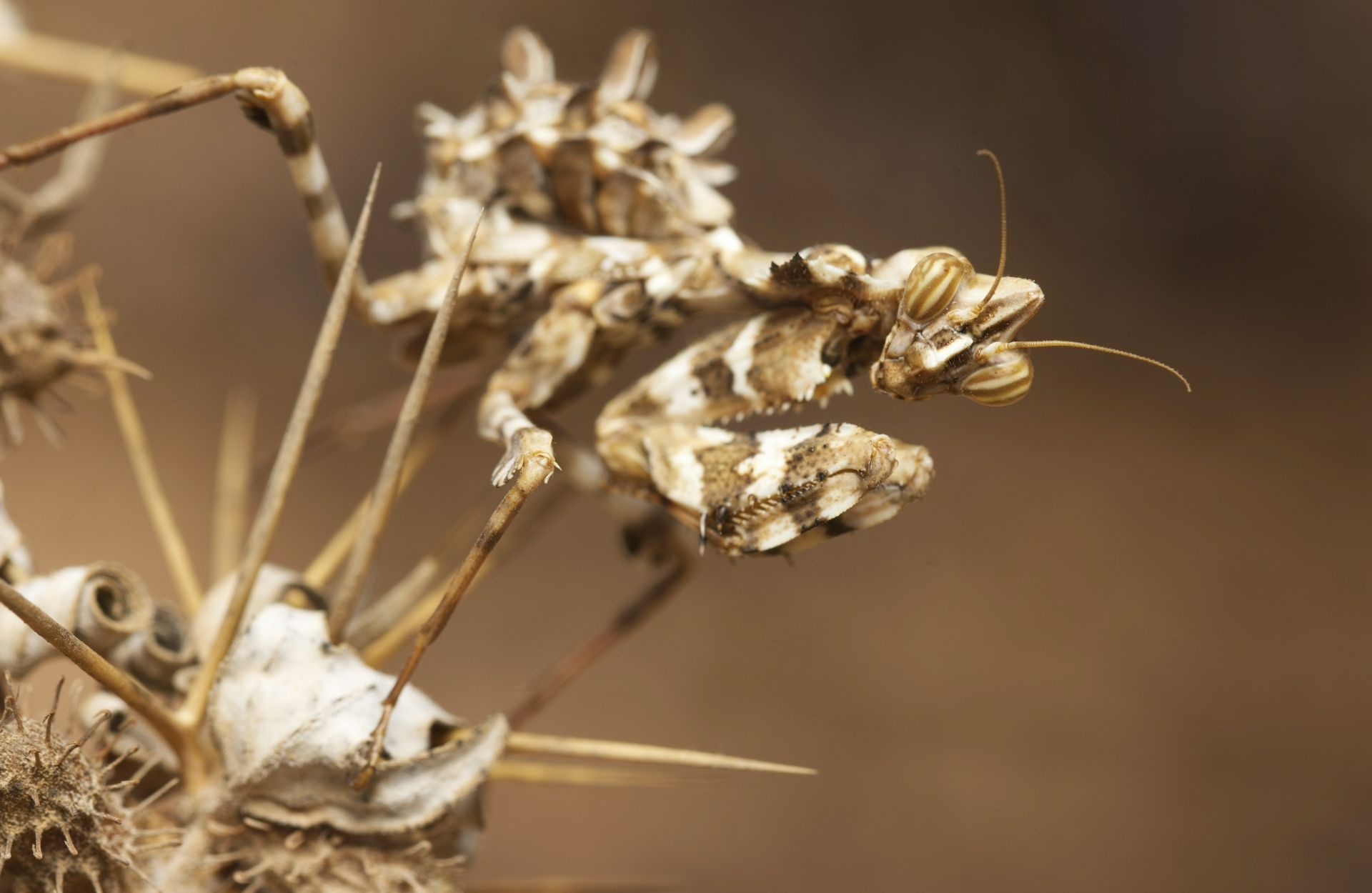 Conehead Mantis (Empusa sp.) © J. Phangurha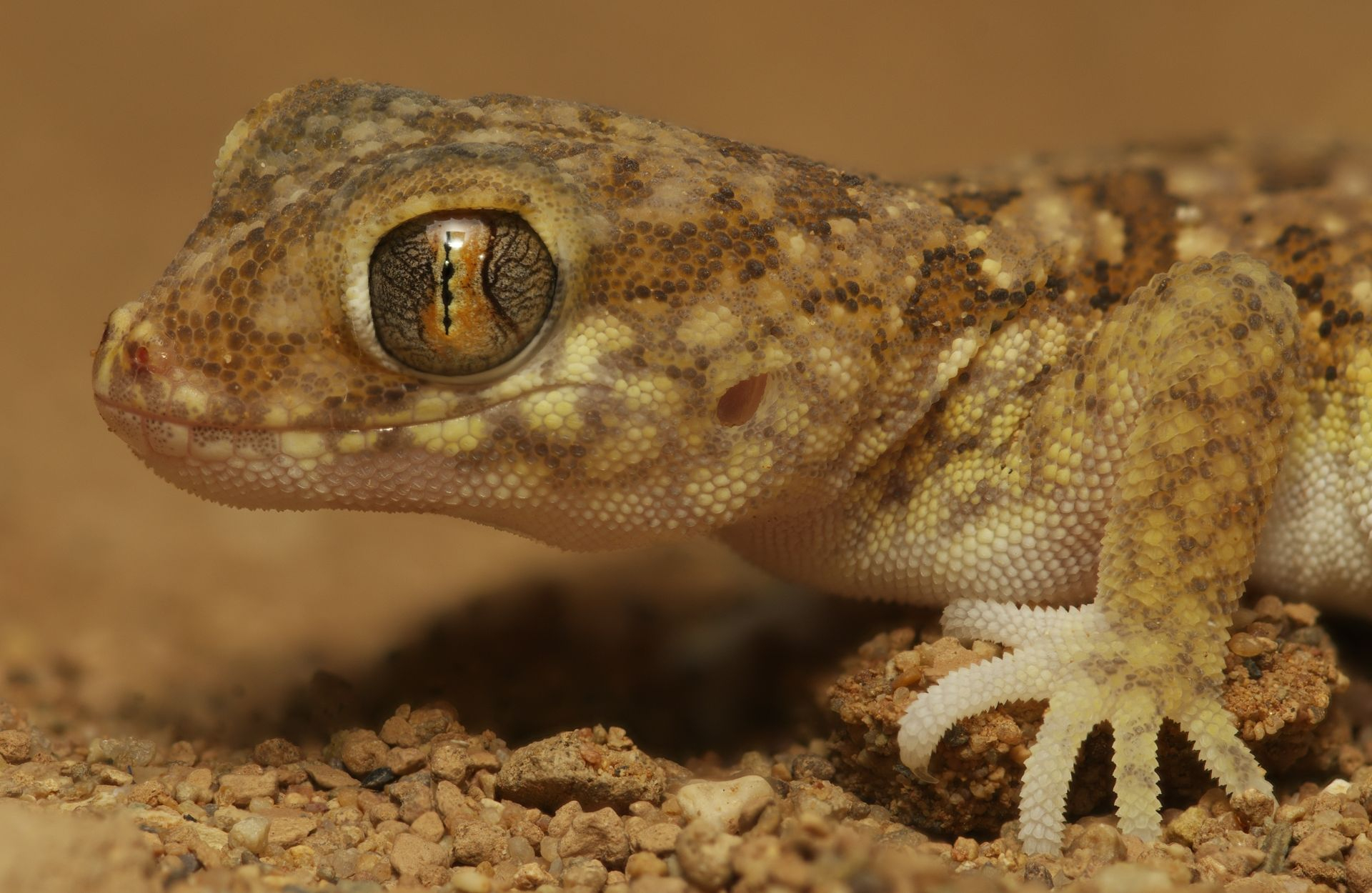 Moroccan Day Gecko (Quedenfeldtia moerens) © J. Phangurha
The next morning, we embarked on our day-long outing to the remote town of Assa, deeper into the Saharan zone, exploring the sparsley-vegetated habitats that host a different assemblage of species. The first of the day was the prehistoric Moroccan Spiny-tailed Lizard (Uromastyx nigriventris), a juvenile that changed to a more vibrant colour before our eyes as it warmed in the sun. We eventually found more of these remarkable lizards south of Assa, including a large adult that was trapped in a cistern, which we rescued with a team effort.

As darkness approached and revealed phenomenal astronomical displays above us, we headed to a dried riverbed in hope of encountering one of the rarest reptiles in Morocco – and sure enough, we did! A juvenile White-bellied Carpet Viper (Echis leucogaster) was spotted emerging from the cracks in the dry ground, closely followed by a sighting of an adult specimen on the move with fabulously bold markings! Also known as Saw-scaled Vipers, these little snakes can rub their serrated scales together to make an alarming 'hissing' sound to intimidate predators. However, these individuals were very calm in our presence and no defensive behaviour was shown. An incredible experience! Many large black scorpions of the genus Hottentota, which constitute a portion of these vipers diets, also inhabit this riverbed and were a joy to view under the UV black light.

Adrenaline-filled from our viper sightings, we began our drive back to the lovely accommodation in Guelmim. Early into the drive, we had a brief glimpse of a Desert Hare running across the road. As we approached closer to Guelmim a snake was spotted on the road, which turned out to be one of the main targets of the trip – the Saharan Horned Viper (Cerastes cerastes)! We couldn't believe our luck and proceeded to spend some time with this icon of the Sahara after safely moving it away from the road, eventually watching it 'side-wind' into cover with grace. Remarkable!
Saharan Horned Viper (Cerastes cerastes) © J. Phangurha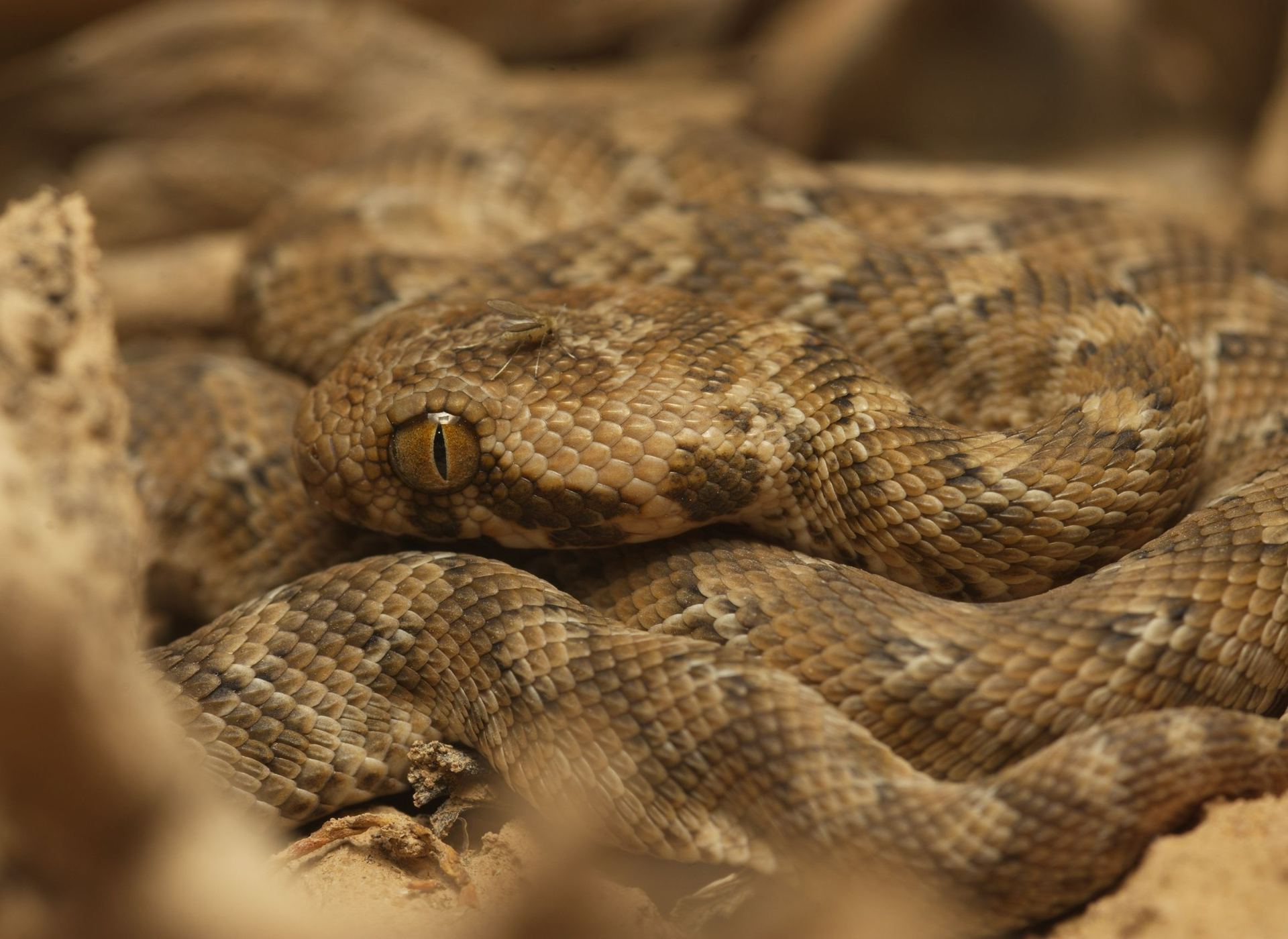 White-bellied Carpet Viper (Echis leucogaster) © J. Phangurha
It was now time for our next destination – the bubbling coastal town of Tan-Tan. From here, we could explore surrounding flat deserts and semi-deserts with the return of impressive Euphorbias, which many of our targets seek refuge in. We were overjoyed to find a charming Mediterranean Chameleon (Chamaeleo chamaeleon) on the move – a first wild chameleon for many of the group! This was closely followed by a male Busack's Fringed-toed Lizard (Acanthodactylus busacki), boasting beautiful colours and reticulations. This is a species seemingly confined to the south-west of Morocco, with limited unconfirmed records from the east and deep south. The Many-scaled Skink (Chalcides polylepis) was another great find in this area – a species that can be quick to flee, but it happily basked in the morning sun for us to observe. Amphibians were scarce in this area, but we did manage to find our first African Green Toad (Bufotes boulengeri) of the trip. A bonus mammal was the charismatic North African Elephant Shrew darting between the bushes and eventually allowing us good views, as well as a highly cryptic Arthropod in the form of Eremiaphila – a mantis that is uniquely adapted to survive in deserts. Furthermore, we struck botanical gold in finding Hannonia hesperidum, which is endemic to south-western Morocco and the only member of the Hannonia genus.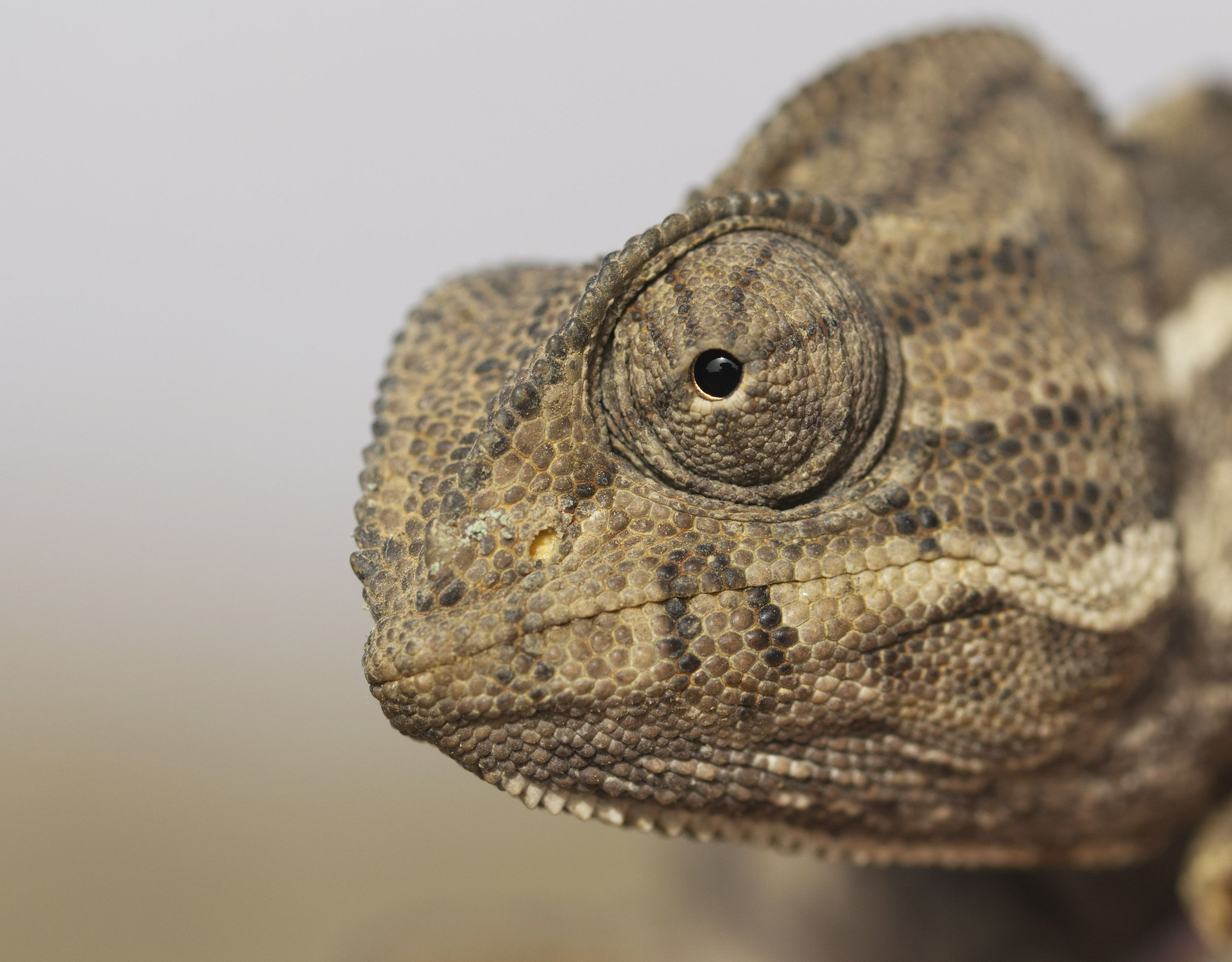 Mediterranean Chameleon (Chamaeleo chamaeleon) © J. Phangurha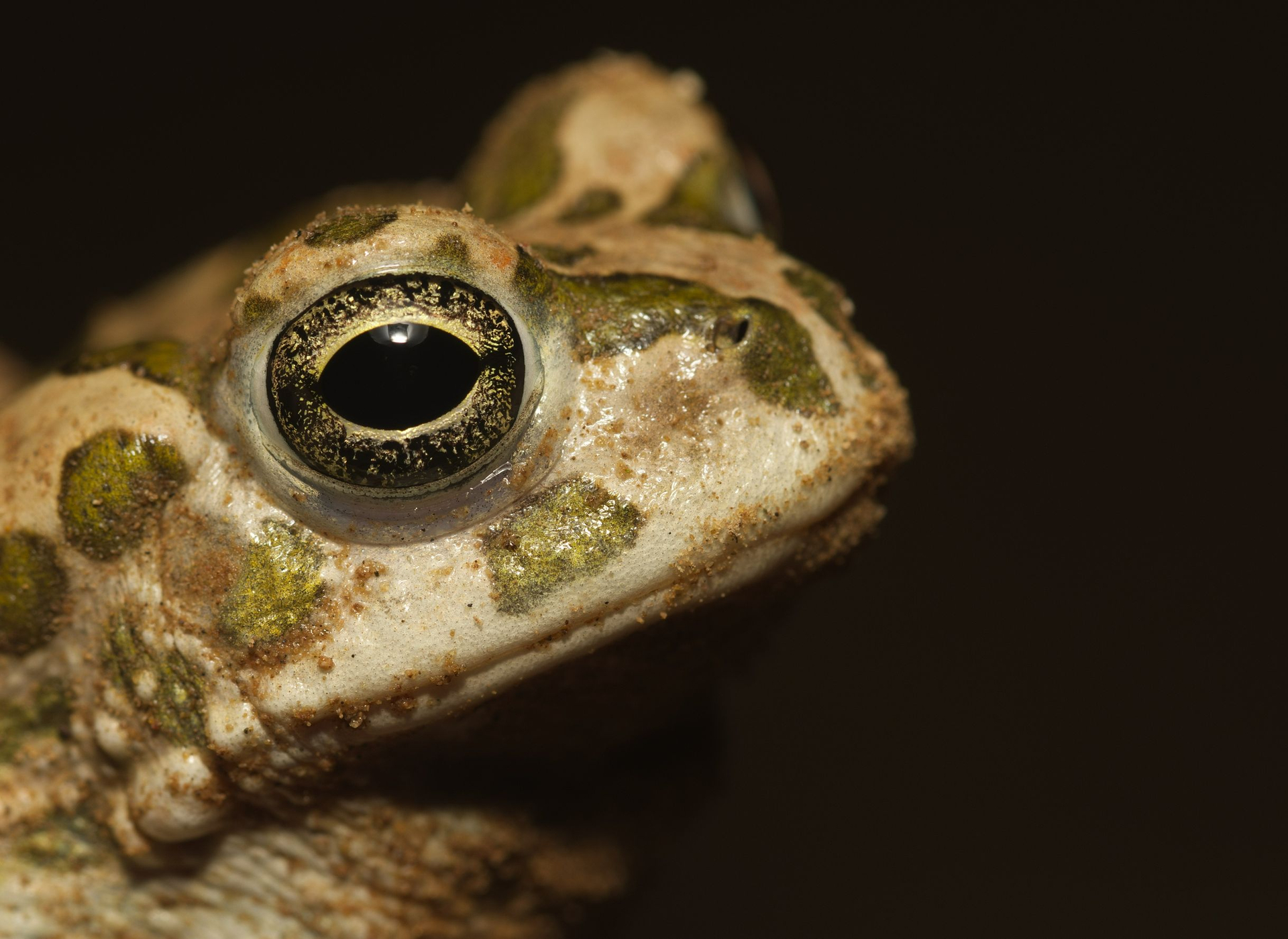 African Green Toad (Bufotes boulengeri) © J. Phangurha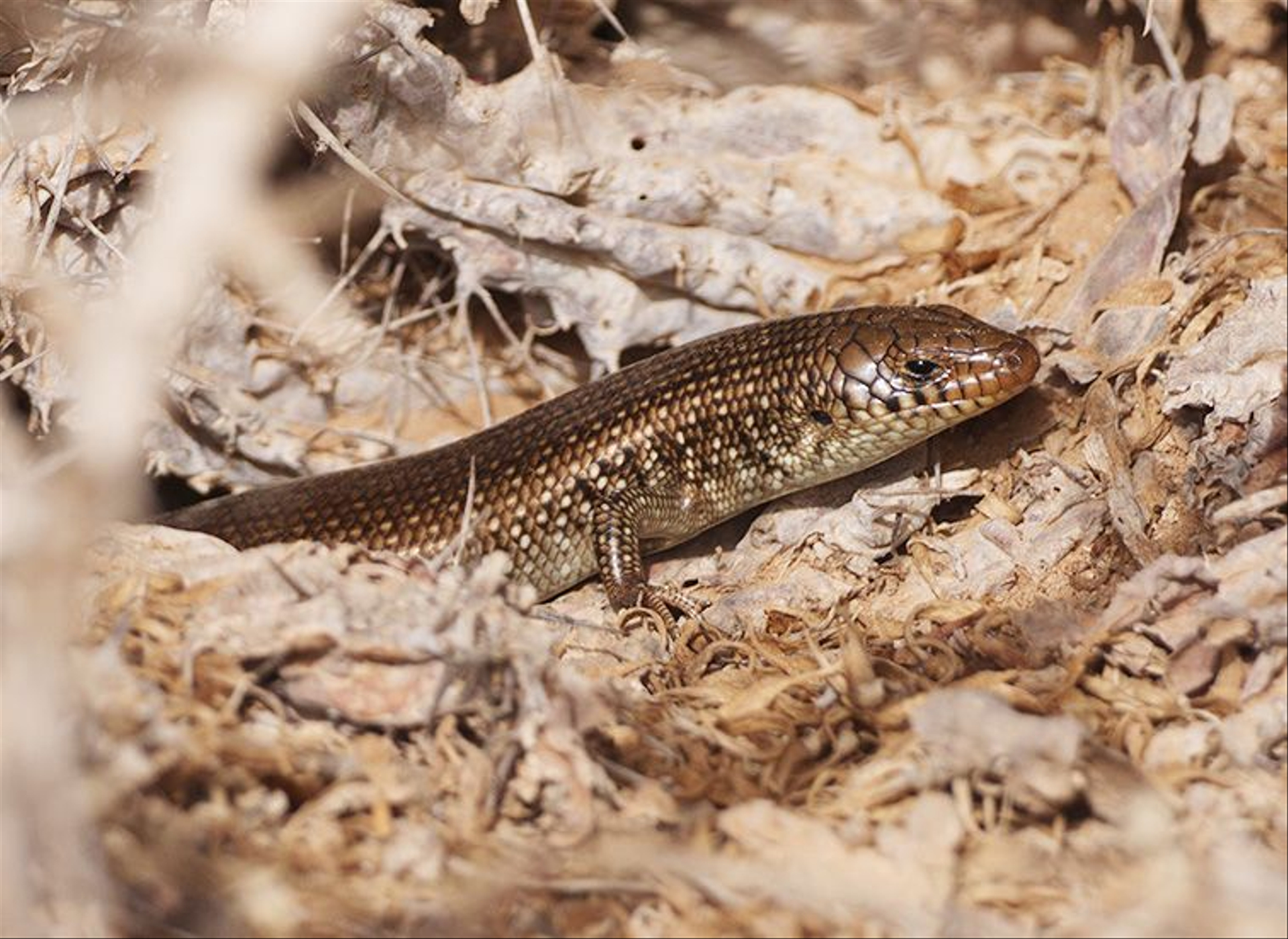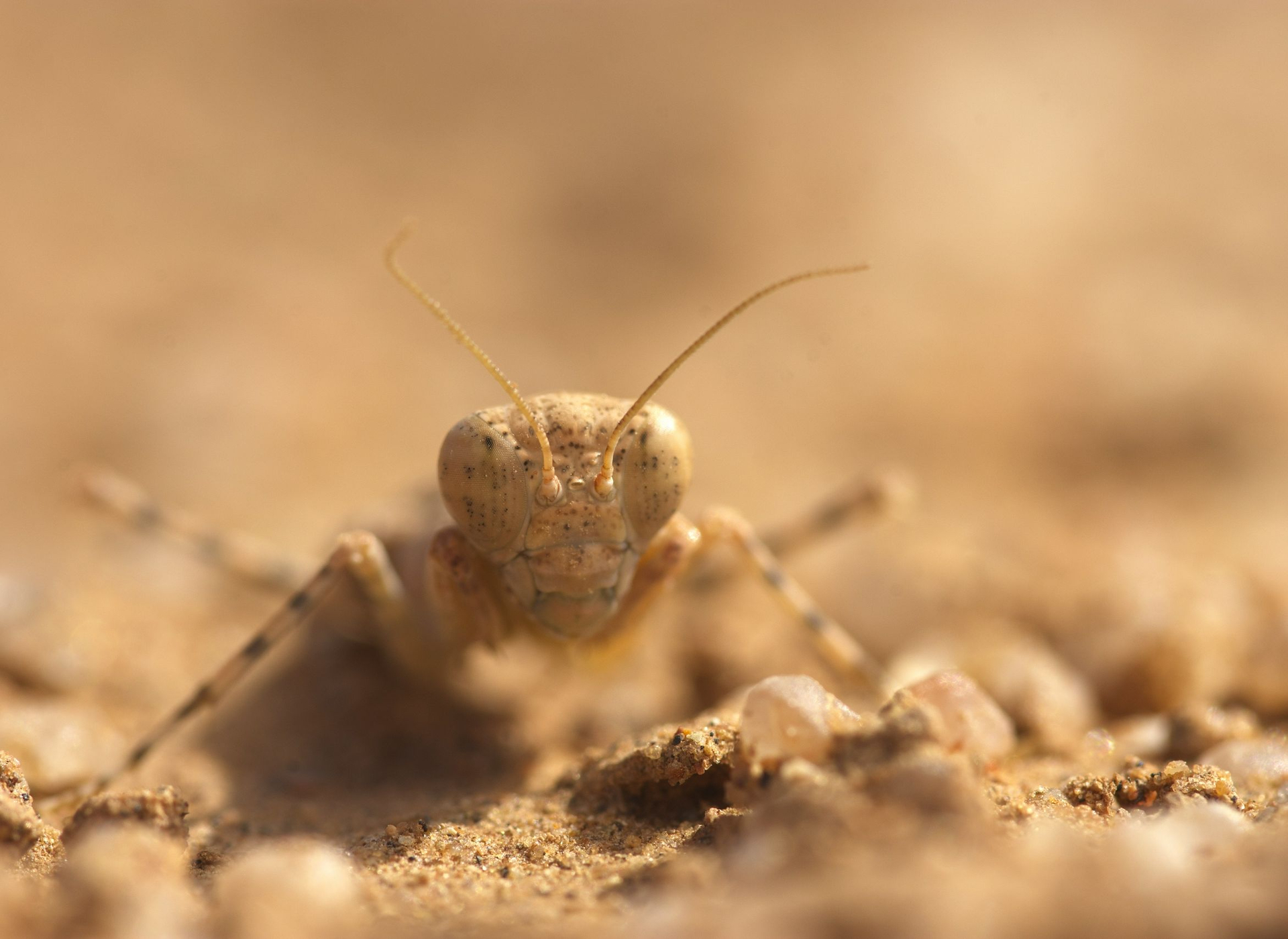 Desert Mantis (Eremiaphila sp.) © J. Phangurha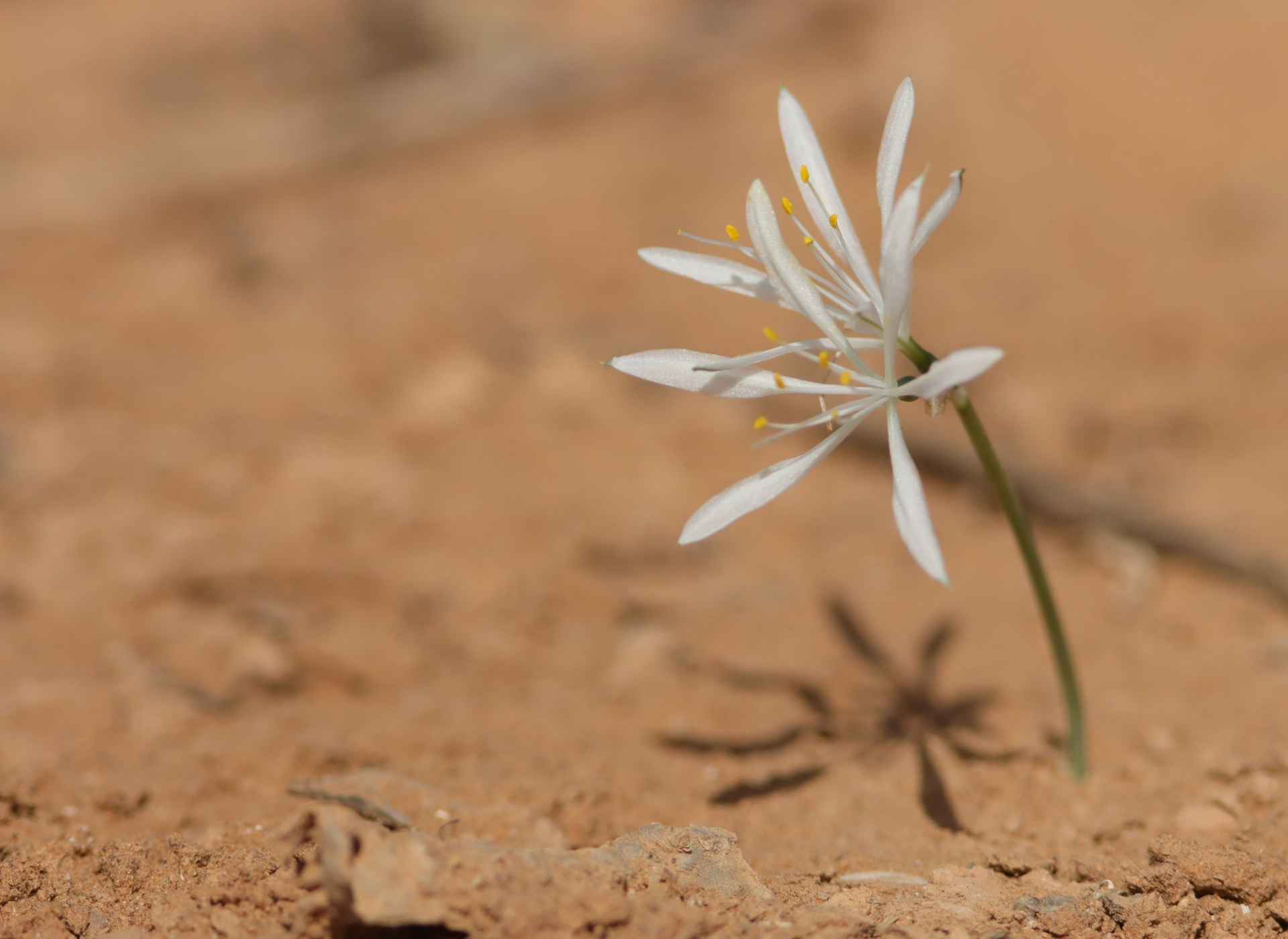 Hannonia hesperidum © Colin Dixon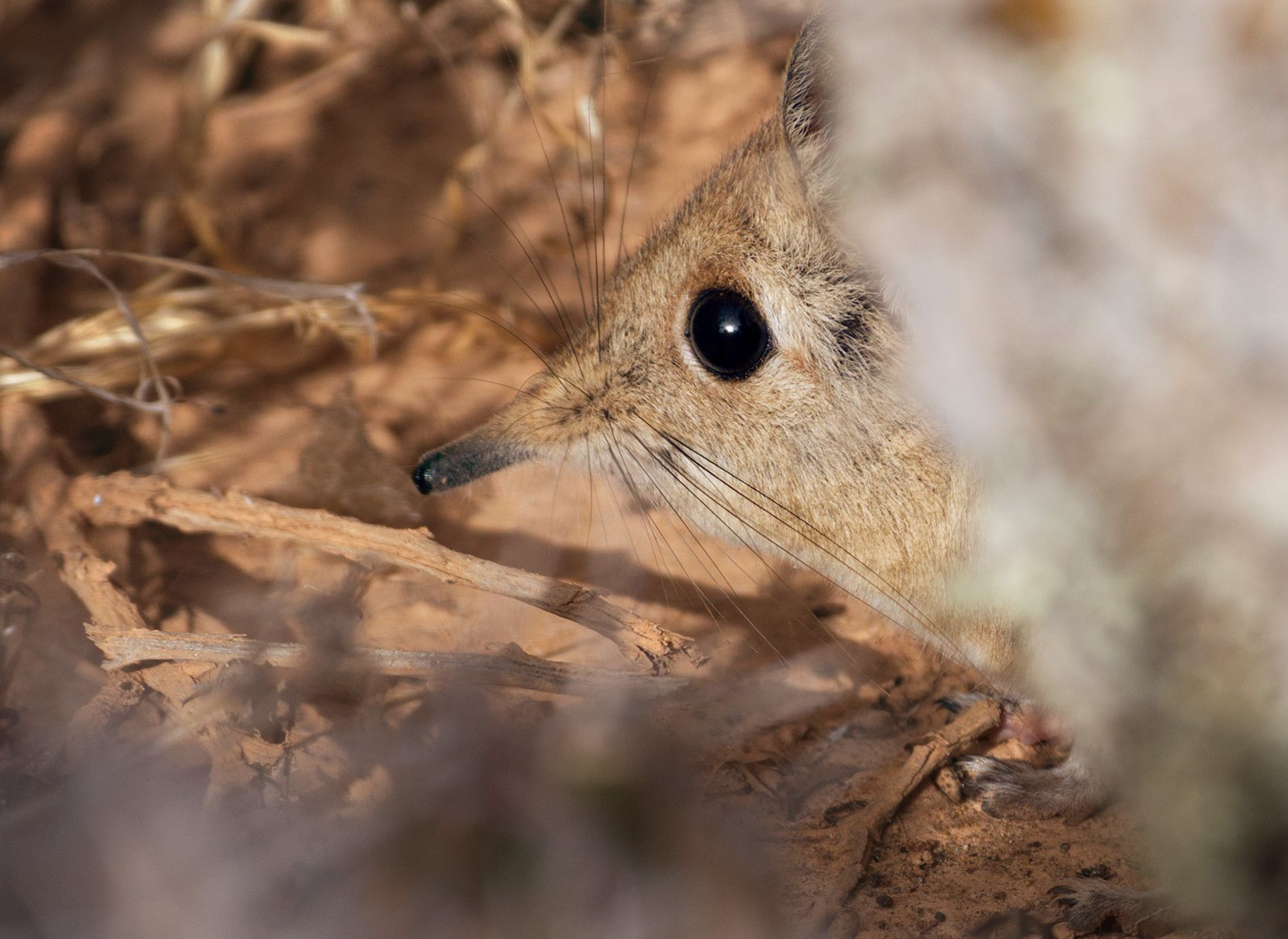 Our final location before returning north to Mirleft was Khenifiss National Park where there were plenty of reptilian tracks in the sand dunes accompanied by plentiful birdlife, including hundreds of Greater Flamingoes against the dramatic backdrop of towering dunes in the fading sun. A healthy population of Beautiful Scorpions (Buthus bonito) also resides in the park, of which we found many in varying sizes under rocks. Our last day in Mirleft included a luxury stay in the stunning Kasbah Tabelkoukt hotel overlooking the Atlantic, where we could wind down and talk about our exciting finds over the trip. However, being the keen naturalists we are, we went on one last night walk, which produced lots of Harris Geckos (Saurodactylus harrisii) varying in size and colour, some climbing the vegetation in search of their minisucle insect prey. These tiny lizards are well within the prey range of large Cerbalus huntsman spiders, which we had seen in all locations, but seemed particularly active on this evening.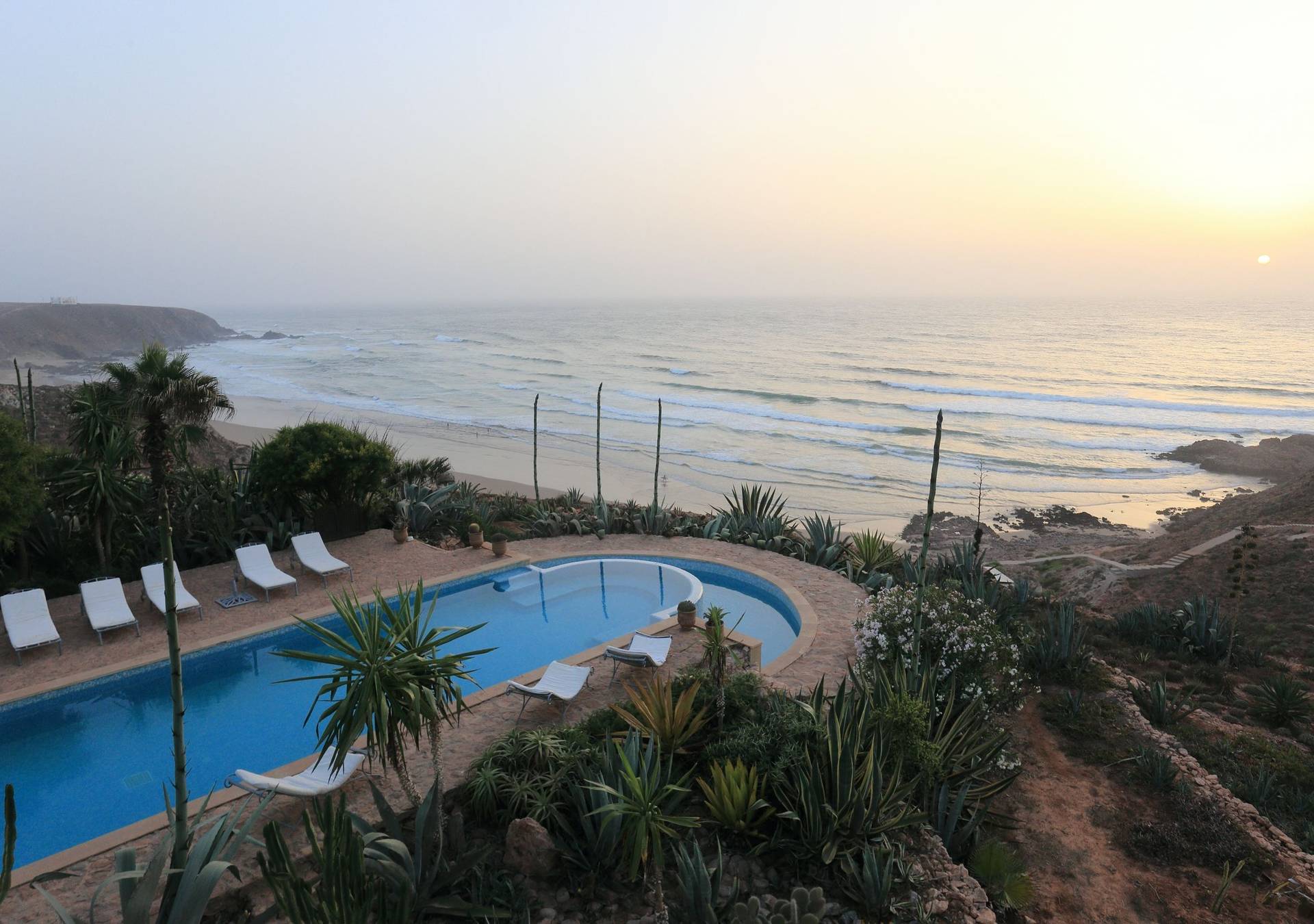 View from Kasbah Tabelkoukt, Mirleft © Dan Kane
This was an incredibly enjoyable trip with 24 species of herpetofauna studied, along with a plethora of bird, mammal, invertebrate and plantlife!
Book tour for 2024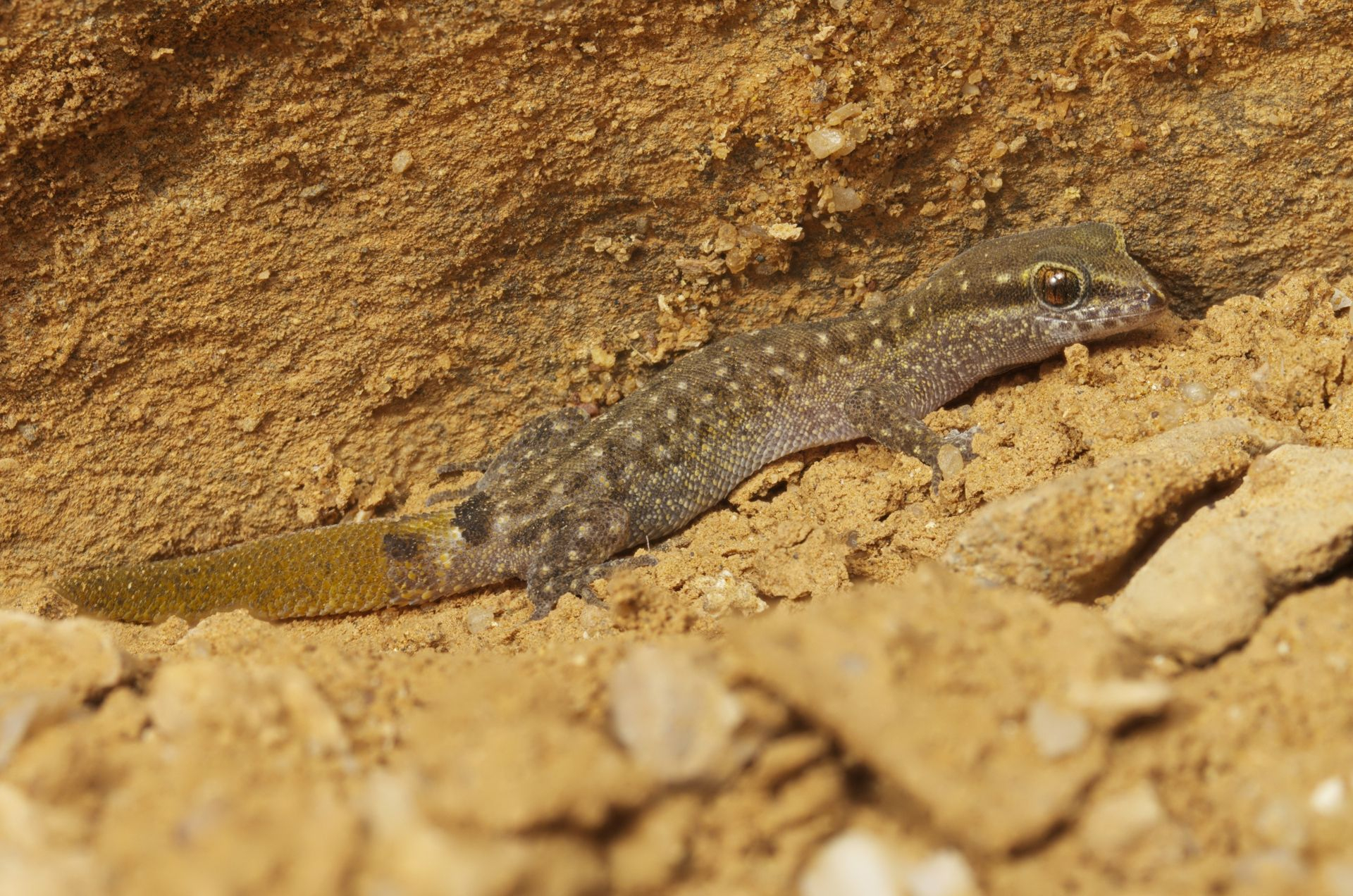 Harris Gecko (Saurodactylus harrisii) © J. Phangurha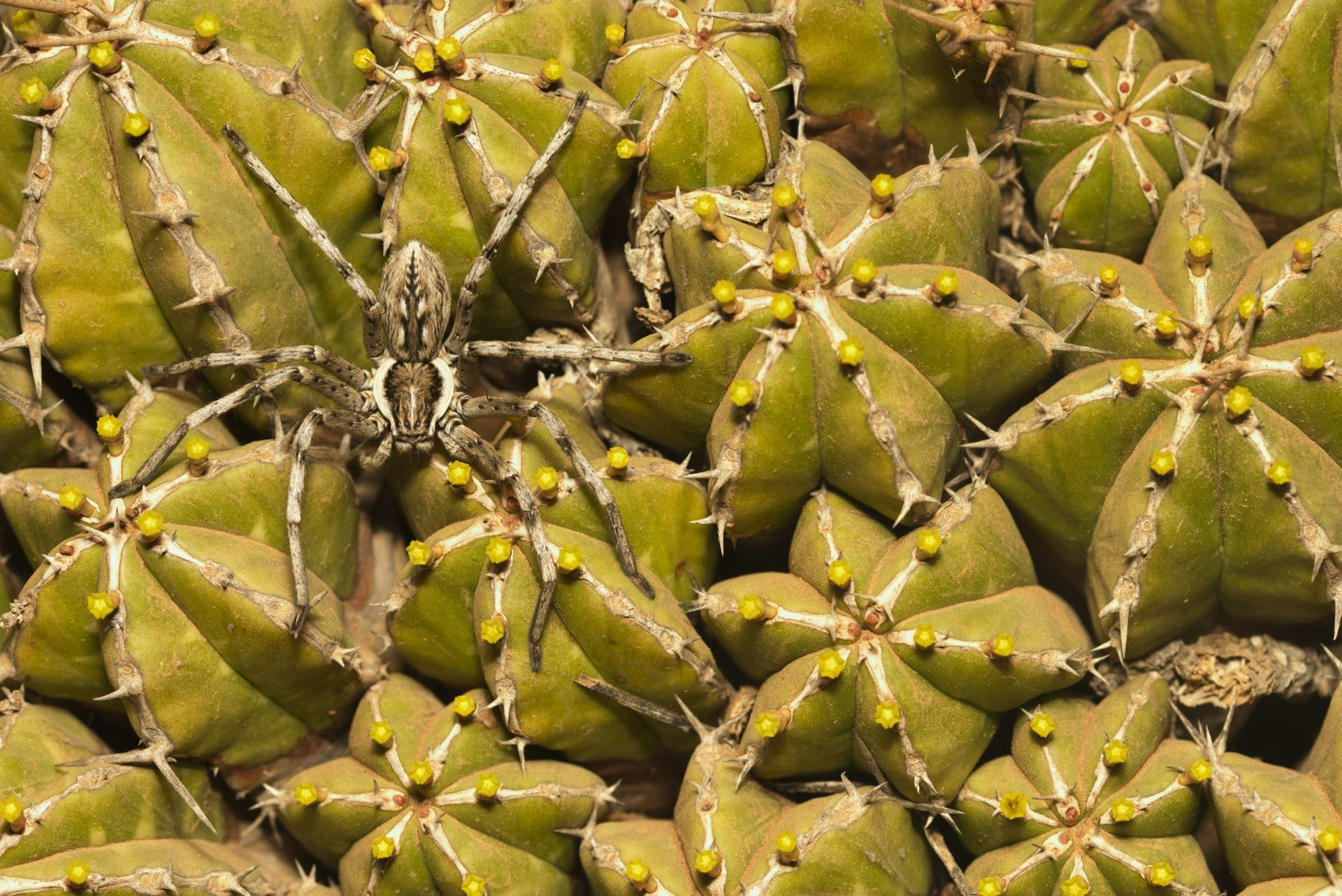 Cerbalus sp. © J. Phangurha