Realm of the Siberian Tiger

By

This email address is being protected from spambots. You need JavaScript enabled to view it.



Operations Manager
1st April 2019
The Russian Far East is a remote, sparsely populated and profoundly wild place, where vast taiga forests still support some of our planet's most dramatic wildlife. The most iconic of all is the magnificent, and near-mythical, Siberian Tiger. Over 500 individuals roam these woods and mountains – the world's largest single population of this endangered big cat. Nowhere else on Earth do so many Tigers live in the company of so few people.
Most of these striped felines inhabit the rugged and starkly beautiful mountains of the Sikhote-Alin. Nestled in the northern foothills of this formation is the Durminskoye Forest Reserve, a 200km2 expanse of rivers, rocky crags and dense birch groves; this wildlife haven is managed by Alexander Batalov, one of Russia's most well-known Tiger conservationists. For nearly 30 years Alexander and his dedicated team have fought the threats faced by the predators and their prey, and Durminskoye now has a healthy number of Tigers. What's more, thanks to the virtual eradication of poaching, the big cats here are not as wary of human activity as they are elsewhere in the Russian Far East. They remain supremely elusive, but there is nowhere better than Durminskoye to search for wild Siberian Tigers.
An exciting 9-day tour to the remote forests of the Russian Far East...
I had the privilege of visiting Durminskoye in early February 2019; blanketed in thick snow, the frozen winter woodland was thrilling to explore. Alexander and I found fresh tracks, delicately preserved in white, and examined great gouges carved into the bark of ancient trees. Some of these claw-marks were over ten feet above the ground, and could only have been made by Durminskoye's enormous dominant male, or 'Great King', as the indigenous Udege people would call him. A lot of Alexander's work involves monitoring the Tiger population, and I also helped with the setting and checking of camera traps. Every evening after dinner we would go through the memory cards collected that day, finding spectacular images not just of Tigers, but also of Sable, Siberian Weasel, Wild Boar and even Eurasian Lynx. Alexander, his face brimming with boyish excitement, would then tell extraordinary stories of life in the forest: the time a hunting Tiger flew past in pursuit of a Wild Boar while he stood rooted to the spot, and how another ambled past the kitchen window during dinner, just a month before my visit.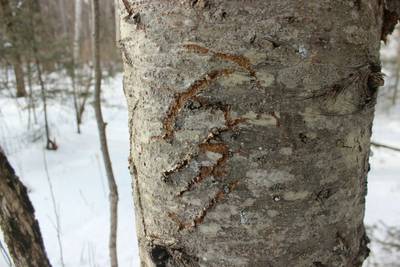 Territorial scratch marks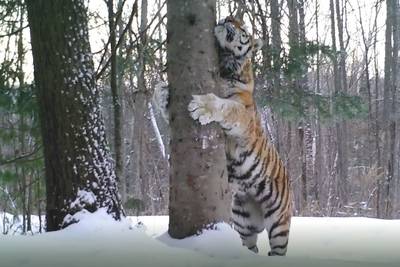 Durminskoye's Dominant Male
Eurasian Lynx
Although I wasn't lucky enough to see a Tiger myself during my short stay, it's hard to properly describe how it felt to walk in their footprints, and to experience that heady mix of adrenaline, fear and anticipation that can only come from sharing space with a large predator. For me, the continued existence of the Siberian Tiger is a sign of hope – a reminder that there are still places where the wild world makes a final stand. I was only slightly annoyed to hear that one was seen the day after I left!
On our new 'Realm of the Siberian Tiger' tour, you too can travel right to the heart of big cat territory. We will be running departures to Durminskoye at three distinct times of year: winter, early summer and autumn, each of which will have a slightly different focus.
Winter: Departs on February 29th 2020

---
In winter, most of our time will be dedicated to searching for evidence of Tigers; this is the best season to look for tracks and scratch-marks, capture camera trap images, and maybe even catch a glimpse of a wild Siberian Tiger in the snow. General wildlife-watching is slow here, but we also have a chance of finding other mammals such as Raccoon Dog, Siberian Roe and Manchurian Deer, Wild Boar, Siberian Weasel and Sable. Resident birds include Azure-winged Magpie, Hazel Grouse, Siberian Jay, Ural Owl and Black Woodpecker.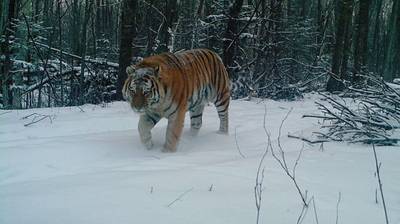 Siberian Tiger (camera trap image)
Summer: Departs in June 2020 (dates TBC)

---
By early summer, the forest will have changed dramatically. The snow will be long gone, replaced by carpets of flowers, and scenic rivers and streams will have started flowing again. The taiga, eerily quietly in winter, will be alive with birdsong, and this departure will enjoy some of the breeding species of this little-visited part of the world, possibly including Falcated Duck, Blue-and-white Flycatcher, Oriental Stork, Siberian Rubythroat, Rufous Hawk-cuckoo and the critically endangered Yellow-breasted Bunting. In order to help our chances of finding a good variety of species, this departure will spend time at several wetland and pine-forest sites, as well as Durminskoye. Butterflies and flowers will also compete for our attention. Signs of tigers are harder to find outside winter, but we will certainly keep our eyes peeled for pugmarks and, of course, for the creature itself.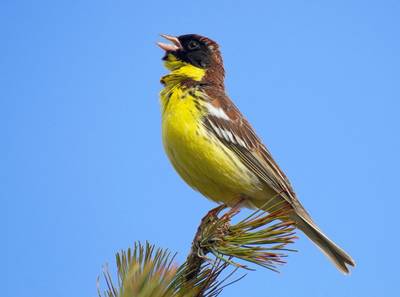 Yellow-breasted Bunting
Autumn: Departs in August 2020

---
Autumn, when the leaves are turning, is the most beautiful time in the taiga. What's more, in this season Durminskoye becomes one of the best places in the world to see Asiatic Black Bears. Normally elusive, they are very active at this time of year as they begin to fatten up for their long hibernation; they will even climb to the tops of fruiting trees (making a considerable amount of noise as they do so), which makes them much easier to find. While looking for bears, we will also search for evidence of Tigers and any breeding birds that have not yet left for warmer climes.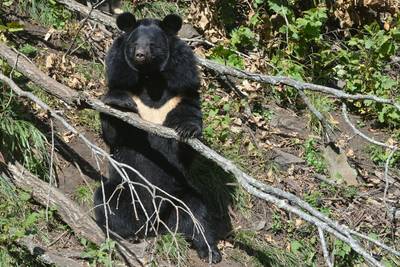 Asiatic Black Bear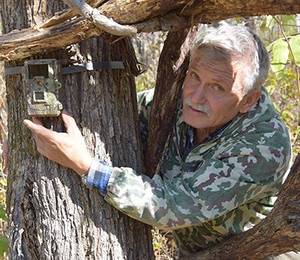 Alexander Batalov
All our tours will be guided by Alexander Batalov who, as well as possessing seemingly limitless knowledge and passion for Tigers, is a superb all-round naturalist. Indeed, one of his earliest memories is of burying himself up to his neck in order to go unnoticed while watching a pair of nesting Common Cranes. It didn't work (the cranes attacked him) but, while his fieldcraft skills have improved immeasurably in the intervening years, his enthusiasm remains undimmed. Alexander relies heavily on income from tourism to fund his vital work, which includes monitoring the reserve's Tiger population, engaging with the local community, and conducting anti-poaching patrols. At a time when this big cat is increasingly threatened by illegal human activity, our visit will help to ensure that Durminskoye continues to be a safe haven for the Siberian Tiger.
Prices for our 'Realm of the Siberian Tiger' tour start from £5,895. For more information, please contact Ben Chapple at This email address is being protected from spambots. You need JavaScript enabled to view it., or call our office on 01962 733051.