Alan Peters travelled on our 'Ghana - Picathartes' holiday and submitted this entry to our writing competition.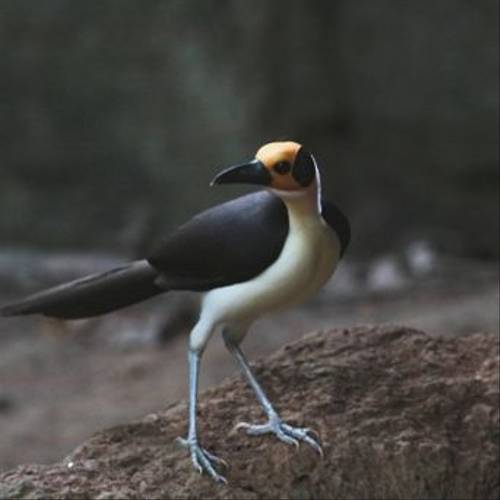 Yellow-headed Picathartes
I wonder if as a child you ever owned one of those books in which the pages were in two sections, so that by turning the sections independently you could create fantastic creatures, for example an animal with a lion's head and a zebra's body! I went on a short birding trip with Naturetrek to the West African country of Ghana, known in the past as the Gold Coast. With a country bird list of around 750 species it has many fabulous birds but one species is straight out of that old children's book.
The Yellow-headed Picathartes looks as if it has been put together by a committee and its habits and behaviour are just as strange as its appearance; there are only two species in the family worldwide and both are scarce with limited distribution.
The day I saw this almost mythical creature had everything: it was hot, demanding, exciting, rewarding and still lives in my memory.
Four days of intensive, mainly forest, birding enduring high temperatures and humidity were very tiring but also rewarding with many hoped for target species seen well. Walking a wide forest trail on the afternoon of day four we were all surprised to round a bend and come across a large Spitting Cobra in the middle of the path. It reared up briefly and extended its hood before dropping down and quickly disappearing into the undergrowth. No one's brain in our group was quick enough to log 'big snake' and at the same time send a message to their fingers to operate their camera so there were sadly no images to keep.
On our fifth day, breakfast was at 4.30am, after which we left our lodge to drive to Aboabo on the eastern border of Kakum National Park. We walked slowly along forest tracks for almost five hours, picking up plenty of good birds like Red-bellied Paradise Flycatcher (looks as good as it sounds), Kemp's Longbill, Black-throated Coucal and the menacing Black Sparrowhawk.
There were many spectacular butterflies, including the commonly seen and evocatively named commodore and pathfinder species. Less welcome were the African stingless bees which seemed to find our eyes, ears, nose and hair of particular interest.
After a quick stop for lunch we had an hour's drive to the village of Bonkro which was at the end of a narrow and deeply rutted track. The bus door opened to the usual crowd of excited boys all wanting plastic water bottles; and also to ferocious heat. It was now 13.30 and the temperature was around 35 degrees centigrade. The village was a collection of red mud houses with corrugated iron roofs opening onto a flat dusty square. Our guide told us to make sure that we had enough water in our backpacks as we had a steep climb up through the forest to the rocky cave area that the Picathartes favoured.
Two men from the village led the way, swinging their machetes with consummate ease to open the path, their biceps rippling under their ragged t-shirts.
We initially made good progress on fairly level ground then the gradient steepened up through thick forest until it was quite demanding as we scrambled upwards using roots to pull ourselves on the last section. A large dark scorpion had taken up residence under the final handhold just before we reached level ground and whispers of 'Watch out!' were passed back along the group. Finally we were in position about 25 metres from a large rocky outcrop with a flat platform of rock in front of it. It took us some minutes to get our breath and recover normal respiration.
The guide instructed us to be very quiet, and watch the flat rocky area. It was 15.00 … we waited until 17.15, then an urgent whisper 'To the right' – a Picathartes had materialised out of nowhere. Although we had prepared and studied the field guide the bird in life was amazing: large, slender, a bright yellow head with a round black patch, long tail and clean white underparts completed its bizarre description. In total, four appeared and after our guide had made sure that we had all seen them, we left quietly and started our decent in the rapidly fading light.
That evening as we enjoyed our well-earned meal, one of our group – a retired Norwegian diplomat – got to his feet to say that he felt that it had been a wonderful day and that everyone had enjoyed a remarkable 'lifer' seeing the Picathartes. It was also Norway's National Day (17th May) and he could think of no better way to celebrate than to buy everyone a beer!
We toasted Norway and the amazing Picathartes, the bird that looks like it's been designed by a committee.
Read more about our 'Ghana - Picathartes' holiday.