Shovel-snouted Lizard (Simon Shore, 'Gallery of the Year' 2018 winner)
Naturetrek's 2020 Photography Competition
We love to see client photos from our holidays, they not only allow us to experience our holidays vicariously, but also give us to connect with clients, and sometimes we're even asked to help with species identification! For those of you kind enough to share your images, we're delighted to offer the chance to enter them into our 2020 Naturetrek Photography Competition.
Our prizes
The winner of our 'Image of the Year' will receive a prize of £100, and there will be two Runners-up prizes of £25 each. The winner of our 'Gallery of the Year' (the best collection of 30 images, to be used by us in the creation of website Tour Image Galleries) will receive a prize of £200 and there will be two further prizes for the 'Best Collection' Runners-up of £50 each.
How do I enter?
Images can be supplied by email to This email address is being protected from spambots. You need JavaScript enabled to view it. (clearly marked with 'Naturetrek Photo Competition — Image of the Year' or 'Naturetrek Photo Competition — Gallery of the Year' in the subject line). Collections of images are often too large to attach to a single email, and so it might be easier to use services such as Wetransfer or Dropbox, which allow large files to be sent quickly and easily. You may also post us a CD to: Naturetrek, Photo Competition, Mingledown Barn, Wolf's Lane, Chawton, Alton, Hampshire, GU34 3HJ. Images must be sent in high resolution (over 1 MB) JPEG files. Please include your full name, the title and date of the Naturetrek holiday on which the photos were taken, plus captions in the filename of each image submitted (species, place, etc). You may send your entries at any stage over the course of the year, and there is no limit to the number of entries that you may submit, should you wish to submit pictures from more than one Naturetrek holiday. The holiday does not have to have been this year, as images from any past Naturetrek holiday will be considered as long as they have not been sent to us previously! Please note that discs sent to us will not be returned.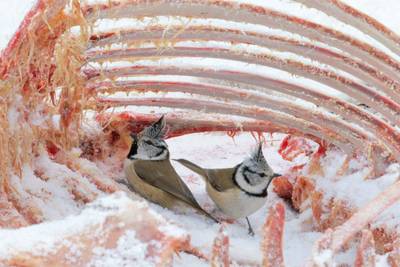 'Image of the Year' 2018: Crested Tits (Peter Ramsey)
The way to win!
In the 'Image of the Year' category we are simply looking for the single best wildlife photo taken on any Naturetrek holiday. Please note that the maximum number of entries for 'Image of the Year' per person is 10 images.

In the 'Gallery of the Year' category we will be looking for the best collection of 25 to 30 quality images illustrating a particular Naturetrek holiday. If you have been on several Naturetrek holidays, please do not hold back from entering multiple collections. Ideally these images will show a selection of wildlife, landscapes, local cultures and people, as well as tour participants involved in Naturetrek activities. It is the quality and balance that our judges (made up of Naturetrek's Sara Frost and our Operations team) will be particularly looking for in deciding a winner, as we hope that the best of these images will be incorporated into Image Galleries that will give future prospective clients the flavour of each tour.
Publication of the winning & other entries
Although this competition will be open throughout this year (2020), and the winner decided on 7th January 2021, some of the best and most suitable entries will be posted on the Naturetrek Facebook page for the enjoyment of others as soon as they are submitted to us, and one criterion considered by our judges will be the interest shown in each image or gallery. 
The winners will be announced both in our February 2021 Naturetrek Newsletter and February 2021 e-newsletter, and their images displayed. All entrants must agree that any or all of the images they submit may be used by Naturetrek in our e-newsletter, on our website and social media, in our brochure or newsletter, or in any other Naturetrek publication. So, if you are a keen photographer, please do enter our competition.
Good luck!