Our Personal Wildlife Highlights of 2021
This past year has been another hugely challenging one for the travel industry, but we are proud of the numbers of clients we've managed to get away on a break during 2021, be it a day trip on your local patch, a short break somewhere else in the UK, a trip to Europe or a more adventurous holiday overseas to somewhere like The Gambia, Kenya or Ecuador. Where there is a will, there is generally a way!
This second half of the year has offered the opportunity for several of our staff to get back out into the field after an enforced break to do what they love best – lead tours. Those who have been out and about have been reflecting on their wildlife highlights of the year – from searching for Iberian Lynx in Spain to watching Humpback Whales and Northern Lights in Iceland.
We are looking forward to sharing (hopefully many) more wonderful wildlife adventures with you in 2022!
Departing from Oban on this 9-day voyage, we sailed north through the Sound of Mull, along the western coast of Skye and over to the Outer Hebrides, stopping to explore and overnight in some beautiful crystal-clear sea lochs along the way. Just arriving at St Kilda is an undoubted highpoint (it can never be guaranteed!), and we had a full day to explore the island of Hirta and immerse ourselves in the poignant history of the villagers who once inhabited these islands. The St Kilda Wren was regularly heard and seen, but my unexpected highlight was a superb view of a female Snowy Owl, which had appeared on the island and was roosting not far from the road! We first saw her perched high up on a hillside by a stream; a white speck amongst the tussocks and lichen-covered rocks (it's amazing how camouflaged a white owl can be on a rocky, grassy hillside!), and we enjoyed watching her for at least an hour. From a chat with the on-site ornithologist, the owl is believed to have ventured to St Kilda from Scandinavia or Greenland, and is enjoying feeding from the population of Field Mice on the island (a subspecies of our mainland Field Mouse). Later in the evening, once back on board and well-fed, we decided to look for her again from the back deck and couldn't believe our luck – we could see her sitting low down on the hillside about 70 metres off the road. As some of our group hadn't previously seen her, she was now within very easy walking distance from the shore and so I grabbed the opportunity to make the most of the long days (it was 9pm and still perfectly light!) and provide them with a good view. After a polite word to the skipper, five of us went back ashore in the zodiac to go and watch the owl again for a final time, using a handy drystone wall as our cover over which to watch it. What a memory!
The following day, sailing underneath the sea stacks and cliffs, for which St Kilda is justly famed, was of course a jaw-dropping experience, as tens of thousands of screaming Puffins, Guillemots, Razorbills and Gannets swarmed above our heads. En route back to the Inner Hebrides, we enjoyed sightings of Common Dolphins, Minke Whales, both Golden and White-tailed Eagles, River Otters, Great and Arctic Skuas, Hen Harriers and a Great Northern Diver. Visiting the island of Lunga, on the Treshnish Isles, was a second highlight, as we had astonishingly close-up encounters with a 4,000-strong colony of Puffins and, for those who explored further, thousands of Guillemots and Razorbills at Harp Rock. It was with great reluctance that we returned to the sunny harbour near Oban and disembarked – I would have happily done the whole cruise again! I'll be heading back in May 2022, and can't wait.
View Tour Page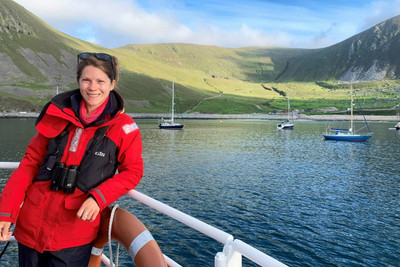 Sara at St Kilda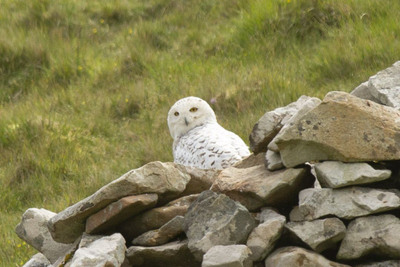 Snowy Owl (Sara Frost)
In June, I was fortunate to co-lead our very popular 'Shetland's Wildlife' holiday. Of the myriad highlights one can expect to encounter on the UK's most northerly archipelago, which comprise vast seabird colonies, paddling Red-necked Phalaropes and an assortment of endemic plants, witnessing the midnight arrival of European Storm Petrels on the uninhabited island of Mousa proved to be my top wildlife highlight.
Setting sail at 10pm from Sandwick as the light faded, the distinct shapes of Fulmars and Great Skuas (aka. Bonxies) glided low over the millpond-like sea as we made the 15-minute journey to Mousa. This small island, situated on Shetland's east coast, has one structure where the petrels nest, and this is the 13-metre tall Iron Age structure called a 'broch'. Constructed in 400-200 BC, this sturdy broch now supports a breeding population of 400 pairs of Storm Petrels, whilst the island itself has over 1000 breeding pairs!
From docking on Mousa, it was a mere 10-minute walk to the broch, and as it was dark, the echoing sounds of Storm Petrels penetrated from the drystone walls… and it truly was a strange noise. The magic though was yet to happen as the group gathered around the broch. Standing at its base, the true sense of the size of the broch was now comprehensible and we waited in anticipation for the arrival of these pelagic specialists. Almost bang on midnight, the first Storm Petrels encompassed the broch, but after another hour, countless birds were whizzing around, not only around the broch, but each member of the group too. With the arrival of more birds, it was only a matter of time before the petrels were landing on the wall at our level and this was when the views were at their best. The size, white rump and white underwing panel were all noted, but besides these finer points, to witness and listen to such a rare bird in profusion on a remote island was a memorable moment, not only during this trip, but throughout my wildlife career.
Of course, these islands have so much more to offer, and during the seven days spent here, other highlights included a Snowy Owl, Rose-coloured Starlings, tame Puffins and observing rare flowers on Unst; Red-necked Phalaropes, a Minke Whale and pods of Risso's Dolphins on/off Fetlar; a superb flypast of a sublime adult Long-tailed Skua, and lastly, listening to a 'singing' Corncrake close to midnight!
View Tour Page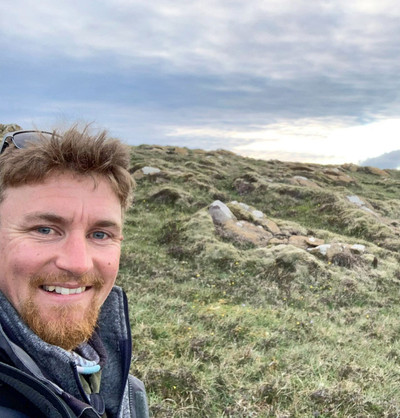 Matt watching a Snowy Owl on Shetland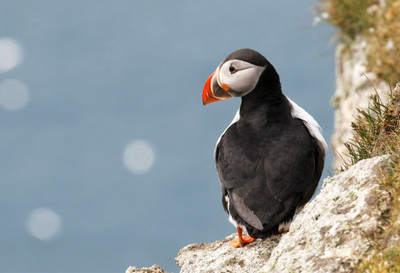 Puffin (Matt Eade)
The Somerset Levels are one of our most popular British destinations and we run a number of tours throughout the year to the area. Recently, I was offered the fantastic opportunity to co-lead a tour there and I jumped at the chance.
The 'Levels' form a large area of wetland in central Somerset encompassing many nature reserves. The area is perhaps best known for its superb Starling murmurations in winter. With their numbers buoyed by the influx of birds from the continent, these vast flocks can be made up of hundreds of thousands of Starlings all coming in to roost in the reedbeds as the sun goes down.
For a number of years, I have wanted to witness one of these famous murmurations and on one afternoon in particular we were treated to a fabulous display which will live long in the memory. We had already enjoyed some great birding on the tour so far, seeing Marsh and Hen Harriers, along with several Great White Egrets, for which the Somerset Levels have become a stronghold in recent years.
This particular afternoon, we made our way to Ham Wall RSPB reserve to get into place and await the arrival of the Starlings. After such a glorious day, the sky was filled with pinks and oranges as the sun crept lower in the sky. A couple of Marsh Harriers danced on the breeze over the reedbeds. A group of six Cattle Egrets flew over nearby. The unmistakable calls of Cetti's Warblers and Water Rail burst from the reeds.
Then, the first streams of Starlings came into view. The numbers grew and grew and before long we were enjoying one of nature's great spectacles. An estimated quarter of a million Starlings were sweeping and swirling above the reedbeds in front of us. The shapes created by this enormous cloud of birds against a sky made up of pinks and blues and oranges as the sun went down, will live long in the memory. Along with this spectacular sight that we were witnessing, the sound added yet another dimension. As the Starlings cut through the air, their wings created a noise I can only describe as having a loud, deep, whooshing resonance. That, in combination with the birds calling and chattering, created an incredible sensory bombardment of sights and sounds. The cloud of birds eventually began to dive down into the reeds to settle in for the night. As the light faded, we left the Starlings to their jostling amidst a cacophony of sound emanating from the reeds, happy that we had witnessed one of nature's wildlife highlights.
View Tour Page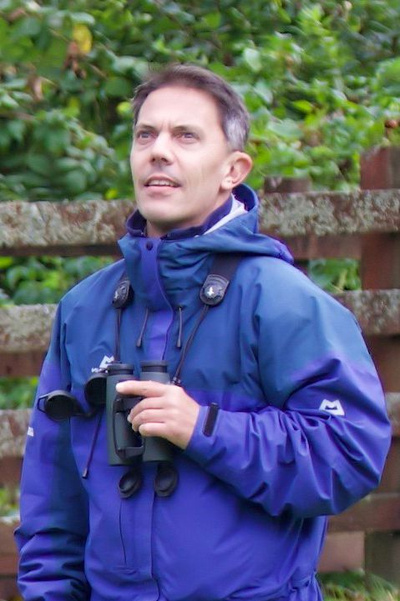 Simon birding in Somerset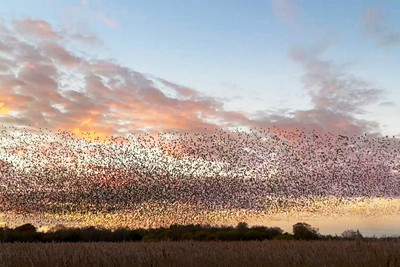 Starlings (Simon Dicks)
It had been over two years since I was last leading an overseas tour and it felt fantastic to get back out to Spain in search of its special wildlife. My last leading assignment overseas was back in October 2019 to Chile and Brazil in search of Puma and Jaguar and now it was another cat which was the main focus. In fact, the rarest cat on the planet! The Iberian Lynx!
I was leading with Byron Palacios, who was celebrating an amazing 200th Naturetrek tour, and we were more determined than ever to mark this special trip with Lynx sightings! It was never going to be an easy mission, however, seeing such a rare and elusive species and indeed the cat evaded us as we explored the fantastic Coto Doñana National Park. The first two nights of the holiday were spent here in the fantastic, wild west town of El Rocío.
The final three nights were spent in the beautiful Sierra Morena mountains of Andujar and here our luck was to change! On the penultimate evening, after scanning the valleys below us for much of the day, we were thrilled to find not one but a pair of stunning Iberian Lynx! As light was fading an agitated Magpie alerted us to their presence and we all watched in awe as they ambled through their beautiful habitat. The male was seen scent-marking a tree and they both drank from a nearby stream before jumping across it and melting away. Wow!
Our luck had really changed as we went on to have brilliant, prolonged views on our final evening of a young animal making its way down the mountains to a rabbit warren, with a second youngster also glimpsed. Four Iberian Lynx in two evenings! We also enjoyed four Otters, a super male Mouflon and Spanish Ibex, with birds including Spanish Imperial Eagle, Griffon and Black Vultures, Flamingoes, Hoopoes, Penduline Tits, Hawfinches, Rock Sparrows and Iberian Green Woodpeckers to name just a few. All with spectacular scenery and true wilderness. The story of the Iberian Lynx is a modern-day conservation triumph. The Iberian Lynx population was down below 100 at the turn of the century and thanks to some fantastic conservation projects and reintroductions the population now stands at 1,100! Long may that recovery continue and there has never been a better time to enjoy this special species for yourself!
View Tour Page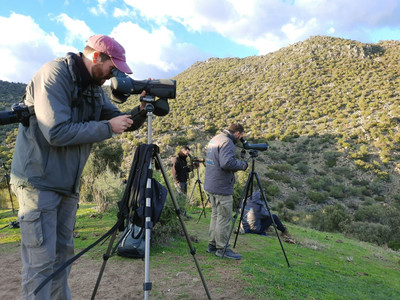 Tom scanning for Iberian Lynx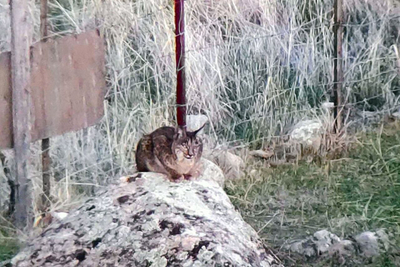 Iberian Lynx (Tom Mabbett)
In early September I flew to Reykjavík to lead our 'Iceland in Autumn' holiday. The tour explores the famous sites of Iceland's 'Golden Circle' and then journeys along the beautiful south coast through the town of Vik to the glacial lagoon of Jökulsárlón. It is difficult to select a single highlight from this varied tour; so, I will share two standout experiences.
On our first evening at the Skaftafell Hotel at the foot of a Vatnajökull Icecap, we were treated to a spectacular display of Northern Lights. From a path that led behind the hotel we gathered to take in the skies as daylight faded first to pink and then to the star-studded blackness that you only see from the darkest of locations. Almost as soon as the sky became dark the aurora started with a glow of green light in the north-west. The display quickly developed into a dynamic, full-sky show with swaying curtains of light arching across the sky till late in the night. Some clients managed to capture the aurora with their cameras whilst others simply enjoyed watching the phenomenon unfold. 
Another highlight came on the final day of the tour when we took a whale-watching excursion from Reykjavík Harbour. Heading out to the open sea we soon had views of Harbour Porpoise and a Northern Minke Whale but the treat that followed was perhaps the most amazing whale encounter I have ever experienced. A pair of Humpback Whales approached the boat and, for more than an hour, circled, dived under and repeatedly surfaced on one side of the boat then the other. Through the cold, clear water we could look down and appreciate the full scale of their huge bodies.
The whales' proximity gave the captain a problem, how should he manoeuvre away from the whales that were so close to the boat? The answer was to call upon a second whale-watching vessel and hope the whales' curiosity would encourage them away, which it did. Backing away slowly and then returning to harbour we felt so privileged to have spent time with such magnificent animals.
View Tour Page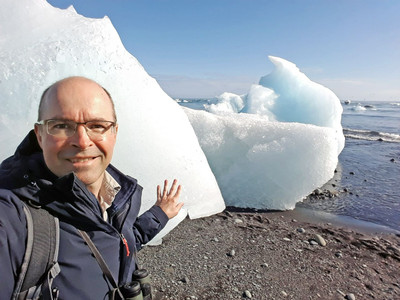 David in Iceland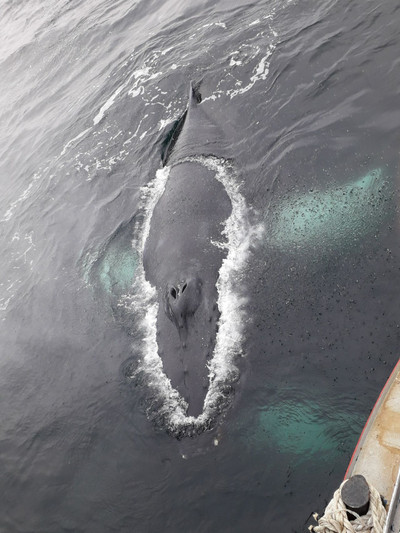 Humpback Whale (David Phillips)
On the penultimate morning of the tour, I headed down to the bay again with one of the clients for a final time. A scan of the inner bay revealed the usual suspects of Grey Heron, Oystercatcher and Greenshank on the exposed skerries, so we carried on to 'Aperitif Point' to get a view of the outer bay. After spending some time watching for movement, we prepared to leave when suddenly there was a ripple on the water, out by the skerries across the bay. Finally! An Otter! Through binoculars we watched as it made its way around the far side of the bay, occasionally diving and coming up with some breakfast. Having just watched it dive, almost immediately some more ripples started further round, with a third set coming out from the nearer shore. As they were never all on the surface at the same time, it was tricky to be sure, but it looked as though we had three Otters after almost a full week of unsuccessful morning visits.
As we prepared to leave very happy, one set of ripples suddenly did a right turn in the middle of the bay and came towards us. We held our breaths! Surfacing, it did a quick scan then carried on swimming our way, occasionally ducking under kelp strands. It then came out on the far side of a rock and proceeded to spraint the top of the rock to mark its territory; this likely made it a male. Happy with the mark, it then slid down the near side of the rock and came closer, swimming across the channel to the shore just below us. Climbing out onto the semi-submerged jetty, it calmly made its way along the rocks. Slipping back into the water, it rounded another rock, continuing to swim on the surface, looking right at us! We scarcely dared breathe as it followed the shoreline just below the platform we were standing on, casually carrying on round, stopping to spraint mark a further exposed rock before disappearing out of sight around the island. Wow! What an encounter. It must have been less than 3m away from us at a couple of points. Feeling elated, we made our way back to the bunkhouse reflecting on a fantastic week of wildlife sightings.
View Tour Page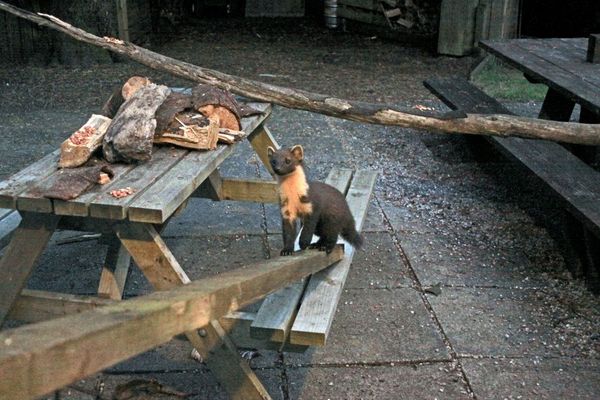 Pine Marten (Alison Steel)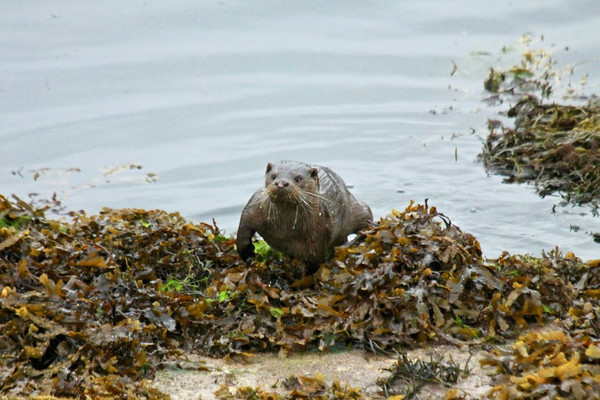 Otter (Alison Steel)