News in Brief: Germany, Spain, Menorca, Portugal, and the Scottish Islands
In early October we ran another successful and enjoyable trip to Brandenburg in north-east Germany (writes tour leader Andy Smith). We were blessed with some great weather, explored some lovely countryside and saw an exciting range of birds. There were lots of geese about and we enjoyed superb views of the three common species of the region, Tundra Bean, Russian White-Fronted and Greylag. White-tailed Eagles were everyday birds too and our encounters with these mighty beasts included the spectacular sight of one adult taking a fast low-level tilt at a large raft of Bean Geese and Great Cormorants.
One of the very special birds of the region is the Great Bustard and we saw a flock of over 60 of these huge creatures out feeding in an extensive area of open fields. At one point a passing tractor disturbed some of them and they took to the wing with a short run and deep powerful wingbeats – a very impressive sight.
Other highlights included a Great Grey Shrike which treated us to a display of its expert hovering ability, both Black and Middle Spotted Woodpeckers and a wooded park full of Hawfinches. A gorgeous Long-eared Owl roosting in a tree in a churchyard was a lovely bonus one day, as was the sight of a Fox out hunting voles. Best of all though, inevitably, were the Cranes which gather in huge numbers here each autumn en route to their wintering grounds in Iberia and North Africa. We spent a couple of evenings watching tens of thousands of these majestic birds coming in to roost in great bugling waves.
Book for 2022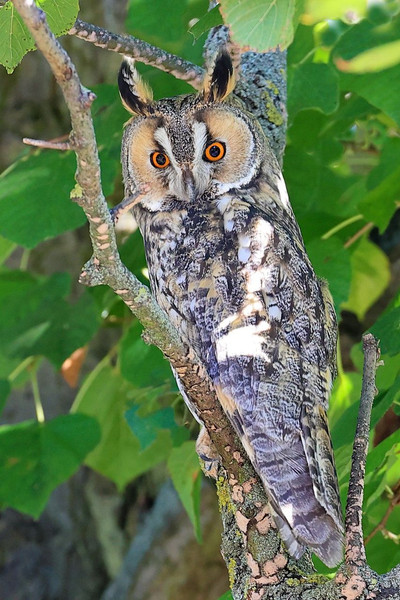 Long-eared Owl (photo by client Ian Glaves)
This autumn, we have been delighted to send three birdwatching groups to the Shetland Islands to observe the autumn bird migration, where each group saw a plethora of rare and scarce birds, as well as the resident species and abundant other wildlife this archipelago has to offer (writes tour leader Matt Eade).
With winds originating from all directions during the tours, our groups enjoyed viewing birds that had flown from either Siberia, southern Europe or North America! Such highlights comprised a Red-eyed Vireo, a Hornemann's Arctic Redpoll, a Rustic Bunting, Little Buntings, a Woodchat Shrike, two Bluethroats, a Radde's Warbler, a Western Bonelli's Warbler, an Olive-backed Pipit, Yellow-browed Warblers, Red-breasted Flycatchers and Barred Warblers. Out on the water, two different King Eiders were seen and all four species of diver were spotted in a single day, including a summer-plumaged White-billed Diver!
These islands can also provide wonderful mammal encounters and Otters, Hedgehogs, a Stoat, and a large feeding pod of Harbour Porpoise in one of the voes were observed. Add to this the dramatic landscapes, and autumn on Shetland is a superb place to be.
Book for 2022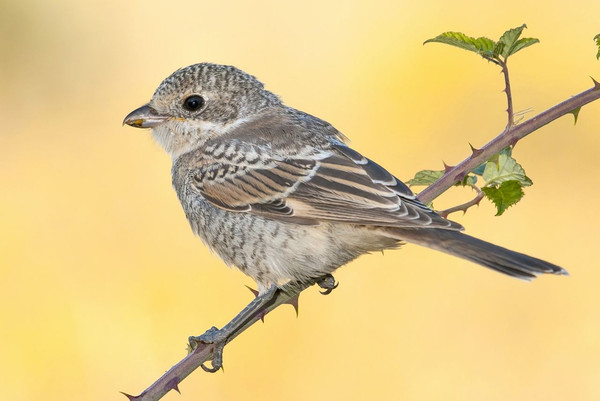 Woodchat Shrike
A restored Menorcan farmhouse provided us with a great base for an enjoyable week of wildlife- watching, accompanied by excellent food and weather (writes tour leader Martin Beaton). Although the focus for the holiday was birds, which included resident species such as Booted Eagle, Egyptian Vulture and Stone Curlew, as well as migrants making their way south, the island contains a range of natural history interests, most notably a good variety of butterflies.
The relatively small size of the island and the lack of tourist crowds at this time of the year meant that getting around was very easy, leaving plenty of time to relax.
The farmhouse's gardens and adjacent fields also provided us with space to wander without the constraints of a more urban hotel location. We had a lovely week away – do join us next year!
Book for 2022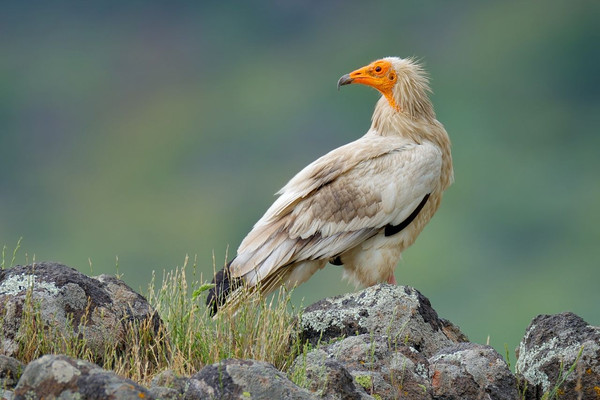 Egyptian Vulture
Our inaugural 'Birding & Stargazing in Rural Alentejo' trip flew into Lisbon on 1st November and we began our 6-night tour by exploring the southern side of the Tagus Estuary (writes tour leader David Phillips). The estuary, just a short drive from Lisbon, is one of Portugal's most important wetland habitats. The mudflats, saltmarshes, reedbeds and pastures are home to vast numbers of waders during the winter and the waves of thousands of Glossy Ibis presented an extraordinary spectacle. Other standout birds of the wetlands included Greater Flamingo, Black-winged Stilt, Avocet, Kentish Plover and White Stork.
Travelling east we headed into the rolling hills of the Alentejo region with its attractive hilltop villages. Our base for four nights was an 'Herdade', a large rural property with extensive views and the darkest of skies by night. Each evening we viewed the stars and planets either from the property or from a local observatory kitted out with telescopes linked with cameras to image the celestial wonders. By day we ventured to different habitats and enjoyed sightings of Western Swamphen, Little Bustard, Griffon Vulture, Black-shouldered Kite, Iberian Grey Shrike and Iberian Magpie. On another day we toured a local vineyard and sampled their produce and always returned to a sumptuous meal at the herdade at the end of each day. A fine week was enjoyed by all.
Book for 2022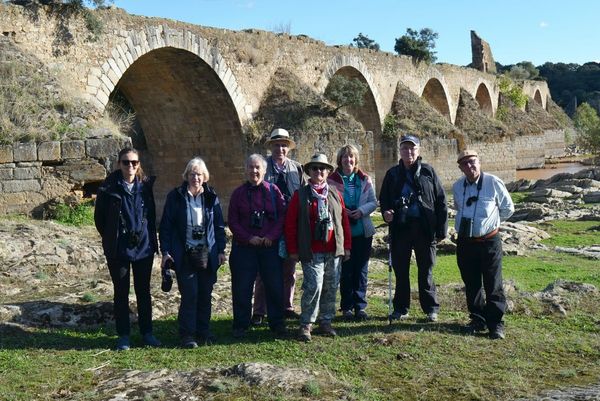 The group at Ponte da Ajuda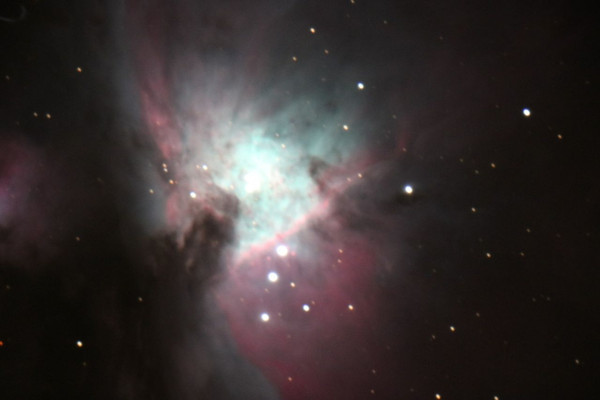 Orion Nebula
Our time spent exploring the coastal salt pans and saltmarshes produced a fine array of waders, herons, egrets and wading birds (writes tour leader Philip Thompson). Notable species included numerous Glossy Ibis that continue their expansion into Portugal, and Little Bittern that showed well at the freshwater lagoon of Quinto do Lago. Excellent views were obtained of the sought-after Audouin's and Slender-billed Gulls, as well as Caspian and Whiskered Terns.
Our day spent in the Alentejo region, despite being hot and dry at this time of year, produced a fabulous Black-winged Kite perched on a telegraph pole, and good views of Cinereous Vulture and Spanish Imperial Eagle. An isolated irrigation dam held an obliging passage Black Tern and abundant Violet Dropwing dragonflies.
Once we had transferred to Sagres we were able to enjoy a diverse mix of passage raptors of 14 different species. A highlight being a single flock of 10 juvenile Egyptian Vultures. On the heathland we were very fortunate in connecting with a small trip of five Dotterel in their traditional resting area, a sighting rarely seen on this tour. Our pelagic excursion out to the continental shelf was very successful, with our first ever Grey Phalarope, stunning encounters with both Common and Bottlenose Dolphins, shearwaters and petrels including a very obliging Wilson's Storm Petrel that closely approached our boat.
All of the above was spent in glorious warm sunshine complemented by excellent food at our comfortable hotels.
Book for 2022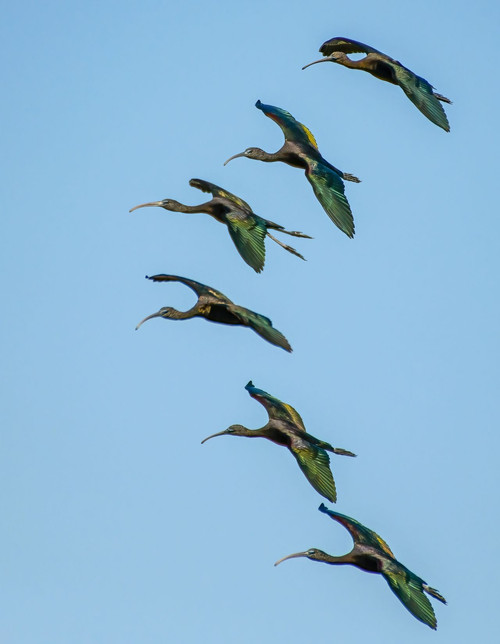 Glossy Ibis
Each September we send a group across the Bay of Biscay searching for Fin Whales and, in the mountains of northern Spain, Iberian Wolves and Cantabrian Brown Bears (writes tour leader Byron Palacios). This year, the Fin Whales, prolonged views of Iberian Wolves playing with each other and going in and out of their den, a female Cantabrian Brown Bear foraging with her two young cubs for blackberries on a mountain slope, and several actively hunting Wildcats collectively made this tour a great success!
The diversity of habitats visited produced a rich variety of birds such as Griffon Vulture, Short-toed Snake Eagle, Dartford Warbler, Northern Wheatear, Firecrest, Whinchat, Great Bustard, White-spotted Bluethroat, Lesser Kestrel and many more.
The whole experience was enhanced by good weather, fantastic locations, friendly local people and superb gastronomy – so do join us next year for another enjoyable adventure in search of Spain's 'Big Three' and its many other delights!
Book for 2022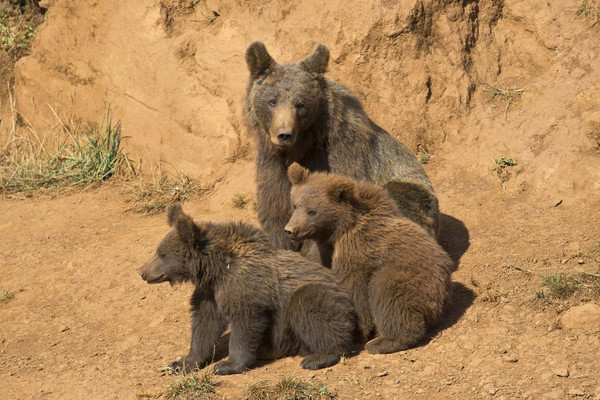 Cantabrian Brown Bear with cubs
Our recent 'Autumn on Mull' tour delivered an amazing week, full of Otters, eagles and stunning autumnal scenery (writes tour leader Matthew Capper). What is more, we were blessed with far better weather than we had dared hope for and enjoyed great food every evening at our hotel in Tobermory.
Over the course of the week, we encountered at least 10 Otters, 11 White-tailed Eagles and 11 Golden Eagles! Spending 40 minutes with a fishing Otter, a White-tailed Eagle 20ft from the bus and multiple sightings of Golden Eagles at and around a Red Deer carcass will all live long in the memory.
However, the tour was about more than just these keynote species and we enjoyed a fabulous array of other experiences. The beautiful island of Iona, Great Northern Divers still in their smart summer plumage, a Hen Harrier perched up giving views in the 'scopes, Slavonian Grebes and the abundant wildfowl and waders along the shore all made for a truly memorable trip.
Book for 2022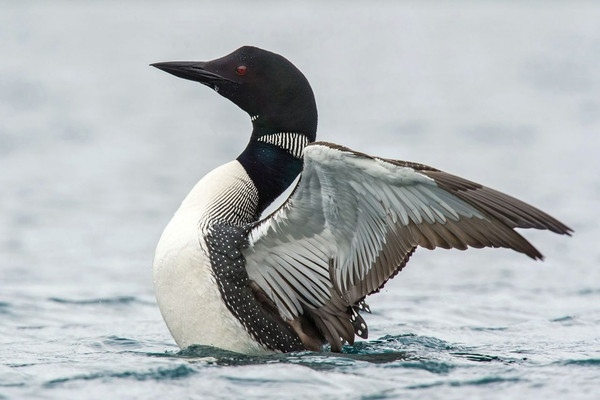 Great Northern Diver
Our 7-day adventure to the islands of Islay and Jura coincided with large arrivals of wintering geese, passage Whooper Swans and the mass passage of Redwings (writes tour leader Neil McMahon). With sunshine, fast moving showers and dark brooding skies we were treated to frequent and intensive rainbows against the backdrop of brown hills, dramatic coastlines and the impressive Paps of Jura. Thousands of Barnacle Geese and hundreds of Greylag and Greenland White-fronted Geese ensured the grass fields and flats were alive with birds. The eagles were particularly numerous this year with White-tailed Eagles every day and Golden Eagles majestically riding the hillside air currents.
Highlights for many of us were the magnificent pod of five Bottlenose Dolphins very close inshore at Bruichladdich which performed beautifully, and rare birds included singles of American Wigeon, Lesser Scaup, Ring-necked Duck and a Richardson's Cackling Goose. The resident flock of Choughs at Ardnave wowed us all and seeing five White-tailed Eagles flying around Nave Island was a special treat. We were fortunate to see Hen Harriers most days and the Great Northern Divers were frequently swimming around in small packs. Plenty of deer, seals and hares added more mammal interest and we even recorded three species of butterfly!
Book for 2022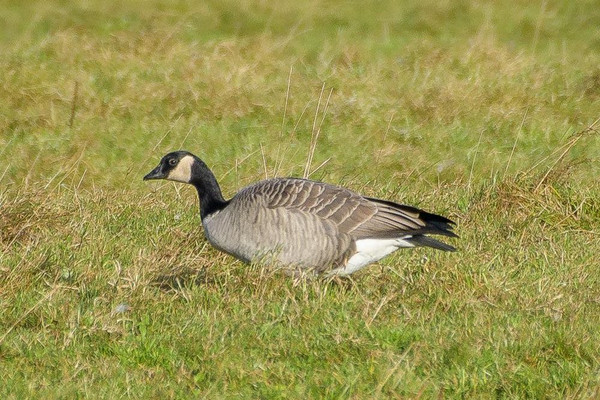 Richardson's Cackling Goose (Julian Cook)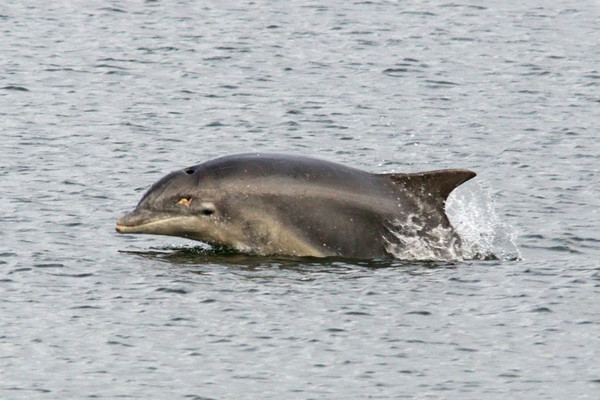 Bottlenose Dolphin (Neil McMahon)