Read about highlights from recent tours to Chile, Brazil, Spain, Germany and Scotland …
'Our recent "South America's Big Cats" holiday was a wonderful success', writes tour leader Tom Mabbett. 'Starting in Punta Arenas in Chile, we enjoyed some great local birding with Upland Geese everywhere, both Flying and Flightless Steamer Ducks and the rare Ruddy-headed Goose amongst many others. Out at sea, Southern Fulmars and Giant Petrels carved the waves. With towering snow-capped peaks, vast bright blue lakes and meandering glaciers, exploring the Torres del Paine National Park in search of its wildlife was a special experience. An amazing 11 different individual Pumas were encountered, and we tracked one family to within a few metres for incredible close views and witnessed a whole range of behaviours including one animal visiting a kill. Huge herds of Guanacos were always around us, while other mammal and avian highlights included Culpeo Fox, South American Grey Fox, Andean Deer, Patagonian Hog-nosed Skunk, Andean Condors, Chilean Flamingoes, Lesser Rheas and the huge Magellanic Woodpecker. Setting up my camera-trap on a Guanaco kill resulted in some great footage of three Pumas coming in to feed together after dark.
On to the Pantanal and it was a feast of wildlife. Hundreds of Caiman greeted us with Capybaras all over the place and water bodies teeming with Capped, Cocoi, Striated and Whistling Herons, with Wood and the huge Jabiru Storks always around, along with kingfishers at all angles. We went on to find eight different Jaguars and had some wonderful prolonged views. We watched animals hunting and swimming, including a family party where two cubs were swimming the river with mum following and just our boat with them. Giant Otters, Tapirs, Southern Tamandua, Crab-eating Fox and Racoon were just some of the other mammal highlights, along with superb views of Ocelot.'
Our next 'South America's Big Cats' holiday departs on 23rd October 2020, prices start at £7,695. For more information please click on the link above, or email This email address is being protected from spambots. You need JavaScript enabled to view it..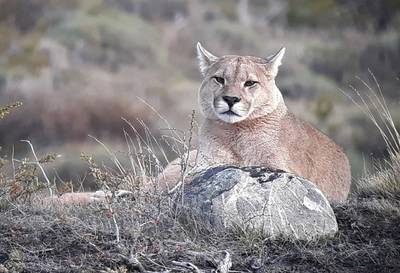 Male Puma (Tom Mabbett)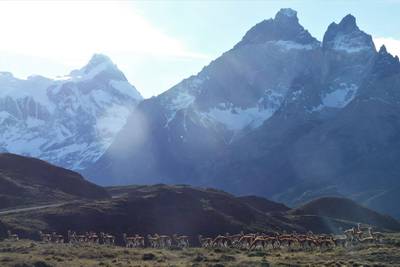 Guanacos (Tom Mabbett)
'The beauty of a "Go Slow" trip to the Strait of Gibraltar is that you can simply sit back in a deckchair and let the area´s spectacular autumn migration event come to you', writes tour leader Niki Williamson.
'This trip certainly didn´t disappoint, and our September groups were treated to the stunning experience of thousands of migrating raptors and storks drifting overhead. Booted and Short-toed Eagles, European Honey Buzzards, Black Kites, Griffon and Egyptian Vultures and White and Black Storks literally filled the sky as they waited in the Spanish ´departure lounge´ for their opportunity to cross the Strait. Resident Spanish Imperial and Bonelli´s Eagles also put in appearances, as did superb African vagrants in the form of Rüppell´s Vulture and Atlas Long-legged Buzzard.
On our cetacean-watching boat trips, these lucky groups had breathtaking close-up encounters with Bottle-nosed and Common Dolphins and Long-finned Pilot Whales. On one occasion we had phenomenal encounters with eight Sperm Whales!
Other highlights of this 7-day laid-back exploration of the fascinating wildlife of the Strait of Gibraltar included snoozing Red-necked Nightjar, Northern Bald Ibis, Blue Rock Thrush, Eurasian Dotterel, Short-toed Treecreepers, Crested Tits, Kentish Plover, Greater Flamingoes, Audouin's Gulls, Cory's and Balearic Shearwaters and Monarch butterfly. 
As well as being treated to some spectacular migration and cetacean events, the groups enjoyed relaxed days in near-perfect weather, taking in all the gorgeous wildlife, scenery, culture and cuisine southern Andalucía has to offer.'
Our next 'Go Slow … in Andalucía' holiday departs on 18th September 2020, prices start at £1,395. For more information please click on the link above, or email This email address is being protected from spambots. You need JavaScript enabled to view it..
'What a thoroughly brilliant trip this was, delivering fun times and the best of early winter birding in north-east Spain', writes tour leader Niki Williamson.   
'The group arrived at Gallocanta amid skeins of bugling Common Cranes, and enjoyed being amongst their constant joyous presence throughout our stay. Our sightings of hunting Merlins, Black-winged Kite, and dozens of Hen and Marsh Harriers were accompanied by huge flocks of Corn Buntings and Linnets and a cacophony of lark-song including Lesser Short-toed, Calandra, Thekla, Crested and Skylark. The ever-elusive Dupont´s Lark even gave us a pre-dawn serenade! Great and Little Bustards treated us to flyovers and views on the ground, as did both Pin-tailed and Black-bellied Sandgrouse.
Moving up into the mountains the group enjoyed views of Wallcreepers every day, simply by walking out through the labyrinth of medieval streets in Alquézar and watching down in the spectacular Vero Gorge. Blue Rock Thrush, Rock Sparrow, Red-billed Chough, Black Redstart and Rock Bunting were highlights, as were non-avian sightings including Wild Boar, Roe Deer, Red Squirrel, Red Fox, Iberian Wall Lizard, and a broad array of late-emerging butterflies. For many though, the ultimate highlight was sharing a feast on a mountain with over 100 Griffon Vultures, culminating in heart-stopping close views of two amazing adult Lammergeiers!'
Our next 'Wallcreepers & Cranes in Northern Spain' holiday departs on 23rd February 2020, prices start at £1,395. For more information please click on the link above, or email This email address is being protected from spambots. You need JavaScript enabled to view it..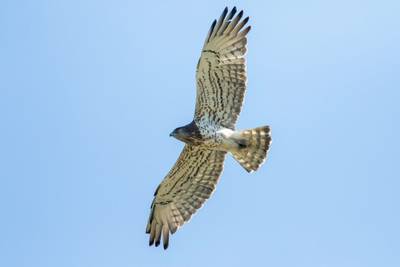 Short-toed Snake-eagle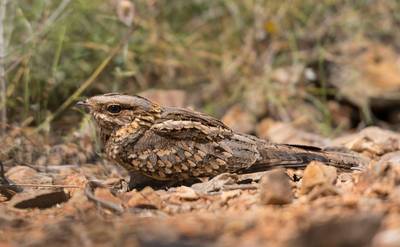 Red-necked Nightjar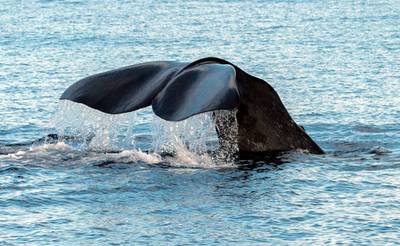 Sperm Whale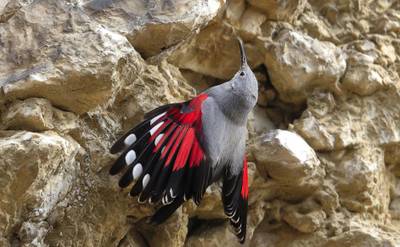 Wallcreeper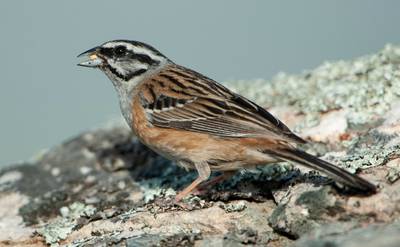 Rock Bunting
'What a great wildlife experience', writes tour leader Andy Smith. 'The sight and sound of tens of thousands of Common Cranes coming in to roost; fields and skies full of Bean and White-fronted Geese and perfect views of Great Bustards – two flocks totalling over 70 birds! From our comfortable guesthouse we explored just a small area of this lovely region during our short trip and were bowled over by the space and beauty of the countryside and the abundance of exciting and charismatic wildlife. We were lucky with the weather too, enjoying dry and mostly sunny conditions and alongside the cranes, geese and bustards we saw a lovely range of other wildlife. Particularly memorable were the regular White-tailed Eagles harassing the waterfowl; a Rough-legged Buzzard hunting over a vast grassland; a fiery-crowned Black Woodpecker that sat preening in full view for all of us to see; a Fox out in a meadow pouncing on voles and the Great Grey Shrike that appeared right in front of us on our last morning. Brandenberg in autumn – I thoroughly recommend it!'
Our next 'Birds of Brandenburg & Berlin' holiday departs on 2nd October 2020, prices start at £995. For more information please click on the link above, or email This email address is being protected from spambots. You need JavaScript enabled to view it..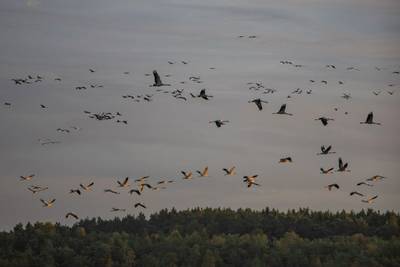 Common Cranes
'The wildlife, weather, landscapes and company exceeded my expectations on this wonderful tour of the Hebridean islands of Islay and Jura', writes tour leader Tom Ambrose. 'Our first day began auspiciously, with the rising sun bursting dramatically through billowing clouds behind us, illuminating a bird-filled loch and clear skies ahead. Highlights just from the first day included Long-tailed Duck, Golden and White-tailed Eagle, Hen Harrier, Chough, thousands of Barnacle Geese, and a pair of vagrant Snow Geese from North America!
The tour continued in much the same vein. Day trips to Jura yielded views of Red Deer amongst stunning scenery, as well a superb Otter sighting! We watched for around 15 minutes as it calmly devoured an entire octopus on a bed of seaweed, less than 20 metres away! It then slipped back into the water, and soon caught a fish, eating some of it in the water before disappearing from view.'
Our next 'Islay & Jura' holiday departs on 22nd October 2020, prices start at £1,495. For more information please click on the link above, or email This email address is being protected from spambots. You need JavaScript enabled to view it..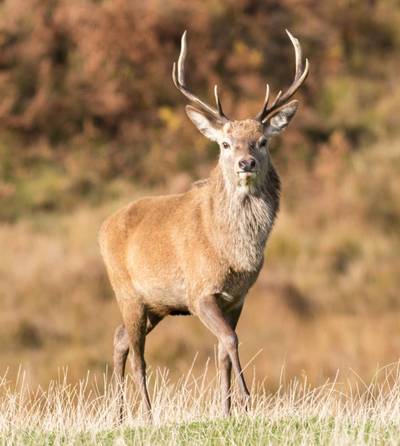 Red Deer (Tom Ambrose)