Read about highlights from recent tours to South Africa, Puerto Rico, Cambodia and Spain …
'On the recent mammals tour in South Africa's Kruger National Park, we had set out on a long half-day drive from Pretoriuskop Rest Camp', writes tour leader Leon Marais. 'A pair of mating Lions kicked off the big game viewing, and a bit later on in the morning we came across a pair of Southern White Rhinos resting in the shade not too far off the road. It looked like an adult female and her fairly large calf. This was in itself a great sighting as, nowadays, rhinos are quite scarce in the Kruger – five years ago they were still fairly common, but intensive poaching sadly seems to have affected their numbers. While we were watching them we suddenly realised that they were not alone, as a Wild Dog rose up out of a patch of thick shade almost between us and the rhinos, where we now realised that around eight Wild Dogs were lying in the grass, slightly hidden in a dip in the ground. The actual number of rhinos in the Kruger is a secret, but having seen only six during four Kruger safaris, covering a lot of ground, it shows that the numbers are way down from the peak of around 5,000 before the poaching epidemic began in 2010. It's estimated that there are around 250 Wild Dogs in the Kruger, though the good news is that their numbers seem to be up after the severe drought in 2015-2018 – on this tour alone we saw around 30 individuals! It was a poignant moment, seeing these two highly endangered mammals resting up peacefully only metres from each other.'
ood news is that their numbers seem to be up after the severe drought in 2015-2018 – on this tour alone we saw around 30 individuals! It was a poignant moment, seeing these two highly endangered mammals resting up peacefully only metres from each other.'
Our next 'South Africa – Kruger (Mammals)' holiday departs on 16th October 2020, prices start at £2,895. For more information please click on the link above, or email This email address is being protected from spambots. You need JavaScript enabled to view it..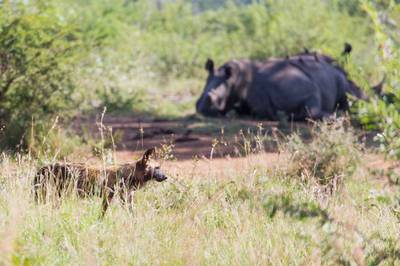 African Wild Dog and White Rhino (Leon Marais)
'Ten of us came together – six from the UK and four from the USA – in an Old San Juan hotel, where we also met our tour leader and local guide, Gabriel Lugo', writes co-leader Paul Tucker. 'Recording 56 species, more than half of the total trip list, by the end of the first day makes it seem as though it had been a busy birding day. It had, yet at the same time it was quite relaxing. It also allowed us to concentrate on the more special birds and endemics for the rest of the trip and Gabriel certainly knew where to take us – sometimes even to the exact bush or tree!
Two nights at the atmospherically-named Hacienda Juanita near Maricao was a good base from which to explore the Cambalache Forest and it was also within reach of the Cabo Rojo salt flats, both destinations providing us with excellent views of some special birds: Adelaide's and Elfin-woods Warblers, Key West Quail-Dove, Caribbean Elaenia, Puerto Rican Lizard Cuckoo and, of course, Puerto Rican Tody which, by the end of the trip, turned out to be our most chosen "favourite bird".
Back on the eastern side of the island, an undoubted highlight of the whole trip was a day's snorkelling and diving over beautiful coral reefs off the island of Culebra, about 20 miles out from Fajardo. Here, we also spent a lovely morning in the El Yunque Reserve, the only tropical rainforest that belongs to the US Forest Service and, back in the capital, we had a very interesting tour of Old San Juan, where we were taught so much about the history of this amazing island.
Great birds, great people and such a beautiful place to go birding!'
Our next 'Birds of Puerto Rico' holiday departs on 1st March 2021, prices start at £3,295. For more information please click on the link above, or email This email address is being protected from spambots. You need JavaScript enabled to view it..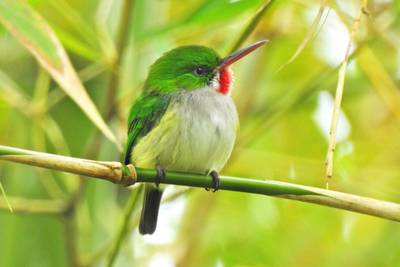 Puerto Rican Tody (Allen Worgan)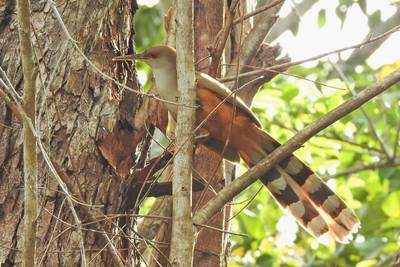 Puerto Rican Lizard-cuckoo (Allen Worgan)
'The third and final "The Best of Cambodia – Birds, Mammals & Temples" tour returned to the UK in early March after a couple of weeks sampling a variety of habitats in warm sunshine', writes tour leader Neil McMahon. 'We hugged the borders with Thailand, Laos and Vietnam in search of diversity and some of the most difficult birds and creatures to observe in SE Asia. Well over 300 species of birds and 13 species of mammal were recorded, including the rarely-observed Gaur and Southern Yellow-cheeked Crested Gibbon and, of course, the Irrawaddy Dolphins from our cruise on the River Mekong. Owls featured strongly on the tour with 11 species noted and all the hoped-for rarities were identified including White-winged Duck, Bengal Florican, three species of vulture, Greater Adjutant, Milky Stork, Cambodian Tailorbird and the woodland ibis – White-shouldered and Giant.
We enjoyed the wonder of the temples around Siem Reap, before moving on to the spectacle of the waterbirds at Tonle Sap, and then to the birds of the plains and fields before moving into deciduous and evergreen forests to the north. Off to the east we sampled the wildlife of the lowlands before visiting the Seima Gallery Forest and the Dak Dam Highlands. The sun shone throughout and although the regime was sometimes tiring, everyone agreed that we had seen and sampled both historic and modern Cambodia and a big slice of the wildlife available too!'
Our next 'The Best of Cambodia – Birds, Mammals & Temples' holiday departs on 12th January 2021, prices start at £4,695. For more information please click on the link above, or email This email address is being protected from spambots. You need JavaScript enabled to view it..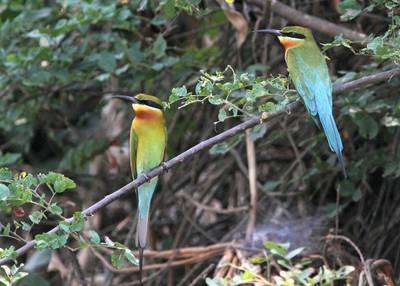 Blue-tailed Bee-eaters (Neil McMahon)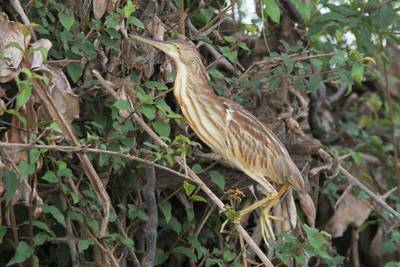 Yellow Bittern (Neil McMahon)
'During early March 2020, on our latest tour to the realm of the Wildcat in the Pyrenees of Navarra, in northern Spain, we achieved some great sightings in snowy conditions', writes tour leader Javi Elorriaga. 'On two consecutive days our group got excellent views of a striking male Wildcat for nearly one hour of uninterrupted observation. We recorded every detail of the cat including its green iris, thick white moustache, ginger ears and snout, dense fur, sharply defined black dorsal stripe, thick tail and the characteristic white flash on its chest. The heavy snowfall notably hampered our quest for the feline during the first days of the tour. Unfortunately, for the first time in many years, we missed the Wallcreepers. Instead, we were rewarded with splendid high mountain winter landscapes, hundreds of Black Kites and Common Cranes in active migration over the snow-capped Pyrenean summits, Bearded and Griffon Vultures in full display, obliging Alpine Accentors and, of course, the famous Roncal cheese!'
Our next 'Navarra in Winter – Realm of the Wildcat' holiday departs on 4th March 2021, prices start at £1,295. For more information please click on the link above, or email This email address is being protected from spambots. You need JavaScript enabled to view it..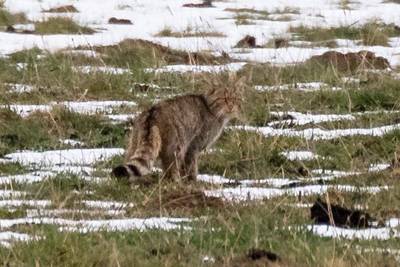 Wildcat (Javi Elorriaga)