Helmethead Gecko (Tarentola chazaliae)
New tour – The Reptiles & Amphibians of Morocco

This email address is being protected from spambots. You need JavaScript enabled to view it.
Join us on a special opportunity to encounter and photograph the iconic and the little-known reptiles and amphibians of southern Morocco's diverse habitats with the guidance of an expert herpetologist.
Situated in the north-west of Africa is the character-packed and superbly hospitable country of Morocco. The variety of habitats, often in close proximity to one another, allow for a mouth-watering diversity of reptiles and amphibians to occur here: over 130 species! On this holiday, we'll join a herpetologist guide in search of the specialities southern Morocco has to offer, which includes some of the most iconic African snakes such as the Egyptian Cobra, Puff Adder and Desert Horned Viper. The fascinating lizards will include Mediterranean Chameleon, Northern Elegant Gecko and the highly impressive and sought-after Desert Monitor.

Along the Atlantic coast we'll pass through, and stay in, picturesque fishing villages, their buildings painted immaculate white with rich blue detailing. Between each settlement are expanses of succulent vegetation; carpets of subtle green and red leaves punctuated with bright yellow flowers. Local agriculture is dominated by fields of wheat and prickly pear cacti, a favourite habitat of the Sahel Egg-eater snake which emerges only during certain times of the year in search of bird eggs, its sole prey item. Tourism is quieter here compared to the typical beaches of Europe but the bohemian surf culture mixed with colonial Spanish influence results in the local hospitality businesses having a laid-back and incredibly welcoming feel. The coastal plains here are the best places to search for the mainly diurnal snakes which live an incredibly active life. With a fresh sea breeze keeping us cool we can enjoy searching for the Montpellier Snake, Sand Snake and Horseshoe Whipsnake, all of which thrive here.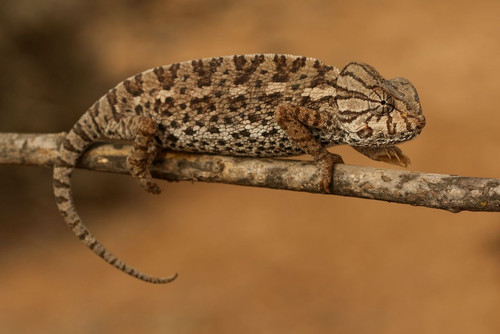 Mediterranean Chameleon (Chamaeleo chamaeleon)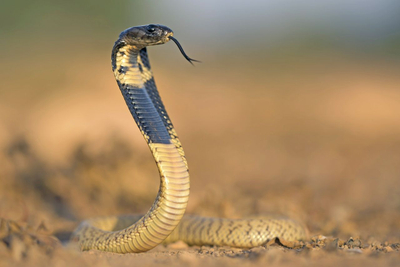 Egyptian Cobra (Naja haje)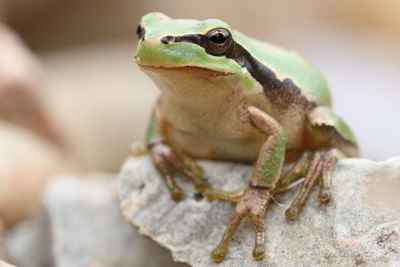 Stripeless Tree Frog (Hyla meridionalis) - Dan Kane
Further inland the scenery becomes more rugged and dry, with rocky plains stretching as far as the eye can see. Here we'll find refuge in a small desert oasis for a few nights, providing an excellent degree of comfort in this otherwise harsh landscape. Stands of Date Palms provide shade which makes here an ideal base from which to explore the surrounding desert. We'll have the option to make several excursions during both day and night to find the brilliantly exciting local fauna, including true desert specialists such as the vibrant and photogenic Moroccan Spiny-tailed Lizard, Horned and Saw-scaled Viper. During the day the lizards graze on the scarce shrubby vegetation and the occasional wild flower, their bright yellow and orange bodies camouflaging surprisingly well against the sun-baked rocks on which they sit. Both vipers are more likely to be seen at night when they leave their daytime retreats and sit in ambush, waiting for passing geckos. Our herpetologist will guide us as to how best to approach, providing superb natural photographic opportunities as the animals lie undisturbed and partially buried between rocks in the sand. We will also have the chance to learn more about tracking desert wildlife, reading the sand to understand the recent activities of the local wildlife community, adding another dimension to our experience.
In the deep south of Morocco the desert meets the sea at the spectacular Khenifiss National Park. This expanse of white sand dunes beautifully offsets the vivid blues and greens of Lac Naila, a lagoon fringed with sea grasses and reeds where flamingoes and wading birds congregate to feed. Overnight this area may provide our best chance to use our head-torches to reveal sleeping chameleons in the short shrubs which dot this landscape. At this time, these lizards often relax their colour-producing chromatophores and turn a brighter pale colour, helping us to find them with relative ease using our lights. By day Golden Fringe-fingered Lizards run between the shade provided by the vegetation as they keep a lookout for their invertebrate prey.
A trip to this warm and welcoming country often brings wildlife superlatives including nocturnal desert mammals and birds uncommon in Europe. While reptiles and amphibians remain the focus of our trip, we will of course keep looking and listening for the rest of the abundant nature which inhabits superb southern Morocco. With the expertise of our guide, we'll be sure to be coming home with amazing wildlife memories and photographs aplenty.
'The Reptiles & Amphibians of Morocco' 

tour

 departs Thursday 5th May 2022, and costs £1,695. For more information, please visit the 

tour

 page or contact Dan Lay on 01962 733051 or email 

This email address is being protected from spambots. You need JavaScript enabled to view it.

.