New tour – Go Slow ... in Jersey

This email address is being protected from spambots. You need JavaScript enabled to view it.
The quaint island of Jersey offers the naturalist spectacular opportunities considering its petite 9 by 5-mile size. The island's surrounding seas keep the climate within limits, enabling tender plants and animals to thrive here – species which are normally at home in the vast habitats of southern France and the Mediterranean.
Our base for this fabulous new holiday will be an elegant spa hotel in the picturesque St Brelade's Bay, rated one of the top three beaches in the whole of the British Isles. This beautiful location, and our wonderful hotel, have been handpicked to offer the chance to fully unwind between wildlife excursions: a paddle in the sea, a Jersey afternoon tea, a new book on the hotel's sunny terrace or indulging in the hotel's superb spa facilities – the possibilities for relaxation are endless.
At a vibrant meadow in the lovely nearby coastal parish of St Ouen, we'll find Jersey, or Loose-flowered, Orchids, which thrive here and our visit is timed to coincide with their peak at this special site in the west of the island. At the same, glorious, location an astonishing 60,000 individual orchids have been recorded and, amongst the Jersey Orchids, we should spot Southern Marsh, Pyramidal, and Common and Heath Spotted Orchids. We'll be joined at the site by a resident expert botanist who will guide us to other notable plant species in the surrounding sand dunes which, at the time of our visit, could include Jersey Thrift, Dwarf Pansy, Shaggy Mouse-ear-Hawkweed and Alderney Sea-lavender.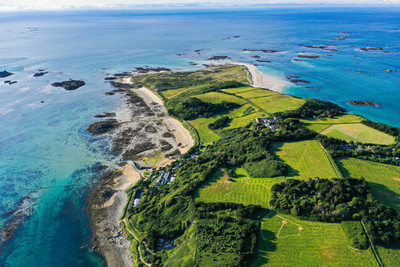 Herm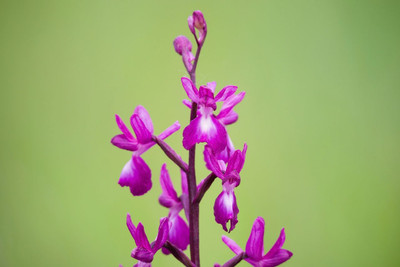 Jersey Orchid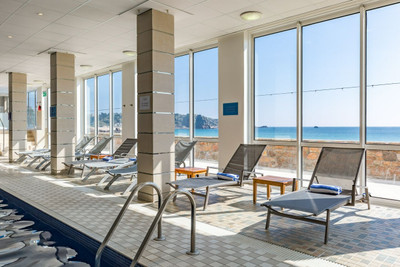 Spa hotel in Jersey
We'll take a chartered RIB excursion to the tranquil island of Herm, a hidden gem in the British Isles, beautifully unspoiled as there are no cars. En route we'll be searching the channel for Bottlenose Dolphin, Grey Seal, Gannets, and an array of other seabirds. As we approach Herm, we'll be looking for auks: Puffin, Guillemot and Razorbill. On land we should encounter such species as Common Blue and Small Heath butterfly, Scarce Purple & Gold moth, Five-spot Burnet, Burnet Rose, Viper's Bugloss and a chance for migrating raptors overhead.
Back on Jersey, in the east of the island we'll hope to discover some superb species not found, or localised, on the British Isles mainland; species such as Green Lizard, Red Squirrel, Cirl Bunting, Small-flowered Catchfly and Childing Pink. Additionally, the Channel Islands' strategic position means that, at this time of year, migrating birds may overshoot their path and take temporary pause in Jersey's rich habitats. Butterflies should be highly visible at this time and we'll be hoping to find Wall Brown, which is widespread across Jersey and, if we're lucky, migrating species could include Clouded Yellow.
This wonderful new holiday-at-home will provide an opportunity to study the Channel Islands' unique species, coupled with a generous dose of time for rest and relaxation. Jersey has a unique and understated charm. A visit here often brings wildlife surprises, as well as the chance to see some British flora and fauna species which cannot be found on the mainland. This is set to be a wonderful, restful, wildlife break right on our very doorstep.
Our next 'Go Slow ... in Jersey' tour departs on 17th May 2021, costs £1,495 and places are limited to just 10 people. For more information, please email This email address is being protected from spambots. You need JavaScript enabled to view it. or call Dan Lay on 01962 733051.