New Tour: Birds & Butterflies of South Texas & the Rio Grande Valley

By

This email address is being protected from spambots. You need JavaScript enabled to view it.



Operations Manager
11th July 2019
The Rio Grande Valley lies in the warm south-eastern corner of the United States, where Texas meets Mexico. The Lower Valley has a climate that basks within a whisker of tropical status, so not surprisingly it attracts all types of 'snowbirds' escaping the winter further north. Large numbers of birds cease their southbound journeys to remain in this balmy, appealing, well-watered land, and with them come a significant influx of birders, seeking out not just wintering migrants, but a mouth-watering array of specialities. First time visitors are also often struck by something unexpected – an incredible range of colourful and showy butterflies unrivalled in the rest of the USA.
Our brand-new tour, 'Birds & Butterflies of South Texas & the Rio Grande Valley', explores the areas known as the 'lower' and 'middle' Rio Grande Valley, which comprise the lower four counties of Texas. This area has a documented 1,200 plants, 300 butterflies, and approximately 700 vertebrates, of which at least 520 are birds. Birding highlights include Green Jay, White-tailed Hawk, Couch's Kingbird, Altamira Oriole, Aplomado Falcon, White-tipped Dove, Common Pauraque, Ferruginous Pygmy Owl and Buff-bellied Hummingbird. In butterfly gardens, one can find Mexican Bluewing, Guava Skipper, Malachite, Blue Metalmark, Tropical Leafwing, White Peacock and many other southern species. Common local mammals include White-tailed Deer, Collared Peccary, Eastern Fox Squirrel, and Eastern Cottontail.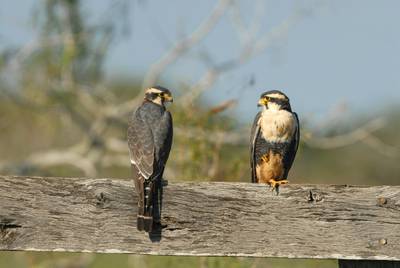 Aplomado Falcons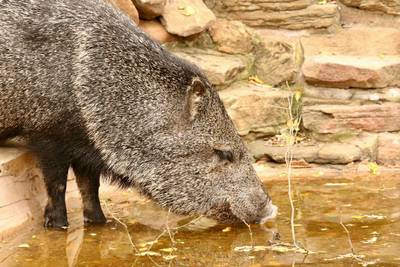 Collared Peccary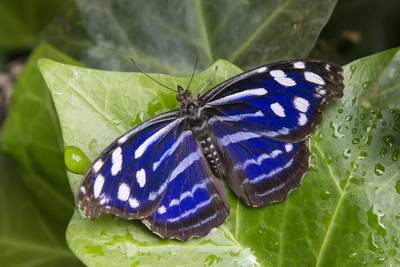 Mexican Bluewing
The Valley caters well for its visitors. It hosts a large number of state-designated trails, bird sanctuaries, nature preserves, and butterfly gardens, giving ample opportunity to enjoy the birds and butterflies, as well as a range of reptiles and mammals. Viewing is generally easy and convenient, using boardwalks, observation decks, and hides, with many sites offering feeding stations that attract wildlife for close viewing. In addition, the Lower Valley offers many types of natural terrain and flora including forests, marshes, and beaches. Walking here is easy-going and tranquil with various trails that explore the numerous reserves and habitats.
One of the most famous locations along the trail system is the Aransas National Wildlife Refuge, which holds the winter home of the only natural flock of Whooping Cranes in the world. A boat trip into the Refuge is a must to view these magnificent birds, along with many other species. Another extraordinary destination on this tour is the National Butterfly Centre, a non-profit organisation dedicated to the conservation and study of wild butterflies in their native habitat. The grounds of the centre are planted with native species which provide nectar for butterflies and serve as hosts for caterpillars. Wildlife of all types abounds here; it is a place to stroll, sit and watch, and enjoy the native gardens.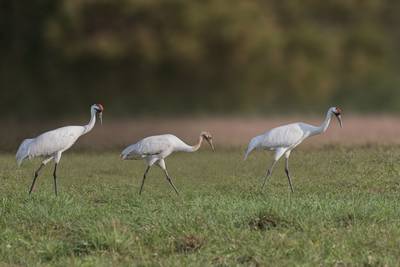 Whooping Cranes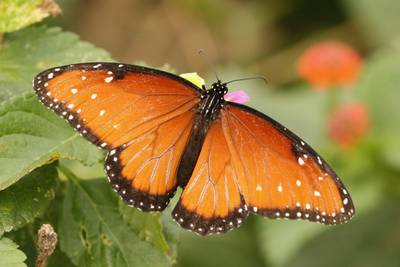 Queen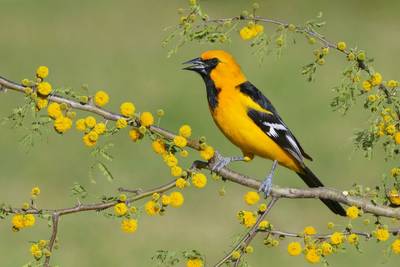 Altamira Oriole
For our tour leaders, Jane Dixon and Adam Dudley (two Brits who have lived, worked and travelled in North America for 20 years), 'The Valley' is a special place to visit at this time of year. The diversity of habitats and warm winter days offer great opportunities for wildlife watching, photography and enjoyable exploration.
'Birds & Butterflies of South Texas & the Rio Grande Valley' tour departs Sun 10th November to Fri 22nd November 2019, and costs £3,995. For more information, please visit the tour page or contact Kerrie Porteous on 01962 733051 or email This email address is being protected from spambots. You need JavaScript enabled to view it..