Snow Leopard, Tiger and Leopard
New Tour: Asia's Big Cats

By

This email address is being protected from spambots. You need JavaScript enabled to view it.



Operations Manager
20th August 2019
Think of big cats, and you probably think of Africa. However, Asia actually supports twice as many species, including such icons as Snow Leopard, Tiger and Leopard. Our new 'Asia's Big Cats' tour is a thrilling adventure in search of these three felines, travelling from the high and dramatic peaks of the Himalayas, through the verdant jungles of central India and into the dense coastal forests of Sri Lanka.
Our tour will begin in Delhi, from where we will fly to Leh, the capital of the mountainous Ladakh region and, at 3,524 metres, one of the highest cities in the world. We will spend a couple of days here acclimatising to the altitude, and experiencing some local culture and wildlife. Next, we will drive to the Ulley Valley, which supports a high density of Snow Leopards; here we will explore the region both by vehicle and on foot. With the help of experienced local spotters, we will hope to find the 'grey ghost of the mountains', along with other species like Blue Sheep (Bharal), Siberian Ibex, Wolf, Woolly Hare, Lammergeier, Himalayan Griffon Vulture, Golden Eagle, Himalayan Snowcock and various species of pika and accentor. We will spend our days scanning various valleys for wildlife, while enjoying the comfort of a centrally heated mountain guesthouse. During our stay, we will have an excellent chance of experiencing a memorable Snow Leopard sighting.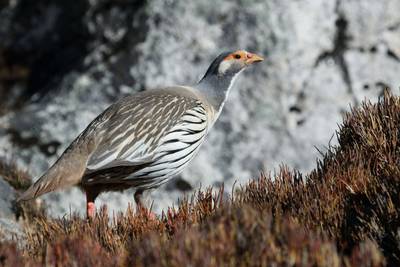 Himalayan Snowcock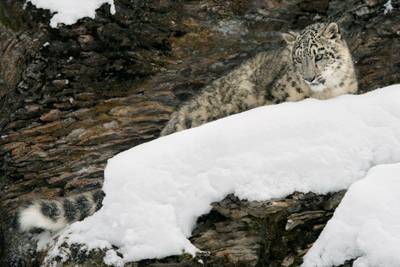 Snow Leopard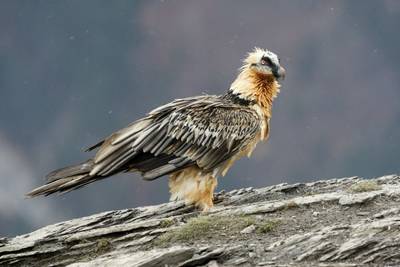 Lammergeier
From icy Ladakh we will then return to Delhi, before transferring on towards our next destination: Kanha National Park. Kanha is one of India's finest Tiger reserves, with around 100 individuals thriving in its open meadows and extensive Sal forests. Accompanied by expert guides, our morning and afternoon drives will focus on tracking the striped cats, and we should enjoy several Tiger encounters during our 4-night stay. What's more, Kanha offers some of the best general mammal viewing in Asia, and we will also hope to find Leopard, Dhole (Indian Wild Dog), Sloth Bear, Jungle Cat, Gaur ('Indian Bison'), Barasingha, Sambar, Chital (Spotted Deer), Wild Boar, Barking Deer and a rich variety of birdlife.
For the final part of our expedition we must again return to Delhi, for a flight to Colombo, the capital of Sri Lanka. From there we will move on to Yala National Park, the country's premier wildlife reserve. Yala protects one of the planet's highest densities of Leopard, and over two full days we will explore every inch of the national park in search of them. Tigers never made it here from India, and the Sri Lankan Leopard is therefore the apex predator. Consequently, this subspecies has become the largest in the world, and with no competition they are less strictly nocturnal than elsewhere, making sightings more predictable. In fact, seeing five or more Leopards in a single day is not unheard of. The Leopards' abundant prey includes Wild Boar, Spotted Deer, Sambar, Toque Macaque, Tufted Grey Langur and Bengal Monitor Lizard; Water Buffalo, Sloth Bear and Asian Elephant are other prominent members of the local fauna.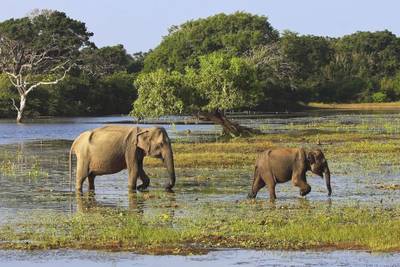 Asian Elephants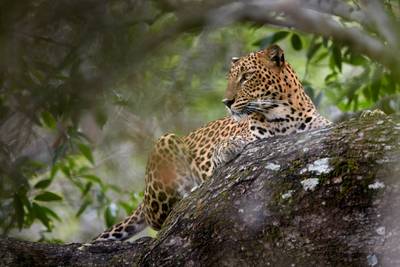 Leopard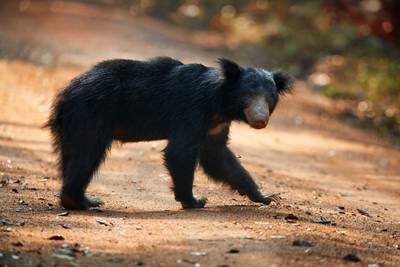 Sloth Bear
We are also offering an optional post-tour extension to view the largest animal ever to live on Earth: the Blue Whale. Sri Lanka's Blue Whales are actually smaller than those elsewhere, but they can still reach 24 metres in length and weigh 150 tons. Mirissa, west of Yala along Sri Lanka's south coast, has recently proved itself to be a highly reliable place to see the giants; we can expect sightings of Blue Whales on both boat trips we take during our 3-night stay. Many other cetaceans frequent these waters, including Sperm, Bryde's and Killer Whales, as well as Spinner, Bottlenose, Risso's and Striped Dolphins. Green Turtles, flying fish and tuna could also make an appearance.
The main tour departs on 10th March 2020, and costs £5,595. The Blue Whale extension costs £695. Please click here for more information.