Virunga volcanoes, Rwanda
Mountain Gorillas – Uganda or Rwanda?

By

This email address is being protected from spambots. You need JavaScript enabled to view it.



Tailormade Manager
3rd March 2019
Since their discovery in 1902, Mountain Gorillas have faced an uncertain future. By the early 1970s, decades of poaching, human conflict and deforestation had reduced the population to only a few hundred individuals. Fortunately, since those dark days, this magnificent mammal's prospects have significantly improved and, as a result of the dedication and hard work by conservationists (starting with Dian Fossey and continuing with many others), in November 2018 the Mountain Gorilla was officially taken off the IUCN's 'Critically Endangered' list! This boost in Mountain Gorilla numbers is also due, in no small part, to the introduction of carefully managed ecotourism and the tourist dollars this has pumped into the local economy and into conservation. Ecotourism has become a driving force in the protection of the Mountain Gorillas of Rwanda and Uganda and the opportunity to spend time with these wonderful primates is now widely regarded as one of the world's most exciting, moving and memorable wildlife experiences.
At the start of planning a gorilla-tracking holiday, perhaps the most common question we are asked is 'where should I go?' Mountain Gorillas are restricted to only two populations, one in the Bwindi Impenetrable Forest of Uganda, and the other in the Virunga Mountains bordering Rwanda, Uganda and the Democratic Republic of Congo (DRC). Since the DRC remains an unsafe country to visit, the options now lie exclusively in either Uganda or Rwanda.
Mountain Gorilla tracking operates in a very similar way in both Uganda and Rwanda. Each morning begins at the Gorilla headquarters where participants are split into groups of eight and allocated a particular Mountain Gorilla family to track. The treks usually last between one and eight hours. The slopes can be steep, and vegetation thick, so you should always come prepared for an arduous hike. Once the gorilla family has been reached, you will spend one mesmerising hour in their company, observing and photographing these majestic great apes before returning to base. Porters are highly recommended, partly because they are incredibly helpful when traversing a particularly steep slope or difficult obstacle, but primarily because their participation provides valuable income for the local communities.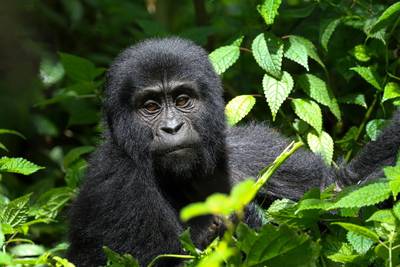 Mountain Gorilla, Uganda (Duncan Woodhead)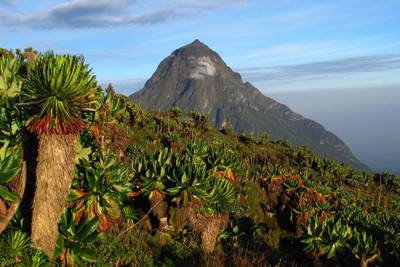 Mikena Volcano, Rwanda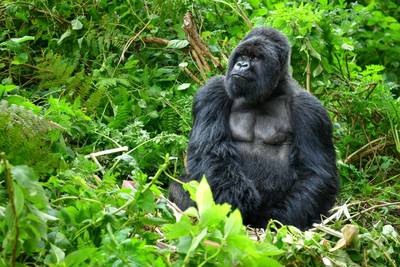 Mountain Gorilla, Rwanda
Typically, the terrain and walking in Rwanda is a little less challenging than in Uganda and the vegetation in which the gorillas live is a little more open. The Rwandan treks usually begin within the cleared farmland which surrounds the reserve before entering the forest where the terrain gets more demanding. The Bwindi Impenetrable Forest in Uganda is aptly named, and gorilla-tracking here tends to involve more time trekking through the forests and less time in the surrounding farmland. In both places, however, you will be joined by guides, armed with machetes, who will cut a path for you through the dense vegetation. On the plus side, Bwindi lies at a lower altitude and, though warmer, the air is not as thin as on the mountainsides of Rwanda – a consideration for some perhaps. Ultimately, however, the difficulty of each individual trek will vary from day to day and from gorilla family to gorilla family, depending on how long it takes the guides to track down a family on a given day, which might be two hours on one day and six hours on the next. We usually recommend that you come prepared for a long hike and be pleasantly surprised if you find your quarry sooner! In addition to the ease of the trek itself, price is also an important factor, for in Uganda this once-in-a-lifetime experience will cost you $600 per permit, whereas Rwanda now charges $1,500 per permit.
Although the Mountain Gorillas are the undoubted highlight of any trip to Uganda or Rwanda, both countries have so much more to offer. Akagera National Park, Rwanda's only savannah reserve, is home to a wonderfully diverse assemblage of birds and – although its wildlife populations suffered following the 1994 genocide – an interesting range of mammals too. It is still a little-visited national park and, as a result, during game drives you will likely see more Elephant, Impala and Eland than other tourist vehicles! The history of the park is also fascinating and visitors can take a 'behind the scenes' tour with conservationists and researchers to learn about how the area is being managed to increase biodiversity and protect wildlife. Night drives in search of nocturnal birds and smaller mammals are also worth joining and boat tours on one of the park's southern lakes sometimes produce sightings of the elusive Shoebill and shy Sitatunga.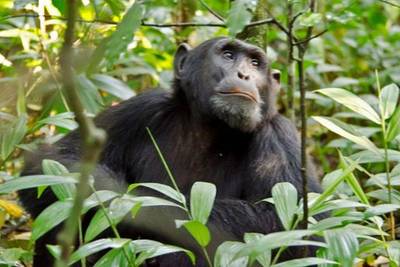 Chimpanzee, Uganda (Ian and Kate Bruce)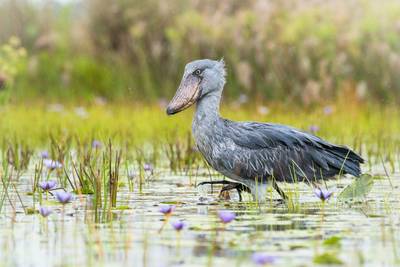 Shoebill, Uganda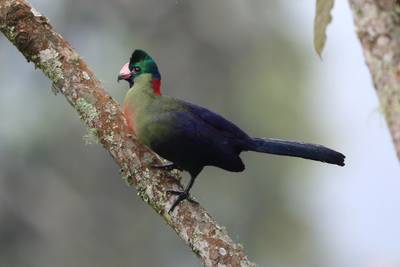 Rwenzori Turaco, Rwanda
To the west, Rwanda's Nyungwe Forest National Park protects the largest area of intact montane rainforest in east and central Africa. Although the forest is famous for its Chimpanzees – which can be tracked in a similar way to the Mountain Gorillas – it is also home to 13 other primate species, as well as 275 species of birds including 25 Albertine Rift endemics (the highest number outside the DRC) such as Rwenzori Turaco and Regal Sunbird. Visitors can also opt to track Rwenzori Colobus or explore the park's canopy walkway built 60 metres above the forest floor.
Rwanda offers more than just wildlife, and in this 'Land of a Thousand Hills', the mountain vistas and terraced tea plantations can match any found in Asia, and the experience of listening to the singing fishermen on Lake Kivu's tranquil waters at sunset will stay in the memory long after returning home. Its road network is also one of the best maintained on the continent and the country as a whole is now regarded as one of the safest in all of Africa!
Uganda is a much larger country and it does offer a greater range of wildlife opportunities than its smaller neighbour. Tours here usually begin with a boat trip into the Mabamba Swamps, near Entebbe, which is one of the most reliable locations for the prehistoric-looking Shoebill. Time in Lake Mburo National Park offers visitors the opportunity to see Plains Zebra, Eland, Defassa Waterbuck, Leopard and Hippo, whilst a boat trip on the lake itself often yields African Finfoot. Queen Elizabeth National Park is Uganda's most visited savannah park and is famed for its tree-climbing Lions, whilst a cruise along the Kazinga Channel should also not be missed. The Kibale Forest offers a more reliable, and less strenuous, trek for Chimpanzees than its Rwandan counterpart, the Nyungwe Forest, and we would also recommend a visit to the Murchison Falls, not just for the waterfall, but for the game-rich reserve that surrounds it. With over a thousand species recorded, Uganda is one of the best birding destinations in all of Africa, and the 'Royal Mile' on the edge of Murchison Falls is a birders' paradise where star species such as White-spotted Flufftail, Sabine's Spinetail and Chocolate-backed Kingfisher can all be seen.
Both Uganda and Rwanda are rightly proud of their Mountain Gorillas and time in their presence is an experience never to be forgotten. Both countries have so much more to offer, however, and you are assured an unforgettable holiday in whichever one you choose!
Tailormade Uganda
Uganda is a most beautiful country with a diverse range of habitats and an impressive ...
Tailormade Rwanda
Rwanda – the 'Land of a Thousand Hills' – is a beautiful country of rolling knolls and ...