Join Naturetrek on a Spitsbergen Arctic Cruise in June 2020 or 2021

By Paul Stanbury
Operations Manager
15th February 2019
The Arctic is a special place. The frozen roof of our planet has attracted and fascinated people for centuries. First it was a craving for exploration and discovery and then, later on, the race to be the first to reach the North Pole. Today, the Arctic still casts its icy spell, although those of us wishing to visit can explore in a lot more comfort and warmth than endured by those explorers of old! The region's hardy wildlife is especially fascinating, but if you want to see Polar Bears and Walrus, Arctic Fox and Ivory Gulls where should you go, when should you visit and how should you get there? The answer to the first question is easy, Spitsbergen, and Operations Manager, Paul Stanbury, expands on the rest:
Where is Spitsbergen? – Spitsbergen is the largest island in the archipelago of Svalbard. It is located in the high Arctic realm approximately 600 miles north of Norway and only 650 miles south of the North Pole. The island is cut by the 80th line of latitude, the next major line being 90 degrees north which is the North Pole itself! The north and east of Spitsbergen are entombed in pack ice for the winter and spring although the west coast is usually ice free year round due to the warming influence of the West Spitsbergen Current (an extension of the Gulf Stream) which peters out just to the north of the islands.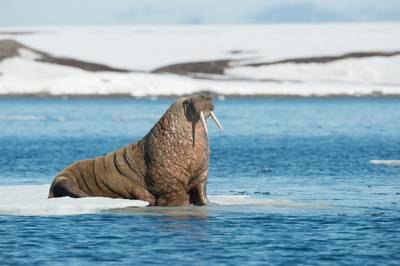 Walrus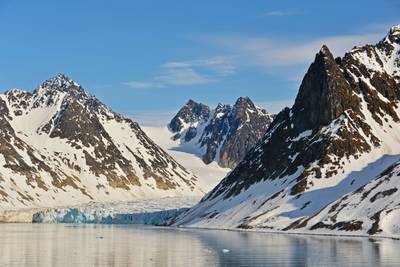 Waggonway Glacier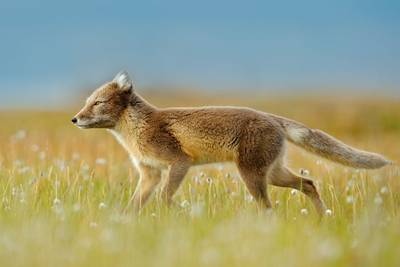 Arctic Fox
Why visit Spitsbergen? – For those of us living in the UK – and in Europe as a whole – Spitsbergen is the most accessible region of the high Arctic to visit. Reached via two short flights (on modern airbus-type aircraft) and an overnight stay in Oslo, this spectacular island of jagged mountains and deep blue glaciers is home to an unrivalled abundance of Arctic wildlife – including Polar Bears, Walrus, Arctic Foxes, Blue Whales, Belugas, Ivory Gulls, Long-tailed Skuas, Grey Phalaropes and huge colonies of both Little Auks and Brünnich's Guillemots – and some of the most breathtaking scenery in Europe.
What is the best time of year to visit for wildlife? – The route of any cruise around Spitsbergen is ultimately dictated by the location and extent of the pack ice. If you travel too early (in May) then the ice is likely to still be extensive and may block access to the best areas for Polar Bears and other wildlife, especially in northern Spitsbergen and western Nordaustlandet. Early cruises are also more likely to suffer from inclement weather. On the other hand, if you travel too late (such as August) then the ice is likely to have retreated to the north and you will miss the opportunity to look for Polar Bears out on the ice and risk missing the experience of being out in the pack ice itself which is one of the highlights of an Arctic expedition cruise. At Naturetrek we always charter our vessels to depart in mid to late June and in the 20 years we've been operating these cruises (we've been operating exclusive Naturetrek charters for 13 of those) we have found this period to offer the very best of Svalbard's wildlife including sightings of Polar Bears. Furthermore, by mid/late June the tundra is awash with colourful flowers and activity at the colonies of Brünnich's Guillemots, Little Auks and other seabirds is at its absolute peak!
What sort of vessel should I choose? – The general rule of thumb here, as with all wildlife cruises, is the smaller the better! Although you will pay a little more for the smaller ships, you will have a much better experience than on a larger vessel, see more wildlife, enjoy a better guide to client ratio and have less people on shore with you. We have chartered the 50-passenger MS Quest for our cruises in 2019, 2020 and 2021. Although there are just two spaces left on this year's cruise, the other two dates still have space available (they are, however, likely to fill fast!). The Quest is ice-strengthened, comfortable and the perfect size for polar expedition cruising. Avoid the large cruise liners at all cost!
What are the advantages of travelling on a Naturetrek exclusive wildlife charter? – We have been chartering small ice-strengthened ships for our Spitsbergen cruises since 2006 and are the pioneers of this form of wildlife travel. By chartering the whole vessel we have control over the route of the voyage and can ensure that we focus the cruise on the island's wildlife and scenery and only visit the very best wildlife sites. If you take a berth or two on a non-charter you will likely find yourself amongst a disparate group of people with very different goals and expectations and the resulting general 'please-all' cruise programme will include landings and excursions with very little wildlife content or interest. For example, it is always a surprise to us just how many trappers' huts the cruise companies squeeze into their scheduled tours … once you've seen one trappers' hut you've seen them all! By joining a Naturetrek charter you can be assured that you will be travelling with a group of like-minded people with the same interest in natural history as yourself and will also have the services of our expert wildlife cruise guides and an exceptional crew.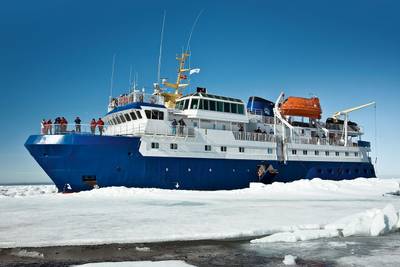 MS Quest
For further information our 'Spitsbergen – Realm of the Polar Bear' cruise, including dates and prices, please click on the link or call Paul Stanbury on 01962 733051.
---
NB Two female share places in a quad cabin are now available on our 2019 cruise.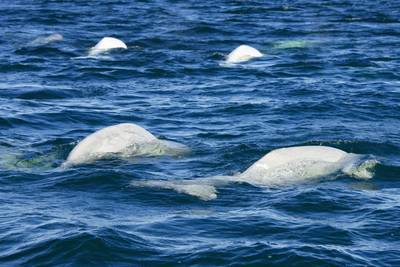 Beluga Whales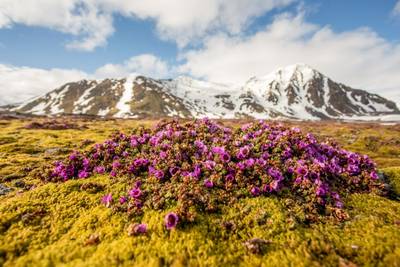 Purple Saxifrage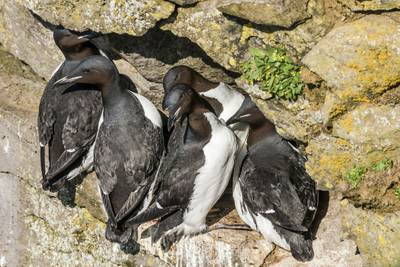 Brünnich's Guillemots