Join Naturetrek at Cley Marshes this May!
We are pleased to invite you to join us at Cley Marshes Nature Reserve on Wednesday 1st May where some of our experienced wildlife experts will be presenting a selection of wildlife travel presentations throughout the day. They will also be on hand to chat to you, over complimentary tea and coffee, about your forthcoming travel plans, as well as lead two guided walks around the reserve during the course of the day.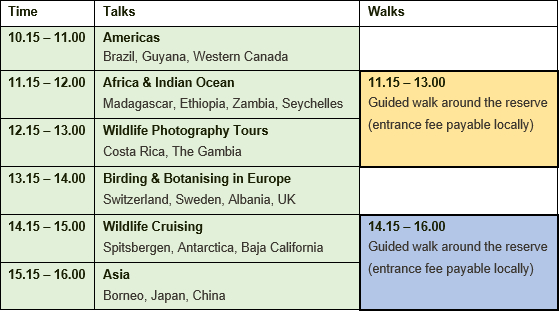 The event is free, but there is a small reserve entrance fee of £5.00 per person (£4.50 exc. Gift Aid) for those who aren't members of the Norfolk Wildlife Trust, which will allow you to enjoy the reserve at your leisure. The reserve is open between 10.00am and 5.00pm, and there is a café on site.
Cley holds a wide range of breeding wetland birds, including Marsh Harrier, Bearded Tit and Avocet and is also an excellent locality for migrant waders. Little Stint, Spotted Redshank, Greenshank, Ruff, Black-tailed Godwit and Curlew Sandpiper are all spring regulars, while Garganey, Little Gull, Spoonbill and Great White Egret are becoming more frequent. Cley is also a magnet for migrating passerines with the surrounding scrub and wet fields regularly holding migrants as well as the odd rarity.
If you would like to join us for the day, please call us on 01962 733051 or This email address is being protected from spambots. You need JavaScript enabled to view it. confirming which walks and talks you would like to attend; this will help with our planning. Please also feel free to tell us about any wildlife travel plans you'd like to discuss, so that we can try to ensure the right staff are present and briefed.
We look forward to seeing you there!