Amur Leopard (Chris Hall)
In Search of Russia's Big Cats

This email address is being protected from spambots. You need JavaScript enabled to view it.
The Russian Far East is home to some of our planet's most iconic wildlife, above all the magnificent Siberian (or Amur) Tiger, the largest and arguably most elusive of big cats. Visiting their domain towards the end of winter, before the forest's white-blanketed floor had been replaced with fresh green, would give us the best chance of finding signs of their presence – scratch-marks, scent-trails, and great footprints in the snow.
Most of the group met at Heathrow Airport for the 4-hour flight to Moscow. This was followed, somewhat surreally, by a 9-hour domestic flight to Khabarovsk in the Far East – surely one of the longest internal routes in the world. Khabarovsk, the penultimate stop on the famous Trans-Siberian railway, is a full ten hours ahead of London, and most of our first afternoon was spent resting and enjoying a delicious meal in a traditional Russian restaurant.
It was the next morning, however, that our adventure truly began. A convoy of all-terrain vehicles arrived after breakfast, headed by Alexander Batalov, the renowned ecologist and conservationist who was to be our guide for the week. After some brief introductions, we set off on the 200-km journey to the Durminskoye Forest Reserve, deep in the taiga. As we left the city behind us, our surroundings gradually transitioned from fields and villages into a wild landscape of tangled birches, bogs and tall Korean Pines. We made our first stop at an open area where impressive numbers of White-tailed Eagles were congregated, perched in roadside trees and beating their massive wings overhead. By the time we had reached half-way, we were very much in Tiger territory, and it wasn't long before we were excitedly pulling over to examine some unmistakeable imprints in the snow… fresh Tiger tracks! Led by Alexander, we followed the trail for a short distance while he imparted fascinating insights into the cat's behaviour; it had stopped to rest a while here, and there had left the path to scent-mark a favourite tree. It was thrilling to walk where a Tiger had been, perhaps just a few hours earlier, and before we had even reached our camp.
An exciting 9-day tour to the remote forests of the Russian Far East in search of the ...
About an hour later, in mid-afternoon, we arrived at Alexander's base: a picture-postcard collection of log cabins set amongst the rolling foothills of the Sikhote-Alin Mountains, their rooves liberally iced with snow. After settling in to our cosy accommodation, we were given a short tour of the camp, before enjoying the first of many hearty dinners. Most of the food in Durminskoye, such as venison and boar, is responsibly harvested from the surrounding forest, while the vegetables are grown within the camp itself; it was all delicious and sustainable fare.
Over the next four days, we explored the wilderness by jeep, snowmobile and on foot, searching for signs of Tigers and other wildlife. One morning, we went to the place where a tigress had recently killed a large Wapiti, the story of the hunt still clearly legible in the snow. Although it seemed that the Tiger was no longer visiting the carcass, our camera traps captured stunning images of a Eurasian Lynx scavenging the remains. Ours were not the only lenses trained on the grizzly scene; Alexander's previous visitors had been a film crew from the BBC. Although we tried our best not to, we almost certainly triggered their very sophisticated remote cameras during our examination of the kill – perhaps we will make an appearance in Attenborough's next flagship series…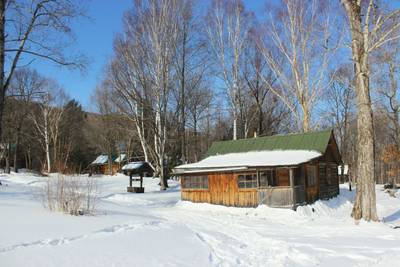 Durminskoye camp (Ben Chapple)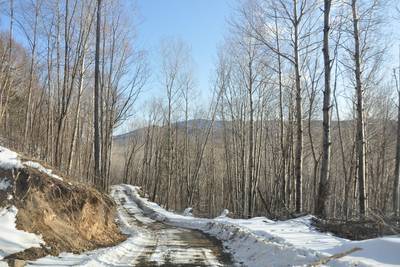 Road in Durminskoye (Ben Chapple)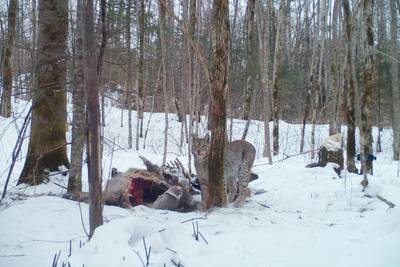 Eurasian Lynx (camera trap image)
Film crews are regular in Durminskoye, and Alexander himself has appeared recently in programmes presented by the likes of Gordon Buchanan, Liz Bonnin and Simon Reeve. They, like us, come to the reserve for good reason; Alexander's expertise on Siberian Tigers is legendary, and Durminskoye is perhaps the best place on Earth to search for this vanishingly elusive feline in the wild. Across their range, an average tigress requires around 400 square kilometres of territory (with a male's range stretching into the thousands). Yet, in the 1400 square kilometres of forest around Durminskoye, there are no fewer than 14 Tigers – a remarkable density given the harshness of the habitat, and testament to the tireless work of Alexander and his team over nearly three decades.
Of course, they are still few and far between, and actually seeing one requires a great deal of good fortune. Despite our best efforts, we did not glimpse a Siberian Tiger for ourselves, but in the end this did not seem to matter. For me, and I hope for the group, it was enough to know the Tiger was out there – a ghost of the forest, keeping its distance and enduring, despite myriad threats. What's more, Alexander relies on tourism to fund the essential conservation work that he does, so we knew that our visit was contributing to the Tiger's survival; in fact, Alexander sees tourism as absolutely crucial in the fight to save the Russian Tiger.
Alexander did show us more evidence of Tigers, including where a tigress had followed a fresh Wild Boar trail, and a scent-marked tree with thin strands of orange and black hair still twisted up in the bark. We also installed our own camera traps throughout the forest, and while most will be left to record until early summer, we have already received some breathtaking footage of Durminskoye's dominant male, 'Spectacles' (named for an unusual pattern on his tail), marking his territory where we ourselves had stood.
All wildlife is relatively scarce in these winter forests, with the only common species being some familiar birds: Marsh Tit, Eurasian Nuthatch and Great Spotted Woodpecker. Nevertheless, sightings included Siberian Jay, Eurasian Red Squirrel, Three-toed Woodpecker and (for one lucky group member) a Sable. We also enjoyed the sight of Asiatic Black Bear nests high in the trees, and visited a hollow tree where an individual was known to be hibernating. Again, however, this tour was not so much about what we saw, and more about immersing ourselves in a remote and little-visited destination, as well as learning from Alexander and his dedicated team.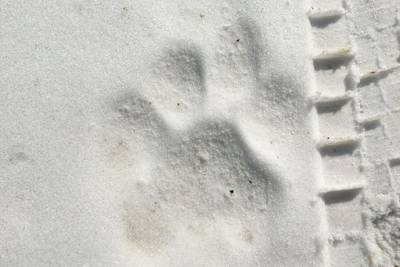 Tiger pugmark (Ben Chapple)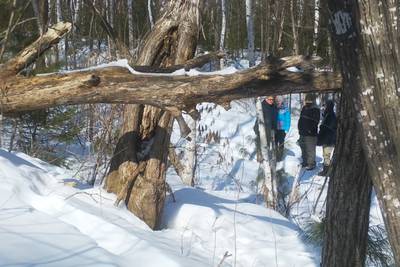 Group at the camera trap (camera trap image)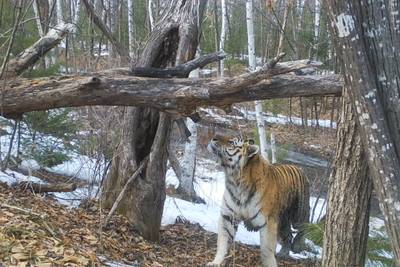 'Spectacles', Durminskoye's dominant male Tiger (camera trap image)
While we were of course sad to leave, it was therefore in high spirits that we departed from Durminskoye and made our way back to Khabarovsk. However, for most of us our time in Russia was far from over; the next morning, we flew to Vladivostok to begin the tour extension, which would be focused on the Far East's other big cat: the critically endangered Amur Leopard.
After just a couple of hours, we found ourselves in a small guesthouse on the edge of the Land of the Leopard National Park, and just 100km from the North Korean border. However, we would not be staying here; instead, we would be spending the next week in specially constructed hides, hoping that the near-mythical Amur Leopard might show itself. Although we used two separate locations, the hide with the most promise was located in open woodland at the base of a steep, boulder-strewn slope. After making ourselves at home, we settled in for our first night of waiting, eyes trained on the deer carcass that lay amongst the rocks in front of us. As the evening wore on, all that appeared were scavenging birds: Oriental Magpies, Japanese Tits and Large-billed Crows. Then, just as the light was fading and we were beginning to lose hope, we glimpsed a liquid movement from between the trees at the far left. It slunk smoothly through the gathering darkness, until it reached the carcass and stood, sniffing the air: an Amur Leopard, the rarest big cat in the world.
We could tell from her radio collar that this was a 14-year-old female, the boldest of the leopards in the area. In 2007, the global Amur Leopard population was estimated at between 19 and 26 individuals; we felt immensely privileged to encounter a cat who, as a yearling, would have been one of those last few remaining leopards (thankfully, their numbers have now increased to over 100). She soon began feeding, the sounds of teeth on bone emitting a striking crunch that rattled down the valley, and continued for around 20 minutes, at which point she slipped away up the slope. Jubilant, we retired to the small camp beds at the back of the hides.
Over the next six nights, all group members enjoyed exceptional views of Amur Leopard in broad daylight, both of the old female and a pristine young male, who was almost indescribably beautiful. Most evenings, the guttural sawing of the female's roar would echo through the forest, keeping us spellbound. One morning, an excited message from our guide informed us that a tigress and cub had been seen heading in our direction, but although we waited as quietly as we possibly could, they did not venture past the hide. Nevertheless, plenty of other wildlife did show itself, including a large Red Fox and the hyperactive bundle of riotous orange fur known as a Siberian Weasel. Birds, too, often provided excellent views, including no fewer than five species of woodpecker: Great Spotted, Lesser Spotted, White-backed, Black and Grey-headed. A pair of Golden Eagles appeared to have a nest on the cliffs above the hide, and were seen displaying on several occasions, while a few flocks of migrating White-naped Cranes also passed noisily overhead.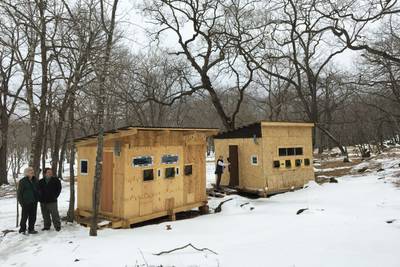 Amur Leopard hides (Ben Chapple)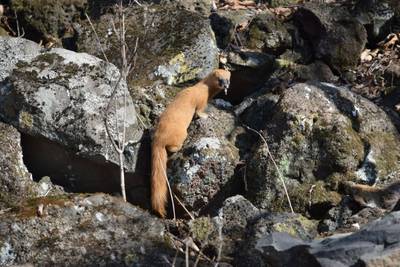 Siberian Weasel (Chris Hall)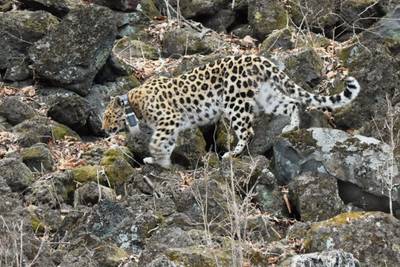 Amur Leopard (Chris Hall)
Spending so long in the hides was not easy – it required a great deal of patience, and a willingness to endure fairly cramped conditions, basic food and absolute silence. However, we were all agreed that it was worth the hardship to become some of just a handful of Westerners ever to have seen Amur Leopard in the wild.
Overall, this was a highly successful tour. Visiting such remote destinations inevitably brings challenges, but we enjoyed some unforgettable experiences; it was a true adventure, on which we saw and found evidence of some of Russia's most astonishing wildlife. We also met extraordinary people, such as Alexander, who have dedicated their lives to protecting this precious natural heritage; we were proud that our visit had contributed to that vital work.
Visit tour page
Each client had the opportunity to set up a camera trap. One captured this stunning footage of the Durminskoye Reserve's dominant male, or 'Great King', scent-marking exactly where we had stood a week earlier!
While this beautiful predator, the rarest big cat in the world, fed on a Sika Deer carcass, three Naturetrek clients enjoyed extraordinarily intimate views from specially constructed hides just a few metres away!