Peter Ashwood travelled on our 'Iceland - Gyr Falcons & the Northern Lights' holiday and submitted this entry to our writing competition.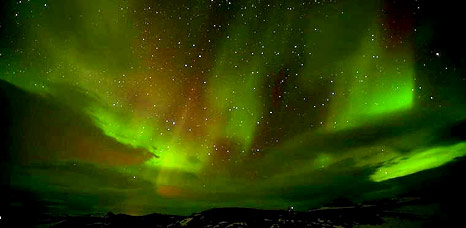 The Northern Lights by Phil Piper
We waited around salivating for some time for the president to invite us in (Malcolm having told us how on one tour they'd been asked in for coffee and cake) but it was slightly 'parky' (-2C) so in the end we gave up, got back in the minibus and went to the airport where we had tea and coffee out of plastic cups (not quite the same). Iceland was living up to its name as we boarded the flight to Akureyri with light snow falling. By the time we arrived at the (excellent) hotel we were all feeling travel weary but also famished. Dinner was good but leisurely and with several of us looking as if we might topple into our trifle at any moment bed seemed the preferred option (and not unreasonable given it was about 10.30pm).
However, those with the leadership qualities that won us an Empire decided that it was the right time to go out and see if the Northern Lights would oblige (after all what were we here for?). So we duly put on as many layers as we could while still retaining the ability to walk and staggered down to the fjord. By now it must have been about -5C and the wind was, shall we say, 'keen' (other less polite words come to mind), but in a few minutes all that was forgotten. Magical ribbons of swirling green lights like curtains blowing in the breeze appeared from over the mountains, arcing over us and bringing forth many 'Oohs and aahs'. Tinges of pink added to the celestial spectacular and we watched transfixed for over an hour. Those with hi-tech cameras snapped away; the rest of us just gawped and tried to take it all in. By nearly midnight the show came to an end and we trudged back tired and cold but uplifted.
The next day we moved on to Myvatn (via the wonderful waterfalls of Gudafoss - source of many Icelandic myths) where we would spend the next few days. Stopping on the road to photograph yet another magnificent view of icy mountains and volcanoes, Malcolm suddenly said, 'Gyr falcon!' and there, on a small hillock by the roadside, was a wonderful specimen of the largest falcon in the world. We sat in silence awe-struck at being so close. As we finally set off (the bird having flown) the thought occurred to us that we had been in the country for less than 24 hours and had already 'bagged' the two things the tour had promised: Malcolm certainly knows how to organise things I thought.
While we were to go on to have four or five other good sightings during our stay, other birds proved less forthcoming. One of our neighbours - an old hand in all things Icelandic - had said, 'You'll see so many Harlequin Ducks and also Ptarmigan'. In fact we saw none, despite increasingly frenzied attempts to track them down. (The Ptarmigan must be our bogey bird. We once were promised great views of them by a man descending a Munro we were struggling up in Perthshire, only to find 500 feet further up, and with a coronary imminent, they had all gone.) However, the search involved two wonderful walks in bright sunshine through a snowy landscape near the lake. No birds ... but days where it felt good to be alive. The Lights proved a bit more elusive in Myvatn, although we did have a good sighting on one of the nights, and we did see lots of other birds including the glamorous Barrow's Goldeneye and wonderful Eider ducks.
Nature did what Nature does: we saw some things we didn't expect and didn't see others that we felt would be 'givens'. But that's the beauty of wildlife exploring, especially in a country where the sheer elemental force of the landscape is breathtaking, and where you are in the company of other like-minded travellers. Would we go again? Like a shot, although only if I was guaranteed tea and cake with the president!
Why not join Malcolm Stott on our Northern Lights special tours to Norway or Iceland and witness this natural phenomenon for an experience, the memories of which will last a lifetime!
Read more about our 'Iceland - Gyr Falcons & the Northern Lights' holiday.