A client travelled on our 'Botswana's Desert & Delta (Mammals)' holiday and submitted this entry to our writing competition.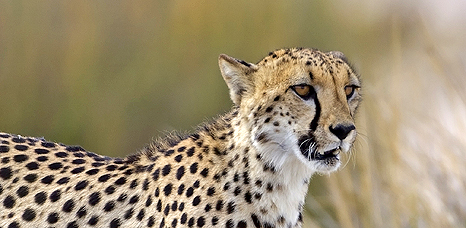 Cheetah
Tails of the Unexpected
We arrived at Maun airport after a long flight from the UK and met our group of 16 tour members and two guides. I have to admit I didn't know what to expect from this safari as it was out of peak season; I was in for a surprise. It was a long, dusty, bumpy, hot road to camp, but to everyone's delight the wildlife started to appear pretty much after we left the tarmac road. The clicking sound of cameras and the whisper of excitement were all we could hear as we stopped for birds, Elephants, various antelope and a Lion sighting on our way to camp. We arrived at camp late in the day and were introduced to our camp team who would look after all our needs for the next eight days. It was nice to take a bush shower looking into the open night and get settled in to our cosy tents which would be our homes for the duration of the holiday.
That evening the conversation around the dining table/camp fire was of wildlife expectations and what everyone was hoping to see and what people had seen in the past. Top of the list were Leopards and Wild Dogs and our guides took it in and hoped and prayed that these animals would make an appearance at some point during our stay. Only kidding, the guides were excellent and they tracked down the animals for us one by one. 'I want to see a Leopard,' someone would say, and there he was, a patrolling male Leopard, lifting his tail and scent-marking as he moved, bringing tears to my eyes and to that of others as we knew how difficult it is to see this beautiful cat in the wild. 'I now want to see a Leopard with its cub,' someone else would say, and the guides tracked down a Leopard with a cub. I was sure the guides were popping out at lunch time and putting those animals somewhere they could be found – ha! The guides then tracked down a Cheetah with a kill, Leopards with a kill, Lions with a kill, Wild Dogs with a kill; it was unbelievable. Every night, the whole group would sit around the camp fire/dinner table and marvel at our wildlife sightings of the day.
This tour was not about a checklist; it was about observing these animals in their natural habitats and getting a chance to watch their behaviour. We were encouraged to sit with them for a good period of time, to watch them eat and use all their strength to drag their kills into safe places. To see a mother and father Wild Dog bring food for their pups and to watch the pups greet them with delight on their return from the hunt, the pups continuously wagging their tails whilst devouring the unlucky Impala. Sitting with a lone female Cheetah for a whole day before and after she made a kill, always watching for predators as she ate her hard-earned spoils, continuously looking over her shoulder never knowing who was on her tail.  We stayed with her until she left the kill for the circling vultures; she disappeared into the night with a full belly, no doubt looking for a safe place to rest. I wondered if she would be lonely the next day without her tourist companions watching over her all day.
I have been on many safaris around this world, but this one punched an impact on the whole group. The guides and camp team were dedicated and worked hard to give us a comfortable and enjoyable stay. Nothing seemed to be too much trouble, even removing a large scurrying spider from our tent with a smile on their faces after they heard the screams – you have to laugh! They even arranged for the group to stay out all day to watch the wildlife stories unfold, asking the camp staff to bring fresh lunch to us no matter how far away we were from camp; the team made everything possible.
It was a true privilege to live in the wild amongst the animals for those eight days, listening to the frogs and Cicadas lull you to sleep. Being awoken by the roar of Lions in the middle of the night knowing they had been walking through the camp whilst we were sleeping. Waking to a munching elephant by our tents in the morning and seeing a confused Hippo stampede through the campsite trying to get to some grass for dinner. I am not sure which holiday to book next in order to top this one - I'll have to keep thinking. But I know one thing for sure ... someday in the future I will definitely be doing this one again.
Read more about our 'Botswana's Desert & Delta (Mammals)' holiday.