A client travelled on our 'Botswana's Desert & Delta (Birds)' holiday and submitted this entry to our writing competition.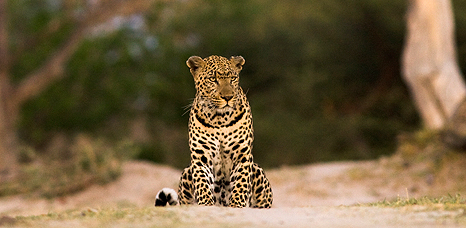 Leopard by Letaka Safaris
The Ghost of Moremi
'Oh no! How much did I have to drink last night? I'm sure that's a white animal up there. Nah, it can't be.' I was just about to sign off red wine for good when I heard our guide say, 'Oh good, it's still here.' We were driving out of Moremi towards Maun and the airport on our last day of the trip. The focus of our attention was an albino Lechwe, who was apparently still alive, according to our guide, because the Lions in that particular area were 'cack'. Whatever the reasons for its survival I will be forever grateful. I have seen albino Lions and monkeys on the television, but to actually see an albino wild animal in the flesh was such a shock.  The rarity of such a sighting was not lost on me and even now, four years later, if I close my eyes I can still visualise it, running through the flooded grass plains.
The Okavango Delta in Botswana has to be the most stunningly beautiful place on earth. As we sat quietly watching the 'ghost' running around with its fellow Lechwe, water splashing, I really did think I'd died and gone to heaven. If there really is an afterlife then I would bet my soul on it looking like the Okavango. Pied Kingfishers swoop and swirl. Antelope really do frolic. Lions snooze, posing for the occasional photo and when their stomachs rumble they snoop and stalk around looking for prey. Then there's the largest land mammal suddenly appearing out of nowhere as they quietly rumble around looking for food and water. How does something so big move around so stealthily?
Before I booked the holiday I was very apprehensive about going on the trip as I was not sure about the mobile camping. However, the thought of going to such a wonderful place outweighed my doubts.  I am certainly glad that it did. Camping in the Okavango is an extraordinary experience. Lying on your bed at night listening to the Lions roar, the hyenas laughing, the frogs crocking and the insects singing is far better than lying on a luxury bed in a lodge – honest. Having to 'pop out' for a call of nature in the middle of the night really is an adventure. 'Oh my, is that sparkle the eye of a Leopard? No, it's ok, it's only a fire fly.'  Taking a bucket shower out in the open - well, ok - not completely out in the open – we don't want to scare the animals off after all, really does make you feel close to nature.
Before I travelled, as always, I read a lot about my destination and checked out the birds I would possibly see whilst there. My eye was caught by a little blue bird, a Blue Waxbill. I thought how wonderful it would be to see one of those, but in reality thought it would not happen. Imagine my delight when I discovered that this little bird was as common in the Okavango as a Robin is in the UK. I saw several on our stop for lunch on the very first day. That is something I learnt very quickly on that trip – expect the unexpected. Do not look for a Leopard up a tree, because it will be sat in the middle of the road when you turn the bend. When you hear the squirrels scolding and see the birds mobbing in the grass, it will not be the Cobra Snake but an African Wild Cat asleep.
The Okavango really is a magical place. Every year when it comes to deciding where to take my precious holiday my mind always goes to Botswana first and that fabulous camping trip. I always try to go somewhere different as there are so many places to go and so much to see, but I'll make an exception for the Okavango. In fact I have already been back and had an even better time than the first trip – didn't think that was possible. I say to everyone I meet on my travels, if you haven't been already go to heaven on earth, the place that is known as the Okavango Delta. If you are really smart you will go on the camping trip with Naturetrek. Who knows, if those Lions really are 'cack' the 'Ghost of Moremi' may still be strutting its stuff through the Elysion Fields.
Read more about our 'Botswana's Desert & Delta (Birds)' holiday.